Dubai is an amazing modern city, filled with dozens of world class attractions, gorgeous scenery, and a glittering urban landscape. If you're looking to explore Dubai but aren't sure how to tackle it on your own, consider taking a themed tour. Organized tours are some of the best ways to experience Dubai. We put together a list of the best Dubai sightseeing tours in the city to help you choose one that aligns to your interests. Hoping to enjoy the many waterways of Dubai? Perhaps a relaxing cruise is best for you. Want to see the city from (way, way) up high? Then head to the top of the Burj Khalifa. Looking for excitement and adventure? Hop aboard a Speed Boat Sightseeing Tour. Whatever kind of tour you're interested in, you'll find something to enjoy in beautiful Dubai.
Save on Popular Dubai Sightseeing Tours & More
Admission to these fun Dubai sightseeing tours are included on the Go Dubai® Card. Choose as you go from top attractions and save up to 55% on combined admission vs. paying at the gate. See all available Dubai passes, attractions & prices. A few of the available sightseeing activities include…
At the Top, Burj Khalifa
Big Bus Dubai Sightseeing Tour
Dubai Palm Cruise Tour
Big Bus Dubai Hop-On Hop-Off Sightseeing Tour
Sunset Diner Cruise
And more!
At The Top Observation Deck - Burj Khalifa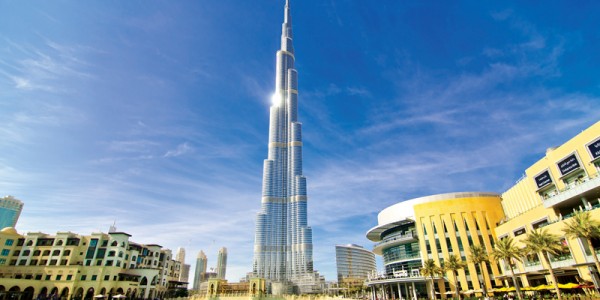 Over 1,800 feet in the air, the observation deck of the Burj Khalifa is the only place where you can get unparalleled views of the city below. This gleaming, modern city is certainly beautiful to behold from street level, but there's just something about an aerial view that can't be beat. It's an excellent opportunity to ascend to new heights at the tallest building world, too! So don't forget your cameras, or your courage. Getting In: At The Top - Burj Khalifa tickets are included with the Go Dubai® Card.
Hop On Hop Off Big Bus Dubai Tour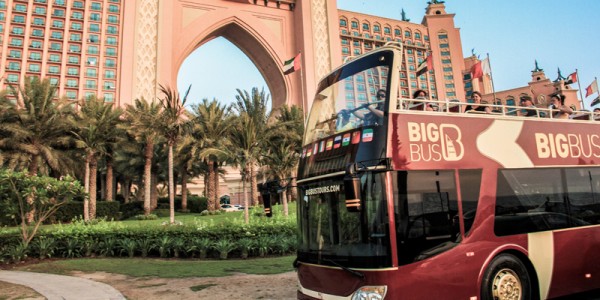 Dubai is a striking city that deserves a wide-ranging exploration on your trip. See the best of traditional Arab culture and exciting modern architecture on your comprehensive bus tour of the city. It's a hop-on hop-off route, too, so that makes it ideal for personalized explorations of your favorite areas. Some highlights of the route include the Gold Souk jewelry market, the gorgeous Jumeirah Park, and of course, the Burj Khalifa. Getting In: Big Bus Dubai sightseeing tickets are included with the Go Dubai® Card.
Dubai Palm Cruise Tour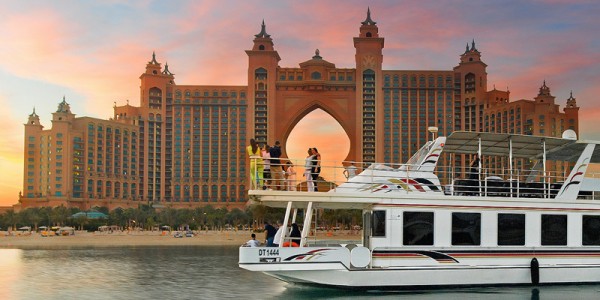 The Palm Islands are a series of three man-made islands off the coast of Dubai that are shaped just like a palm frond with a crescent on top. Palm Jumeirah, the star of the show, is fully complete, and offers amenities like you wouldn't believe, from high-end hotels to resorts to beaches. Cruise around this amazing island to see the ornate mansions, luxurious hotels, and more. This one-hour tour will stop in front of the Atlantis Hotel to give you that perfect picture, and sail past the stunning Skyline of the Dubai Marina. Plus, you'll get to sample some Arabic coffee en route! Getting In: Dubai Palm Cruise Tour tickets are included with the Go Dubai® Card.
Dhow Dinner Cruise through Dubai Creek
Live a life of luxury aboard a Dhow Dinner Cruise. You'll set sail on a traditional wooden Dhow vessel, winding through the salt creek that divides the city's commercial district in two. Immerse yourself in the sights and sounds of traditional Dubai on your cruise, and gain a new appreciation for Bedouin culture. Plus, you get to enjoy not only authentic Arabic coffee, but you'll also get to take advantage of a sumptuous buffet dinner. So take it all in, and enjoy an evening you'll never forget. Getting In: Dubai Creek Dhow Dinner Cruise tickets are included with the Go Dubai® Card.
Sunset Dinner Cruise: Dubai Marina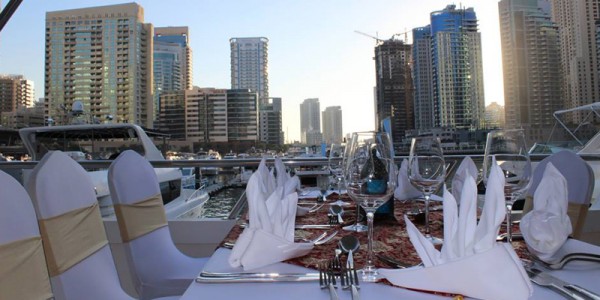 What could be better than a dinner cruise in Dubai? Well, a cruise perfectly timed to hit sunset, of course! The ultimate in romance, or just inspiring family time, this Sunset Dinner Cruise through the Dubai Marina is an unparalleled experience. Sail along past this luxurious marina on a comfortable modern vessel as you enjoy a tasty dinner. Get the photo opportunities of a lifetime on this journey, and make unforgettable memories. Getting In: Dubai Marina Dinner Cruise tickets are included with the Go Dubai® Card.
Bateaux-Dubai Gourmet Dinner Cruise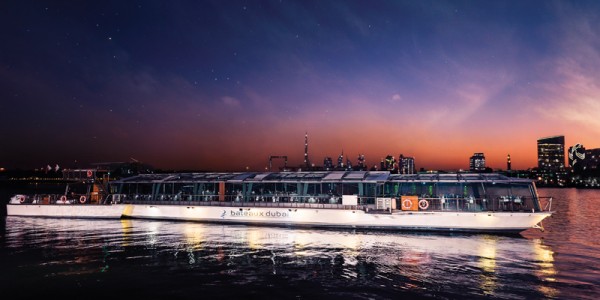 Of course, if you're truly in search of the most romantic cruise in all of Dubai, then the Bateau-Dubai should be at the top of your list. It's actually a grand floating restaurant designed to be the epitome of luxury, with spacious, air-conditioned interiors and the best of fine dining. Hop on a cruise and set sail out to this fantastic restaurant, where you'll be awed by how beautiful and elegant everything is. It's an unforgettable experience that will surely be the favorite of all your time in Dubai. Getting In: Bateaux-Dubai Gourmet Dinner Cruise tickets are included as a bonus option with the 3-, 5-, and 7-Day Go Dubai® Cards.
Speed Boat Sightseeing Tour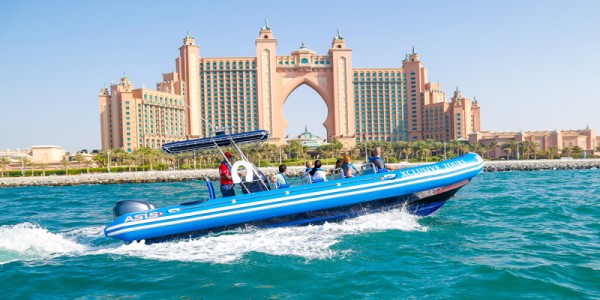 This state-of-the-art water tour is the perfect way to explore Dubai from a unique perspective. Your RIB, or "rigid inflatable boat" is a small, intimate setting for explorations, too, with typically only about 10 people on the vessel at a given time. Your knowledgeable tour guide will escort you at exhilarating speeds past major landmarks like several luxury hotels, a number of real royal palaces, and even a Dubai lagoon. This tour is an excellent option for those looking to cool off and explore. Getting In: Dubai Speed Boat Tour tickets are included with the Go Dubai® Card.
Water Activities
Kayak Tour of Palm Jumeirah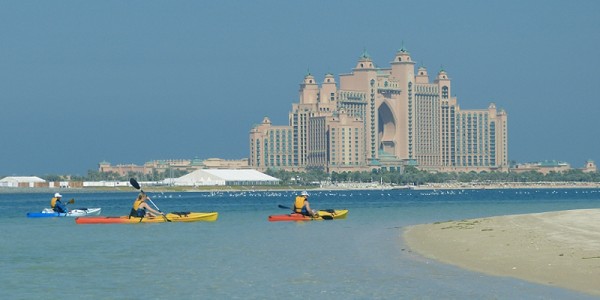 If you're searching for a more intimate way to explore the Palm Jumeirah, then a kayak tour is your ideal option. Take a 2.5-hour tour around the amazing sights and sounds of this beautiful island, including the Dubai Marina. You have your choice of a single or double kayak, and can bring kids as young as 8 along with you. It's a great family activity and is a delightful way to explore the area. Getting In: Dubai Kayak Tours of Palm Jumeirah are included with the Go Dubai® Card.
Stand Up Paddle Lessons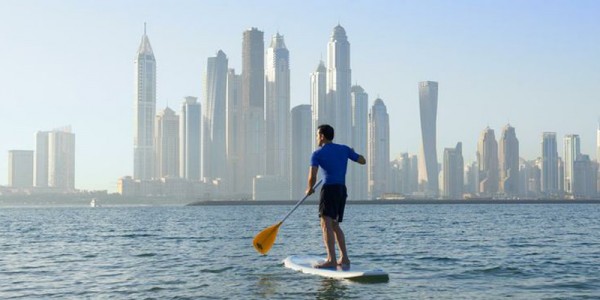 Get out and have fun in the gorgeous waters of the Palm Jumeirah with a Stand Up Paddle Board excursion. It's a great way to get out on the water and enjoy stunning views of your luxe surroundings, all while getting fit and having fun. Begin with a lesson on safety and handling (for newbies and experienced SUPers alike), then spend an hour or so paddling about to your heart's content. The calm waters are a perfect setting for this enjoyable and relaxing activity. Getting In: Dubai Stand Up Paddleboarding Lessons are included with the Go Dubai® Card.
Remember to Save on Sightseeing Admission
As you can see, there are plenty of ways to explore and tour Dubai, whether you're looking for something a little more traditional in the way of bus tours, or if you're hoping to experience the waterways of Dubai in unique and exciting ways. Remember, many (if not all) of these options are included on the Go Dubai Card, where you can save up to 55% on combined admission vs paying at the gate. We hope you plan to add a few of these fun touring options to your vacation itinerary.