Thrill seekers! Are you looking for extreme fun in the sun that will get you off your bum? Rejoice, oh brave adventures. Dubai, the city in the sand, has you well and truly covered. So much so that we had to make a guide dedicated to all of the extreme opportunities on offer. So read on, be brave, and discover the best extreme sports activities in Dubai!
Including: 
Aquaventure Waterpark at Atlantis The Palm
Ski Dubai
Thrill Buggy Ride in Dubai's desert
iFly Dubai Indoor Skydiving
E-Kart Zabeel
and more!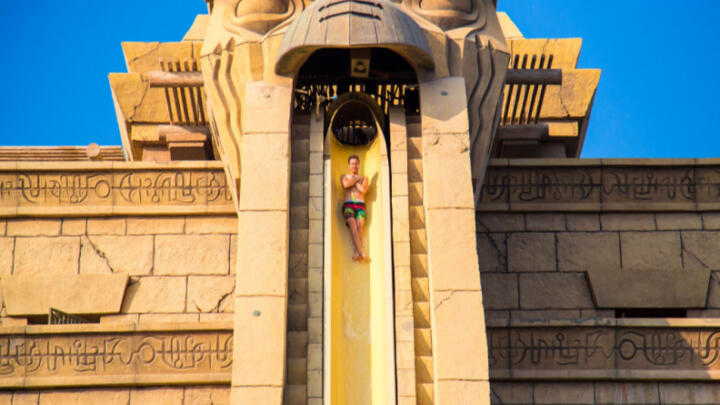 Go on an overwater adventure
Want to get extreme? Why not dare to ride some of the best waterslides in the world? Dare to fulfill those dreams at Aquaventure Waterpark at Atlantis The Palm. It might be a mouthful, but you'll forget all that when you're bombing down a sweet waterslide at a million miles an hour. Well, not a million, but more than two. 
Test your mettle on the extreme Leap of Faith, which plummets straight through a shark-filled lagoon at a breakneck pace. Dodge the sharks (don't worry, they're safely imprisoned behind thick glass) and crash into the pool below. Gnarly. 
Or challenge the god of the sea himself at Poseidon's Revenge. Enter one of his devious capsules and prepare to plummet down at speeds of 60mph. There's a lot of plummeting going on, which can only mean one thing - it's one of the best extreme sports activities in Dubai!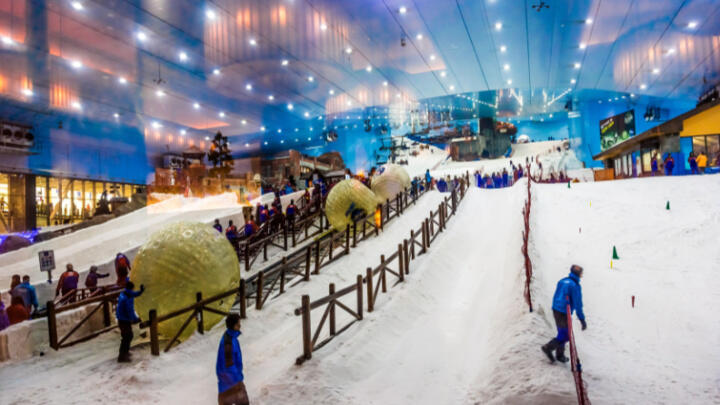 Ski for your life
Dubai's opulent existence is perhaps best characterized by the biggest indoor winter sports park. Yes, even in the harsh, unforgiving desert, you'll find sweet jumps to catch and sweet hills to descend. That's all thanks to Ski Dubai, a must-visit for any of you snow heads. Is that a real word? Snow heads? Who cares - get extreme!  
Whether you choose to attach yourself to skis, a snowboard, or another form of snow traversal, you'll love bombing it around this weirdly cold arena. Much like other snowy locales, expect snow, courses, hills, and even a ski lift for that authentic mountaintop experience. 
After all, what's more extreme than braving freezing temperatures when it's hot enough to melt your skin outside? Extreme weather variance!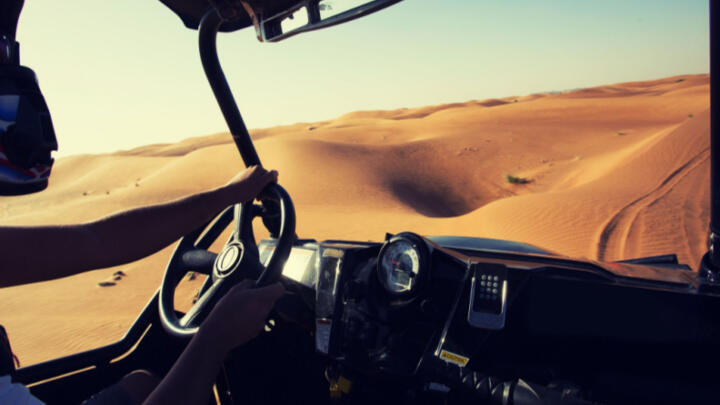 Buggin Out
Or, relive your favorite Mad Max: Fury Road scenes by hopping in a dune buggy and tearing it around Dubai's golden seas. Yes, you can do that, thanks to a Thrill Buggy Ride in Dubai's desert. 
You'll kick things off with a lift in a 4x4 to the dunes. After a touch of sightseeing, you'll reach base camp, and then it's buggy time, baby. Hop in your metal hog of choice, and you'll have 30 minutes to tear it across the dunes. Your buddy will be an experienced dune buggy enthusiast, so you needn't worry about going in blind. They'll teach you everything you need to know about controlling the roaring beast, so you can focus on the most important things - sweet skids, supreme jumps, and extreme buggy action. Yeah! Witness you! Just don't get too excited and spray silver paint in your mouth - there's a reason those guys were so pale.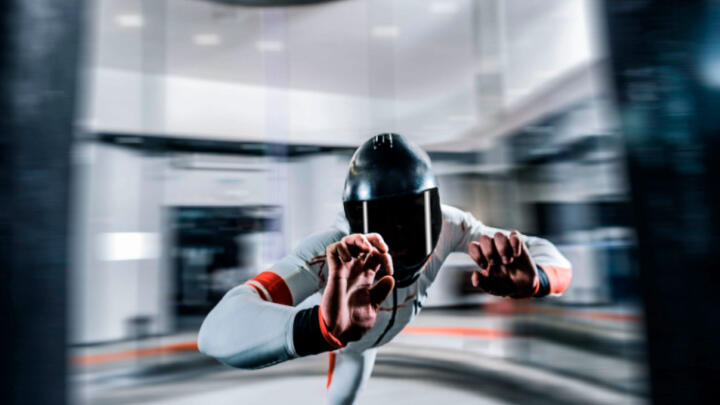 Fly away
Many things can't come close to the extremeness of jumping from a plane at 30,000 feet. But for many of us, the extreme risk of not living may outweigh the desire to attempt such feats. But never fear thrill seekers because Dubai has a way for you to cheat death and still enjoy the fall. It's called iFly Indoor Skydiving, and it's totally rad, man. 
Enter the tube of airy death, feel the 200kph winds lift you off the ground, and then spin, twist, and shout as you mimic the life of a skydiver. 
Newbies are welcome, too, with instructors on hand to guide you through the process of controlling your body while falling. And experts can shut their ears and spin to their heart's content. 
Never felt the thrill of the wind rushing past you as you defy gravity? Then this is one of the best extreme sports activities in Dubai you cannot miss.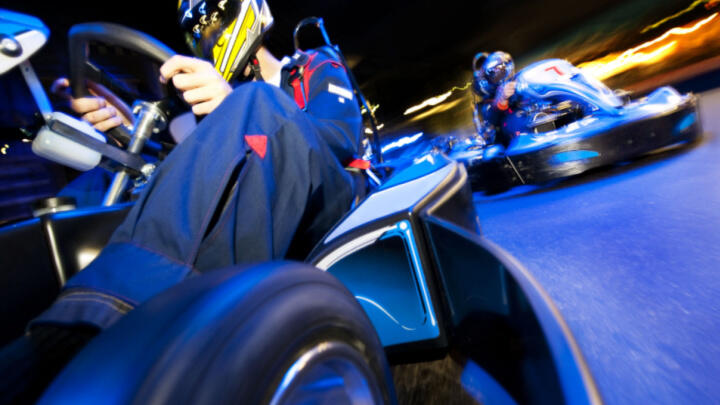 Kart life
If you're a fan of racing, or racing-adjacent media, you might wonder what it feels like to drift around corners and beat the competition to the finish line. Wonder no more, you extreme legend, and burn some rubber thanks to E-Kart Zabeel. 
You'll have 7 minutes to race your state-of-the-art go-kart around a specially designed track, taking corners and leaving your enemies in the dust. 
Got friends? Lucky. Show them off by bringing them along, and then rub their faces in it when you inevitably win. No friends? No matter - join a group of randoms and rub their faces in it. Why make friends when you can spark lifelong rivalries that no one will write about?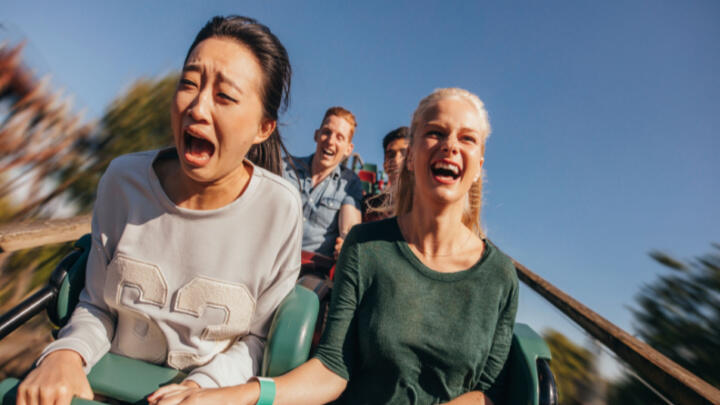 Red go fast? 
You know what's extreme? Rollercoasters. Breakneck speed, gravity-defying movement, and the ejection of one's stomach contents are all hallmarks of these beloved beasts. You know what's more extreme than your average rollercoaster? The fastest rollercoaster ever created by mere mortal minds. And where do you find this insane creation? Why, at Ferrari World Abu Dhabi, of course!
The rollercoaster in question is called Formula Rossa, and it boasts speeds of 240kmph. If you think you can handle 4.8Gs of force squishing your body back in your seat, then you might be extreme enough to survive.
Other than that terrifying trial, you can challenge your friends to a drag race at Fiorano GT Challenge, hop on a military bi-plane at Flying Aces, and test your resolve on the Turbo Track, which purports to offer a fast vertical climb followed by an epic zero-g fall. Not for us. Nope.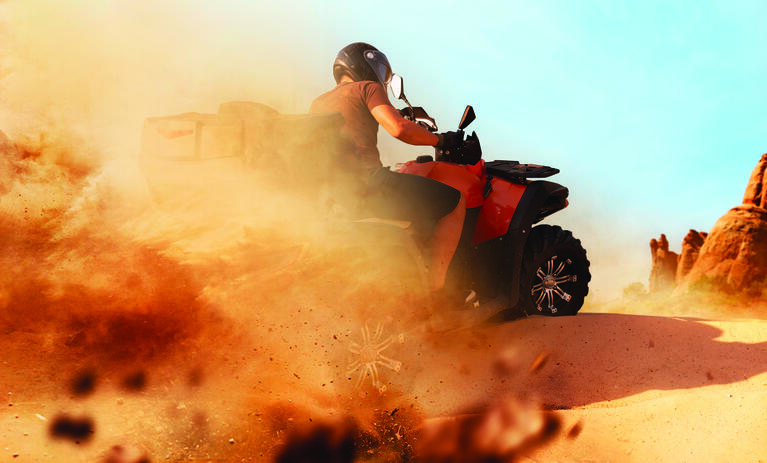 Work your quads
And finally, we end our extreme list of sports activities in Dubai on four wheels. Ever wanted to live out your wildest desert fantasies that include camels? Well, now you can, thanks to this camel, sandboarding, and quad biking adventure over Dubai's dunes.
You'll be driven to the desert, ride on camels, and then ride these 4-wheeled wonders along a track designed with the extreme in mind. 
Picture yourself in slow motion as you dip, turn, and jump. Hear the 80s hair metal in your mind as you pull off extreme maneuvers. Embody the extreme, don't simply flirt with it. 
And that's our list of the best extreme sports activities in Dubai! Wondering what to do with the rest of your vacation? Why not check out Go City? With our All-Inclusive Pass or Explorer Pass, you can see all of Dubai's best bits when and how you want. There's so much to do, see, and experience that no matter what you decide to do, you'll love your time in the city!