Dubai can seem like a shimmering, cosmopolitan maze of glass and metal towers and landmarks plopped down in the middle of the desert.
On the first descent into Dubai International Airport, the barren, brown sand dunes give way to a glittery oasis of one of the world's most vibrant and developed cities. For many, Dubai can be a wonderful place to indulge in a wonderful array of entertainment, dining, and shopping options. But it can also be overwhelming, as it offers much to see and door at what seems like a 'larger-than-life' scale.
That said, travel to, and within, this Arabian city is fairly easy and stress-free. As part of its transition into a tourist-supported economy, Dubai has increasingly built itself up to be a globally accessible hub welcoming to foreign guests and businesses. With lots of transportation options, getting around Dubai is easy. We've outlined some of the best ways to get around during your visit.
Planning to see lots of Dubai attractions? Check out the pass for Dubai by Go City®. The more you do, the more you save.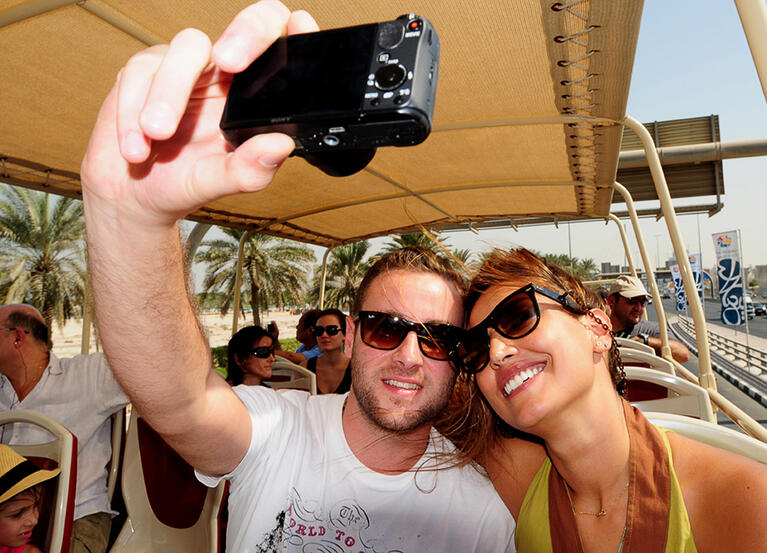 Getting Around Dubai by Taxi or Private Car
Once in the city, you'll find an abundance of taxis available. Many tourists have said this is the best and easiest way to get around Dubai. Most taxis are operated by the government with a few private companies offering alternative services.
All taxis run on a metered service with the fee charged by distance, so be sure to ask your driver to turn on their meter if they have not automatically done so. Licensed taxis are tan with red or pink roofs; taxis with pink roofs are driven by women and intended for women and families only.
Taxi stands are fairly accessible from the city's famous landmarks, such as Dubai Mall, Burj Khalifa, Mall of the Emirates, Palm Jumeirah, and many hotels. Be aware that you may experience long wait times for a taxi during rush hour, typically between 3:30PM and 5:30PM.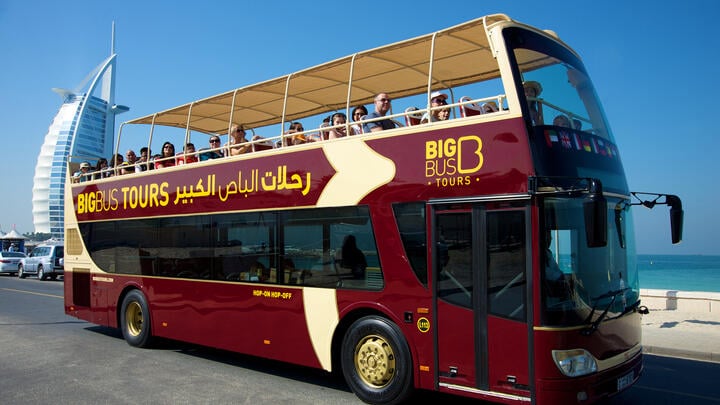 Hop On Hop Off Sightseeing Bus
Though it's not necessarily your primary form of transportation, it's an incredible option that combines your need to get around with a fun and informative tour. Aboard the open-deck Hop On Hop Off tour with Big Bus Dubai, you'll pass famous landmarks like the Burj Khalifa, Atlantis The Palm, Dubai Fountain, and more.
Your guide will provide you with a background of the city and its story. You'll be able to hop on or off at any stop, which makes your sightseeing that much easier!
Getting Around Dubai by Metro Or Tram
The Metro
While many cities of comparable population and prominence operate extensive metro or subway systems, like those found in London, New York, or Paris, Dubai is unique in still operating only two metro lines to accommodate its citizens and guests. With over 45 stops, The Metro serves the most popular tourist areas within Dubai. The Metro fare will depend on the zone you're traveling in and the distance traveled.
Cabs and supplemental buses are available at most stations and can be used to get you to your destination, if needed, but are typically more expensive. The main metro line runs the length of Sheikh Zayed Road, while the more recently opened second-line services the old town area of the city. 
Most points of interest for a tourist are clustered around Sheikh Zayed, so you'll be able to hit a lot of the popular attractions solely using The Metro. Much of Dubai's impressive new construction, such as the Burj Khalifa, Dubai Mall and the Dubai Marina are directly connected to the main metro line as well.
Fare can be purchased and stored on Nol Cards (which can even be used to pay for RTA parking). Riders can purchase single or multiple travel tickets for rides. Trains operate within 10-minute intervals during off-peak times and even faster during rush hour.
The Tram
More recently, Dubai opened a second form of public transportation: The Tram. The tram travels on a specially constructed street-level track to connect the highly populated residential and commercial areas of Dubai Marina, Palm Jumeirah, and Dubai Media City.
Offering a flat rate no matter the destination or length of travel, the Dubai Tram is one of the cheapest forms of transport in the city.
The Palm Monorail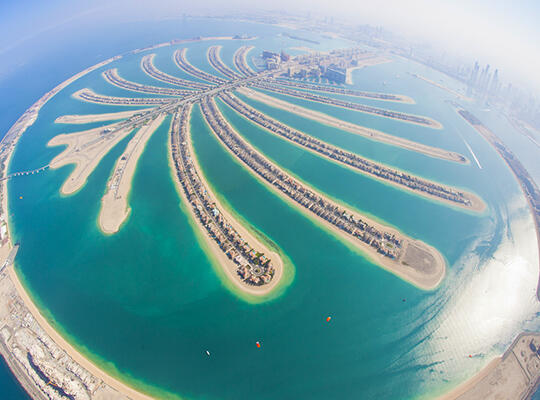 If you're planning on spending the day on Palm Jumeirah Island (which we highly recommend!) or visiting Atlantis The Palm, hop on the Palm Monorail. The Palm Monorail connects Dubai's mainland with the Palm Jumeirah Island station.
It's the perfect way to travel from the city to Atlantis the Palm for a day of fun at Aquaventure Water Park or the Lost Chambers Aquarium.
Getting Around Dubai by Boat or Ferry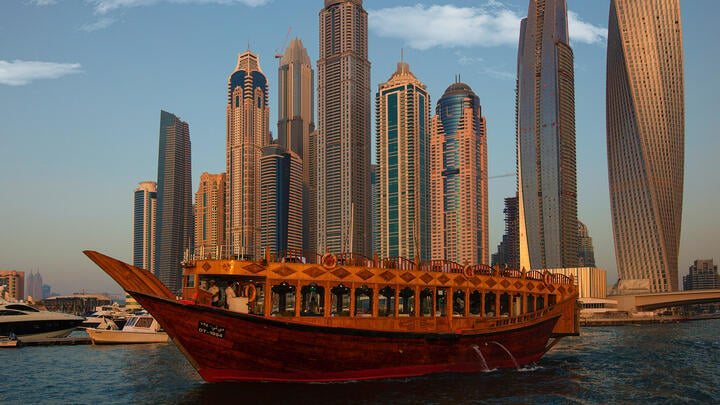 Since Dubai is home to two large commercial ports, there are numerous places to dock yachts, cruise ships, and smaller boats.
One of the most delightfully authentic ways of how to get around Dubai as a tourist is to take a tour on a traditional dhow boat. These small boats carry passengers across the Dubai Creek to the historic old town neighborhoods of Bastakiya and Bani Yas Road for a very low fee. A more modern water bus service also operates in the Creek and Dubai Marina areas to travel the city's "liquid streets".
Private boats and yachts are also a permanent fixture in Dubai's waterways. Many foreign guests prefer to cruise their way into the city via a luxury yacht, while the emirate also offers a number of private boat companies that rent out vessels on an hourly basis for a fun day at sea.
Getting around by bike
Dubai is becoming an increasingly bike-friendly city. With so many beautiful structures and sand dunes to see, biking around Dubai is one of the best ways to get out and see everything on your bucket list. Finding a bike is extremely easy, as there are public bikes for rent located in many popular tourist spots.
Find a curbside BYKY Station and rent a bike for the day around mainland Dubai. You can also rent bikes on Jumeirah Beach and ride around the coastal areas.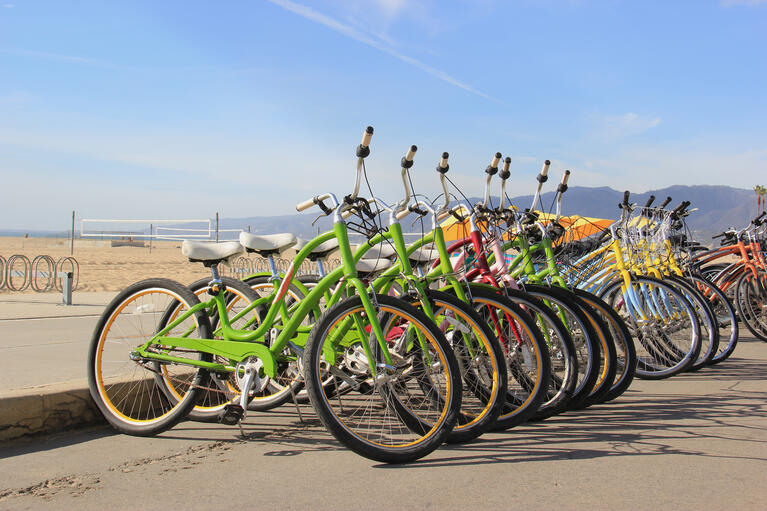 Getting to and from Dubai International Airport
The Dubai International Airport (DXB) is the world's busiest airport in terms of international passenger traffic and the world's third busiest in terms of total passenger travel. With direct flights to nearly every continent in the world, it's no wonder DXB is so busy.
The airport is also the home of Emirates airline, the Middle East's largest carrier that offers a direct flight to almost every major city in the world, with a special Emirates-only terminal. Other attractive features include luxury passenger lounges and a large duty-free shopping area in each terminal.
Dubai International Airport is easily connected to the center of the city via the highway system, by taxi or private car, or by numerous local bus routes that disembark straight from the airport to different places of interest. Once outside the terminal, you'll be able to locate your preferred form of transportation easily.
The airport is also directly served by the Dubai Metro public transport system which operates two lines to and from the airport. They are easily accessible from the arrival area.