With temperatures during its coldest months still hitting lows of 16°C and daily highs of 24°C, Dubai has been attracting those seeking out winter warmth for years. And though images of this constituent part of the United Arab Emirates tend to focus on its modern architecture and air-conditioned malls, there are few limits to getting out and about into the fresh air and sunny skies. Let's take a look at the outdoor activities in Dubai you won't want to miss!
Desert safaris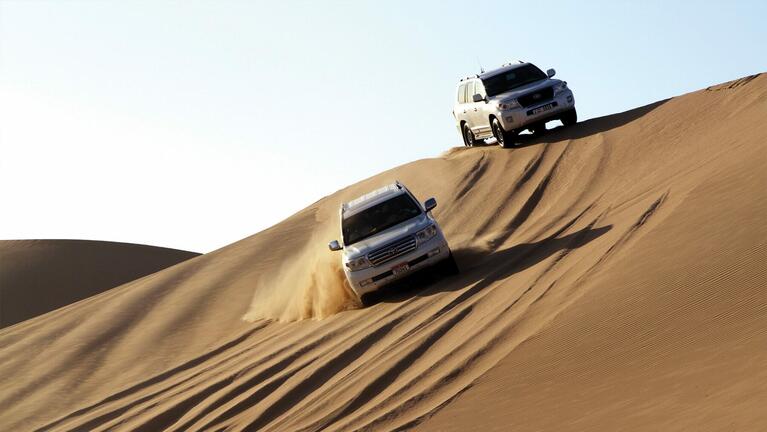 A dream world of lofty dunes and wandering antelope, Dubai is one of the easiest places in the world to get out into the desert. Just a short drive will have you waving goodbye to the towers of downtown and gazing in wonder at expansive desert panoramas.
Don't worry about having no off-road skills though, there are plenty of guided desert safaris to choose between, combining the experience of capping the dunes in a 4x4 with some time on the back of a camel or sitting around the open fire of a Bedouin camp come evening.
If you're a morning person, you can swap the sunset for the sunrise, with hot air balloons drifting across this ethereal landscape as oryx and gazelles feel the first warmth of the new day.
Sailing adventures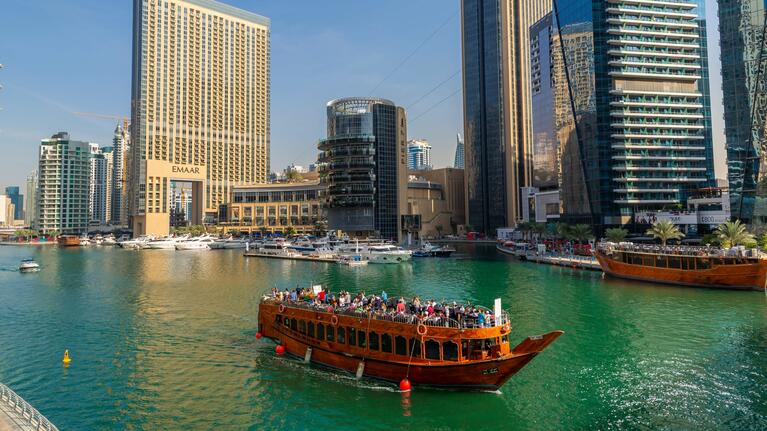 Before the advent of international air travel, it was the seas and waterways around Dubai that were its lifeblood. Signs of its significance aren't hard to find, from the design of the Burj Al Arab to the stumpy hand-carved trading vessels called dhow which still dock at wharves within Dubai Creek.
Smaller abra remain a popular alternative to the metro system for transporting people between one side of the creek and the other. However, to fully discover the sparkling waters head out on an organized sightseeing tour of the creek or Dubai Marina.
Green spaces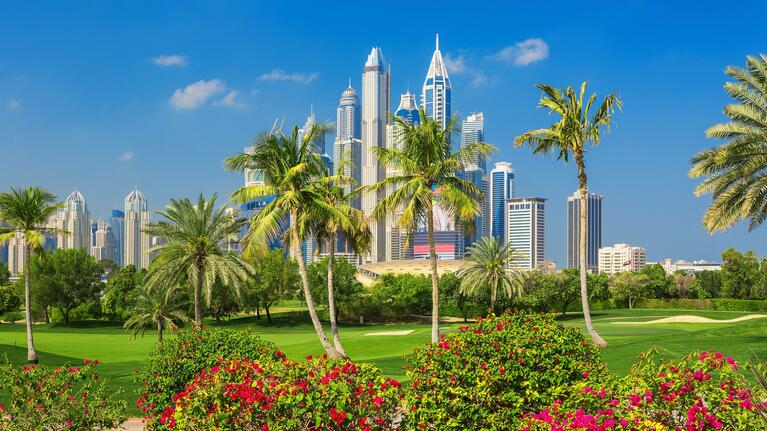 Dubai may not be known for its parks, but know where to look and you'll find small pockets perfectly suited for getting away from it all.
When it was first inaugurated, Safa Park was on the outskirts of the city. Today its palms and public boating lake are at the heart of it all, with views facing back towards downtown and the Burj Khalifa.
Facing downtown from the opposite direction is Zabeel Park, whose grasses also include Dubai Frame. Another alternative is Creek Park, whose length of almost three kilometers is covered in flowers and liberally sprinkled with benches.
Amusement parks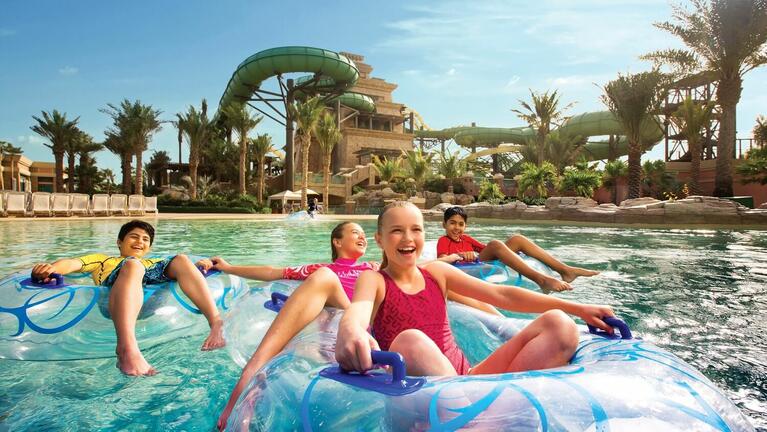 Straddling multiple past times, Global Village is part funfair and part market, sharing the traditions of 78 different cultures across 26 pavilions. Whilst the replicas of the leaning tower of Pisa and London's Big Ben are impressive enough, many visitors come for the food alone, since there's around 200 different stalls in all – a similar number to the dining options at Dubai Mall.
For splashing around there's a couple of great options, with La Mer's Laguna Waterpark and Aquaventure Waterpark at Atlantis The Palm leading the way. At Laguna cabanas overlooking the Persian Gulf make it as easy to relax as it is to get the heart pumping with its Free Fall plunge and surf machine. Meanwhile Aquaventure mixes lazy river rides with the twisted slides of aquaconda and over 100 other water-based activities for all the family.
Hop-on Hop-off sightseeing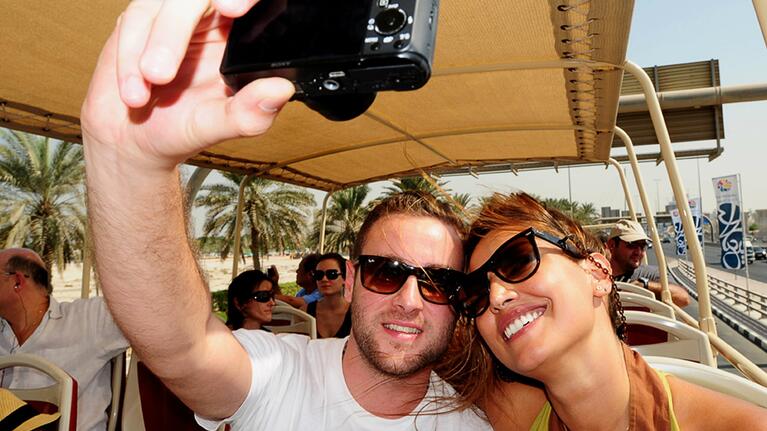 Take to the open top deck of a Hop-on Hop-off sightseeing bus and let the most instaworthy of Dubai sights come to you without having to move from your seat. Stay onboard for the entire route and you'll get two hours of commentary on attractions including Deira's Gold Souk and downtown's Burj Khalifa.
Of course, there's no better way to experience them than by seeing them for yourself. This is actually what a one day ticket allows you to do without having to pay any more to rejoin a later bus. Win-win.
Beaches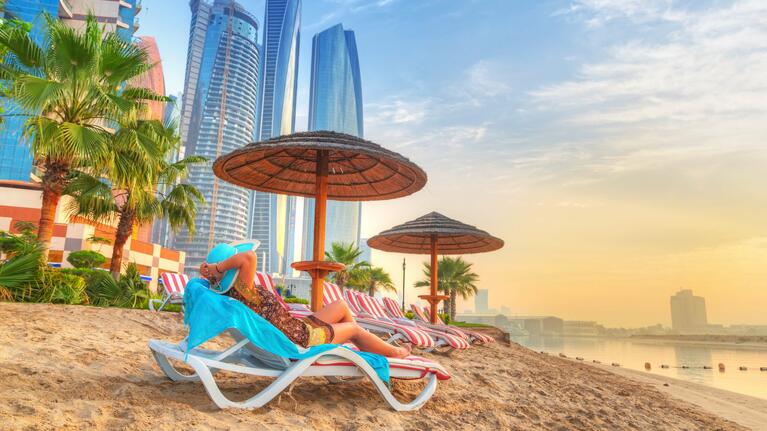 Beaches line Dubai's coastline and are universally well-kept stretches of sand. Hitting their busiest on the weekends and during holiday periods (which does not include Christmas), they are also relatively popular on warmer evenings.
Sundown at The Palm Jumeirah's Palm West Beach is a particular favorite, since it gives visitors views of the setting sun. Its promenade's 300 palms are lit up not long after, creating an attractive place for an evening stroll. At other times of day the beach hums with the sound of jet ski engines and speedboats towing inflatables, with wakeboards, efoils and flyboards all available too.
Heritage village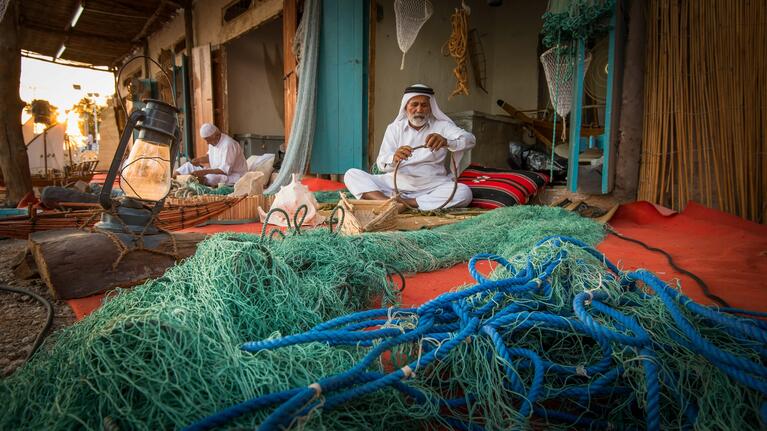 Created in 1997 but harking back to the time of Dubai's earliest settlers, Al Shindagha district's Heritage Village seeks to keep the emirate's culture and tradition alive for future generations. It provides a space for visitors to explore traditional ways of life in the mountains, on the coast and in Dubai's desert regions.
A living museum, craftspeople such as potters and weavers sit within historic structures, whilst there's also a functioning fishing village using age-old techniques to haul in the daily catch.
Diving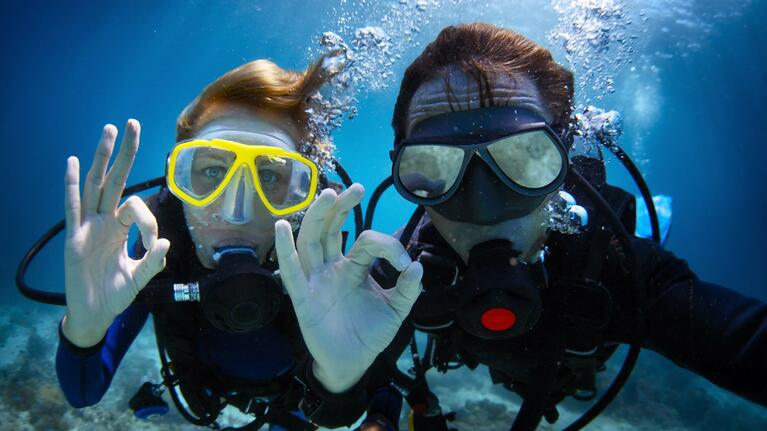 A much more modern approach to interacting with the region's fish stocks is by snorkeling and scuba diving. Dubai itself is short of major dive sites, with Dubai Aquarium and Underwater Zoo one of its top locations.
On the plus side, Fujairah – another of the United Arab Emirates – has a number of sites and can be reached by road from Dubai in a couple of hours without having to worry about any passport formalities.
Situated on the Gulf of Oman, Fujairah has both natural and artificial coral reefs, with most tours taking divers to Dibba Rock, Martini Rock, Snoopy Island or Inchcape, where species including green turtles, black-tipped reef sharks and clownfish can be encountered.
Enjoy the best outdoor activities in Dubai with Go City
You don't have to look too far to find fun in the sun on a trip to Dubai. Nor does it take much searching to find ways of receiving significant savings on admission to many of its top outdoor attractions, since Go City does just that! So whether it's desert safaris, the amusement parks or diving opportunities, don't miss your chance to enjoy the outdoor activities in Dubai you just have to try.