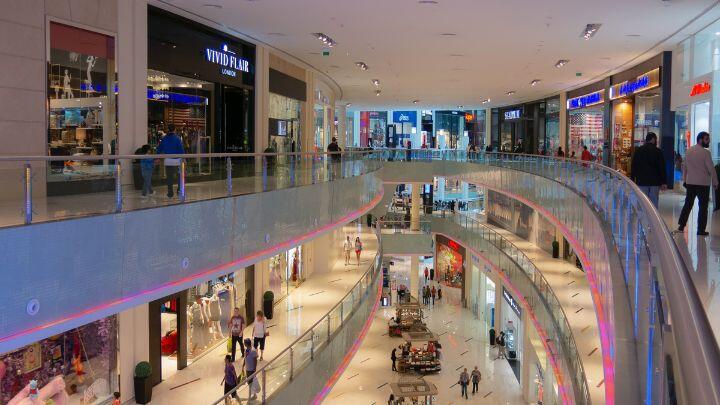 If Paris is the city of love and New York is the city that never sleeps…could Dubai be the city of…shopping? Maybe you've always wondered how many shopping malls are in Dubai? Already over 70, but it's almost too hard to count since new and yet more breath-taking ones are being added all the time. From unique souvenirs to high-end fashion, Dubai offers visitors some of the best shopping in the world.
Yet that's not all the Dubai malls are about. As summer temperatures in the UAE soar as high as 49 degrees, everyone prefers to be indoors, so the huge climate-controlled malls provide communal spaces where people gather to meet, stroll or socialise. Plus, as the fourth most-visited city in the world Dubai is keen to offer reasons to travel! The world's tallest building, cinemas, ski slopes, light shows and a giant aquarium…you'll find it all in the mega-malls that are more like mini cities than merely shopping centres. Too much to take in? Let us help. Whether you're after luxury goods, bargains or pretty much any kind of entertainment, join us on a quick tour of what's on offer in the best shopping malls in Dubai.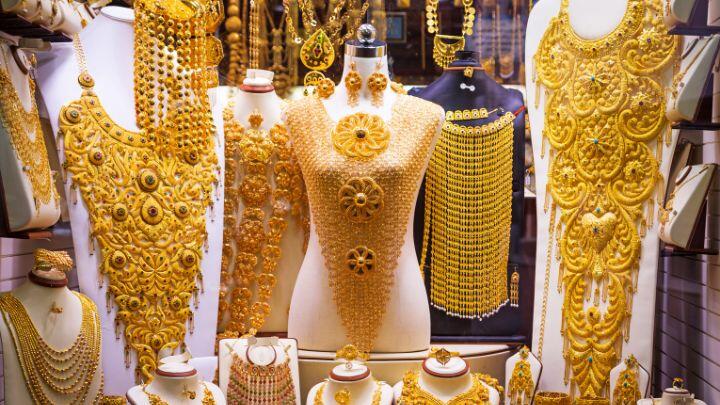 What to buy in Dubai
Credit cards at the ready! But, before we plunge in, let's take a look at some of the best buys. Pick up perfume, pashminas and Persian carpets and rugs. Get your hands on glittering gold and jewellery and unique house-wares like Asian lanterns and coffee pots. Stock up on spices, dates and chocolate made from camels' (not cows') milk!
And of course you'll find fashion for every taste and budget - from H&M, Zara and GAP to Chanel, Dior or Louis Vuitton. For the best discounts check out the outlet malls or hit the annual shopping festivals which have become attractions in themselves. Dubai Summer Surprises, a nine week long summer shopping extravaganza starts in July. Twice a year, in spring and autumn, the Gulf Information Technology (GITEX) festival delivers huge discounts on phones, laptops, TVs and home appliances. But best known is the Dubai Shopping Festival in January, accompanied by a carnival with outdoor entertainment. The shops are open until midnight and offer not only huge discounts but some incredible giveaways - we're talking cash, gold, Bentley cars and apartments! Mind-blown? Let's not delay any longer - it's time to hit the shops at…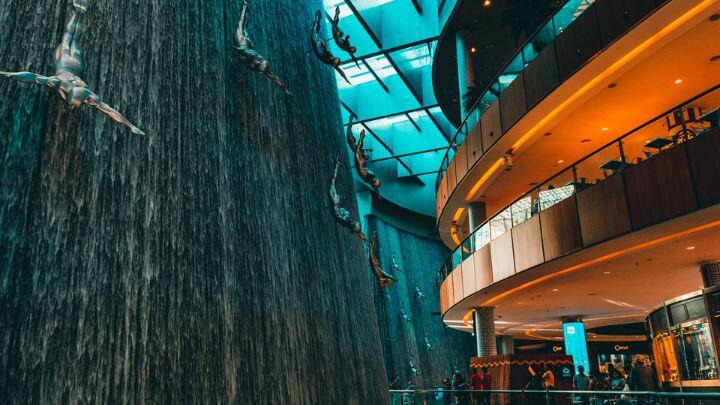 Dubai Mall
Renowned as the world's biggest shopping mall, Dubai Mall covers 12 million square feet - that's more than 200 soccer pitches! So you can easily spend a day amongst its 1,200 shops, stalls and boutiques offering everything from off-the-catwalk fashion to traditional Arabic art and crafts. At its heart, a fabulous four-story waterfall gives a fresh feel so you won't get hot and sweaty chasing down bargains at flagship stores including Alexander McQueen, Gucci, Valentino, Chanel and Ralph Lauren. Look out for luxury footwear from Louboutin, Fendi and Dior. Alongside high street names including Zara and H&M and department stores Galeries Lafayette and Bloomingdales, connoisseurs of couture will find luxury labels at Fashion Avenue just one of the mall's 'neighbourhoods'.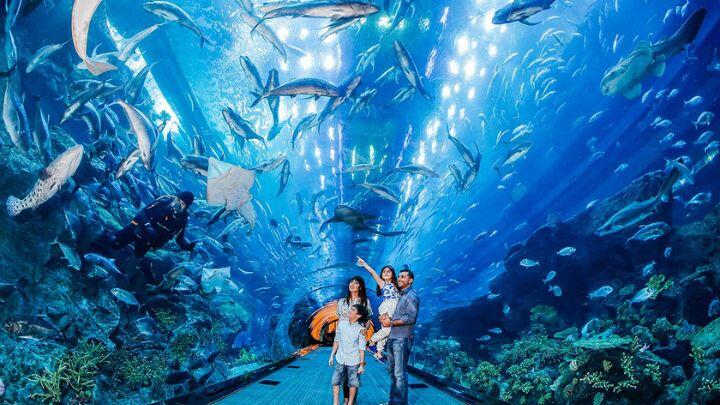 And if shopping is still not enough, the mall boasts over 200 international dining options and amazing leisure attractions for the whole family. Glide on the ice at the Olympic-sized ice rink or meet underwater friends at the Dubai Aquarium.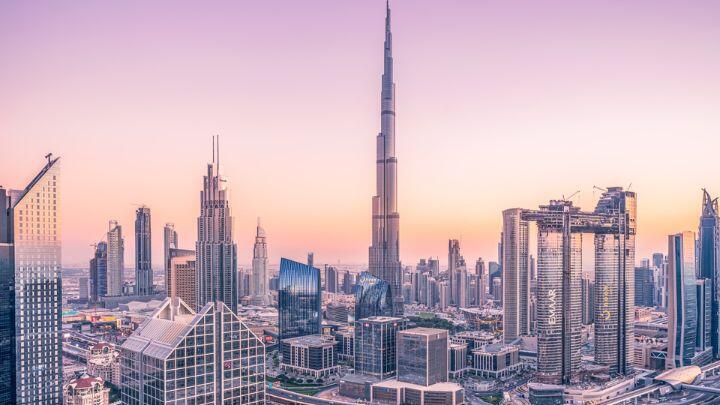 When the sun goes down, Dubai Mall lights up. Be sure to stick around for the famous fountain display that takes place each night, accompanied by music. And of course, since it's right next door, you can also catch the light show displays at the awe-inspiring Burj Khalifa.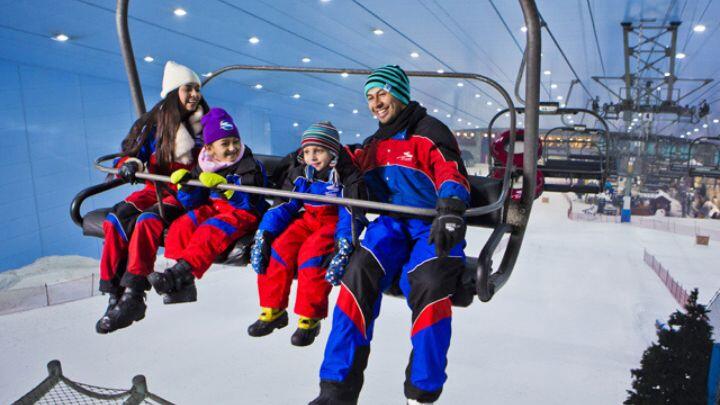 Mall of the Emirates
Located near the Sheikh Zayed Road in the Al Barsha district, this retail paradise delivers another 630 stores, alongside 100 restaurants and cafes and even an indoor ski slope! Stay cool skiing, snowboarding, tobogganing or meeting the penguins at the world-famous Ski Dubai, then explore luxury brands in the even cooler Fashion Dome. 
Dig Kate Spade, DKNY - and don't forget the high-tech Apple boutique. Browse high street names like Marks & Spencer, Debenhams and Forever 21, as well as quirky independent boutiques and high-end department stores including Harvey Nichols.
Once you've shopped fit to drop, the experiences are still only just beginning. Catch some culture at art galleries and VOX cinemas, discover the Dreamscape VR experience and let the kids loose in the Magic Planet play and entertainment centre.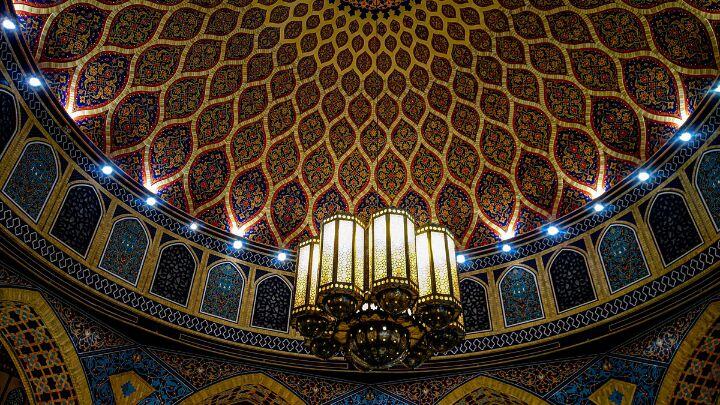 Ibn Battuta Mall
Time for another 'largest' - this time the world's largest 'themed' mall, which takes you on a 270-shop journey around the globe, in dedication to its namesake, medieval explorer Ibn Battuta. The six themed areas are based on Battuta's travels to Egypt, India, China, Persia, Tunisia and Andalucia, with decor inspired by the art and culture of those regions. Look out for elaborate tiling, an enormous golden elephant and high ceilings designed to feel like blue skies. Needless to say, the shopping is equally impressive, majoring on fashion, lifestyle and sports stores, many with regular in-store promotions.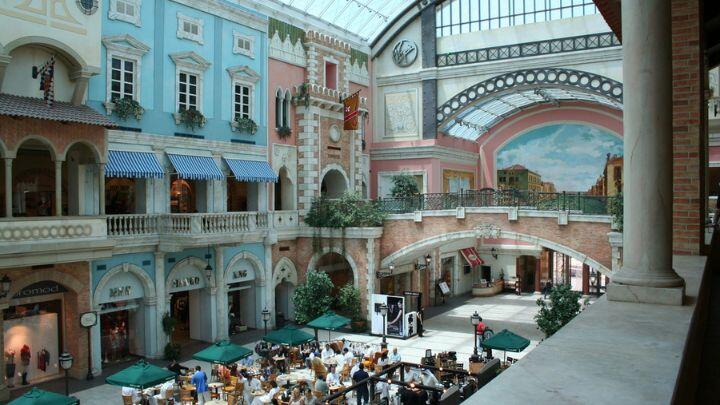 Mercato Mall
Mamma mia! Step inside the Mercato Mall and you might feel you're in Italy rather than the MENA regions. Mercato is, of course, Italian for 'market' and this soaring metropolis of shops is designed in the style of a Renaissance-era Italian village, complete with cobbled streets and welcoming piazzas where people gather. The shops are right up to date however, with a wide selection of internationally recognisable mid-market names such as Gap, Mango, Bershka, H&M, Laura Ashley and Hallmark. There's even a pet store - and a wide selection of places to eat and drink. For the true taste of the Emirates, drop into the Arabian tea house for tasty local bites and a cup of strong karak chai. Meanwhile, kids can let off steam at indoor play area, Fun City.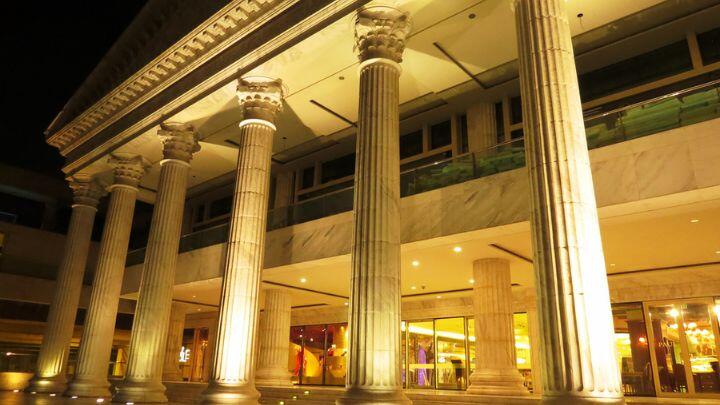 Wafi Mall
Your jaw is on the floor before you've even stepped inside at Wafi Mall, with a facade of obelisks, towering Egyptian statues and a central pyramid giving more than a clue to the decorative inspiration. 300 stores from a host of international labels are set amongst more statues, ancient scripts and colourful mosaics - as well as more contemporary art. Wafi is home to several galleries offering varied exhibitions of East and Western art, from old masters to modern painting, sculpture, photography and installations.
Back at the sharp end, popular stores include Matalan and Marks & Spencer but you'll also find local brands and Middle Eastern fashion boutiques selling beautifully decorated kandoras and abayas (Arabic dress for men and women).
Wafi Mall is known for its light and sound shows in the evening and its mammoth Christmas tree decorations in December, so prepare to be dazzled!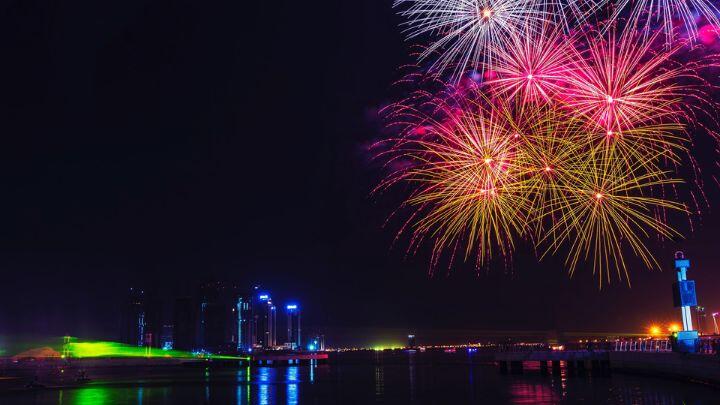 Festival City Mall
This temple of fashion and fun sits on the banks of Dubai Creek, with views across the water to downtown Dubai. 250 stores include the Robinson's department store, packed with luxury brands. Other popular outlets include Beverley Hills Polo Club, DKNY, Mango, Zara, Toys R Us - and Dubai's first (enormous) IKEA furniture store. There are plenty of places to eat too; hop aboard an abra (traditional small ferry) to reach one of the waterfront restaurants or drop by the Cheesecake Factory or the Sugar Factory for deliciously Instagrammable desserts.
In the cooler months or in the evening, stroll along the 6.4km waterfront Dubai Water Canal - and take in the view of the city's shimmering skyline from one of 5 pedestrian bridges. Whatever  you do, don't miss the spectacular IMAGINE laser, light and fountain show in Festival Bay.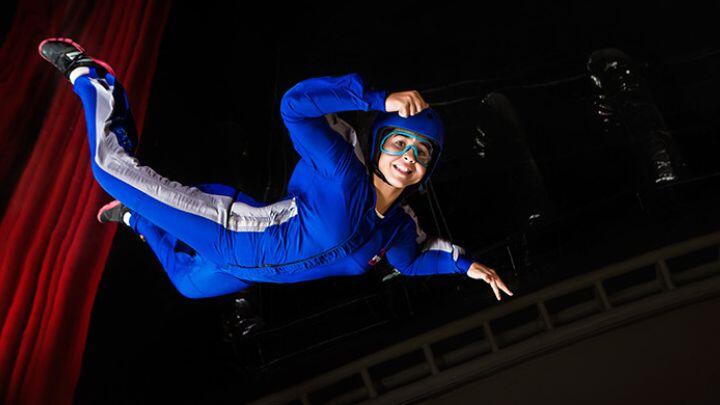 City Centre Mirdif
The sky's the limit (well nearly) at City Centre Mirdif - with indoor skydiving venue i-Fly just one of the entertainment options available. Known for its eco-credentials, this retail paradise is located in the family-friendly neighbourhood of Mirdif so has lots of fun on offer. Little Explorers is a play centre combining education and entertainment, whilst there's also a 12-lane bowling alley for competitive families. Oh and did we mention almost 500 stores?
Browse beautiful styles from contemporary Arab fashion designers at United Designers and Yoshii Boutique or check out popular stores including Hamleys, Decathlon, Pottery Barn and Debenhams.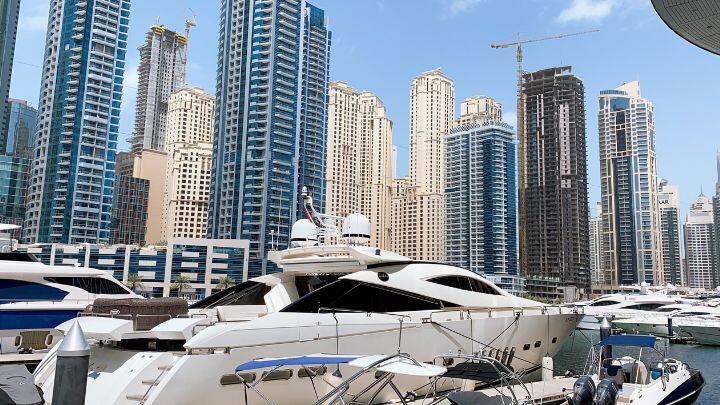 Dubai Marina Mall
Beside the sparkling marina, this is a mall that's a little less 'extra'. Whilst it still has its share of luxury brands, the emphasis is on more affordable high-street fashion and beauty brands in a relaxed environment. Billabong, Monsoon, River Island and H&M are just some of the popular names. There are plenty of dining options too. Families enjoy the jungle vibes at the Rainforest Cafe, while Pier 7 features seven exciting foodie concepts, all with waterfront seating.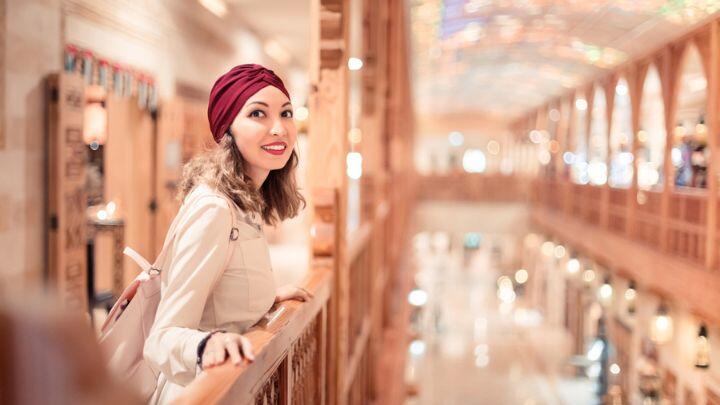 Dubai Outlet Mall
We're almost shopped out but not before we mention the behemoth of bargains that is the Dubai Outlet Mall, well worth the 40-minute drive from downtown. Year long sales and generous discounts tempt those looking for electronics, perfumes and designer names like Diane von Furstenberg, Burberry, Marc Jacobs, Adidas, Coach and Fred Perry. Visit on a Monday for further discounts of up to 50% at selected stores.
We hope that's given you more than a glimpse of the good deals to be had in the marvellous malls of Dubai. And you'll always be sure of a good deal more adventure for less, with Go City. Follow us on Instagram and Facebook for all the info and top tips, wherever your adventures take you.