Contradictorily meaning 'mainland Dubai', Bur Dubai is an island separated from the rest of the emirate by Dubai Creek. The term can be used to describe the entire island that results – stretching across to the At the Top observation decks of the Burj Khalifa in downtown. However, it's more generally used to describe the area immediately opposite the Deira neighborhood around the Al Fahidi Historic District.
You're sure to find yourself here at some point, so what are the main things to do in Bur Dubai? Site of the original settlement that developed into the modern day city, Bur Dubai has plenty of history and atmosphere. Still an important hub for everything from culture to commerce, you won't want to miss this neighborhood when visiting the region.
Grab a bird's eye view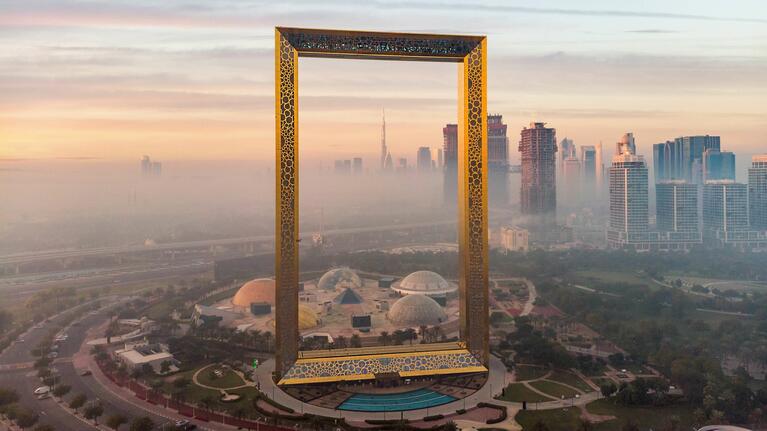 Whilst Dubai as a whole isn't short of lofty panoramas, the historic nature of Bur Dubai means most of its structures only rise to three or four stories. One way to take in the mix of old and new is at Dubai Frame, whose upper reaches stand 150 meters over Zabeel Park.
Forming a physical link between the historic and the contemporary, the frame's interior contains a museum detailing the city's past, and features suggesting how it may develop in future. Its upper levels have the expansive vistas you would expect alongside glass-bottomed floors so that visitors can look roughly 40 stories directly down.
Described as the world's largest picture frame, it may be better to think of it as a magical door between one world and another…
Explore the quiet streets of Al Fahidi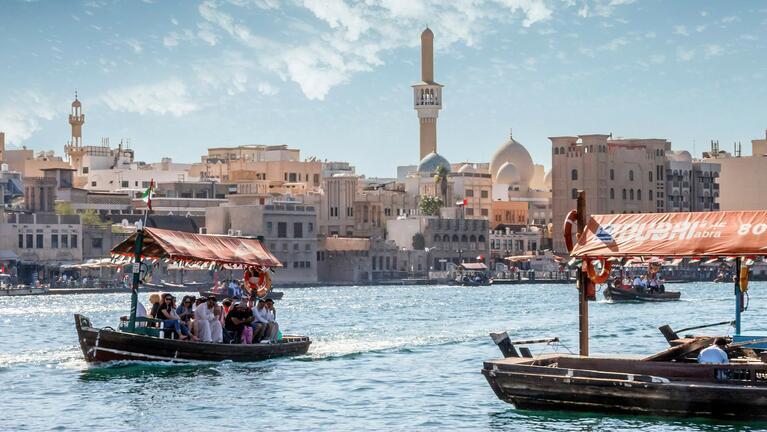 The Al Fahidi Historic District, lining the northernmost parts of Dubai Creek, takes visitors back to Dubai's humble origins as a trading post between the sea routes of the Middle East and the home of pearl divers.
An unofficial living museum, its alleyways are a huge contrast to the thoroughfares of downtown Dubai, whilst many of its structures date back to the nineteenth century when barjeel wind towers provided cooling air currents in homes long before the advent of modern air conditioning.
Although home to important historic documents and photographs, it's the structure itself of Sheikh Saeed Al Maktoum House which holds our fascination, being the residence of one of Dubai's most important rulers from 1912 until his death in 1958.
However, the district's oldest structure is Al Fahidi Fort, now Dubai Museum. Perhaps best reached as part of a Hop-On Hop-Off sightseeing bus tour, it is Dubai's oldest surviving structure, dating from 1787. As well as slightly twee dioramas of everyday life before the oil boom, there are some real treasures worthy of any museum in the world.
Delve into the culture of Bur Dubai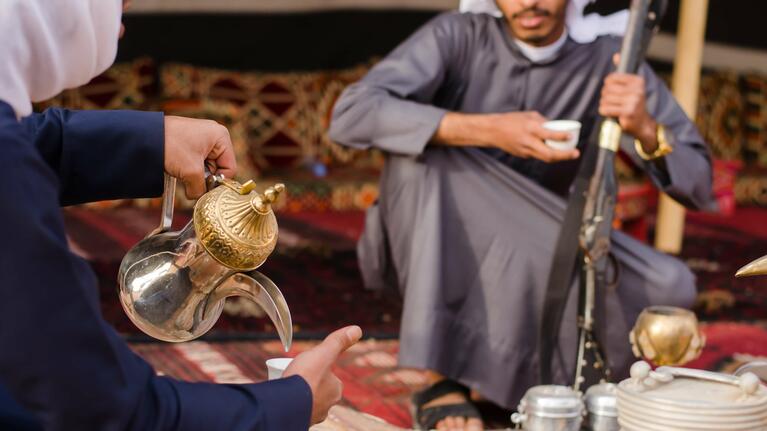 If your visit to Dubai Museum has you yearning to discover more about Emirati culture consider making your next stop the Sheikh Mohammed bin Rashid Al Maktoum Centre for Cultural Understanding (SMCCU).
Established in 1998 to foster cross-cultural comprehension, it organizes a range of events designed to bridge the gap between Dubai's traditions and visitors' understanding of them. There are regular visits to Jumeirah Mosque whatever your religious beliefs, as well as the chance to take part in a traditional tea ceremony or Emirati meal, with a host of dishes laid out on the floor in the time-honored manner.
For dining with a view, we'd instead recommend a dhow dinner cruise of Dubai Creek. Taking place as the sun sets and the lights flicker on over landmarks including the National Bank of Dubai building, you can tuck in to an all-inclusive buffet dinner of international scope.
Hit the shops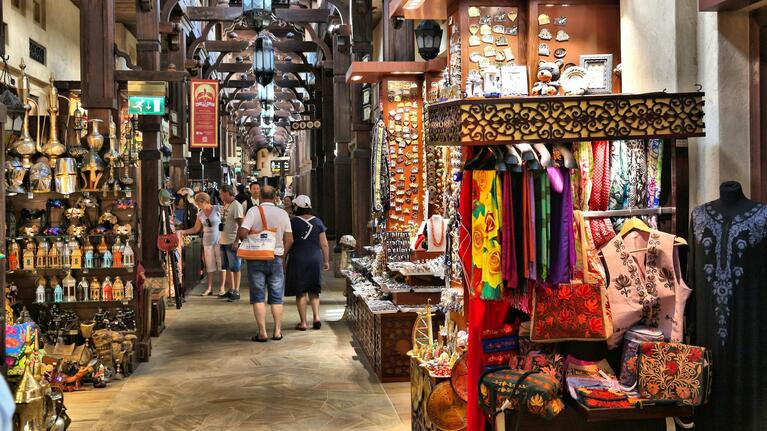 For shopping in Bur Dubai with a touch of the OTT it's difficult to beat the ancient Egyptian theme of WAFI Mall. Its name means trustworthy in Arabic, and there are few more trustworthy places to laden your arms with shopping bags than here.
Passing the ranks of Anubis sculptures, obelisks and giant pharaonic statues you'll enter a space that's home to 350 stores and stained glass pyramids decorating the interior with splashes of color. If money's no object, check out the designer stores, which include Burberry. They stand beside a range of smaller independent boutiques with just as much to recommend them.
The same can be said for the Textile Souk back beside Dubai Museum. Each trader's wealth of silks, cottons, damasks and colorful linens are ideal for anyone planning some interior design or looking for the next viral post on Instagram – in which case why not share them with @GoCity?
Pay a visit to Dubai's 'Little India'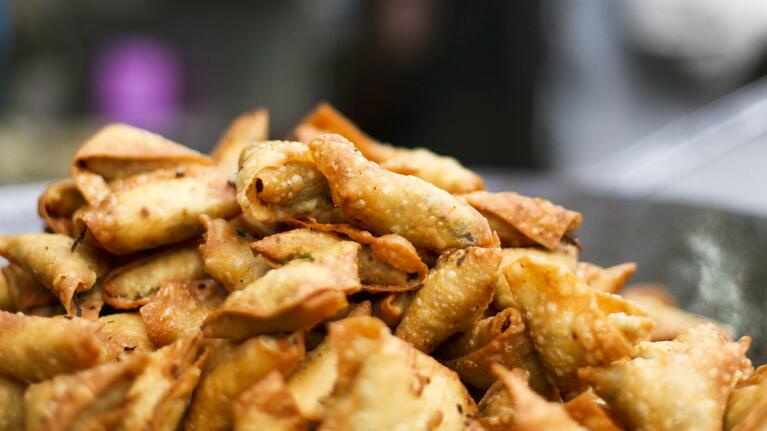 Bur Dubai has long been a bastion of the emirate's Indian diaspora. Al Nahdha Street's Meena Bazaar will whisk you away to the subcontinent, with a blend of wedding jewelry, ceramics and spices forming the stock of the hundreds of merchants eager to sell their wares.
Shopping aside, there's a choice of spots to satisfy your hunger, from stalls selling takeaway samosas for a few dirham to restaurants serving up authentic curries originating as far afield as Kathmandu in Nepal and Karachi in Pakistan.
Keep a look out for the too-good-to-be-true prices of some goods, and thanks to its ambience, there's a good chance you'll consider it one of the best places to visit in Bur Dubai!
How to visit Bur Dubai
When it comes to things to do in Bur Dubai visitors aren't limited in choice. Though it may not offer the beach vibes of other neighborhoods, it's one of the easiest places to discover Dubai's often forgotten history, as well as the culture of the emirate and the people who call Dubai their home.
Remember too that the rest of Dubai is only a short metro, boat or taxi journey from Bur Dubai, and there's no reason you can't explore Bur Dubai one morning or afternoon before heading to Deira, downtown or Dubai Marina.
But whatever you decide to do with your time in Dubai, be sure to do it with Go City. That way you'll get reduced admission to many of the region's top attractions, meaning more cash for shopping at WAFI Mall or dining at Meena Bazaar!