The beating heart of the glittering, modern Dubai as it's known the world over stems from the wide, manicured boulevards and state of the art venues of the Downtown Dubai and Dubai Mall area. This is one of the newest, most innovative, and iconic areas of the Emirate where locals and visitors alike converge on the many restaurants, shops, and locales in the neighborhood. The shiny glass surfaces and glittering night lights of the Burj Khalifa stand as a beacon over Downtown Dubai, while the newly built Dubai Opera House beckons in culture vultures and music buffs to a rotating program of plays, ballets, operas, conferences, and concerts. If you're looking for things to do in Downtown Dubai and Dubai Mall during your trip, check out our list of the best local activities and attractions, including...
At The Top - Burj Khalifa
Dubai Fountains
Hop-On Hop-Off Big Bus Dubai Tour
Hysteria Haunted House
Souk Al Bahar
Dubai Opera House
Thrill Zone Dubai
Save on Downtown Dubai & Dubai Mall Attraction Admission
Admission to a number of these top Dubai attractions and activities are included on the Go Dubai Card. Choose as you go from dozens of top attractions and save up to 55% on combined admission vs paying at the gate. See all available passes, attractions & prices – Learn more.
At The Top At Burj Khalifa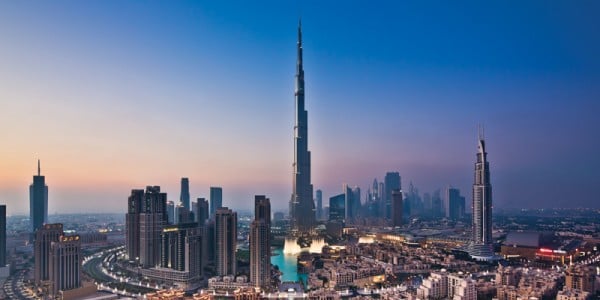 It's hard to top such an action and culture-packed day, but At The Top at the Burj Khalifa might just do the trick. You'll get to experience the world's tallest building from the very top as you travel up 10 meters per second to the 124th and 125th floors of the tower. From the observation deck, you'll have amazing, 360-degree, panoramic views of almost the entire city. You'll also get to experience interactive displays and exhibitions providing history and context about each building and landmark of the Dubai skyline. Super strength telescopes also allow you to zoom into the details on the ground. Getting In: At the Top - Burj Khalifa tickets are included with the Go Dubai Card.
Dubai Fountains
Following a morning of thrills, chills, and mall browsing, take a moment to relax and reflect at the Dubai Fountains. Situated just outside of Dubai Mall, this incredible water feature captivates audiences with specially choreographed light, water, and music shows. You can enjoy a mix of both Arabic and Western music perfectly synced to the water and music show, for free, every afternoon at 1:00pm and 1:30pm and then every half hour each evening.
For more, check out our post on free things to do in Dubai.
Getting In: Access to view the Dubai Fountains is free.
Hop-On Hop-Off Big Bus Dubai Tour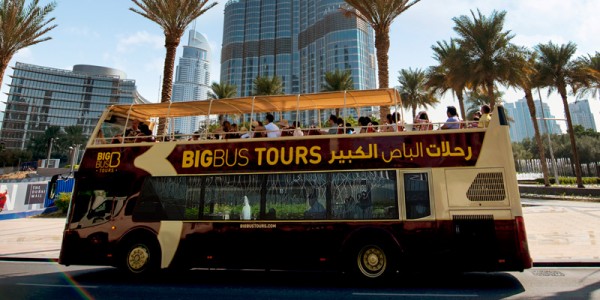 One of the best ways to experience the city is from Dubai's main road, Sheikh Zayed, which runs the entire length of the city. Jumping onto the Hop-On Hop-Off Big Bus Dubai Tour Bus will give you an excellent view of the city from the comfort of a glass topped open bus, so you can tick off the Emirates most memorable landmarks from your to-see list - an amazing Dubai sightseeing tour for first time visitors. Choosing the Big Bus Dubai Tour's Red route will give you a full tour of the downtown area with the ability to hop-on or hop-off and explore at your leisure. Each tour comes complete with narration and commentary in 12 different languages that includes cultural, historical, and anecdotal insights into the Emirate that will add context and color to your visit. Your city bus tour will take you through Deira and Old Dubai and the Gold and Spice Souks before heading onto the Dubai Fountains and the base of the Burj Khalifa. Getting In: Hop On Hop Off Big Bus Dubai Tour tickets are included with the Go Dubai Card.
Hysteria Haunted House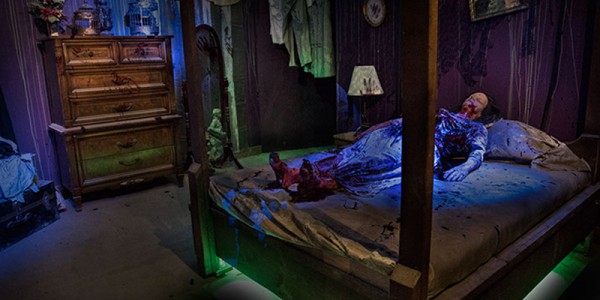 Once you've relaxed on a leisurely city tour, it's time to get your heart pounding with a spook-tacular visit to Hysteria Haunted House at Dubai Mall. This attraction drops you into a haunted house where theatrical special effects bring a scary story of missing children to life. Ghosts, ghouls, and other creatures are brought to life as you navigate your way through the adventure. Make it through the gauntlet of the haunted house and you have the excitement and reward of a leisurely afternoon in the hundreds of shops and restaurants at Dubai Mall to soothe your frazzled nerves. If they can handle it, this can be a very fun thing to do in Dubai for teens - check out more ideas here. Getting In: Dubai Hysteria Haunted House tickets are included with the Go Dubai Card.
Souk Al Bahar
Crossing the bridge from Dubai Mall over the manmade Burj Khalifa Lake, will bring you to the entrance of Souk Al Bahar. Here you can experience the wonders and delights of an authentically designed traditional Arab souk turned into a shopping, dining, and entertainment complex. From a range of international cuisines, from sushi to American style BBQ, to Mexican and even Lebanese, to the many boutiques and shops where you can buy mementos and souvenirs of Dubai to bring back home to loved ones and friends, Souk Al Bahar is a place both to sight-see and to indulge.
Getting In:
 Access to enter the the Souk Al Bahar is free.
Dubai Opera House
Following a leisurely lunch and walk around Souk Al Bahar is the perfect time to visit one of Downtown Dubai's newest and most intriguing residents, the Dubai Opera House. This cutting edge architectural project recently opened its doors, bringing a diverse platform of cultural events to the Emirates. Created to evoke the silhouette of a traditional Arabic dhow boat, the Opera House rises from the Boulevard. It is one of the most technologically advanced venues to date, with a system of hydraulics to assemble and arrange up to 2,000 seats within its opulent space. Even if you can't make it in for a show, the exterior and area around the Dubai Opera House is equally breathtaking and worth an afternoon exploration.
Getting In:
Admission to the Dubai Opera House is separately ticketed and is not included with the Go Dubai Card.
Thrill Zone Dubai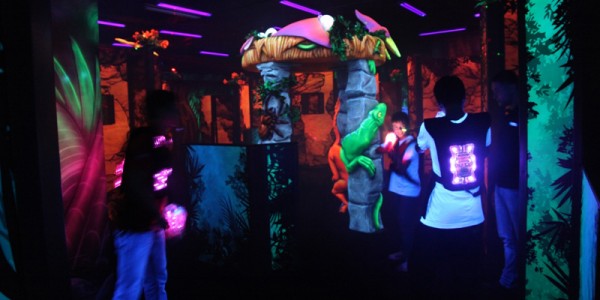 With enough of a cultural fix under your belt make your way over to Oasis Mall for a fun-filled afternoon at Thrill Zone Dubai. This entertainment funplex is packed with enticing games and activities for all ages. You can use your Go Dubai Card for entrance to Thrill Zone where you'll experience two 15-minute laser tag games and two five-minute 6D movies. You'll be thrown into the action of a laser tag game in a special suit and state of the art laser weapon as you make your way through a volcanic rock and jungle themed route complete with UV lights, music, and fog. While the 6D cinema will have you holding on in wind, fog, rain, and moving chair actions throughout the films. Getting In: Dubai Laser Tag Thrill Zone tickets are included with the Go Dubai Card.
Remember to Save on Downtown Dubai & Dubai Mall Attraction Admission
There you go - a few great recommendations for things to do in Downtown Dubai and Dubai Mall during your trip. If you're looking for the glitz and glamor of Dubai, you don't have to look any further than Downtown Dubai and the Dubai Mall. From a vast array of five-star hotels, luxurious restaurants, and designer boutiques, this is truly a place to indulge. Remember, many of these great attraction options and more are included on the Go Dubai Card, where you can save up to 55% on combined admission vs paying at the gate. We hope you consider adding a few of these fun options to your Dubai vacation itinerary.