Summer is most people's favorite time of year. The sun is out, the sky's no longer grey, and it's the time of year when vacations often turn from dreams into reality. So, where do you choose to go on your summer vacation? Dubai - one of the hottest cities on the planet. Fair play, we respect the commitment to summertime. So, you'll be wanting to know about the best things to do in Dubai in summer, won't you? Right this way, please. The doctor is ready to see you. Dr. ...Fun. Dr. Summer Fun, MD. 
Including:
Cool off at Dubai's excellent waterparks
Check out the relaxing beach club scene
Chill out on the slopes
Kick back on the beach
Take to the seas and tour the sunny surroundings
Make a splash
When it comes to summertime, water is a human's best friend. We drink it to hydrate us, we spray it on our faces to cool down, and we like to submerge ourselves in it when the temperature rises. But why settle for swimming when you can cannon down a water slide and make a real splash?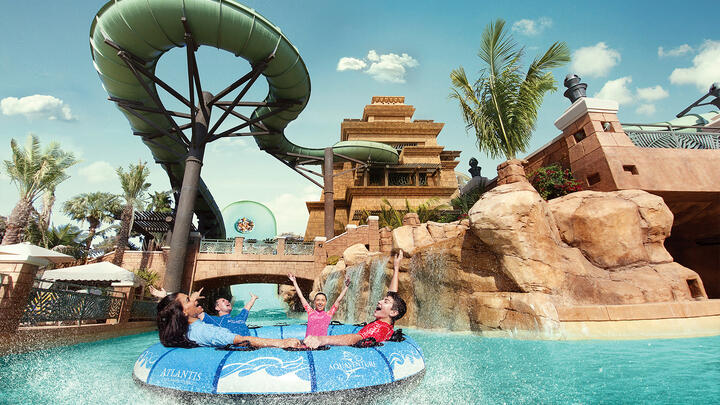 Dubai waterpark scene is popping off, with a number of the wonders dotted about the city. Arguably the best is Aquaventure Waterpark at Atlantis The Palm. You'll find a good mix of kid-friendly entertainment and stuff for the grown-ups and opportunities to relax between the action. Make sure you check out the Leap of Faith, which drops you nine stories into a transparent tube surrounded by deadly sharks; Aquaconda, which is a snakey slide that will leave your head spinning; and Aquaventure Beach, which lets you relax and dry off after a hectic splash.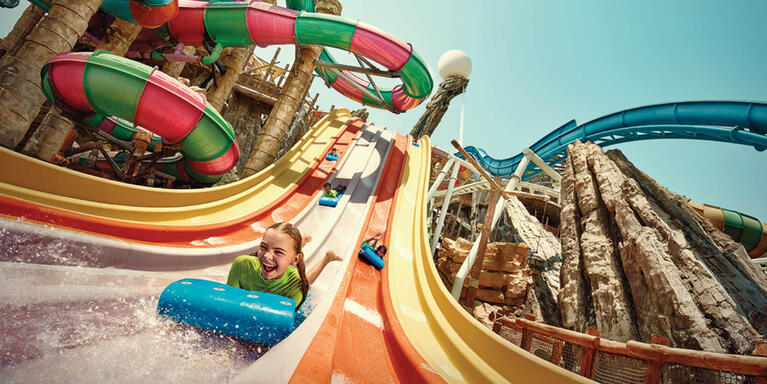 If you're willing to travel, take a boat over to the beautiful Yas Island and check out Yas Waterworld. Featuring over 40 unique rides and appealing to all ages, it's the perfect remedy to the summer heat. Our recommendations are Bandit Bomber, a suspended rollercoaster that cannons around the track and splashes you with water; Liwa Loop, another plummeting ride that drops you into winding tubes; and Cinesplash, a thrilling 5D cinema experience that will leave you mouth agape and your legs thoroughly soaked!
If you've got the little ones with you, why not treat them to a waterpark built just for them? That would be LEGOLAND® Water Park, where the wonderful world of colorful building blocks comes to life. With 20 LEGO®-themed rides featuring some recognizable faces, your kids will love it. The Joker Soaker will pit you against LEGO® Batman's arch nemesis, as you splash around his playground. At LEGO® Slide Racers, you'll board your mat and bomb your way down this white knuckle ride. Thrills, chills, and hopefully, no spills await you. And, at Splash Out, you'll plummet down into the water in a kid-friendly way this time.
Go clubbing, Dubai style
We're not talking about busting some moves at the discotheque here; we're talking about beach clubs. These hubs of rest and relaxation can be the perfect answer to a long, hot day in Dubai. So it's no wonder that you'll find plenty of them lining the coast. Providing great views, great food, and good vibes, they're one of the best things to do in Dubai in summer. 
We recommend Twiggy by La Cantine. Its Central European splendor is exemplified by its all-white decor. Think white loungers draped in white sheets, and you're halfway there. But alongside the ambiance and a delightful menu of Mediterranean bites, its biggest selling point is unarguably the near-330ft infinity pool.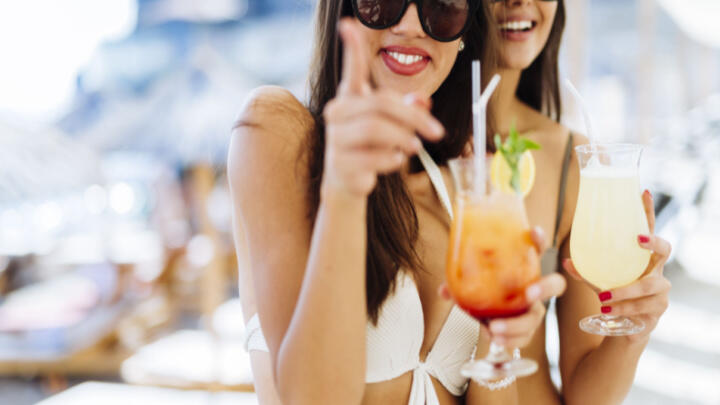 Or, if the discotheque sounded like music to your ears, then you'll have your head turned by Surf Club. There, you can join the dancing masses on the dancefloor while DJs spin bouncy cuts, or simply sit back, admire the atmosphere, and feast on some delicious seafood. Whichever way you like your beach clubs, Surf Club's got you covered. 
Ski for your life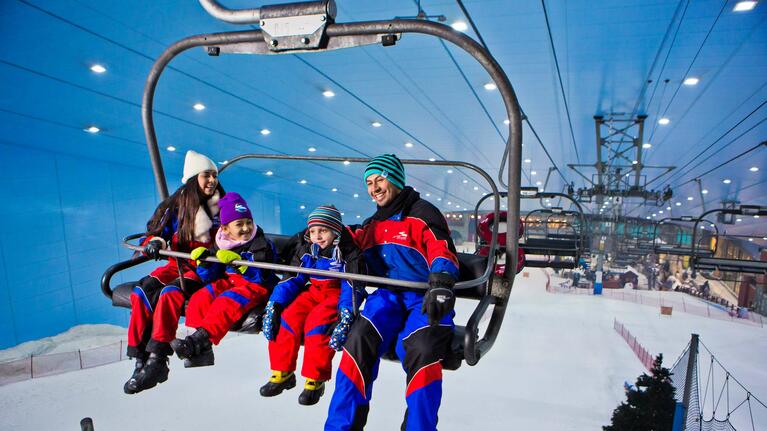 When things get too hot outside, it could leave you wishing you'd gone somewhere cold instead. Rather than hiding inside, you could be hitting the slopes. Well, turn that frown upside down, you warm devil, because Ski Dubai is here to bring the chills and thrills where you'd least suspect them. How can snowy hills exist in Dubai, which is categorically hotter than the sun? Well, thanks to the largest indoor ski center on planet Earth, that's how!
With plenty of slopes to conquer, lifts to scale, and even adorable penguins to see, it's about as close as you can get to an authentic mountaintop experience in the middle of the desert. Oh, and they provide you with all the equipment and teach newbies too, if you need the guidance. Easily one of the best things to do in Dubai on a hot summer day. 
Son of a beach, I'm in
And finally, after all our recommendations for avoiding the heat, let's end with one that embraces the furnace. After all, it may have been the white dunes and pristine beaches that brought you here in the first place. So buckle up because it's beach time, baby. Let's talk about some of Dubai's finest sand factories.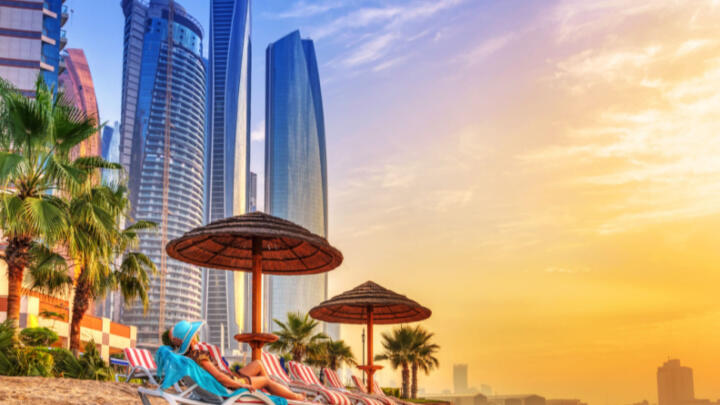 One of the biggest and arguably best beaches in Dubai, and well worth adding to your travel itinerary, is the Jumeirah Beach Residence - or JBR. This massive beach has everything you could ever want - clean white sand, warm blue water, and enough space to stretch out and make the most of it. It's also open 24 hours, though swimming is not permitted after the sun goes down due to the risks involved.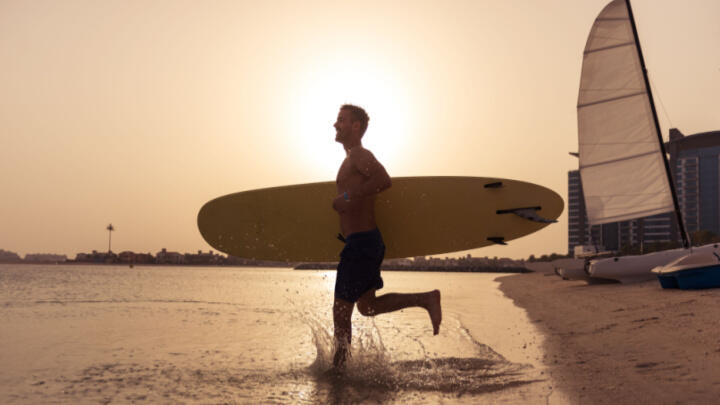 Our other recommendation goes to Umm Suqeim Beach, which has a bigger focus on water sports and activities. You'll find more than a few surfers riding the waves here, and while they're hardly magnificent, they're about as good as you'll get in the Persian Gulf. It's a 24-hour beach too, but this time you can swim until midnight thanks to Smart Power lights that flood the beach. 
And that's our list of the best things to do in Dubai in summer! If you're in the market for some more unforgettable activities, look no further than Go City. With our All-Inclusive Pass or Explorer Pass, you can see all of Dubai's best bits when and how you want.