Rain - the bane of many a made-up mane, falling water is something many of us would rather avoid entirely. In a desert oasis like Dubai, you may think you're safe from the sprinkly pestilence. But you'd be wrong. Dead wrong. See, it turns out Dubai does experience rain. But don't let a little rain spoil your vacation. Instead, seek shelter from the storm, and fun undercover. Below, we've detailed the best things to do in Dubai when it rains. You don't even have to lift a finger. Now, prepare your eyes for an onslaught of useful information. 
Including:
Ski Dubai
IMG Worlds of Adventure
Dubai Aquarium and Underwater Zoo
Wavehouse
VR Park Dubai
and more!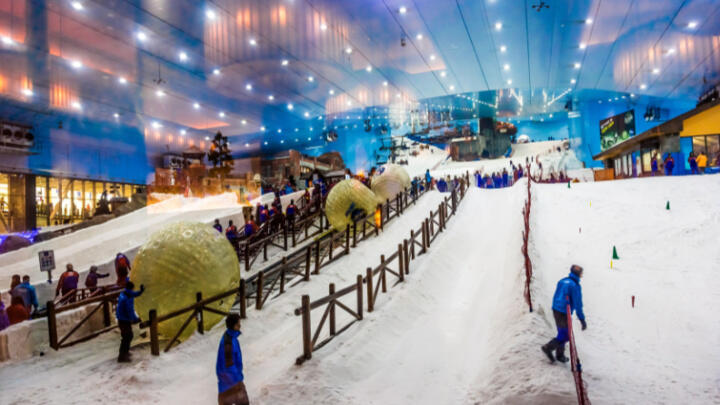 Ski with the roof up
Even at its coldest or wettest, Dubai's temperature never really dips below 65-70°F. So even when it's raining sideways, you might be looking to chill out those warm bones. Well, if it's chill you want, look no further than Ski Dubai - the world's biggest indoor ski center. 
Featuring slopes, ski lifts, and even penguins, stepping inside this icy park is like being transported to another country entirely. You're free to ski, snowboard, or toboggan to your heart's content. You can even descend in a giant snowball, if that's your sort of thing. 
With all your equipment provided and instructors on hand for newbies, it's the perfect place to try out winter sports if you've never partaken. If you're a seasoned vet, feel free to go ahead and tear it up however you like.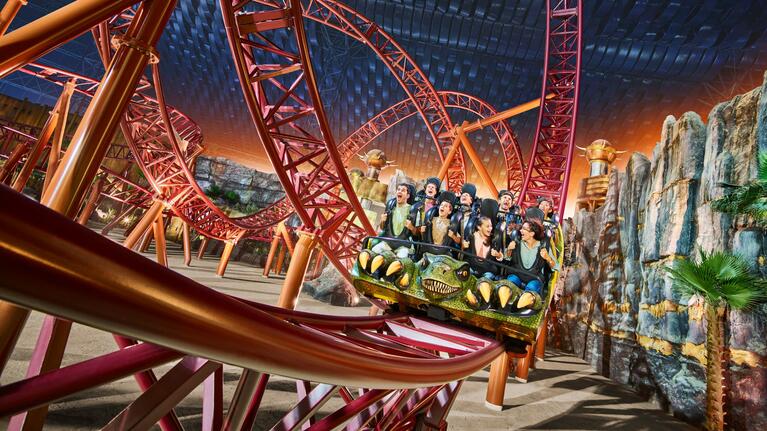 Themed park
"Theme parks? But they're outside!" We hear your cries, but they are in vain. Stifle your screams into your nearest pillow and listen up. IMG Worlds of Adventure isn't just your average, weather-friendly theme park. It's not only an inside theme park; it's the biggest indoor theme park on the planet. 
With thrilling rides themed around beloved characters from pop culture, including Cartoon Network™ and MARVEL, you'll spend hours exploring and enjoying each of its five zones. 
Will you survive a night in the Haunted Motel? Can you help the Avengers stop Ultron? Are your legs strong enough to outrun a velociraptor? Only time, and a visit to IMG Worlds of Adventure, will tell. Who says the rain has to keep you away from the rollercoasters? Not Dubai, that's for sure.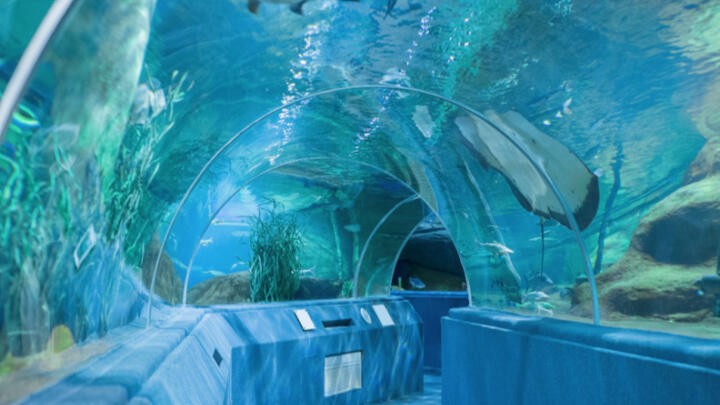 Beneath the waves
With all the rain tumbling down outside, the last thing you might want to do is surround yourself with water. But you'd be wrong, rain avoider! There's a whole world to explore under the ocean, so go check out Dubai Aquarium and Underwater Zoo and see it for yourself. 
The bulk of the experience takes place in a massive underwater tunnel, where you'll be able to see all sorts of aquatic species going about their day all around you. Perfect for photo ops, as well as a strangely serene stroll, it's a one-of-a-kind experience in Dubai, and well worth a visit.
After you've wandered along the tunnel, you'll reach the Underwater Zoo, where you can get up close and personal with tons of exotic fish, crustaceans, and other aquatic wonders. You'll meet spider crabs, otters, piranhas, penguins, and other colorful characters. Despite its watery nature, Dubai Aquarium and Underwater Zoo is easily one of the best things to do in Dubai when it rains.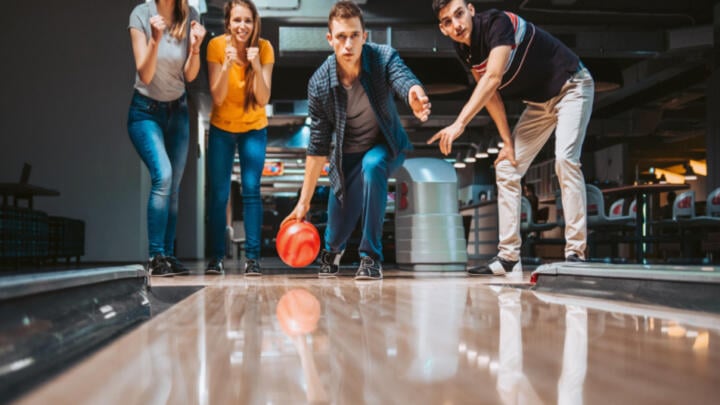 Wave for the camera
Even the oldest of us like to pretend we're young again every once in a while. For some, that can mean buying modern clothes to help us look young. For others, it can be doing silly things our bodies aren't capable of achieving anymore. But what if there was a way to relive your youth without any unnecessary embarrassment? Just head to Wavehouse in the Atlantis Hotel and transport yourself back to the good old days of 80s arcades!
They've got bowling alleys, arcade games, and even a surfing simulator to embarrass yourself on. Plus, you can pair all that fun with a host of delicious American diner-esque dishes, from succulent burgers to mouthwatering pizzas. Just make sure you surf those calories off; your metabolism isn't getting any younger, either.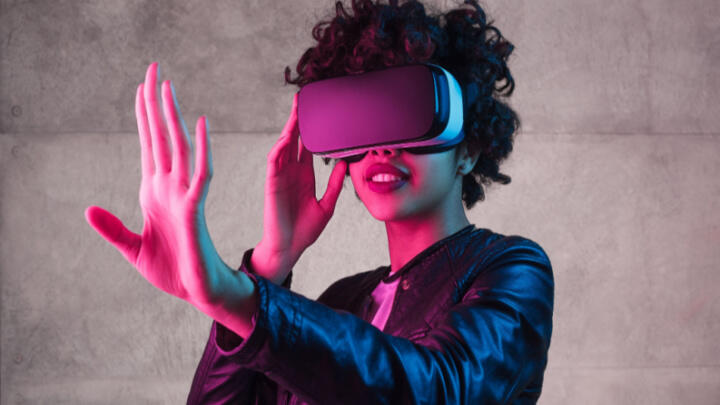 Explore worlds without rain
If you want to avoid the rain, why not travel to another world entirely? It may sound farfetched, but thanks to the state-of-the-art technology on offer at VR Park Dubai, your dreams of a rain-free world can become a reality. 
For four hours, you'll have the opportunity to choose 7 from 25 games and enter virtual reality. Simply slip the headset on, pick your poison, and play away. Can you make your way out of the VR Maze? Can you stop the robot uprising in Robocom? You can even challenge your friends or family to competitive games, including sports, platforming, and puzzle-solving genres. 
And who knows, maybe when your four hours are up, the rain will have passed, and you'll be free to roam the sunny streets once more? 
Find a way out
Of course, escaping the rain is your top priority. But what if your rain escape leads you into a trap?! Imprisoned in a room that demands all your wits and grit to escape? An...escape room, if you will. Well, lucky for you, all your nightmares can come true thanks to No Way Out escape rooms!
With 10 spooky rooms on offer, including authentic offerings from the IT and Ring universes, you and up to 8 prisoners - sorry, friends - will battle the clock, devious traps, and puzzles, and contend with creepy actors playing their parts as they try and scare you senseless. 
And if that wasn't enough, you can even stay after your game and sit down for a bit of interactive horror cinema. Each showing features wind, water, and other special effects that will assault your senses as you watch. But, be careful. You never know when one of the actors will be creeping right behind your seat. If you have the stomach for it, No Way Out is definitely one of the best things to do in Dubai when it rains!
And those were our picks for the best things to do in Dubai when it rains! Looking for some sunny activities when the weather finally clears up? Check out Go City. With our All-Inclusive Pass or Explorer Pass, you can see all of Dubai's best bits when and how you want.