'Old' and 'Dubai' aren't necessarily words that fit together comfortably with our image of the emirate as a new city rising out of the sands of the desert. However, there is an Old Dubai, and it's one of the richest areas for atmosphere and authenticity.
Straddling both sides of Dubai Creek's northernmost portions, things to do in Old Dubai aren't difficult to find. Top attractions are found dotted throughout the neighborhoods which form the district. Running clockwise these are Deira, Al Seef, Al Fahidi and Al Shindagha.
From museum spaces to historic marketplaces, here's our guide to the wonders of Old Dubai.
Get your taste buds popping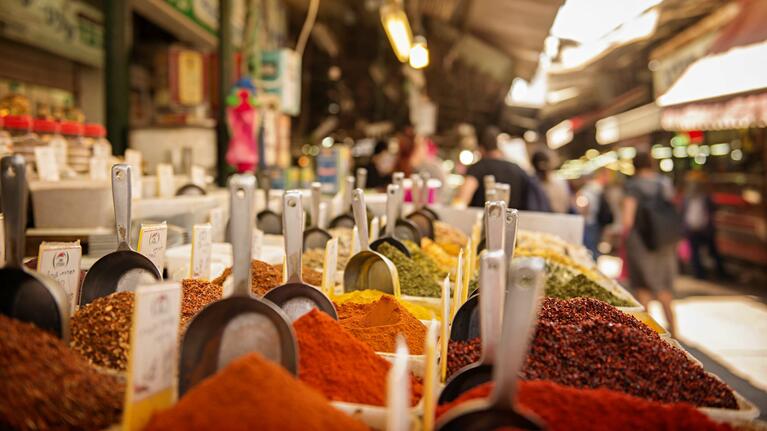 When hunger beckons, quick and tasty eats appear to lie on every street corner of Old Dubai. The most popular spots are busy from mid-morning onwards, with shawarma wraps feeding the neighborhood's hungry alongside Indian snack foods such as samosas – the best are found around the Indian enclave of Meena Bazaar.
But if you can, it's worth lingering over the flavors of Old Dubai to appreciate them fully. Take a walk through Deira's traditional Spice Souk, where spices are piled in great mounds, and your senses will be opened to a world of colors, smells, sounds and tastes. The market's teas make particularly good souvenirs, just don't forget to haggle!
An often overlooked aspect of Emirati culture is its tea drinking ceremonies, which can be explored at the Arabian Tea House a block away from the Dubai Museum. A visitor-friendly space combining authenticity with comfy cushions, the tea house has 150 different brews to choose between, as well as platters of delicious local sweets including syrup-soaked khabisah.
Getting about Old Dubai you'll probably find yourself crossing Dubai Creek at one point or another, whether by bridge, tunnel or abra small boat. However, to discover the importance of this waterway to the development of Dubai, a dedicated tour – such as a dhow dinner cruise – is a better option.
Delve into the history of Old Dubai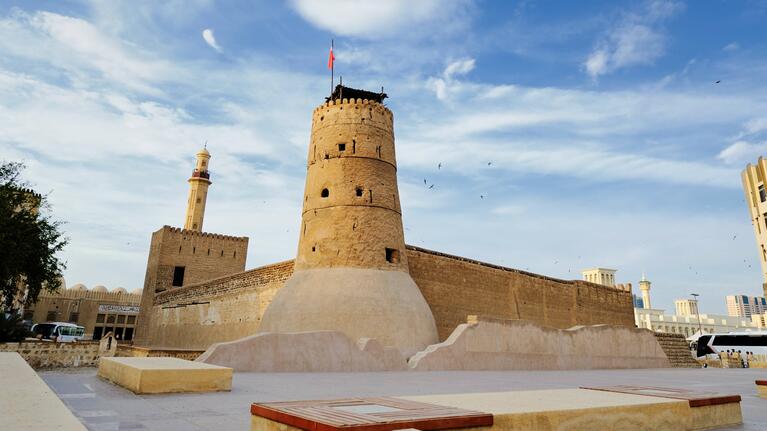 As the site of the emirate's earliest settlement, much of Old Dubai has been preserved and restored to create districts very different from those around the Burj Khalifa. The low-slung buildings made of gypsum and coral stone hint at a proud if humbler past.
For a quick-fire guide through culture, seafaring and heritage, slip through the grand entranceway of the Dubai Museum, housed within its oldest building, the Al Fahidi Fort. Constructed in the late 1700s to defend the growing settlement from attack from the sea, it contains a collection of artifacts that show off the skill of artisans hundreds of years before it became known internationally. The Al Shindagha Museum has a similar role to play, with plenty of multimedia additions to bring it all to life.
If there's no time on your itinerary to head out into the Rub Al-Khali desert in the emirate's far east on a 4x4 quad bike ride or desert safari and BBQ dinner you can still explore some of its archeological wonders at Saruq Al-Hadid Museum. Meaning 'the way of iron', it displays iron age objects discovered in the desert by none other than Dubai's ruler Sheikh Mohammed bin Rashid Al Maktoum.
Explore your artistic side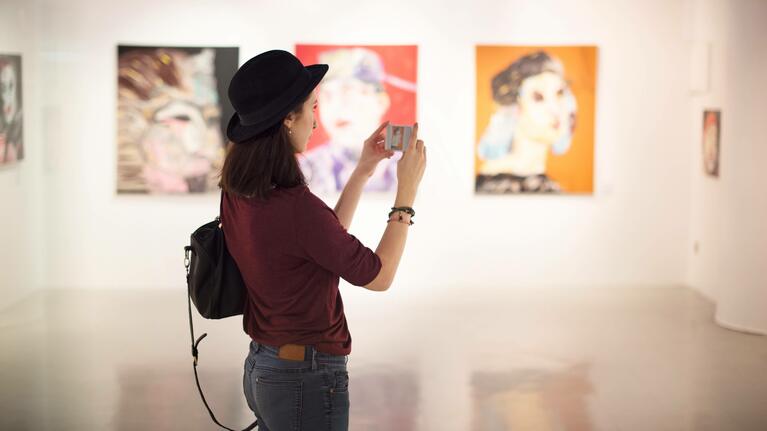 Although Old Dubai is awash with the past, that doesn't mean it isn't also a destination for the culture of the present too. A leading light in contemporary Arab art, XVA Gallery is proud of its location on the creek between Al Fahidi and Al Seef.
Along with its café and hotel, it aims to provide a space where the art of the Middle East as well as India can be enjoyed. It hosts regular exhibitions of established and emerging artists to ensure its walls are never the same for long.
The nearby Majlis Gallery was once the residence of an interior designer and still has the feel of a home first and foremost. Hosting the works of local and international artists, it continues its ethos of being a 'majlis' or meeting place, where people are able to gather to share their common interests.
Best of the rest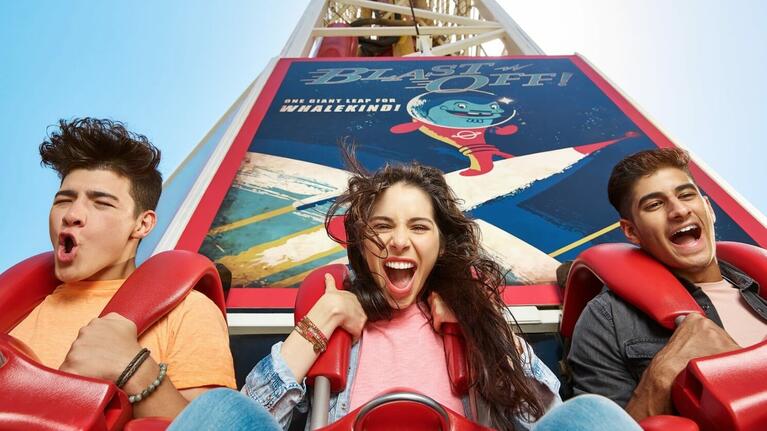 By now you'll be wanting to give your feet a well earned rest, so make your way to the nearest stop of the city's Hop-On Hop-Off sightseeing bus. A way of seeing those parts of Old Dubai that extend away from Dubai Creek, its route includes Al Shindagha Heritage Village – a living museum of craftsmen, fishermen and pearl divers – and the souks of Deira.
If its Spice Souk impressed, the warren of narrow covered paths that make up the Gold Souk will also be high on your list. One of Dubai's oldest trading places, there's enough gold (and silver, platinum and pearls) to support the budget of a small country. Look out for merchants including the producers of the Guinness World Record holder for the longest handmade gold chain. Stretching for 5.5 km of 22 carat gold, it weighed 240 kilos and had four million individual links.
For thrills which won't break the bank, indoor amusement park Magic Planet has some physical rides and arcade-style video games. Children of all ages will find something that suits them, from soft play to a ten pin bowling alley.
But for the biggest adrenaline rushes you'll have to travel out of Old Dubai. Do that, and there's suddenly a huge range of amusement parks to choose between. For instance, MOTIONGATE contains over 25 different rides and experiences, including roller coasters set around the Hunger Games and Ghostbusters, whilst LEGOLAND Dubai brings the charm of these tiny plastic bricks to the region for the first time.
Checking out all the things to do in Old Dubai
Having seen millions spent on its restoration and preservation, Old Dubai provides a fascinating insight into the traditions and origins of the modern multicultural city home to around 200 different nationalities. From its restaurants to its museums and its souks, there's good reason to consider the quick metro ride from other parts of the city to explore. Head for the things to do in Old Dubai with Go City and you've also got the chance of reduced admission to many of them!