When it comes to accommodation Dubai has something for everybody, from budget travelers to the international jet set. Wherever you reside on this scale, it's just as important to work out the best areas to stay in Dubai for you.
Together Dubai's patchwork of neighborhoods form a blend of the historic, the glitzy and the refined. So whether you're a beach bum or culture vulture by nature, there's going to be an area of Dubai which matches your temperament and expectations. By now you must be eager to work out where to stay in Dubai. Here are our top neighborhood picks!
Downtown Dubai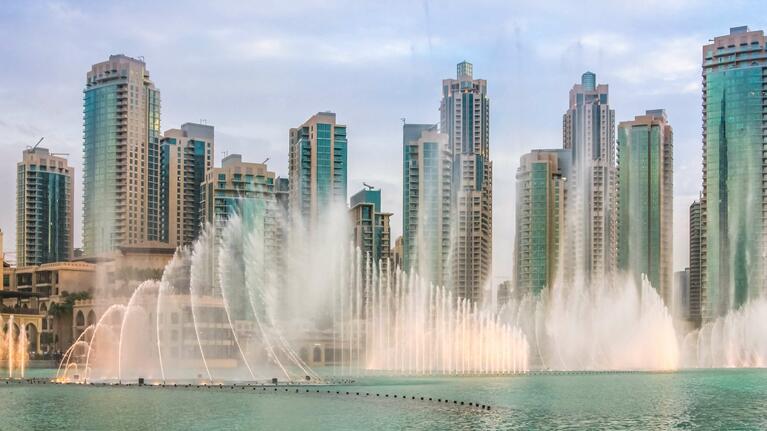 Liberally speckled with hotels – mostly four and five star options – downtown Dubai's handful of roads sit at the heart of the modern, brash international city, between Dubai Creek and Sheikh Zayed Road.
Although it isn't the most authentic or homely of places to stay in Dubai, it's a trustworthy pick for first time visitors looking to be just a short stroll from many of the emirate's top attractions. Dominated by the Burj Khalifa, the world's tallest building at 828 m high, its sidewalks are busy throughout the day with residents and visitors alike watching the dancing jets of Dubai Fountain.
It's not difficult to lose a couple of hours at the neighboring Dubai Mall either, especially if you decide to delve beneath the world's waves at Dubai Aquarium and Underwater Zoo or grab a bite to eat at one of the restaurants running the length of Sheikh Mohammad bin Rashid Boulevard.
Deira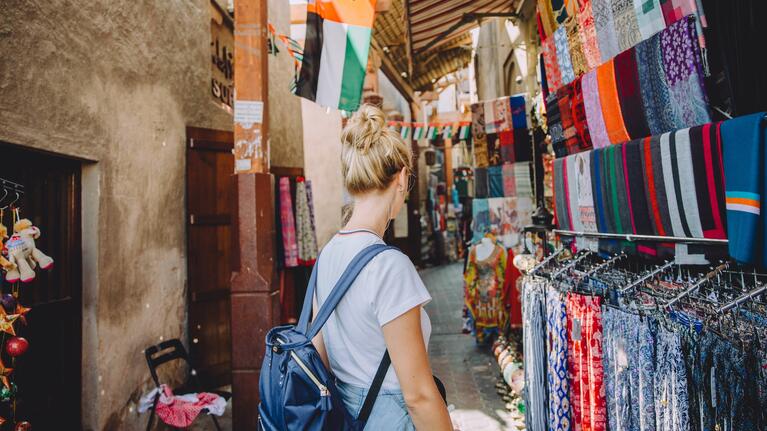 Squeezed between the Persian Gulf, Dubai Creek and the international airport, Deira is a good choice for those on stopovers and shorter breaks. Only a couple of minutes from the airport by the city's streamlined metro system, versus downtown's 25 minutes, Deira isn't short of charms.
In contrast to downtown, life in Deira remains on a more human scale, with smaller independent stores rather than world-record holding malls and inhabitants who are mostly Emirati or long-term residents from other nations in the region.
Dubai's old commercial hub, Deira is not big on specific attractions. However, the narrow alleyways forming the souks are well worth exploring for their glittering gold and rich perfume of spices. The creek promenade provides photo opportunities of some of the oldest structures to survive in Dubai, and the chance to get out on the water with a dhow dinner cruise too. Its highest rated hotels tend to line the creek, with budget friendly one and two star options a couple of blocks inland.
Jumeirah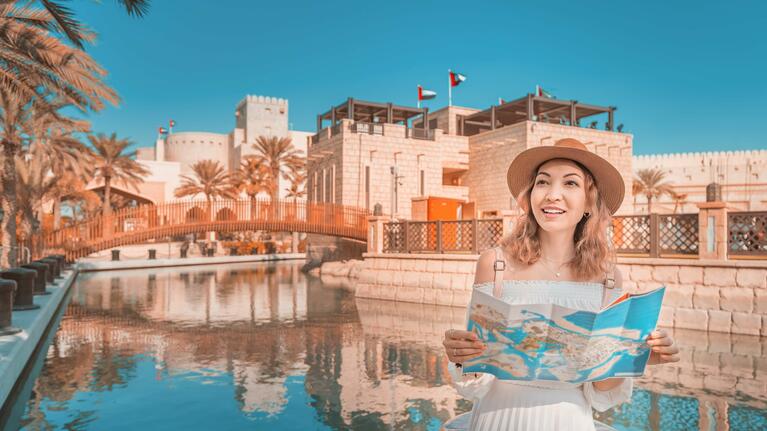 Popular with Dubai's expat community, Jumeirah has the feel of a coastal neighborhood in southern California. Running along the Persian Gulf for several kilometers from the Etihad Museum to the north and the Burj Al Arab's artificial island to the south, Jumeirah is our top pick for beach stays in Dubai.
The family friendly sands see a steady stream of visitors from October to May (the rest of the year it's simply too hot) searching out fun in the sun. Jumeirah Public Beach has everything you would expect and maybe some things you wouldn't – Laguna Waterpark sits on a promontory at the center of its bay.
Open Beach has impressive views down to the Burj Al Arab from its warm golden sands, whilst Kite Beach is the stretch of sand to head to for water sports including kitesurfing. At the district's southernmost end, you'll hear the joyous screams of Wild Wadi Waterpark.
Al Fahidi/Bastakiya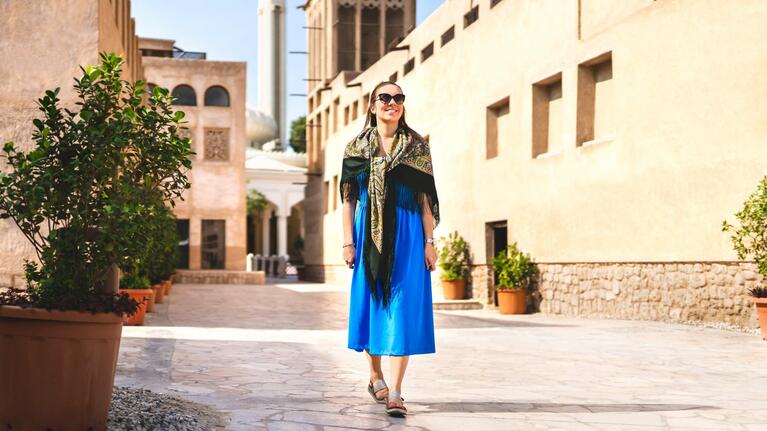 Sometimes known as Old Dubai, Al Fahidi stays offer visitors modern comforts within the most traditional of neighborhoods. Streets largely free of vehicles and shaded by the high mud walls of historic structures lead to a multitude of museums, including the Dubai Museum, spanning the region's history and culture.
At the opposite end of the neighborhood stands the house – now a museum – of Sheikh Saeed Al Maktoum, ruler from 1912 until 1958. Elsewhere you'll find plenty of opportunity to stop for a cup of tea or coffee, or even an authentic Emirati meal.
Dubai Marina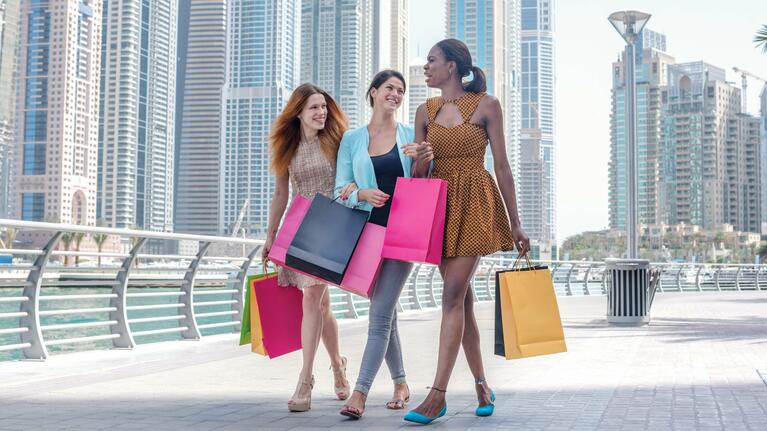 Nestled to one side of the Palm, the residential tower blocks of Dubai Marina wrap around this luxurious mooring point in such a way that it's easy to forget this isn't in fact the center of Dubai.
At sea level there's plenty to keep visitors entertained, from places to relax with a coffee to boutique stores. Its outer reaches include Marina Beach, lined with places to eat and watch the activity on the water – jet skis can readily be seen zipping up and down. Look up instead and you might even catch the bravest halfway through a skydive over the Palm!
Most prefer to take it all in from the water with a Dubai Marina sightseeing cruise giving the lowdown on how this part of Dubai came into being. Later in the evening be sure to slip into any of the bars and nightclubs that make the neighborhood one of the best for nightlife in Dubai.
The desert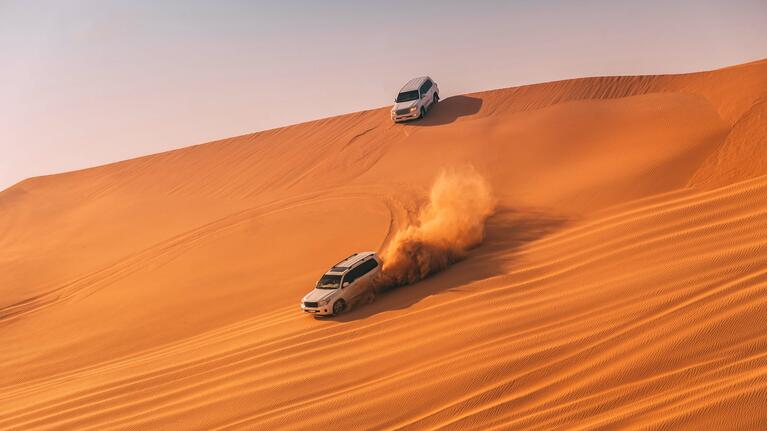 Don't be mistaken in thinking the only places to stay in Dubai are its built up areas. For a different take on Dubai, turn towards its desert dunes. They may look uninviting at first, but the sands are home to endangered Arabian oryx as well as endless panoramas.
Nor do you have to rough it to explore. Accommodation options are limited but rival anything the other neighborhoods of Dubai can offer when it comes to comfort. If budgets don't quite stretch to staying the night, there are plenty of ways to explore the desert by day, from breaking the solitude of the area with the buzz of a quad bike engine to a desert safari and BBQ dinner.
Deciding where to stay in Dubai
Whatever kind of traveler you are – backpacker, family unit or adventurer – there's a neighborhood of Dubai for you. So if you're wondering where to stay in Dubai for your upcoming trip, think about exactly what you want from your vacation. Failing that, remember that as destinations go, Dubai is relatively small. A metro trip from one end of the emirate to the other takes around an hour.
Another thing you won't want to forget is to travel with Go City. Do this and you'll get reduced admission on a large number of Dubai's top attractions allowing you to splash in the emirate's many water parks without spending over the odds.