Howdy there, traveler! So you're planning a trip to Dubai, are you? This desert oasis draws visitors from all over, so you're in good company. But when do you plan to visit? Is September a good time to vacation in Dubai? Well, scroll down, browse our guide to Dubai in September, and see what you think!
Including:
Dubai weather in September
VR fun
Underwater adventure
Spooky escape rooms
and more!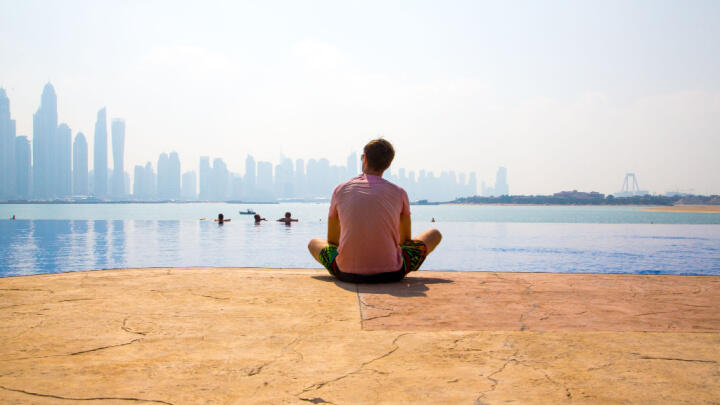 Dubai in September: What to Expect
It's hot. Really hot. Surprising perhaps no one, September in Dubai isn't your typical fall month. Instead, it's merely the tail end of Dubai's long, long summer. But the tail end doesn't mean you're in for a cooler time. Not really. That's because temperatures in September reach highs of 100°F or more and lows of around 79°F. So prepare for extreme temperatures, or perhaps go another month where the heat is more manageable. 
However, if you insist on September, then there are certainly some things to bear in mind. Bring a big hat, pack a load of factor 50 sunscreen, and avoid direct sunlight at peak hours to avoid shriveling up like a toasted prune. With those caveats in mind, we've peppered our recommendations with both inside and outside fun. You are most welcome, friend. 
Dubai in September: What to Do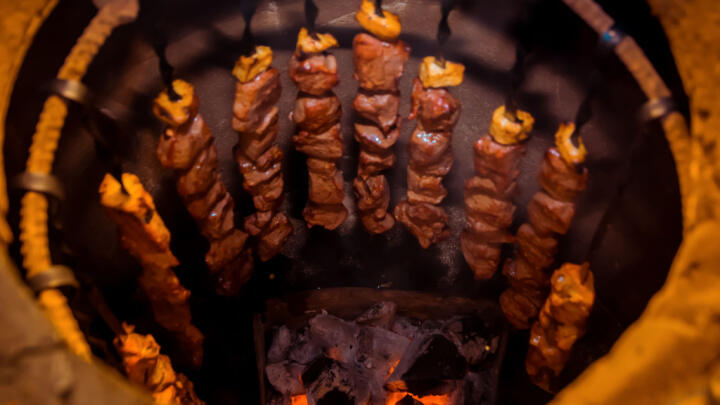 When temperatures are enough to cook eggs on your car, embrace your inner vampire and stick to the shadows instead. But why settle for small shadows when you can utilize the humungous shadow that is nighttime? With nary a ray of sun in sight, you'll be safe. And where better to explore in this newfound safety than the beautiful sand dunes outside the city? On this BBQ and entertainment trip to the desert, you'll do just that. 
You'll be escorted from your hotel in a plush, air-conditioned 4x4 to the dunes. Then, you'll reach a camp and be treated to a mouth-watering menu of BBQ meats and veg. And refreshing drinks, of course. 
Once you're full, the entertainment kicks off. Catch a belly dancing show, partake in some sweet shisha, ride a camel, and even get a henna tattoo. Not bad. Then, as things wind down, you'll get a lift right back to your hotel to sleep off all the success. This BBQ soiree in Dubai is perfect for those looking to make the most of the cooler September nights.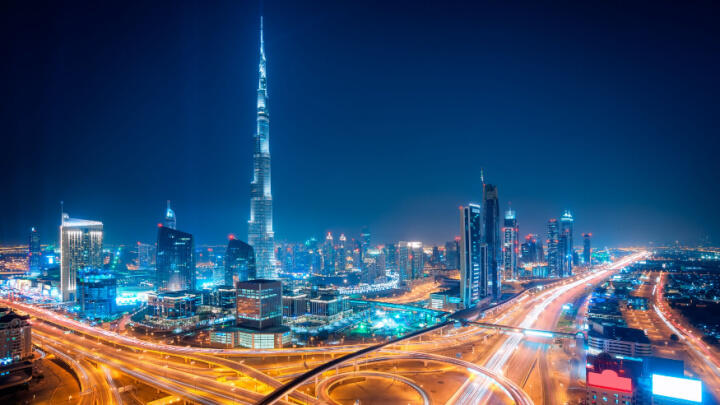 One of the joys of vacationing in an exciting new place is exploring the region's landmarks. And you'll be thrilled to know that Dubai has heaps of awe-inspiring buildings all across its skyline. And, in the spirit of your newfound vampirism, why not go see those sighs at night on a magical evening bus tour? 
Be sure to snap pictures of the grand Burj Khalifa (the tallest building in the world), Dubai Mall, the Burj Al Arab, Ain Dubai, and the city harbor. That way, you'll get enough snaps to show your colleagues around the watercooler, and dodge the worst of the sun in the process! Does that smell like a win? Because it sure smells like a win to us. 
Looking for any other excuses to escape the heat? Look no further than Dubai's terrifying escape rooms at No Way Out. Because when it's hot outside, nothing quite beats being chased around the place by an ax-wielding maniac in the comfort of air-conditioning. 
With 10 spooky rooms on offer, including authentic offerings from the IT and Ring universes, you and up to 8 friends will battle the clock, devious traps, puzzles, and contend with creepy actors playing their parts as they try and scare you senseless. 
And if that wasn't enough, you can even stay after your game and sit down for a bit of interactive horror cinema. Each show features wind, water, and other special effects that will assault your senses as you watch. But, be careful. You never know when one of the actors will be creeping right behind your seat. Marvelous and cool, thanks to the aforementioned air-con.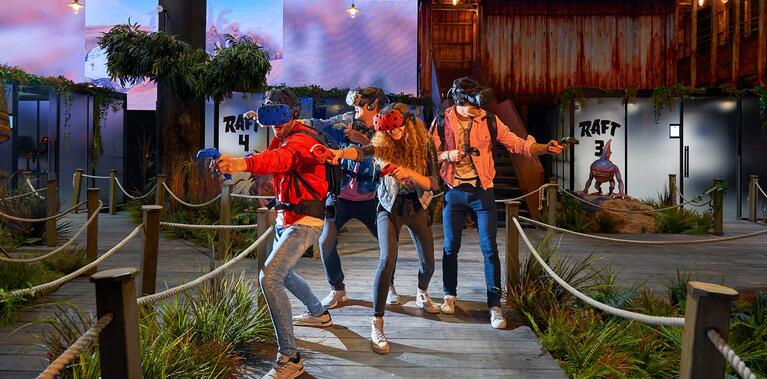 Another way to beat the heat is to simply travel to another realm. But how can that be? Aren't you firmly stuck in this reality? Well, not quite. Thanks to VR Park Dubai, alternate realities are just a headset away. 
Visitors, or adventurers, if you will, are welcome to immerse themselves in 7 games over the course of four hours. Suit up, slip your headset on, pick your poison, and play away. Can you make your way out of the VR Maze? Can you stop the robot uprising in Robocom? You can even challenge your friends or family to competitive games, including sports, platforming, and puzzle-solving genres. 
The perfect answer to an abrasively warm afternoon, explore virtual reality and see what all the buzz is about!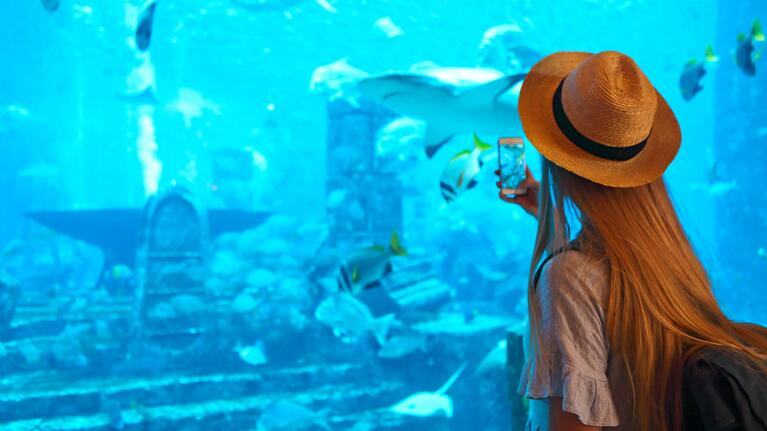 And finally, let's end our cool list of sun-dodging goodness with perhaps the best escape of all - a journey beneath the oceans. And where better to find such an escape than at Dubai Aquarium and Underwater Zoo?
You'll start your adventure in the aquarium's massive underwater tunnel, where you'll be able to see all sorts of aquatic species going about their day. Sharks, rays, and other exotic species will be swimming right above your head, and may even approach you if you're not too scary looking. Perfect for photo ops, as well as a strangely serene stroll, it's a one-of-a-kind experience in Dubai, and well worth a visit.
After you've wandered along the tunnel, you'll reach the Underwater Zoo, where you can get up close and personal with tons of exotic fish, crustaceans, and other aquatic wonders. You'll meet spider crabs, otters, piranhas, penguins, and other colorful characters. Delightful, and a great way to escape September heat in Dubai!
And that just about wraps our guide to Dubai in September! If you dare face the sun head-on and are looking for some outside activities, check out Go City. With our All-Inclusive Pass or Explorer Pass, you can see all of Dubai's best bits when and how you want. Yes, even the shadeless bits for all you thick-skinned boys and girls!