The sunny days are finally thinning out. That means autumn is well and truly here. Just look outside and you'll see all the trees. They look sad, don't they? They're throwing off their leaves in protest. But what's bad news for the humble tree needn't be bad news for you! That's because there's still plenty for you to do. Especially in Dublin. That's probably why you're here. Yes, autumn is the best time to visit Dublin. The very best. Want to know why? Yes. Yes, you do. So without further ado, here are 5 reasons you should visit Dublin this autumn.
Including:
Guinness Storehouse
Dublin Zoo
Dublinia
...and more!
Really sink your teeth into it
Bram Stoker Festival: 25th - 28th October
It's October, and that means Halloween is quickly creeping up, fangs and all. And, well, what better way to celebrate than attending Bram Stoker Fest? Arguably one of Ireland's most famous horror novelists, Stoker wrote Dracula back at the turn of the 20th Century. You may have heard of it, as it's managed to write the entire vampire mythos still understood today.
Visitors can expect 4 days of adventure, with live performances, horror movie screenings, seances, and more vampire cosplay than you can shake a bloody stick at. And, because it's a playful celebration of all things gothic, it's family-friendly too (if you want to take the little bloodsuckers). At the same time, it's a great destination for a group of mates, and even a romantic getaway. And all of this in October? Just one of the reasons why autumn is the best time to visit Dublin.
Walk with the animals
Who doesn't love animals? They roll around, making weird noises and eating stuff. And lots of them are pretty cute too. That's why you should check out Dublin Zoo. There's lots to do and see there, like the Kaziranga Forest Trail, where the zoo's elephant herd spend their days. It's a faithful recreation of their natural habitat, so you can be sure they feel at home
Aww. Just a couple elephants hanging out.
There's also the Orangutan Forest, which unsurprisingly is full of Orangutans, and another dedicated to Gorillas. Best of all, Dublin Zoo is renowned for the care they provide for their animals, from habitat to upkeep. Therefore, you can experience the joy of viewing these majestic animals up close with a clear conscience.
Grab a Guinness
Be the biggest tourist imaginable and go see the Guinness Storehouse. Yes, Ireland is famed for the dark, heady beer. So, why not explore where the beery behemoth first began? Through 7 floors, you'll discover the history of Guinness: how it's brewed, its rise to prominence, and how modern marketing propelled it into the hearts and minds of the current generation. You know, with that surfing ad.
You'll stand at the bottom of the world's largest pint glass, and end your journey on the 7th floor in the Gravity Bar. Think 360-degree views over the whole of Dublin with a complimentary Guinness in hand. Does it get much better than that? No, it does not.
Get historical
Let's face it, it's probably been a while since you learned, well, anything. That's why you should definitely check out Dublinia. Did you know that long ago, the Vikings settled Ireland? Well, we didn't. Until we went to Dublinia! In their Viking Exhibition, you can learn all about the long voyages the Vikings made across the sea, how they fought, their clothing and even their language.
A fabulous Viking
If that wasn't enough, there's the Medieval Exhibition where you can learn about crime, punishment, and disease in the filthy city streets of the pre-Renaissance era. And, last but not least, a History Hunters Exhibition where you can see artifacts and manuscripts through the Irish ages. Go get learning, traveller!
Now we're rockin'!
Time to get your guitars out and pinch some sweet harmonics. Any rock and/or roll fan owes it to themselves to check out the Irish Rock 'n Roll Museum. They've got memorabilia from Dublin's great rockers like U2 and Thin Lizzy. And, you can take a tour of a real gig venue and recording studio right in Temple Bar.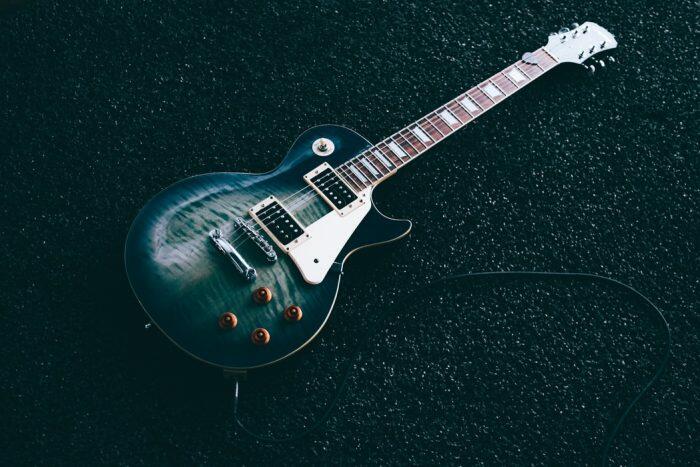 This is a guitar, used to make sweet rock riffs.
Also, you get access to rehearsal rooms where you can strut your stuff. Try not to embarrass yourselves...
These are just some of the many reasons why autumn is the best time to visit Dublin. If you're looking for more fun around the city, check out our bucket list guide to Dublin. And let us know what you enjoyed about your visit in the comments below!