Heading to Ireland next year? Factor these in around your sightseeing, here's the best Dublin 2017 events below.
Presenting our guide to Dublin 2017: from music and film to iconic sporting events, cultural celebrations and more, there is truly something for everyone. if you're planning a trip to the Emerald Isle this year, not only should you hit up the city's hotspots and hidden gems, but make a note of some of these events for a trip to remember!
Pay tribute to the legend at the Bowie Festival in Dublin, which begins on 5 January and deliberately ends on 10 January: the day of the musician's death. This is the second year that the festival has been running and it channels the spirit of the inspiring figure through live performances, fashion, live art, questions and answers and more. Dates: 5 - 10 January
Beyond Caravaggio
This dramatic touring exhibition is coming to Dublin's National Gallery of Ireland, featuring the powerful works of master artist Caravaggio and a number of later painters who were influenced by him. Renowned for his ability to play with shadows to create harrowing cinematic portraits, over forty of his works will be shown and the exhibition marks an exciting collaboration between London and Scotland's national galleries. Dates: 11 February - 14 May
This fantastic film festival has been running for fifteen years with a mission to promote the best local Irish filmmakers, as well as showcase some of the most exciting features internationally. With the likes of Quentin Tarantino, Julie Andrews and Daniel Day Lewis having previously attended, it's one of Dublin's best cultural events with the best in cinematic storytelling, industry talks and more. Dates: 16-26 February
RBS Six Nations
With two of the season's most exciting games taking place in Dublin's Aviva Stadium, watch the Irish lads take on France and England's best in their fight for the title. Come dressed in your best greenery and be prepared to cheer the Irish team on - tickets to these games are hot commodities, so make sure you get yours soon. Dates: Ireland vs. France, 25 February; Ireland vs. England, 18 March
Held annually on the 17th March, Ireland's most famous holiday honours the man who brought Christianity to the Irish people and later became the patron saint of Ireland - Saint Patrick. It's a feast day tradition that dates centuries back and has since transformed into a symbol of national pride, strewn with clovers, Irish beer and swathes of green all over the world. It was officially announced a public holiday and Dublin hosts a fantastic St Patrick's Day festival spanning over four days, which feature the quintessential parade and other fantastic performances. Dates: 16 - 19 March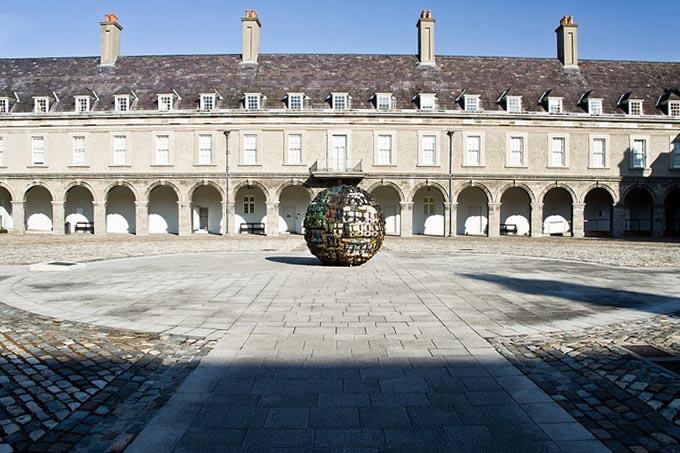 Discover the history behind Ireland's National Collection of modern and contemporary art in this moving exhibition, which will take you through the last decade and the extensive range of varying art styles. With over 3,500 works in the collection and a number of the most exciting Irish and international modern and contemporary artists featured, it's a great way to explore Ireland's 21st century art scene. Dates: 26 April - Summer 2017
WWE Live
Returning to the Irish capital once again, WWE Live is taking over the 3Arena this May with the big names like Seth Rollins, Kevin Owens, Roman Reigns, The New Day, Sasha Banks, Sheamus and more commanding their stages. See the struggle live and be swept up into the infectious energy, but bear in mind it's only running for one night. Date: 5 May
With the likes of James Joyce, Oscar Wilde, Emma Donoghue and more acclaimed Irish literary figures making their marks on the world, it's no surprise that the annual literature festival is a favourite amongst those in the cultural scene. While the 2017 programme hasn't been announced yet, they frequently attract the best international and Irish talent for talks, readings and more. Dates: 20 - 28 May
Relive the beginning of J.K. Rowling's timeless tale through the magic of music, where a live orchestra will be playing Academy Award winner John Williams' score to accompany a screening of Harry Potter and the Philosopher's Stone. Held at the 3Arena, this single night extravaganza is well worth shelling out money for. Date: 23 May
Dublin isn't well known for its music festivals, but the Forbidden Fruit Festival is determined to change that. Run in collaboration with Bulmers, the recent 2016 line-up included acts like Dizzee Rascal, Katy B, Tame Impala and Skepta to name just a few and while next year's hasn't been released yet, we're sure it'll be just as promising. Divided into multiple stages with fantastic fashion and art entertainment scattered about the area, it will conveniently be held in the sprawling grounds of the Irish Museum of Modern Art in the city centre. Dates: 3 - 5 June This is of course just a short guide to Dublin for 2017, with only a small selection of the events taking place. For a more comprehensive overview, be sure to follow our blog, and Facebook page for more of what's happening when you plan to visit!