Bells are jingling. Nights are silent. Santa's ho-ho-ho-ing. That can only mean one thing. Christmas. Christmas is here. The jolliest time of the year. A time to give thanks. Especially to your tummy. Just hope that Santa has wrapped a new belt with a few extra notches, because it's the time of year where we all enjoy over-indulging. And where better to over-indulge than a Christmas market? It truly isn't December unless you catch a whiff of mulled wine dancing through the air, with every seasonal spice under the sun enticing you closer. And if you're visiting the great city of Dublin, or are lucky enough to call it home, you're positively spoiled for the things. Lucky you. So to help guide you through the gluttony, we've put together this handy guide of the best Dublin Christmas markets you simply cannot afford to miss. Enjoy.
Featuring:
Dublin Castle Christmas Market
Dun Laoghaire Christmas Market
Winter Funderland
and more!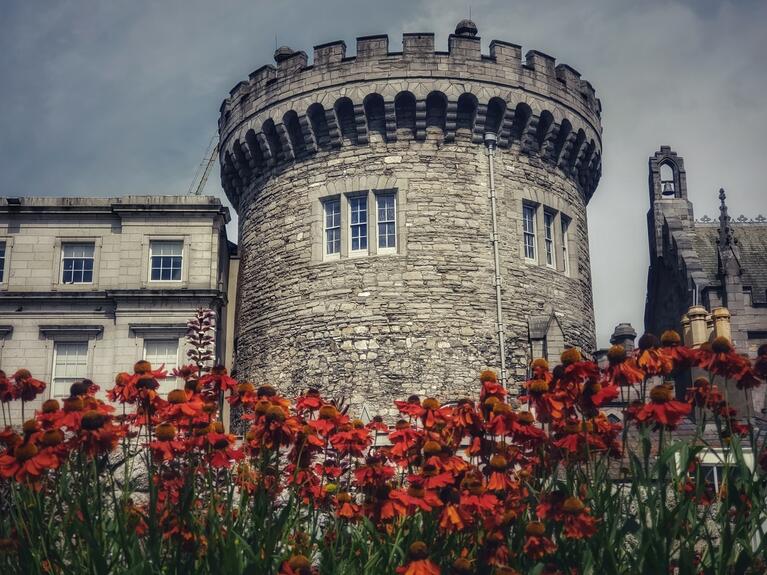 12th December - 22nd December
OK, let's start things off with a brand new bang. New to 2019 is Dublin Castle's Christmas Market. Expect to find a feast of festive food from all manner of stalls. Christmas faves like mince pies and mulled wine are a given, but be sure to hunt around for other treats too. Alongside all that goodness, you'll find a host of shopping stalls where you can pick up any last-minute nick nacks for the special people on your list. And entertainment-wise, there's carol singing, a carousel, a special Santa tour on the 14th, and even free entry to the festively-decorated State Apartments in the castle itself. What more could you want? You couldn't possibly want any more.
Every Saturday until Christmas (from 26th November)
Over at Grand Social they hold a Saturday market throughout the year. But from late November, that market is transformed into a winter wonderland. A winter wonderland of Christmas markets. It's a stone's throw from Temple Bar, so if you're staying in the centre, it's worth a stroll no matter the weather. Along with the usual warm food and warmer mulled wine on offer in most markets, you can also pick up some more unusual gifts from the many market stalls. Plenty of local arts and craftspeople set up shop throughout the year. So if you're looking for something quirky or specific for a loved one with difficult taste, Ha'penny Christmas Market may well be the one for you.
Until 23rd December (Friday, Saturday and Sunday only)
Ho-ho-holy moly. If you're looking for a more rural Christmas market this year, then head out to Dun Laoghaire in South County Dublin. This picturesque seaside village is home to one of the areas best Christmas markets. With more Christmas lights than you can shake a tree at, you may well come for the festive vibes and tasty treats, but you'll remember the idyllic ambience. Feel free to take a photo. Go on. Just don't try and write anything philosophical underneath it. It's Christmas. Come on, let the picture speak for itself.
Speaking of treats, along with heartwarming food and, yes, belly-warming mulled wine, there are plenty of seasonal arts and crafts for you to purchase. You left your Christmas shopping too late. Face it. You need this. There's also a massive Ferris wheel - reportedly from the movie Grease - a rollercoaster, hobby horses, and candy floss. Perhaps the question isn't 'why would you go', but instead 'why would you ever leave'? Truly one of the unmissable Dublin Christmas markets!
14th December - 14th January
If you love wordplay as much as we do, then you're already excited after reading that frankly excellent name. But how much fun could a Winter Funderland possibly have? Plenty. For those not in the know, Funderland is Dublin's premier theme park. And every Christmas, they put on their hats, hang up some lights, and transform it into a merry old land of festive fun. Rollercoasters, haunted houses, spinning cups. You name it, they've got it. And over Christmas, they sprinkle on some festive treats too. Probably one to take the kids to, as they can't exactly enjoy half the fun of traditional Christmas markets. By that, we mean they can't drink mulled wine. Oh, how they're missing out.
6th - 8th December
Of course, Christmas is also a time for giving back, too. And we don't know anyone who deserves a little something this year more than Mother Nature. Every Christmas alone, Ireland produced over 80,000 tonnes of packaging waste. It's one of the main reasons why the Sustainable Christmas Market popped up. Every single item on display at this market is recycled. From clothes to bags to Christmas ornaments. You can even get any gifts wrapped guilt-free at the on-site Sustainable Wrapping Station. Alongside all the green-friendly fun, there's panels, workshops, and even solar-powered sound system blaring out all of your favourite Christmas hits. Oh, and of course they have Christmas food and mulled wine. Presumably, those aren't recycled, but you can bet it's all sourced from local, sustainable sources!
So, that's our list of all the very best Dublin Christmas markets! If you know of any others we missed, please let us know in the comments below. And if you're heading to Dublin over the Holidays, what else are you looking forward to experiencing? You could visit the iconic Guinness Storehouse. And while you're there, use this handy little fact sheet to impress your friends and family.