Dublin on a Dime: 10 Fabulous Free Things to Do in the City 
by Mia Russell
Effortlessly blending history, culture, and good old-fashioned Irish charm, Dublin, the lively capital of Ireland, has something for everyone! On a budget? Don't despair! You can still experience the vibrant spirit of Dublin without breaking the bank.  
From world-class museums and art galleries to centuries-old landmarks and beautiful beaches, you can still soak up the city's culture and charm without spending a cent.  
Let's look at some of the top free activities in and around Dublin that promise to captivate! 
1. Explore Phoenix Park  
Escape the hustle and bustle of the city at the beautiful urban oasis of Phoenix Park. Nestled just west of the city center, Phoenix Park stretches over 1,750 acres, making it one of the largest urban parks in Europe. Established in the 17th century as a royal deer park, it's now a beloved recreational haven for locals and visitors alike. 
Visit the official residence of the President of Ireland, Áras an Uachtaráin. While the interior requires pre-booked tours, the exterior, and its beautiful gardens are open to the public and free to enjoy. Admire the picturesque People's Flower Gardens, featuring vibrant flowerbeds, fountains, and ornamental lakes. It's an ideal spot for a leisurely stroll or a tranquil picnic. 
Miles of scenic walking and cycling trails are perfect for enjoying the outdoors. Use your pass to rent a bike from Lazy Bike Tours to explore the park's lush landscapes. Watch out for the park's wild deer population, especially during early mornings and late afternoons.  
2. Discover Dublin's Free Museums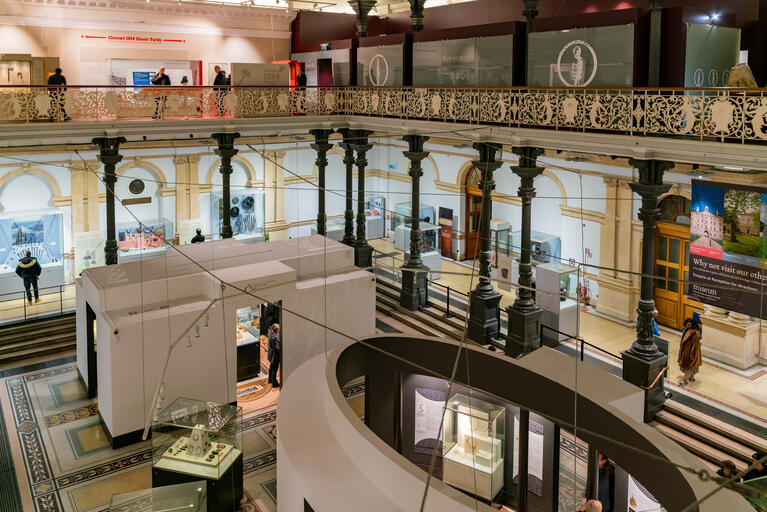 Step into Dublin's rich history, art, and culture without spending a dime—thanks to its array of free museums that promise to captivate your imagination. Discover a wealth of knowledge, creativity, and heritage as you explore these cultural gems.  
National Museum of Ireland – Archaeology Situated on Kildare Street, this museum is a treasure trove of Ireland's ancient history. It houses artifacts that span thousands of years, offering a glimpse into the country's past. Remember to use your pass to receive a complimentary guidebook.  

National Museum of Ireland - Natural History: Known fondly as the "Dead Zoo," this museum on Merrion Street offers an eclectic collection of natural specimens. 

National Museum of Ireland - Decorative Arts & History: Found at Collins Barracks, this museum provides insight into Ireland's material culture and history. Use your pass to receive a complimentary National Museum of Ireland Decorative Arts & History Guidebook.  

National Gallery of Ireland: Located in Merrion Square, the National Gallery of Ireland has been a cornerstone of Dublin's cultural scene since its establishment in 1854. It houses a remarkable collection of artworks spanning centuries and styles. Use your pass to gain free admission to the museum's temporary exhibitions.  

Chester Beatty Library: Located in Dublin Castle, the Chester Beatty Library is the legacy of Sir Alfred Chester Beatty, an avid collector who amassed a remarkable assortment of rare manuscripts, artifacts, and artworks from around the world. Use your pass to receive a complimentary Chester Beatty publication or a set of greeting cards during your visit.  
Other museums that offer free admission include:  
Glasnevin Cemetery Museum 

Dublin City Gallery Hugh Lane 

National Library of Ireland 

Áras an Uachtaráin 
Science Gallery Dublin 

Pearse Museum 

National Photographic Archive 

Revenue Museum 
3. Tour the National Botanic Gardens of Ireland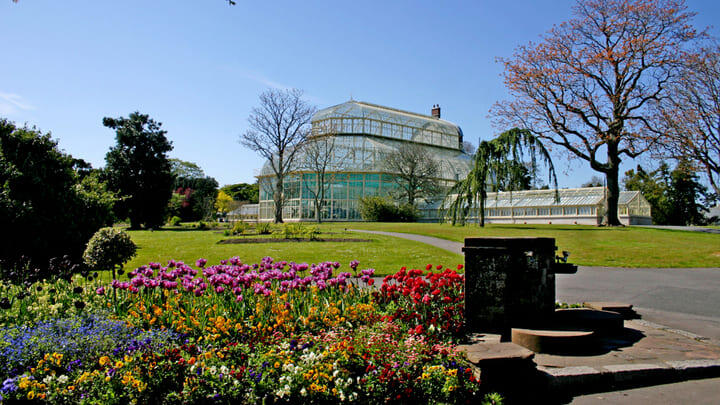 Discover a world of vibrant flora and tranquil serenity at the National Botanic Gardens of Ireland. Situated just a short distance from Dublin's city center, these lush gardens offer a respite from the urban hustle and a chance to connect with nature's splendor.  
Wander through exquisite glasshouses that house diverse plants, from tropical rainforest species to delicate alpine blooms. Marvel at majestic heritage trees that have stood the test of time, including a yew tree believed to be over 800 years old. Explore themed gardens that showcase Ireland's diverse flora and highlight conservation efforts. 
Join the free guided tours led by knowledgeable guides to learn fascinating insights about the gardens, their history, and the botanical treasures they hold. Pack a picnic and relax on the grassy lawns, surrounded by the fragrance of blossoms and chirping birds. 
Use your pass to receive a complimentary guidebook to the National Botanic Gardens of Ireland. 
4. Picnic and People-Watch on St Stephen's Green 
St. Stephen's Green is a verdant oasis in the heart of Dublin that offers a serene escape from the urban rhythm. Dating back to the 17th century, it's the grandest Georgian park in Dublin and spans 22 acres of lush greenery.  
Pack a picnic and enjoy a leisurely meal on the well-maintained lawns, soaking in the peaceful ambiance. Admire the park's sculptures, including those of literary icons like W.B. Yeats and James Joyce, and monuments that honor historical figures. Wander through vibrant flowerbeds that change with the seasons, offering a kaleidoscope of colors and fragrances. 
5. Meander Along Dún Laoghaire's East Pier and Take a Swim 
Dún Laoghaire's East Pier is a picturesque waterfront escape that beckons you to soak in the fresh sea breeze and revel in the beauty of the Irish coast. This beloved pier is more than just a walkway—it's a tranquil sanctuary offering spectacular views and a serene atmosphere.  
Stretching gracefully into the Irish Sea, Dún Laoghaire's East Pier has been integral to the town's maritime history since the 19th century. It's located in the charming coastal town of Dún Laoghaire, just a short distance from Dublin. 
Stroll along the pier's well-maintained path, enjoying panoramic views of the sparkling sea and the distant horizon. Reach the pier's end to find the charming East Pier Lighthouse, an iconic landmark that adds character to the coastline. 
Continue to walk south along the shore to tiny Sandycove Beach, or head around the corner to the Forty Foot Pool, Ireland's most famous swimming spot, for a bracing dip!  
6. Wander the Grounds of Dublin Castle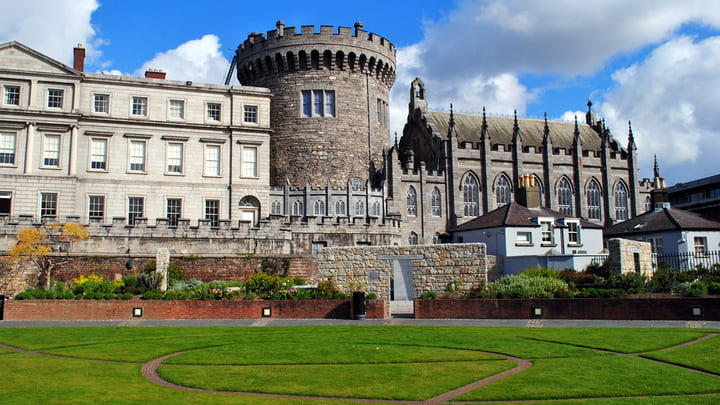 One of the city's most iconic landmarks, Dublin Castle is a captivating symbol of the city's rich history and cultural heritage. Dating back to medieval times, the castle has played pivotal roles in Ireland's history, from royal residence to government hub. 
While guided tours will cost you, you can roam the beautiful gardens for free and admire the striking castle from the outside. Take in the architectural beauty of the Chapel Royal, which features intricate carvings and stunning stained-glass windows. 
If you want to explore further, use your pass to gain free admission to Dublin Castle and see the magnificent State Apartments and the original Viking fortress. You can also upgrade your ticket to include a guided tour at a discounted rate!  
7. Wade out to Shenick Island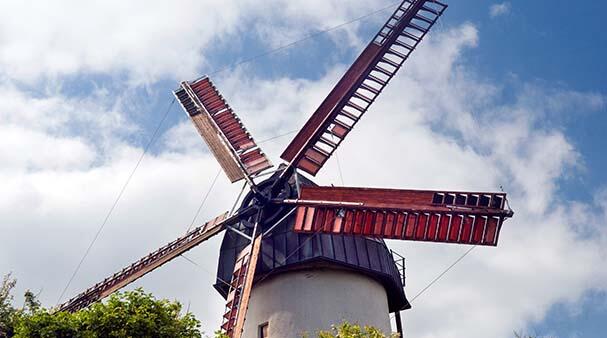 Escape the city and enjoy an adventure of a different kind! Head to the picturesque seaside town of Skerries in north Dublin to chase the tide. During low spring tide, pop Wellington boots on and cross the mud flats to reach Shenick Island.  
Admire the isolated Martello Tower, an ancient defensive fortress that keeps watch over this sanctuary for wildlife. Look for nesting gulls, cormorants, and basking seals who call the island home. Embark on a leisurely coastal walk around the island, reveling in breathtaking sea views and a sense of solitude. Discover the ancient well that lends the island its name and hear stories of its curative properties. 
Pack a picnic and relish a meal amid the island's peaceful surroundings while soaking in the sea breeze. Just be sure to head back before the tide comes in!  
While you're in Skerries, use your pass to visit the historic Skerries Mills, take a guided tour of the 16th-century mills, and enjoy scones and tea.  
8. Explore Trinity College  
Wander around the beautiful campus of the esteemed Trinity College. Nestled in the heart of Dublin, Trinity College is a bastion of learning with a legacy dating back to 1592. Its iconic Library, home to the Book of Kells, is a testament to the enduring value of education and culture. 
Visit the Long Room Library and admire a breathtaking collection of books, manuscripts, and sculptures. Roam the historic campus, admiring its architecture, courtyards, and vibrant student life. 
9. Soak up Some Art and Music 
Head to the Hugh Lane Gallery on Sundays (excluding July and August), where you can enjoy free concerts in the Sculpture Gallery by Irish and international performers. Admission to the Hugh Lane Gallery is free, so you can take in some fantastic art at the same time.  
Based in an imposing Georgian mansion on Parnell Square, this cultural gem is named for the celebrated art dealer and gallery director who founded it. Expect a diverse collection that spans centuries and styles, ranging from Monet to Monet and more.  
10. Cross the Ha'penny Bridge 
Cross the iconic Ha'penny Bridge and capture the essence of Dublin. Connecting both sides of the River Liffey, the bridge symbolizes Dublin's charm and historic spirit. Built in 1816, the Ha'penny Bridge earned its name from the half-penny toll pedestrians once paid to cross.  
Stroll along the bridge and admire the panoramic views of the river and the surrounding cityscape, capturing the essence of Dublin's character. 
Capture the bridge's iconic arches and the lively scenes around it, creating memories that encapsulate Dublin's essence. Arrive during sunset for a truly magical view of the city lights. 
After crossing the bridge, explore both sides of the river—the vibrant streets of Temple Bar on one side and the charming tranquility of Northside on the other. 
Final Thoughts 
From the vibrant streets to the serene corners, Dublin offers a wealth of experiences that won't dent your wallet. From hidden gems, beautiful parks, and cultural treasures, Dublin's fabulous free activities promise to delight! Remember, the charm of Dublin lies not just in its landmarks, but in the moments you share with its people, its history, and its soul. Slán go fóill!