While St Patrick's Day might be a simple celebration in most of the world, or simply an excuse to drink a few whiskeys, in Ireland, it's much more than that. Half a million people regularly travel to Dublin, the nation's capital, to celebrate St Patrick's Festival over five days, culminating in St Patrick's Day on 17th March. So, where better to celebrate the day, and the man himself, than in Dublin? The epicentre of St Paddy's spirit. The home of Guinness, the unofficial drink of the celebration. Even the city's cathedral is dedicated to the legend that is St Patrick. So raise a glass to the man who escaped capture from pirates - yes, really - and go show him your support this year. Here are all the best events in Dublin for St Patrick's Day 2020.
Featuring:
Dublin's very own St Patrick's Parade
A festival at the Guinness Storehouse
A 17k run
Slow jams and St Paddy's plans at The Odeon
and more!
City Centre
One of the more obvious tourist spots to celebrate St. Patrick's Day in 2020 is at the annual parade. Prepare to be bombarded with enough green to make the Amazon rainforest envious. Thousands upon thousands of people attend the parade every year, so why not join them? Here's a little more information if you're thinking about going.
When is the parade
Tuesday 17th March from 12 pm - 2 pm
Where is the parade
The centre of Dublin. Typically, it starts at Parnell Square, passes through O'Connell Street and over O'Connell Bridge, along Westmoreland Street, Dame Street, before going down Nicolas Street and Patrick Street, through Kevin Street and then finally Wexford Street and St. Stephen's Green.
What to see at the parade
Typical parade things, albeit with a St Patrick's twist. Expect to see parade floats, marching bands, and plenty more. All adorned in green, with an Irish theme.
We've also got a few tips for attending:
While the event kicks off at midday, try and get there on or around 9 am to get a decent spot. With so many people watching, you don't want to miss it stuck behind a large group of hat-wearing fellows.
Walk or take public transport if you can, as the roads will be shut, and diverted routes will likely be very congested.
St Patrick's Day is rather famous for its celebration of alcohol consumption, so bear that in mind if you're bringing the little ones.
With all that in mind, Dublin's St Patrick's Parade is a great shout for anyone looking for a short but sweet St Paddy's celebration.
St Patrick's Day Brunch + Hip Hop
The Odeon
This one's a little more unusual. Sublime eatery Chicken N' Waffles is putting on a special St Paddy's Brunch featuring the Saint's favourite music genre; hip hop. So why not celebrate with some incredible food, bottomless Mimosas, and music from some of rap's biggest stars? Chicken N' Waffles resident DJs Lui Rwego & Ed will take the stage, making sure the soundtrack to your brunch is banging. And when you're brunch is done, and your hour of bottomless cocktails is over, why not bust a move on the dancefloor? It might not be the most traditional way to celebrate St Patrick's Day, but it's certainly the grooviest. Just, leave the kids at home, yeah? This one is adults only.
Tickets from €25
Over 18s only
Saturday 14th March from 12 pm - 6 pm
Ushers, Dublin 8
What trip to Dublin, and on St Patrick's of all times, would be worth its weight in potted gold without a trip to the Guinness Storehouse? The jewel of Dublin's tourist crown, this seven-storey behemoth is a testament to Ireland's most famous export. Take the tour, and discover Guinness' humble beginnings. Learn about the brewery's history, and what goes into the brewing process. Stand at the bottom of the glass atrium, the world's largest pint glass, and envision the 14 million pints that would fill it up. Then, head up to the Gravity Bar for a complimentary Guinness, and the best view of the city. Imagine St. Patrick himself, standing beside you, admiring the city that Dublin has become. Raise your glass, and drink in the dark splendour.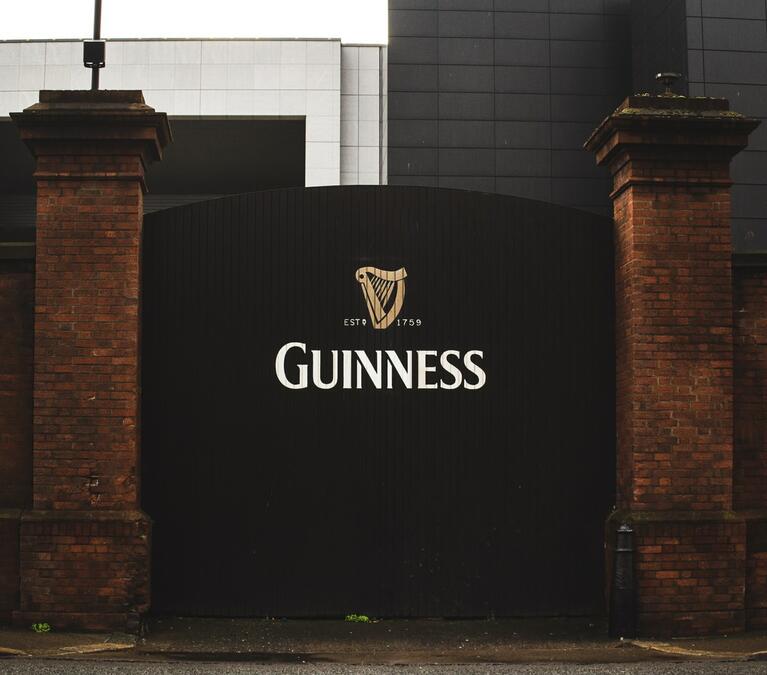 And over St Patrick's Day, they also hold a special festival which includes live music, more dancing than you can imagine, and your chance to play the Guinness Harp. So you've no excuse not to check it out, though do bear in mind that you'll need to book tickets separately.
Walking Tour of Dublin
City Centre
Of course, you could get your St Paddy's kicks with a little history and culture, before the inevitable green-tinted carnage. Dublin is a city rife with Instagram-inviting photo opportunities, so why not head out on a historic walking tour of the city? Kicking off bright and 'early' at 11am, you'll see the iconic St Patrick's Cathedral and Christ Church Cathedral. And over the course of two hours, you're bound to find out a little bit more about this fantastic city, with a little St. Patrick's Day dressing on everything for good measure.
Tours are led by historians, who'll paint you a vivid picture of the lives, times, and events surrounding the city. You'll even discover how Ireland's patron saint left his mark on the city through the generations. Even as far back as the pre-Viking years. That's a whole lot of history. Then, of course, you can go grab a Guinness when it's all said and done because of course you will.
St Patrick's Day 17k
Corkagh Park
Alternatively, you could spend St Patrick's Day 2020 getting active. More active than raising multiple pints to your mouth, you boozehound. Yes, why not take part in a St Patrick's Day 17k and work off some of those sweet beer calories you've racked up over the whole week?
The event takes place at Corkagh Park, which is a short drive or bus away from the city centre. It's also completely free to take part. So, turn up, jog on, and see how you get on. Refreshments are available at the finish line, and as it starts early - 8 am to be exact - you'll still have plenty of time to undo all that good work with some St Paddy's celebrations afterwards.
So, there you have it. An eclectic selection of things to do in Dublin on St Patrick's Day 2020. Of course, if you're visiting the city and don't want to do anything in particular over the celebrations, you'll find plenty of bars, pubs, and other opportunities to get in the St. Paddy's mood. Did we miss any events you're looking forward to, or would recommend to others celebrating in Dublin? Let us, and them, know in the comments below!