The Temple Bar: a local's guide
Temple Bar is almost synonymous with sightseeing in Dublin as it's one of the city's most vibrant areas, bursting with culture, music and tradition. On the south bank of the River Liffey, it's tucked away but full of life, no matter the hour. From iconic pubs, to street buskers, bold graffiti and picturesque cobbled streets, Temple Bar is not to be missed.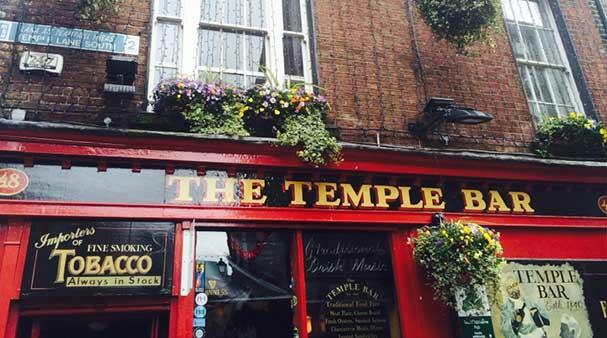 Here's a local's guide to exploring the area:
Dance to an Irish Jig
Dublin is famous for its live music, and you can really enjoy it in Temple Bar. Most pubs will have a resident band who play traditional Irish music, but one of the best is Gogarty's which prides itself on live music five days a week and over 12 hours a day. Whether you pop in for lunch or dinner, or even a nightcap, rest assured you'll be up on your feet and dancing along to popular folk songs and even persuaded onto the dancefloor by one of the many talented Irish dancers…
Find the perfect pub
If you prefer something more sedate, don't worry, there are plenty of other options where you can unwind after a busy day of sightseeing in Dublin with a pint of Guinness. With over 20 pubs to choose from in the area, not to mention a handful of pub crawls you can join, you won't be left dry mouthed. Whether you prefer a quiet wine bar or traditional pub, you'll find what you're looking for in Temple Bar.
See some art
Visit the Temple Bar Gallery + Studios for some artistic inspiration. A former clothing factory, this contemporary art gallery is nestled in the Temple Bar cultural quarter. Showing a number of contemporary visual art exhibitions, you can enjoy a wide range of media, from photography to print and video. It'll certainly get you thinking, and open your eyes to the talents of Dublin's art scene.
Go on a graffiti trail
From contemporary art to street art, two things you can't miss about Temple Bar are the vibrant colours and bold graffiti that jump out at you on every street. The area is given a real Banksy feel with caricatures, comical speech marks and witty words so make sure you don't forget your camera. If you want to learn more about who's responsible for this street art, why not take part in the Dublin Street Art Walking Tour and Graffiti Workshop?
Get your vintage fix
You might not associate Temple Bar with shopping, but the area has one of the most popular vintage clothing markets in the city. Dubliners are without doubt quirky, metropolitan and well dressed, and Cow's Lane Designer Market is largely responsible. Open during the summer months of June to September, this daily market offers over 60 stalls of the best clothing, accessories, arts and crafts in the city. If you're visiting in the winter, don't worry, you can still catch the market indoors in St Michael's and St John's Banquet Hall.