When you think of family-friendly destinations, Las Vegas may not be at the top of your list. In fact, it may not even make your top ten, but you'd be surprised by all the attractions the so-called "Sin City" has to offer families with kids. Contrary to popular belief, you can (and should!) enjoy a vacation in Las Vegas with your family, there are lots of ways to experience the city that don't involve casinos and night clubs. The devilishly delicious buffets will be the only "sinful" thing you do! If you're looking to save on admission to top Las Vegas attractions and tours, pick up a Las Vegas Explorer Pass® for your choice from 10+ of the best area attractions for one low price. Save up to 55% on combined admission prices vs paying at the gate!
Madame Tussauds Las Vegas 
Madame Tussauds wax museums are enjoyable for visitors of all ages. In
the Vegas location
you'll find lifelike wax creations in eight themed rooms (music, sports, Club Tussauds, Viva Las Vegas, Marvel Superheroes, and more) that are recognizable to kids, like Shaq and Britney Spears, as well as celebrities even grandparents will recognize (be on the lookout for Elvis). Take some photos of your kids with their favorite stars— they'll love showing them off to all of their friends when you get back home. Visitors are encouraged to be creative with their poses and are allowed to get up close and even touch the figures.
Stratosphere Tower
The Stratosphere Tower is the
tallest freestanding observation tower
in the United States and the tallest building west of the Mississippi. For kids, looking out from the 869-foot observation deck is plenty of amusement. For adults, the 360-degree panoramic views from the Stratosphere are truly incomparable. If anyone in your family is looking for more excitement, get them in line for one of the 3 thrill rides housed in the tower—The Big Shot, X Scream, and Insanity.
World Class Circus Acts at Circus Circus
Although Circus Circus is a hotel/casino by night, in the day it is home to the world's largest permanent circus. The incredible acts you'll see at this Cirque de Soleil-style family attraction include jugglers, unicyclists, trapeze artists, acrobats, contortionists, and more. Each act lasts about 10 minutes and they take place every half hour (on most days) starting at 11 a.m. Best of all, watching a show is absolutely free.
Springs Preserve
This 180-acre cultural institution is only 3 miles from The Strip, but you'd never know it. The Preserve— designed and dedicated to honor Las Vegas' lively history and pave the way for a sustainable future—features museums, galleries, outdoor concerts, bright botanical gardens, and a comprehensive trail system that runs through a scenic wetland habitat. Plus, the Preserve offers several programs tailored just for kids, like "Children's Playground," an interactive desert canyon-themed play area and "Nature Exchange," which encourages kids with archaeological interests to collect shells, rocks, bark, pine cones, and more.
Fast Lap Indoor Kart Racing
If you're vacationing with kids that are over five feet tall, take them to Fast Lap's indoor tracks for a racing adventure that emulates the experience of professional racers. Each kart at Fast Lap Indoor Kart Racing is equipped with Honda 200cc engines which reach speeds of up to 50 mph! The tracks were specially designed by two former IKF Racers, and Fast Lap prides itself on thoroughly maintaining them. Indoor karting may be the most fast, fun, and safe Vegas attraction for families.
The Adventuredome™
Everyone in the family is going to have a blast at America's largest indoor theme park. Adventuredome is five acres of thrill rides and attractions enclosed under a glass dome. If you plan on riding more than one attraction, purchase the all-day ride pass for the best deal.
Bellagio Fountains
Stop by the Bellagio Hotel and Casino to see the famous Bellagio Fountains. Kids of all ages love to watch these dancing fountains as they move to a choreographed routine set to different musical tracks. Check this show out at night, as it is more exciting to see when lit up. After you're done checking out the fountain show, step into the Bellagio and head to their art gallery, which is considered one of the best in the city. It's where your favorite art goes on vacation.
Discovery Children's Museum
Discover something new at the Discovery Children's Museum, where families can explore various hands-on exhibits. This museum is home to both permanent and visiting exhibits, all of which are unique and exciting for kids of all ages.
Las Vegas Natural History Museum
Get an up close look at Nevada's wildlife, including animated dinosaurs at the Las Vegas Natural History Museum, fondly known by the local kiddos as "the dinosaur museum". Families with smaller children will have a blast in the children's learning room, featuring a hands-on experience with the area's natural history.
M&M's® World
Discover four stories of chocolatey goodness right on the Las Vegas Strip at M&M's World. This fun store features everything we all know and love about these candy covered pieces of chocolate, including T-shirts, caps, lithographs, candy machines, and so much more. Don't forget to go up to the fourth floor and watch the action-adventure film starring the M&Ms and get your own container filled with personalized candies.
Pinball Hall of Fame
Parents will have a blast introducing their kids to the games they used to play back when they were young while visiting the Pinball Hall of Fame, "a place to play pinball the way pinball was meant to be played!" featuring over 200 games. Adults will have fun reliving their childhood, while the kids will have fun testing out games they probably never knew existed. Even if you aren't a pinball wizard, the Pinball Hall of Fame is a worthwhile stop for anyone visting Vegas.
Siegfried & Roy's Secret Garden and Dolphin Exhibit
Get up close with some of the world's most exotic animals at Siegfried & Roy's Secret Garden and Dolphin Habitat. This impressive habitat is located at The Mirage Hotel and Casino. Animals residing at this exhibit include white tigers, white lions, leopards and bottlenose dolphins. After exploring the secret garden take time to kick back and wait for the volcano at The Mirage to blow.
Toy Shack
If you find yourself enjoying the Fremont Street Experience while in Las Vegas, make time to wander through The Toy Shack. This store specializes in vintage toys from the 80's and is the perfect opportunity to share with your kids the toys you used to play with at their age. You'll be hit with a wave of nostalgia and may just find yourself on eBay after visiting this unique shop.
Planet Hollywood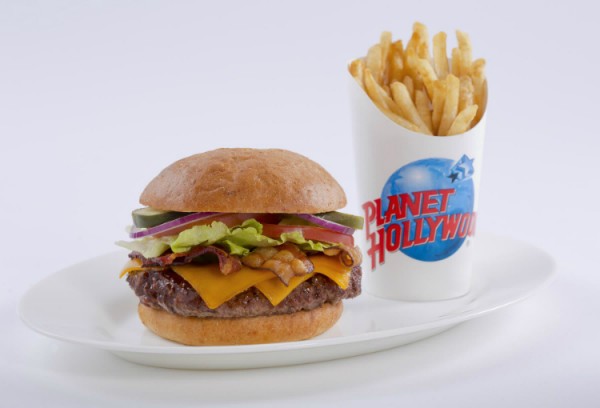 Grab a meal at Planet Hollywood for classic, American fare and a very family-friendly atmosphere. The kids will be entertained by the Hollywood-focused surroundings and movie memorabilia.
High Roller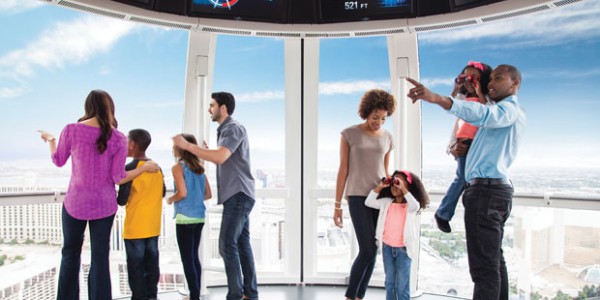 Take a spin on the world's tallest observation wheel, for 30 minutes of unbeatable, 360-degree views of the Las Vegas Strip, Downtown, and beyond. The High Roller will take you to the top of sin city and once you've ridden the wheel you can check out everything that the strip offers.
So Remember...
You can save up to 55% on many of your attraction visits with a Las Vegas Explorer Pass, so pick one up today!