Metropolises the world over dub themselves 'the city that never sleeps' on a near-daily basis. But none have turned that tired old cliché into a neon-lit reality with quite the show-stopping aplomb of Las Vegas, where the entertainment – regardless of what time of year you visit – stays turned up to eleven 24 hours a day, seven days a week.
Five days in Las Vegas is just about enough time to get a taste of this unique desert city's hedonistic lifestyle and visit some of its most memorable attractions: the Strip's mega-hotels, the laidback downtown neighborhood and the Grand Canyon being among the most essential. We've put together a suggested 5-day itinerary to help guide and inspire you on your Sin City adventure. So put on your best poker face, cram your pockets full of dollar bills and dive in! Viva Las Vegas! And may lady luck smile upon you…
Day 1: Vegas in a Nutshell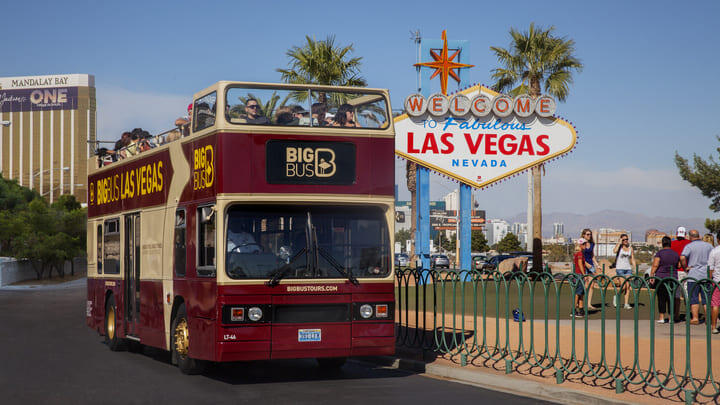 Kick off your Vegas experience with a spin aboard the hop-on hop-off bus tour. It's a great introduction to the city's many pleasures and, best of all, requires minimal effort from you. The tour calls at iconic landmarks along the Strip and Downtown, including the famous 'Welcome to Fabulous Las Vegas' sign, the Strat's skyscraping SkyPod observation tower and Fremont Street. You can hop off anywhere you like to start filling your Instagram feed with classic Vegas selfies, or stay on for the full two-hour loop to get a proper introduction to Sin City – there's no better way for a newbie to experience the Strip than from the comfort of an open-top bus, as the supersize hotels and neon-lit casinos roll past.
Book a private pod with a decadent glass of bubbles aboard the High Roller Observation Wheel at the LINQ Hotel and watch the sun go down over the Strip and surrounding desert from a sweaty-palmed 550 feet up. Then, suitably emboldened, it's time to hit the blackjack and roulette tables and one-armed bandits in your first (of what will no doubt be many) Vegas casino experiences. We favor the old-school glitz of Caesars Palace for first-timers – movie mavens may even recognize its cavernous interiors from the likes of The Hangover and Dream Girls. Stick around for a show at its Colosseum theater, which has hosted megastars including Madonna, Elton and Sinatra in its time, or head to the Bellagio, Mirage or MGM Grand for one of Vegas's ever-popular Cirque du Soleil spectaculars.
Day 2: A Spot of Culture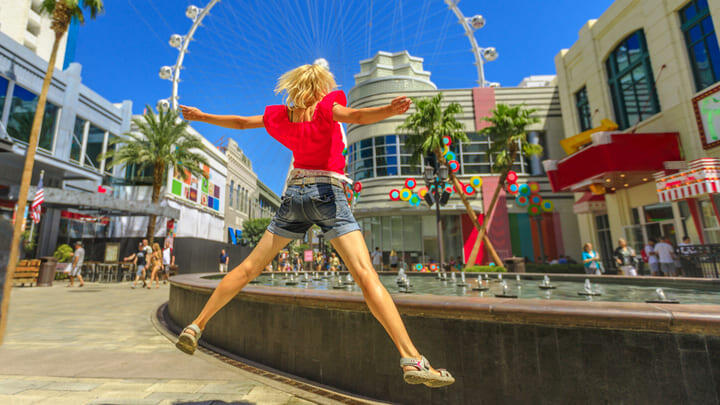 Anyone who tells you Vegas is purely about high rolling and horrific hangovers is missing a trick. Did you know, for example, that Sin City also boasts some pretty great galleries and museums? Fill your pockets with quarters and get down to the Pinball Hall of Fame, where you can try your luck on over 150 antique machines. Or don a fedora, pinstripe and your best Al Capone face and get yourself made at The Mob Museum, a fascinating journey into the US's history of organized crime, with interactive exhibits that include a rogues' gallery of gangsters and a shooting range simulator. There's even a working distillery and Prohibition-style speakeasy tucked away in the basement. Meanwhile, the National Atomic Testing Museum explores Nevada's explosive past when, in the 1950s, atomic weapons were detonated out in the desert here with alarming frequency.
Check out the ever-changing program at the Bellagio Gallery of Fine Art, which has hosted exhibitions focusing on the work of Warhol, Picasso, Lichtenstein and others. And step inside the mind of a Dutch master at The Immersive Van Gogh experience, where spectacular set designs by Tony-nominated David Korins of Dear Evan Hansen and Hamilton fame make you feel like you're walking through his best-loved paintings, including Starry Night and Sunflowers. Spend your evening in the neon boneyard at the excellent Neon Museum. Here, retired Vegas signs of yore including iconic examples from the Stardust and Lucky Cuss Motel are given a second lease of life.
Day 3: Downtown!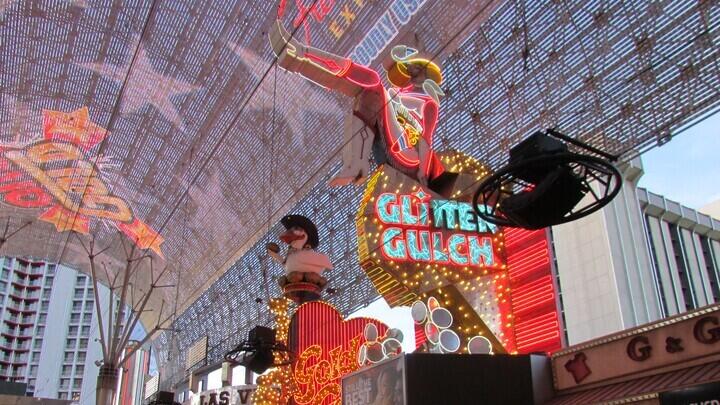 Often overlooked by visitors here for the higher octane thrills and spills of the Strip, Vegas's laidback Downtown has many charms of its own. Get yourself down to the Fremont Street Experience, where an arched canopy over the mall area doubles as a giant video screen. And when we say giant we mean length-of-five-football-pitches giant. Expect spectacular hourly light shows as you browse the shops and sip cocktails in the bars below. Stick around for live music across three stages, kicking off at 6pm every evening.
Downtown is also where you'll find the Las Vegas Arts District aka the 18b. Soak up the boho vibe and shop 18 blocks of art galleries, unique independent stores, vintage clothing boutiques and craft breweries. An arts walk on the first Friday of every month showcases eclectic local art and features live music, fire breathers, fortune tellers and other such Vegas entertainments. Afterwards head over to the nearby Strat, where the Skypod and its utterly terrifying 108th floor thrill rides await nearly 1,000 feet above the Strip.
Day 4: Get Outta Town!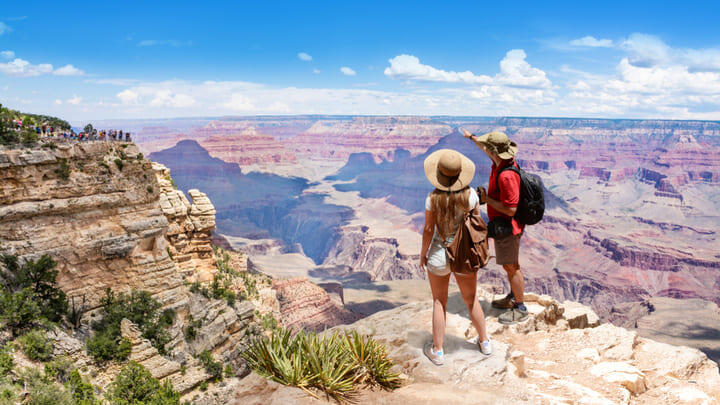 We get it: the constant noise, bright lights and general chaos of the Strip can get a little overwhelming. We recommend a relatively soothing day out to the Grand Canyon. Charter a helicopter to the South Rim in the afternoon. You'll soar over the epic Hoover Dam en route and get the opportunity to take a short hike among the wildflowers and rust-red rocks before returning along the Strip at sundown, as the desert skies turn a bruised purple and the Neon City is at its picture-perfect best.
Or rent a Cadillac, put the top down and cruise south along Interstate 15 to the wildly incongruous Mojave Desert art installation that is Swiss sculptor Ugo Rondinone's Seven Magic Mountains. These gravity-defying tall stacks of boulders – some as high as 35 feet – are painted in a rainbow of trippy colors. Then make for the nearby Red Rock Canyon, the Grand Canyon's diminutive sibling which, at a mere 200,000 acres, still offers plenty of hiking opportunities. Look out for hidden waterfalls and ancient Native American petroglyphs among its towering sandstone crags and deep, cacti-filled valleys.
Day 5: Go Hotel-Hopping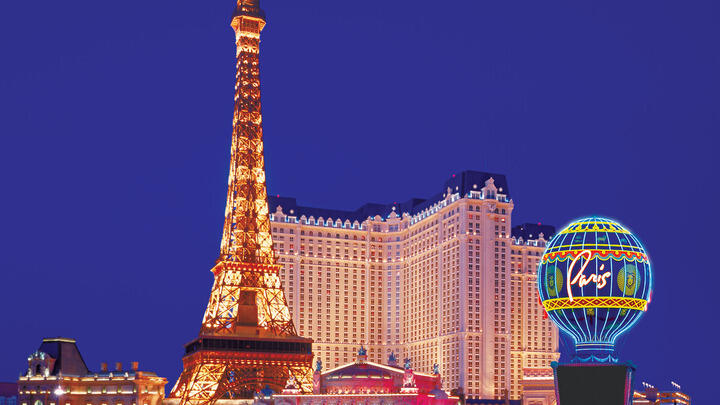 Vegas's mega resorts are attractions all of their own, and no Vegas vacation would be complete without spending a day wandering the Strip and taking in essential attractions like the dancing fountains outside the Bellagio, or the Mirage's exploding volcano. If you're here during pool party season (March to October), get yourself along to Mandalay Bay's sprawling Daylight Beach Club with its enormo 4,400 square foot pool, massive man-made beach and winding lazy river. Dive in, or grab a cabana and pina colada and people-watch the day away. 
Major exhibitions at the Luxor are always worth a couple of hours of anyone's time and the Bellagio's Conservatory & Botanical Gardens are a horticultural marvel, with exhibits that change with the seasons and culminate in a hugely over-the-top festive display at year's end. You'll also want to ride the gondolas at the Venetian, with its faithful replica of Venice's Grand Canal, and ride the glass elevator in the Paris hotel's glitzy half-size Eiffel Tower facsimile. While you're there you might as well stop to gorge on caviar, steak tartare and escargots in the panoramic restaurant 100 feet above the Strip. Bon appetit!
Save on attractions in Las Vegas 
Save on admission to Las Vegas attractions with Go City. Check out @GoCity on Instagram and Facebook for the latest top tips and attraction info.