Caesars Palace and the Bellagio are two of the titans of the Las Vegas Strip, each with close to 4,000 rooms and oodles of high-end bars, restaurants, shops, pools, spas and more. That, fact fans, puts both comfortably inside the top 10 most supersized hotels in town (and inside the top 20 on the entire planet). But which is better? There's only one way to find out! We pitted these two Sin City heavyweights against each other to find out how their many and varied attractions measure up.
Caesars Palace vs Bellagio Hotel Attractions: The Must-Sees
In terms of the kind of must-see attractions that will leave your Insta followers green with envy, it's fair to say the Bellagio is your best bet. Sure, Caesars has a certain allure, thanks to its flamboyant Greco-Roman style architecture, Corinthian columns, winged statues, fountains and 20-foot likeness of Augustus Caesar. Strip first-timers are sure to adore its old-school glitz, while movie mavens will enjoy re-enacting scenes from the likes of Dream Girls and The Hangover, both of which were filmed here. But does it have its own fine art museum and botanical garden? It does not. And that's before we even get started on the Bellagio's world-renowned fountain show…
Surely the biggest and best free show in town, this watery extravaganza sees skyscraping jets of balletic water swaying in time with classical music belters and modern pop bangers, and runs at regular intervals from 3PM to midnight daily. Head inside to take a peek at the Bellagio Gallery of Fine Art, with ever-changing exhibitions that have included works by some of the biggest names in 20th-century art, among them Picasso, Warhol and Lichtenstein. There are yet more blooming wonderful works of art on display in the Bellagio's Conservatory & Botanical Gardens. These colorful and hopelessly flamboyant horticultural displays change with the seasons and culminate in a hugely camp and over-the-top festive spectacular at year's end. Meanwhile, Dale Chihuly's vibrant glass Fiori di Como sculpture (pictured above) is in bloom year round, and dominates the Bellagio's main lobby area.
Caesars Palace vs Bellagio Hotel Attractions: Entertainment and Nightlife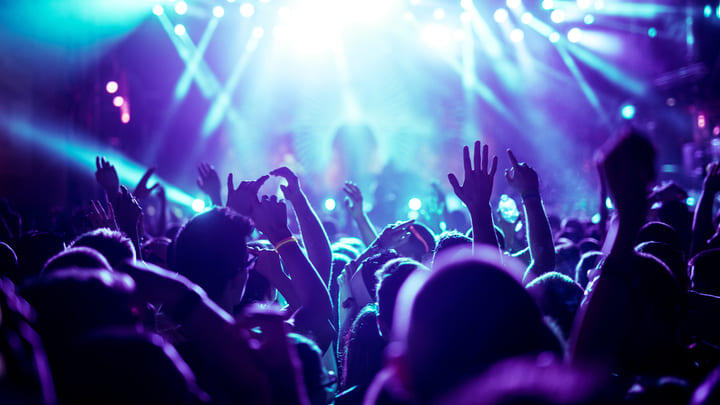 Make no mistake: Caesars Palace is an absolute titan of the Las Vegas entertainment scene. It's legendary Colosseum theater has hosted performances and residences from some near-mythical music makers over the years. We're talking Frank Sinatra, Madonna, Elton John, Celine Dion and the mighty Liberace. Add to this the epic Omnia nightclub, 75,000 square feet of multi-level dancefloors with state-of-the-art sound and lighting and an awesome 11-ton kinetic chandelier centerpiece, and you have the beginnings of quite the evening out.
They love a bit of water-based entertainment over at the Bellagio so, in addition to those dancing fountains, Cirque du Soleil's resident show takes place over a 1.5-million-gallon pool. O – pronounced 'eau' not 'oh', darling – has been wowing audiences with synchronized swimming, daredevil diving and various other acrobatics since the hotel opened in 1998. It's good, but it's not quite Sinatra, so the smart money's on Caesars in this round.
Caesars Palace vs Bellagio Hotel Attractions: Having a Flutter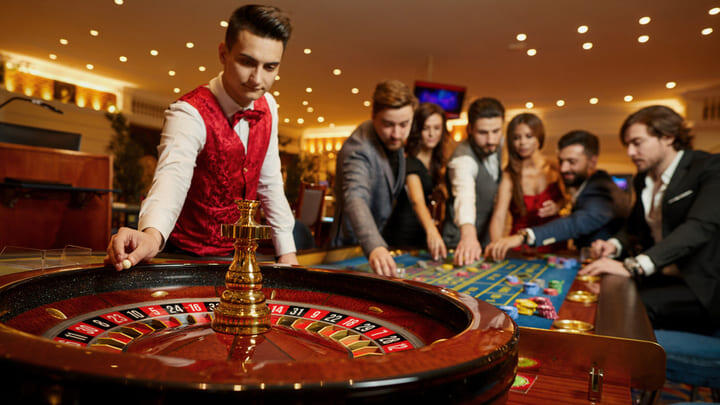 Opened way back in 1966, Caesars Palace is the place to catch some genuine old-school vibes, with 1,324 slot machines (at last count) on which to try your luck, as well as 185 table games that keep it real with classics like roulette, blackjack and Texas hold 'em poker.
High rollers hit up the Bellagio for up-to-the-minute slot games. There are more than 2,300 reel, video reel and video poker games on the casino's slot floor as well as, of course, the usual glut of table games, many of which can be played in the exclusive high-limit lounge.
Sports fans are in for a treat at both hotels. The Caesars sportsbook is an absolute corker with a whopping 143-foor HD screen while the Bellagio's mammoth venue has multiple (not-quite-as-big) screens and around 100 individual racing monitors.
We're talking two of the very best betting facilities in the West here, so you're not really taking much of a gamble by choosing one over the other. Let's call it evens.
Caesars Palace vs Bellagio Hotel Attractions:

Bars & Restaurants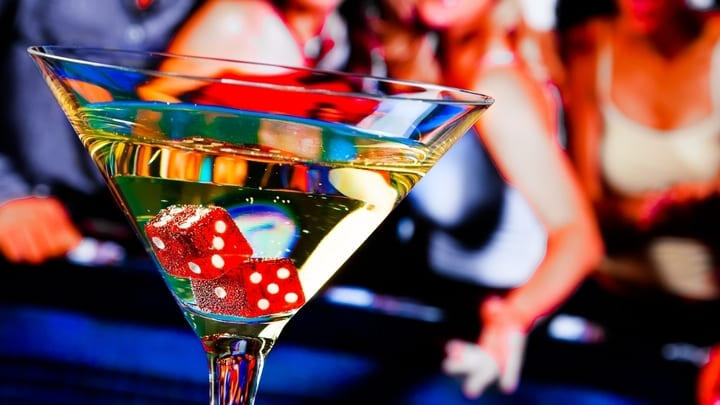 Neither hotel is short of a celebrity chef. Nor indeed a cocktail lounge or six. Whether you're in the market for a prime steak filet, gourmet Italian food, a flamboyant floral cocktail or, you know, just a decent cup of joe, Caesars and the Bellagio have you more than well covered, with something like 50 bars and restaurants between them. The Bellagio just edges it in terms of sheer number and variety of eateries but – in-keeping with its overarching bacchanalian theme – Caesars has more (and better) bars. 
Caesars highlights include celebrity hotspots like Gordon Ramsay's Hell's Kitchen with its decadent signature beef wellington, and the foliage-festooned Vanderpump Cocktail Garden, where you can sip – if you're feeling brave enough – on imaginatively named drinks including Checkmate Bitch, Cold Blooded and Puff the Magic Dragon. Smokin'! Meanwhile at the Bellagio it's all about late-night liquor in the lavish Lily Lounge overlooking the casino floor. Take a break for steak at PRIME or dine in style at Wolfgang Puck's flagship Spago restaurant, directly overlooking the Strip and dancing Bellagio fountains. Odds are that, again, you'll have a good time in either hotel.
Caesars Palace vs Bellagio Hotel Attractions:

Shopping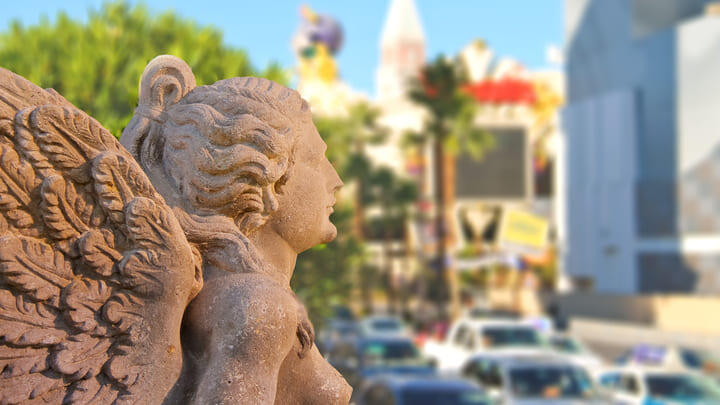 It should perhaps go without saying that a city that effectively exists for big spenders and high rollers is going to have some of the best shopping on the planet. But prices are often not for the faint-hearted. That's perhaps especially true along elegant Via Bellagio, where luxury designer brand after luxury designer brand will have your bank manager coming out in a cold sweat in no time at all. We're talking – deep breath – Bulgari, Cartier, Chanel, Dior, Hermes, Prada and Valentino, to name just a few. Perfect, in other words, if you've recently won big on the craps tables.
The shopping at Caesars Palace is an altogether more extravagant affair, with around 200 chic boutiques and speciality stores. Here, amid soaring marble columns, Romanesque courtyards, burbling fountains and statues including a life-sized replica of Michelangelo's David, you'll find more of the world's biggest fashion brands, as well as high-end chocolates, glittering jewelry and unique Vegas souvenirs. For those reasons, we're betting on Caesars for the win in this round.
Caesars Palace vs Bellagio Hotel Attractions:

R'n'R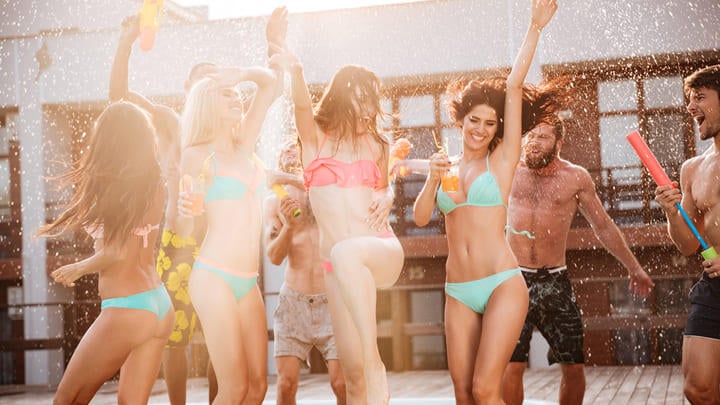 An afternoon spent sipping margaritas and people-watching by the pool should be considered all but essential on any Vegas vacation. Set around Mediterranean-style courtyards strewn with luxurious cabanas and daybeds, the Bellagio's five pools are ideal for just such an activity. 
Caesars ups the ante in its modestly monikered Garden of the Gods, where epic Romanesque columns, statues and fountains surround seven pools. Have a flutter at the Fortuna pool's five swim-up blackjack tables, take the kids for a splash at Jupiter pool or join the all-day bacchanalia at Neptune. If you prefer to spend your day mostly horizontal, you can even have a massage in your poolside cabana courtesy of the hotel's sprawling Qua Spa. Our verdict? Caesars seizes the crown in the R'n'R stakes.
Caesars Palace vs Bellagio Hotel Attractions Comparison: Conclusion
So, while the Bellagio is where it's at in terms of sheer visual spectacle and must-see attractions including the Bellagio fountains, Museum of Fine Art and Conservatory and Botanical Gardens, Caesars Palace more than holds its own in many of the other categories, notably entertainment, nightlife and the kind of extravagant pool scene that would make Caligula himself blush.
Save on attractions

in Las Vegas

 
Save on admission to Las Vegas attractions with Go City. Check out @GoCity on Instagram for the latest top tips and attraction info.