Don't make the mistake of visiting Las Vegas and never venturing beyond the Strip! Downtown Las Vegas, just north of the Strip, is a vibrant community with lots of fun areas and hidden gem establishments to discover and explore, including Downtown Container Park.
Downtown Container Park, "DCP", is an open-air shopping and entertainment complex with lots of shops, restaurants, and bars right in downtown Las Vegas. The innovative entertainment complex concept is an attraction itself built from 43 re-purposed shipping containers and 41 locally manufactured Xtreme cubes. The complex features a grassy area with string lights for outdoor activities, an interactive "Treehouse" play area designed for children and adults, a stage for presentations and performances, a larger-than-life praying mantis sculpture that shoots fire, and more.
Things to Do in Container Park
In addition to all of the shopping and dining destinations, check out Container Park's Entertainment Schedule to see what events they're hosting during your trip to Las Vegas. Past events have included outdoor family movie nights, yoga in the park, doggie date night, "open container" beer tastings, and more.
Container Park features
family-friendly fun
for everyone, from toddlers to adults. The eye-catching Treehouse structure provides jungle-gym fun for kids and adults alike with a must-do 3-story slide. When the sun goes down, DCP turns into a
one-stop entertainment complex for adults
(except on weekly Family Movie Nights!). After 9:00 pm, it's 21+ throughout DCP, even the playground. There's often live music, a DJ spinning, and more to keep it festive and fun.
Restaurant Highlights
Pinches Tacos is hands-down the most popular crowd favorite in Container Park. Serving simple-concept tacos with fresh-picked garden vegetables, high quality meats and seafood, and hand made tortillas, this family-run taco spot serves up delicious, authentic bites. "Real Mexican Food by Real Mexicans." For some "real deal" barbecue, head to Big Ern's BBQ. Here, you'll be able to get some classic BBQ fare along with recipes unique to Las Vegas where the owner-chef, Big Ern Loya, has developed his own flavors and techniques with the goal of bringing good BBQ to a this traditionally non BBQ town. Wine on tap. Need we say more? Check out bin 702's comprehensive selection of wine on tap and sample their selection of artisan cheese, meat plates, salads, and paninis. For casual, creative-yet-unpretentious-fare, Cheffini's serves up hot dogs with flavor combinations that are so good, you'll wish you could box up, ship home, and enjoy whenever you want. Simply Pure is a must for vegans in Las Vegas (or just those who are curious about the food offerings!). This gourmet vegan and raw food restaurant is committed to serving up flavor that satisfy, energize, revitalize, and refresh. Head to Perch for "fabulous, not fussy" fare at this casual, family-friendly establishment. Featuring a sharing menu, this place the perfect spot for dining with a group.
Things to Do Nearby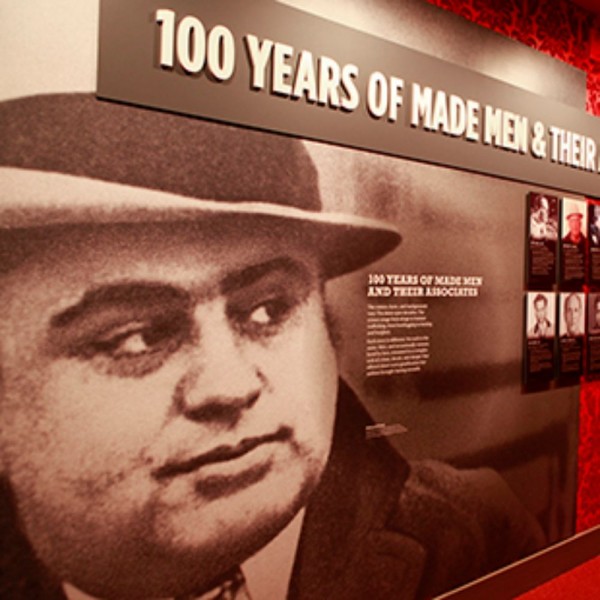 The Mob Museum (our Las Vegas Regional Director's top pick!) is located within a 10 minute walk from Downtown Container Park. The museum provides visitors with an entertaining and interactive experience where they'll learn stories from both sides of the famous back-and-forth between the Mob and the law enforcement that fought it. Just try not to learn too much while you're there... Get above it all for awesome views from the Stratosphere Observation Deck, an easy, 20+ minute trip on the DEUCE bus. The Stratosphere is the tallest freestanding observation tower in the U.S., standing at 1,149 feet tall and features both indoor and outdoor decks for the best views. Just north of downtown is the Las Vegas Cultural Corridor, home to lots of establishments that features art, science, history, education, and family fun. Points of interest include: the Neon Museum, Las Vegas Natural History Museum, Cashman Center, Old Las Vegas Mormon Fort, Las Vegas Library, Burlesque Hall of Fame, and more. Head to the Discovery Children's Museum for all things science, nature, art, and culture geared towards keeping kids entertained with interactive, hands-on exhibits and activities. Fans of the arts won't want to miss 18b, the arts district which is named for the 18 blocks of city land it used to take up. 18b is now a vibrant community known for being always-hip and home to galleries, office buildings, condos, and more.
Location
707 Fremont Street Las Vegas, NV 89101
Hours
Retail
Monday-Thursday: 11:00 am to 9:00 pm Friday-Saturday: 11:00 am to 10:00 pm Sunday: 11:00 am to 8:00 pm
Restaurants & Bars
Monday-Thursday: 11:00 am to 11:00 pm Friday-Saturday: 11:00 am to 1:00 am Sunday: 11:00 am to 11:00 pm Be sure to explore the Strip and check out some of the attractions downtown. Save on combined admission to lots of Las Vegas attractions (on the Strip, and off) including museums, shows, day trips, and more with the Las Vegas Explorer Pass.