Who's feeling hot, hot, hot? If you find yourself heading to this den of decadence this month, expect to be spending most of your time indoors, because Vegas in July is a scorcher. You'll also be competing with the crowds and paying premium rates, especially if you're here on a weekend – but that's no reason to stay away, as the pool parties are still rocking and one of the biggest holidays of the year happens this month. So grab a portable fan and some no-melt flip flops, because it's time for summer in Sin City.
Visiting Vegas in July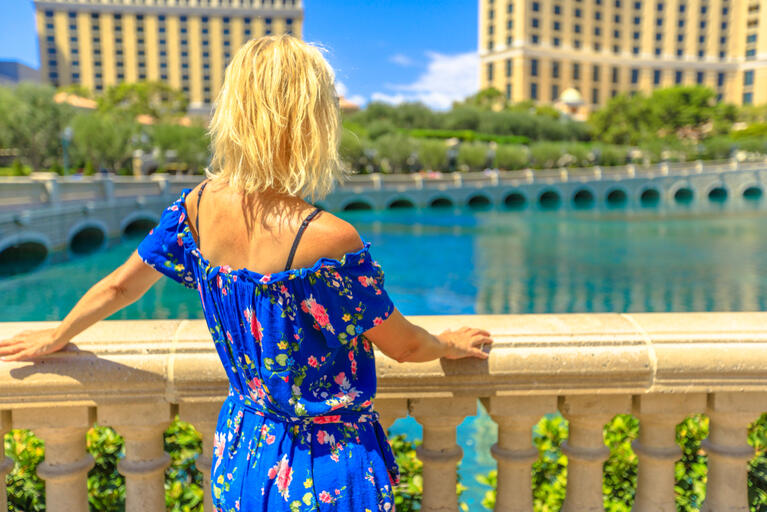 Average temperature: 104oF • Average rainfall: 3 days/mth • Average Sunshine: 14.5 hours/day
If you plan to venture outside this month, try and plan to go early in the morning or later in the evening, as the mercury hits three figures most days and the sun is at its fiercest between 11am and 4pm. Try to limit your exposure to 20 or 25 minutes at a time as you go from one air-conditioned venue to another – unless you're lounging by a pool all day, of course, in which case just slather yourself in SPF and we'll let you get on with it. It's possible that an isolated thunderstorm may roll into Vegas in July – but they usually only last a few minutes, so duck into the nearest hotel or museum and wait for it to pass. Light, loose clothing is best, but keep in mind that indoor temperatures can get quite chilly, and some evening venues and restaurants do have dress codes, so check before you head out.
What's on in Vegas in July?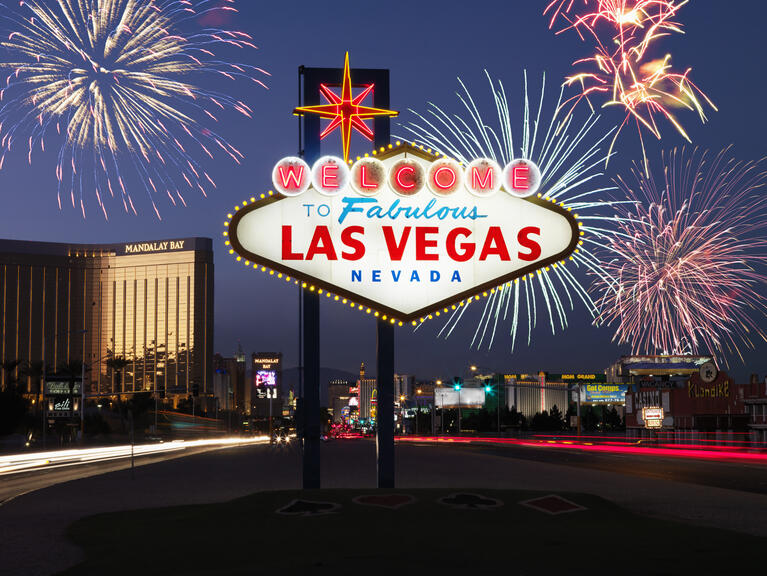 Wherever you end up on July 4th, there's going to be a party – but nowhere does Independence Day quite like Las Vegas. And since you're here on this particular weekend, we're going to assume you're not trying to avoid the crowds and recommend you find a pool party somewhere, let your hair down and experience the day properly. All the hotels host special themed parties with guest DJs, and though the backdrops vary significantly they're all equal in their extravagance. Some of the most famous are Wet Republic at MGM, the Encore Beach Club at Wynn, the Marquee Day Club at the Cosmopolitan and the Daylight Beach Club at Mandalay Bay. In the evening, head to the strip early and find a good spot to wait for the fireworks, as it will get very crowded. And since there are already a gazillion photos of this show on the internet, why not put your phone away and simply watch – it's a spectacle of light and color unlike anything you'll see anywhere else for the rest of the year.
Escaping the heat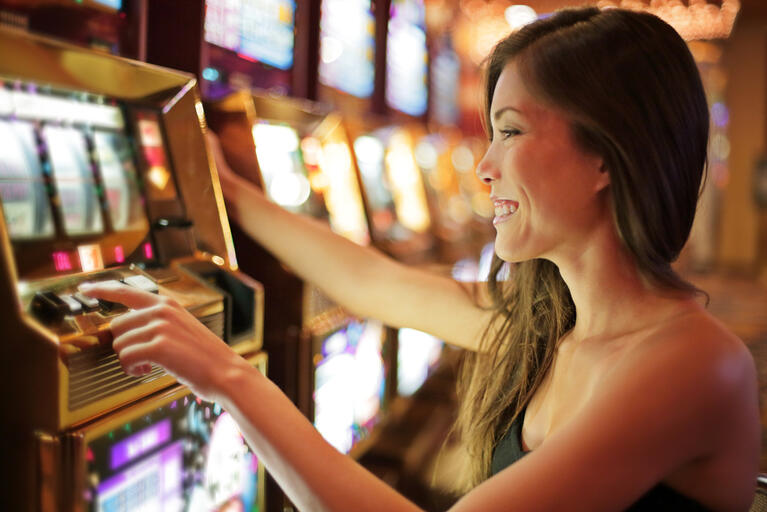 If you've been partying hard, you could always take a nap in the afternoon, but if you don't want to miss a minute then use this time for indoor activities, when you'll want to make the most of the 24-hour climate control.
Casinos & hotels
For those who fancy a flutter, then one of the city's iconic casinos has to be your first stop. For those who don't, the casinos are still worth seeing for their opulent foyers and interactive displays – plus they're a handy way to break up a sizzling stroll along the Strip. There's Italian opulence at the Venetian, the Planet Hollywood Café on the roof of Caesar's Palace, LED mind-trippiness in the lobby of the Cosmopolitan or an exotic wonderland at the Wynn. If you head into the Bellagio, be sure to check out the world's largest chocolate fountain and stop for some macarons on your way to the indoor botanical gardens.
Marvelous museums
Don't worry, it's not a typo – there are in fact a bunch of museums in Vegas for you to get your intellectual teeth into, and like the casinos they are many and varied. If you're a fan of Marvel superheroes, the Marvel Avengers Station is an immersive experience that lets you see props and weapons from the movies; or if you prefer dystopian dramas you can explore film sets at the Hunger Games Exhibition at the MGM Grand. On the other hand, if you like your museums in a more traditional format, you'll find the Mob Museum, the Natural History Museum, the National Atomic Testing Museum, the Hollywood Cars Museum, a Madame Tussauds and even an Erotic Heritage Museum. Who says casinos and culture can't go together?
Cooler climes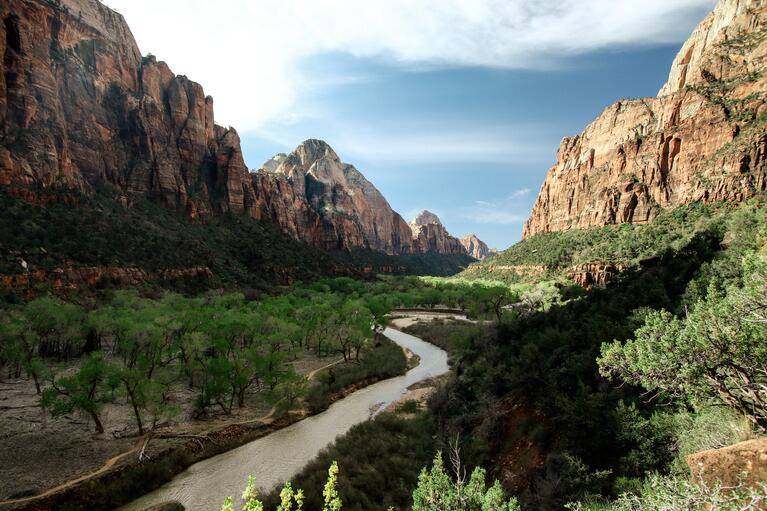 In the heat of summer, it can be a welcome relief to get out of the city and escape the concrete and bright lights for a few hours. Ideally, go out very early in the morning, so you can be back – or at least back in the air-conditioned coach – before the sun reaches its peak. Lake Mead and Hoover Dam make an excellent combined trip, and Red Rock Canyon is quite spectacular in the morning light. If you need to stretch your legs, Zion National Park has plenty of opportunities for hiking through cool valleys and over mountain passes, or you can cool off completely on a kayak tour of Black Canyon and Emerald Cave on the Colorado River. Any excuse for a dip, right?
Sultry summer nights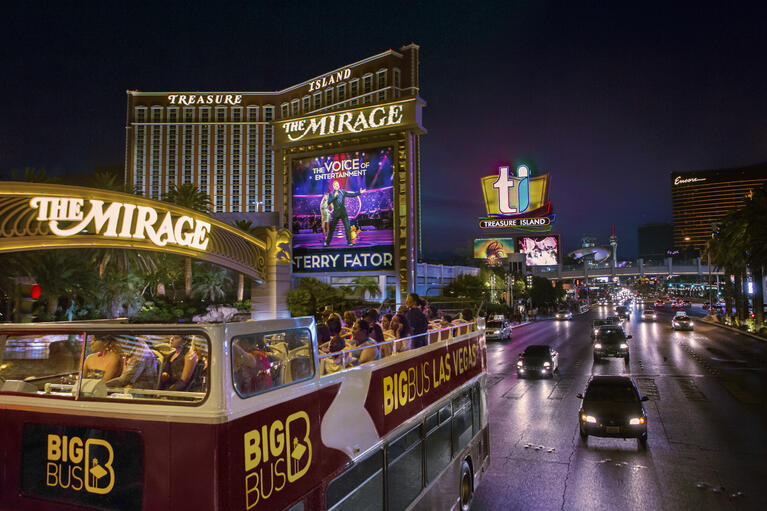 Vegas may be too hot for some in July, but if you like warm evenings then this is the perfect time to head out and about. Stroll up the strip, photograph the 'Fabulous Las Vegas' sign and check Fremont Street and Downtown – use the Hop-On Hop-Off bus if you want to save your legs. If you're in the mood for fun, go for a ride on the Big Apple Roller Coaster or even on a helicopter, or if you prefer a steady surface under your feet, get some perspective from the STRAT, the highest building in the city (you can even jump off it if you want). There are plenty of themed restaurants to head to for dinner, or if you just want to be entertained try catching a drag, talent or tribute show or even catch some comedy if you're in the mood for a laugh. If you're feeling sociable, you could always jump on a Rockstar Nightclub Tour; if not, you can simply stroll the streets all night and when it's quiet, sit somewhere and watch the sun come up over the desert.
Turn up the heat with Go City
No matter how hot it gets in Vegas, you'll always get a cool deal with Go City. Grab your All-Inclusive or Explorer Pass today, and save on dozens of attractions all over the city.