Tucked away in the Nevada desert, surrounded on all sides by sand, rocks and an occasional cactus, is a bright pocket of color, sound and neon lights. It never sleeps, and it's never stopped, since some plucky miners and their railroad brought wealth to the region more than a hundred years ago. The city, of course, is Las Vegas. Today, no matter the time of day or year, weary travelers and adventure-seekers alike still seek their fortune here – though one of the best times to come, for weather, crowds and partying till the small hours, is the charming spring month of May. All you need to know includes:
Weather in May
What's on
Day trip ideas
Pool parties
 

Las Vegas in May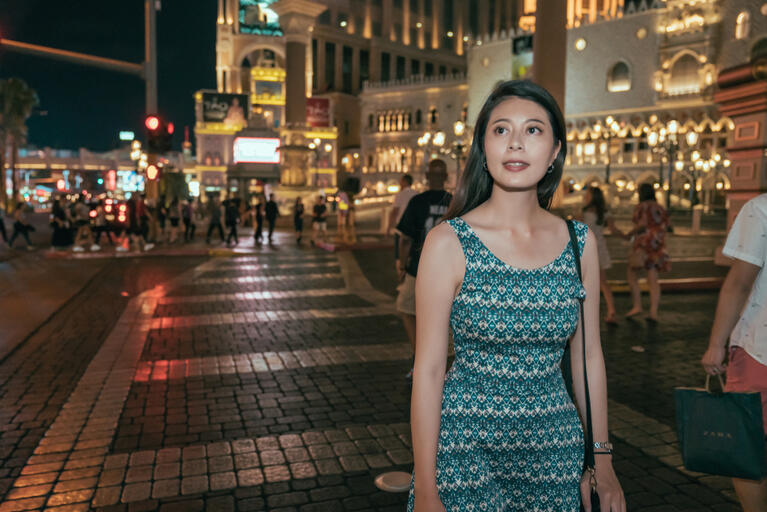 Average temperature: 89oF •  Average rainfall: 1 day/mth • Average sunshine: 13 hours
Things begin to heat up in Vegas in May, as the days get longer and the clouds dissipate, leaving clear blue skies as far as the eye can see. There's almost no rain – average rainfall for the whole month is 0.12 inches – but it's not unheard of for an isolated thunderstorm to roll in, so check the forecast before you head out. It gets warmer as the month goes on, with temperatures regularly reaching the mid-90s and potentially ticking over 100 degrees, so be prepared for heat – particularly in the middle of the day. It's still quite cool in the evenings, averaging a brisk 66oF overnight, so a light jacket or coat is recommended if you're heading out and about after dark. Keep in mind, also, that many of the hotels and casinos have dress codes and don't allow shorts – though fortunately they're all air-conditioned, so you'll be fine once you get there.
What's on in May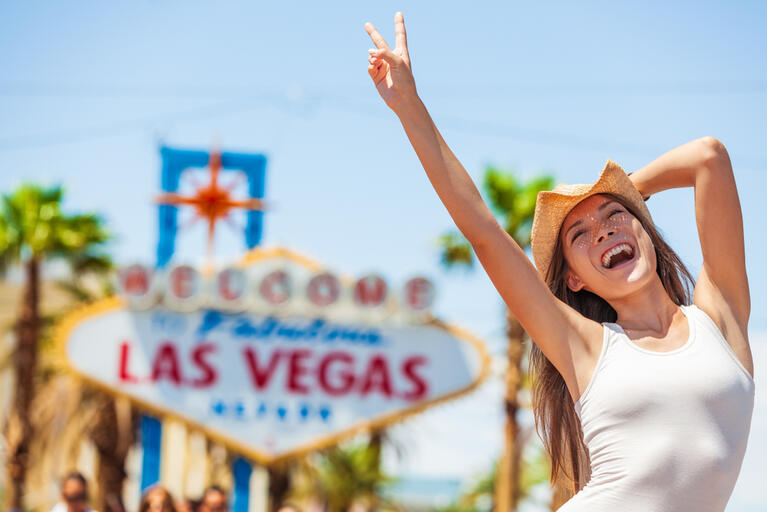 There's no shortage of fun to be had in Vegas in May, though if you're here on a festival weekend you can expect to pay premium rates for hotels. On the other hand, if you miss them, your chances of getting a great deal are pretty good. Around the middle of the month is the annual Billboard Music Awards at the MGM Grand Garden Arena, when the city fills up with rockstars and people who want to get a glimpse of them. Recent performers and recipients have included Ed Sheeran, Kanye West, Taylor Swift and Ariana Grande, to name a few. If that's not your thing, escape the hoards by whisking yourself up to the Eiffel Tower observation deck, or seek sanctuary on the High Roller Observation Wheel in a soundproofed, climate-controlled pod.
The last Monday of the month is Memorial Day and in Vegas this marks the unofficial start of the summer season. Most of the hotels get their festival vibes on with pool parties lasting all weekend; clubs, bars and restaurants will also have special events and offers. Or if you're looking for a family-friendly event you could attend The Best Dam Barbeque Challenge, a two-day annual event in which teams compete to produce the best ribs, pork, brisket, and chicken. For spectators, as well as the obvious chance to taste a lot of grilled meat, there's music, a car show and barbequing lessons for the kids. Or if you're into Punk Rock and bowling, go for the obscure but fun Punk Rock Bowling and Music Festival, which is pretty much exactly what it says it is.
Day trips from Vegas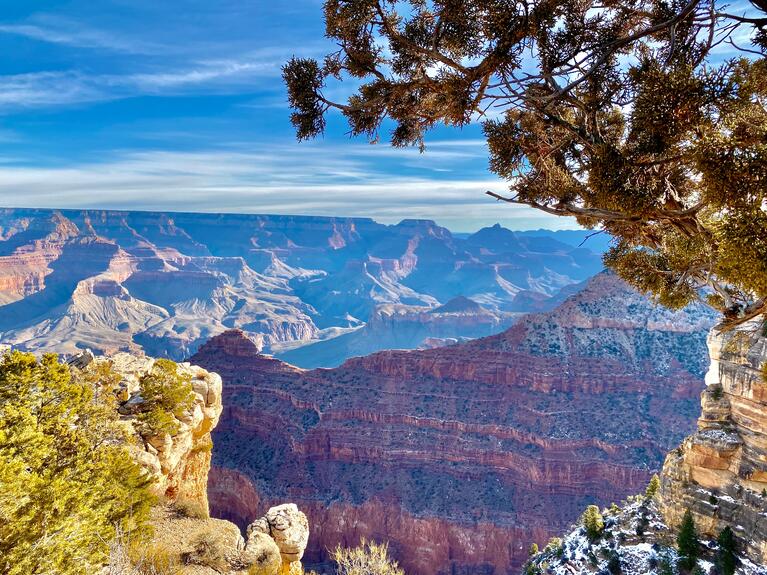 May is a great time to explore the regions around the city, as the days are getting longer but the heat hasn't yet become extreme. If it's your first time in the area make sure you visit the Grand Canyon and tick a natural wonder of the world off your bucket list. The trip begins and ends with a smooth ride in an air-conditioned coach, and in between you'll enjoy a rejuvenating stop at Lake Mead, cross the Mike O'Callaghan–Pat Tillman Memorial Bridge into Arizona and spend three hours exploring the Canyon's stunning South Rim on a guided tour. If you prefer wonders of engineering, you could visit Hoover Dam, where you can peer from the dam itself into the depths of the Black Canyon and spend some time exploring Boulder City. Or if you prefer a more elementary escape, why not try a combined trip to Zion National Park and Bryce Canyon? Here you can enjoy a scenic drive over mountain passes and red cliffs, see unique rock formations at Chequerboard Mesa and walk the rim of a canyon with stunning natural vistas. Wherever you choose to go, be sure to have your camera fully charged!
Vegas Pools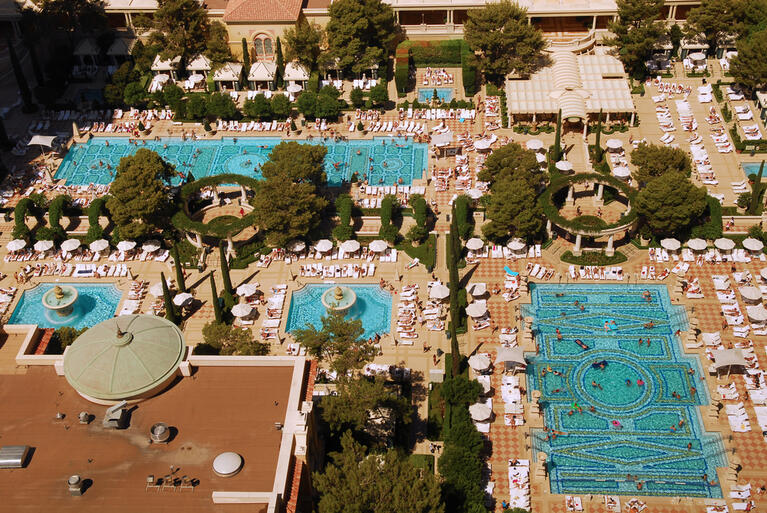 When you've been out in the desert all day, or hitting the shops of the Vegas Strip, there's only one way to cool off – in a luxury Vegas hotel pool. This is nothing like your local swim center – these are mind-blowingly lavish and often magnificent bathing resorts, each attempting to outdo the others in theme, extravagance and sheer ingenuity. Choices include 11 acres of beach, tropical island and wave pools at Mandalay Bay, the Mount Olympus-themed Garden of the Gods at Caesar's Palace, or actual sharks in the titanic-sized tank at the Golden Nugget. Pool season lasts from March to October and most of them stay open from 7am to 7pm. Many of them host pool parties – although you'll hear them referred to as 'day clubs' - because they're basically an all-day party with music, drinks and crowds of young people letting their hair down.
Before you head to your chosen oasis, be aware that many of the hotels have strict rules about who's allowed in, and in what manner, so make you check before you bathe. One or two – like the LINQ Influence Pool and Planet Hollywood – are free at certain times, but most have to be booked and paid for unless you're staying at that hotel, and pool parties are strictly adults-only. If you're not sure which one to pick – or want to try more than one – jump on a Rock Star Pool Party Tour which will take you to two of the best ones on a limo with complimentary drinks. When the pools close, follow it up (if you've got the stamina) with a Rockstar Club Tour, which gets you into four of the most exclusive clubs in town. 
Yes, you 'May' have it all!
May is the perfect month to visit Sin City. Save money with a Go City Las Vegas Explorer or All-Inclusive Pass, and make sure you don't miss a thing!