November sees a marked change in the Nevada climate as winter approaches and  temperatures begin to drop rapidly, but you can still expect pleasantly mild days, particularly at the beginning of the month. Read on for our guide to visiting Las Vegas in November.
Visiting Las Vegas in November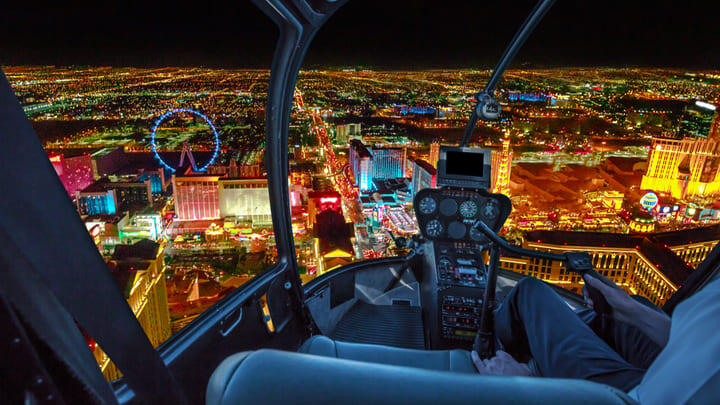 Average Temperature: 55°F • Average Rainfall: 5 days/month • Average Sunshine: 9 hours/day
Let's not beat about the bush: as the seasons turn from fall to winter, it becomes increasingly difficult to know how to pack for your Las Vegas vacation. At the beginning of the month days remain mild, with highs reaching the mid 60s and – if you're lucky – evenings that are just about warm enough to for dining al fresco at Lago with ringside seats for the Bellagio's famous fountain shows. But by the close of the month, you're very much at the sharp end of autumn, with a distinct winter chill lending a holiday feel to Vegas as Thanksgiving approaches. Our advice? Take jeans and light jumpers for the daytime, and layer up with thicker woolens – jumpers, hats and socks – if you're planning to be out and about on The Strip in the evenings. 
Those lower temperatures mean there are some relative bargains to be had on flights and hotels too, but watch out for spikes in prices during the busy SEMA automotive show and around Thanksgiving and Black Friday.
Things to do in November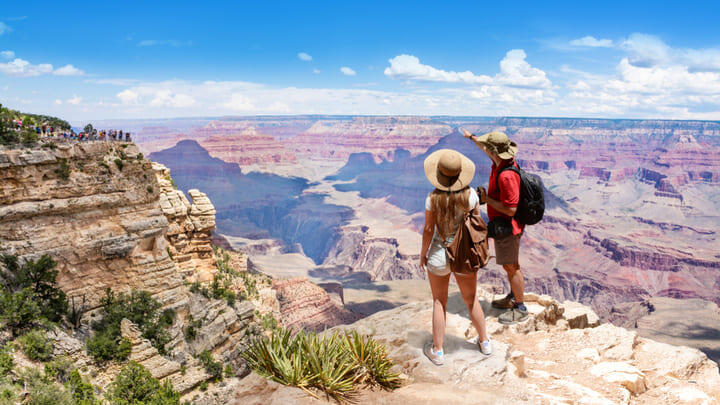 The season for lounging poolside at Mandalay Bay with a pina colada may be over, but that doesn't mean there aren't plenty of fun outdoor pursuits to keep you occupied during these mild November days. In case you hadn't noticed, Las Vegas is surrounded by desert and mountain trails that are ideal for hiking enthusiasts. Then there's that great big geological masterpiece they call the Grand Canyon, its South Rim accessible on day trips from Las Vegas by coach or 'copter. There are dozens of variations of Canyon tours on offer. Private or in a group. With or without champagne. Even posh picnics complete with linen tablecloths and polished silver cutlery. But it's the views you came for rather than the vol au vents, right? And there's little to beat soaring up across the South Rim in a helicopter and seeing the Canyon open out beneath you, before landing and enjoying a hike among the red rock and wildflowers.
Vegas helicopter tours are a mini industry all of their own, and you can also take trips out over the Hoover Dam and along the Strip at night. And, of course, there are tours that combine all three of these experiences.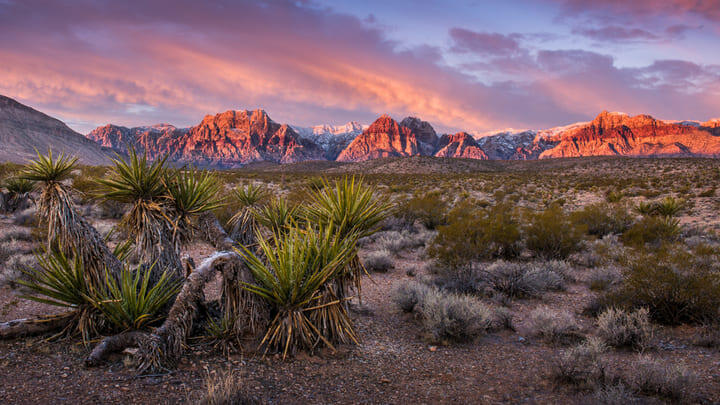 Did you know there's another canyon that's much closer to Vegas and therefore doesn't require a flight or 12-hour return road trip? Well, now you do: Red Rock Canyon sprawls across nearly 200,000 acres of Mojave Desert just a few miles west of Sin City. Close enough, in fact, to rent a car and drive out there yourself with the top down and Viva Las Vegas blasting on the stereo. 
As the name suggests, Red Rock Canyon is notable for its vivid rust-colored cliffs and crevices, which have been part of the landscape here since dinosaurs roamed the earth. There are plenty of hiking opportunities, from easy kid-friendly adventures to strenuous mountain hikes best left to the experts. November is a great time to visit as the mild temperatures are less likely to turn you into a sweaty mess than they might have done in late summer and early fall. Check out all the marked hikes and trails here.
Prefer high-powered machinery to put in the effort so you don't have to? We've got you covered. Desert tours in all-terrain self-drive vehicles including quad bikes, three-wheeled motorcycles and specially pimped-up buggies are a great way to get out into the wide open spaces of the Mojave and really experience the vastness of it all.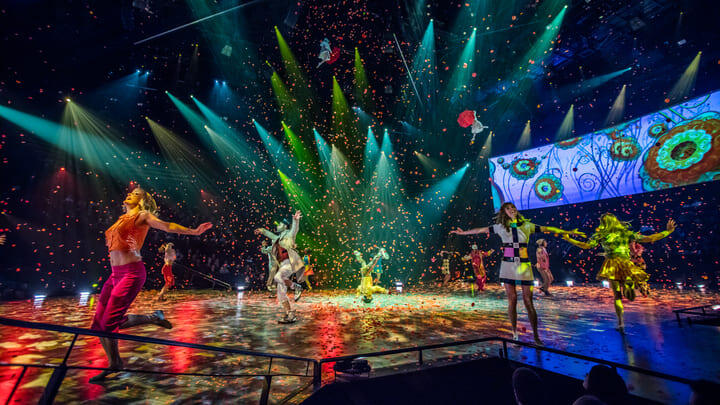 Or, y'know, you could just stay in town and play the slots, dine yourself silly on some of the best gourmet food on the planet, and take in a few of those famously flamboyant Las Vegas shows. Vegas really is the city that never sleeps, where entertainment is available 24/7 and performances from the likes of Cirque du Soleil and the Blue Man Group are as much a part of the local landscape as the Bellagio fountains, the erupting volcano at the Mirage and the soaring observation tower at the Strat. For the best live music concerts in Las Vegas in November, check listings for the T-Mobile Arena, the MGM Grand Garden Arena and the legendary Colosseum at Caesars Palace. Between them they've hosted some of the biggest names in rock and pop, from Stevie Nicks to Sinatra and Black Sabbath to Britney.
What's on in November?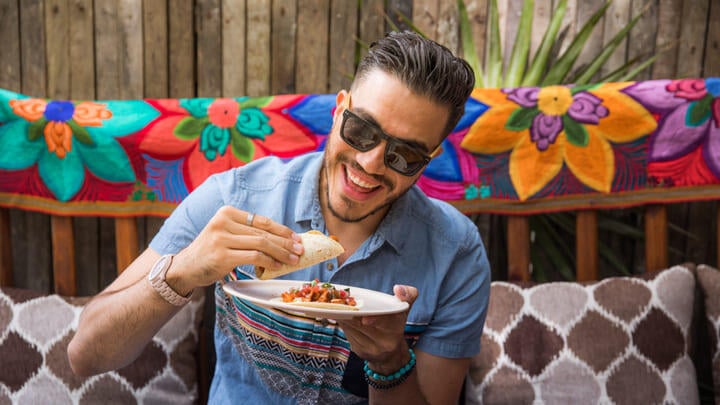 As well as any number of major rock concerts and unmissable acrobatic and burlesque shows, November sees a number of food festivals roll into town. Follow your nose to the Great Las Vegas Taco Festival, which takes place on or around the Mexican Day of the Dead celebrations, and promises live mariachi music, mechanical bull riding, fireworks and fairground rides, as well as – of course – dozens of taco stalls and taco eating contests. Meanwhile, Donut Fest will satisfy the cravings of those with a sweeter tooth.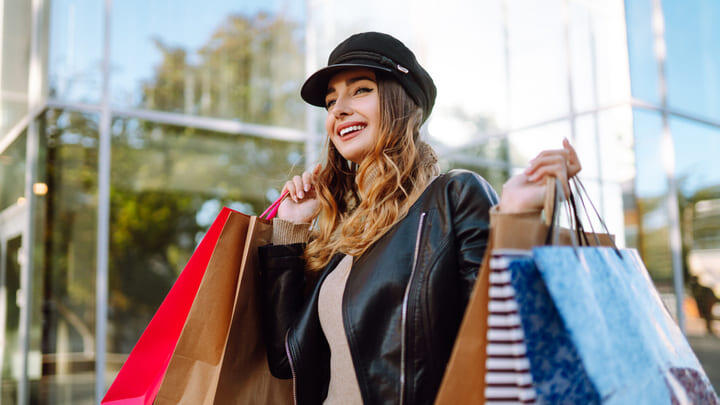 The Holiday Craft and Gift Festival ramps up the festive spirit ahead of Christmas and you'll also find plenty of restaurants offering Thanksgiving specials towards the end of the month. Also worth noting is that shopping is practically a national sport in Las Vegas, which would make Black Friday the retail Super Bowl. Good news for incurable shopaholics: there's plenty of choice here with mega-malls including Las Vegas Premium Outlets North and South and the Fashion Show Mall. Resorts like Caesars Palace and The Venetian also offer major shopping complexes (The Forum Shops and Grand Canal Shoppes, respectively). But a word to the wise: expect long queues both outside the stores and at the tills. Now, elbows at the ready and… go!
Save on attractions

in Las Vegas

 
Save on admission to Las Vegas attractions with Go City. Check out @GoCity on Instagram and Facebook for the latest top tips and attraction info.