Along with spring, fall is a prime time for visiting Sin City. By now, the searing summer temperatures have long since abated, but you're still some way from needing to pack a winter coat for evenings on the Strip. Read on to find out why you should visit Las Vegas in October.
Visiting Las Vegas in October
Average Temperature: 70°F • Average Rainfall: 3 days/month • Average Sunshine: 10 hours/day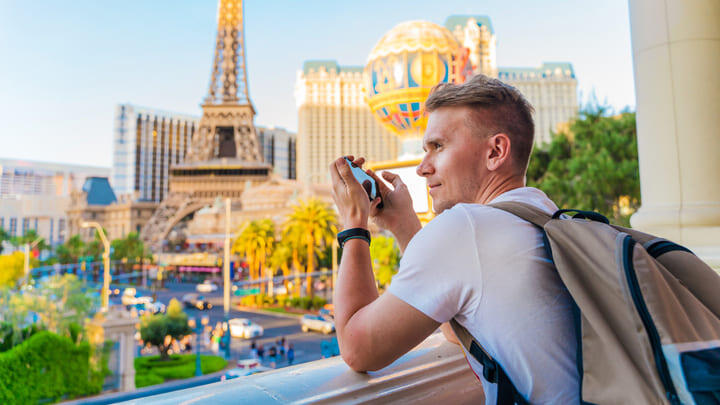 For moderate temperatures and reasonably priced flights and hotel rooms, you could do far worse than to visit Las Vegas in October. Highs in the low 80s during the day mean you'll still need to slap on the sunscreen if you're opting for bare arms and legs, while evenings retain just about enough warmth to get away with light jumpers and jackets. Of course, this being Las Vegas, you don't actually have to go outdoors at all: the Las Vegas Monorail runs the length of the Strip's east side, connecting major resorts from the MGM Grand to the SAHARA, while a series of skywalks have you covered for crossing the Strip from one side to the other.
That said, there are few things quite so magical as strolling the Strip after dark, when illuminated Eiffel Towers, fire-belching volcanoes and spectacular dancing fountains really ramp up the wow factor.
Things to do in October
By October, many of the hotel pools are starting to close or reduce their opening hours. Beach bums rejoice though, because there's still time to hit the 11-acre shoreline at the vast Mandalay Bay resort. Soak up some rays as you wiggle your toes in the warm sand. And yes, it's the real deal: all 2,700 tons of it! You can also ride the breakers in the wave pool, float gently down the lazy river on an inflatable lounger or sip mojitos in the shade of a cabana.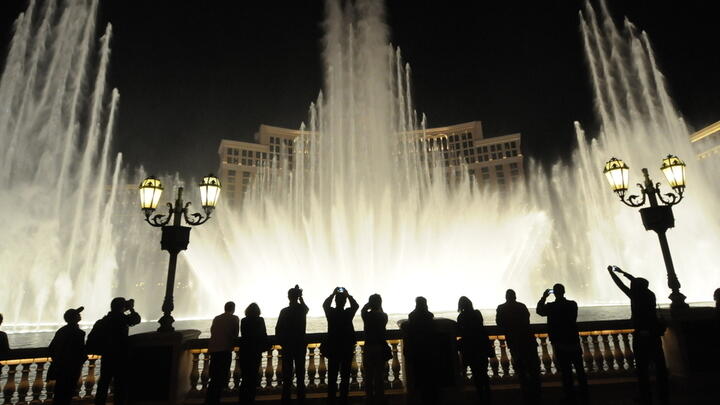 Step out in the evening to see some of the Strip's biggest attractions at their most fabulous. The illuminated dancing fountains at the Bellagio are perhaps the biggest and best free show in town, their skyscraping jets of balletic water soaring and swaying in time with a booming soundtrack of rousing classical music and pop bangers. Also worth a few moments of your time are the exploding volcano out front of the Mirage and Paris Las Vegas's gittering half-size replica Eiffel Tower. Head over to the Venetian, where hopeless romantics can board neon-lit gondolas and cruise the resort's replica of the Grand Canal, complete with Rialto Bridge and singing gondolier!
The legendary Caesars Palace is the place to catch some proper old-school vibes as you try your luck on the one-armed bandits or bet a few chips at the blackjack and roulette tables. This supersize stalwart of the Strip has hosted some of the planet's biggest stars, from Frank Sinatra to Celine Dion, while fans of Hollywood blockbusters will no doubt recognize it from its starring roles in The Hangover, Iron Man and Dream Girls. Catch some of rock and pop's top names here at the iconic Colosseum theater, or go for high octane shows courtesy of the Blue Man Group and Cirque du Soleil elsewhere. It's fair to say that in October, as with every other month of the year, you're unlikely to go short of live entertainment in Las Vegas!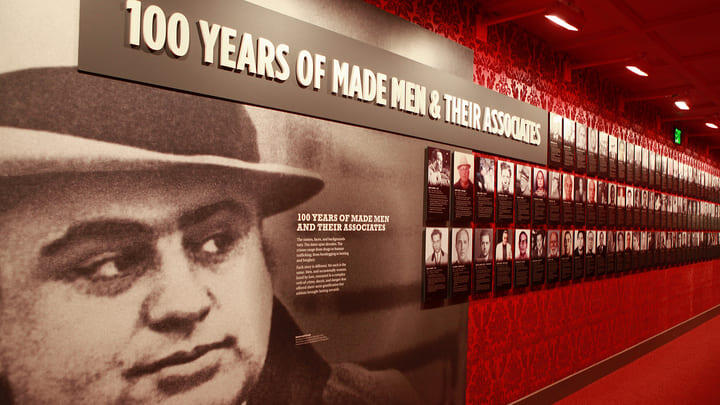 But did you know Las Vegas also has some pretty awesome museums? It's not all about hangovers, helicopter tours and high rolling here you know! Grab handfuls of quarters and mosey on over to the Pinball Hall of Fame, where you can try your luck on over 150 operational machines, from old-school arcade classics to today's all-singing, all-dancing ultra-modern gadgetry. The Mob Museum charts the history of organized crime in the USA (complete with Prohibition Era underground speakeasy serving real cocktails) while the utterly fascinating National Atomic Testing Museum takes you on a journey through Nevada's explosive past.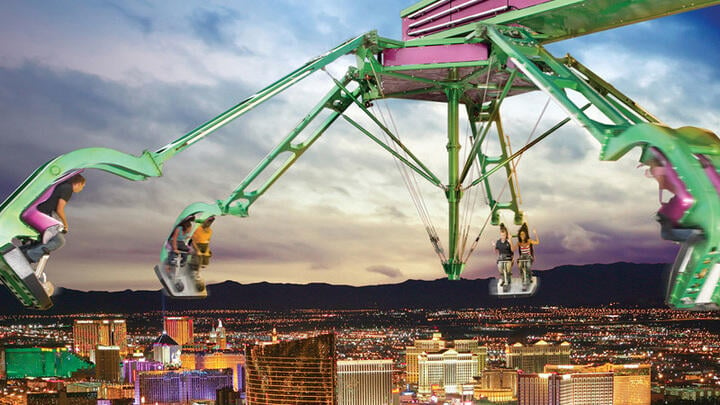 And if you fancy something a little more high octane, Vegas is of course chock-full of frankly terrifying thrill rides. Indeed, no ride is more appropriately named than Insanity. An acrophobic's worst nightmare, it swings you out into thin air 900 feet above the Strip, from the top of the Strat hotel's soaring SkyPod observation tower. Admittedly the views from up here – of the Strip, the desert and the mountains beyond – are something else. But do you really think you'll be able to keep your eyes open? 
What's on in October?
Make no mistake: world-class entertainment is a 24/7, year-round certainty whenever you visit Las Vegas. And, while metropolises from Chicago to Shanghai have been dubbed 'the city that never sleeps', there really is no place quite like Vegas for round-the-clock partying. Suffice it to say then that October is no slouch in this department.
It's the time of year when, amongst other things, the Golden Knights' hockey season kicks off, bringing sports fans to Sin City in their droves, eager to see their heroes in action at the Strip's huge T-Mobile Arena. October is also when the annual Las Vegas Book Festival takes place. Nevada's biggest literary event, it's a paradise for bookworms, with readings, poetry slams, celebrity book signings, Q&As and workshops.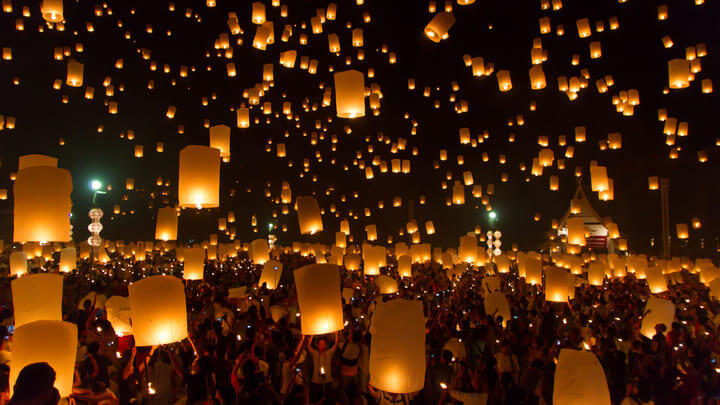 From the beauty of the written word to the eye-popping visual extravaganza that is the annual RiSE festival, where thousands of lanterns are launched into the night sky from deep in the Mojave Desert, around 25 minutes outside Las Vegas. A ticket gets you two lanterns, plus a mat for sitting on as you enjoy the spectacular nighttime display. There's live music and oodles of excellent street food to enjoy, too.
And then, of course, there's Halloween, when you can just bet your bottom dollar Sin City is going to put on one helluva show. Join the fun by donning a spook-tacular costume and mingling with like-minded dresser-uppers on the Strip and in Vegas's lively clubs. There will be Halloween parties in many of these as well as creepy themed food in the restaurants. Lady's finger, anyone? You can also expect haunted houses, Halloween pub crawls and even – we kid you not – zombie burlesque shows. Children are well catered for too, with a Haunted Reef at the Mandalay Bay Aquarium, hayrides and pumpkin patches at the Fall Farm Harvest Festival, and scheduled trick-or-treating activities across the city. Just out of town in downtown Summerlin, the Parade of Mischief sees fun floats and dancing zombies, witches, monsters and other weird and wonderful creatures hit the streets every Friday and Saturday evening throughout October.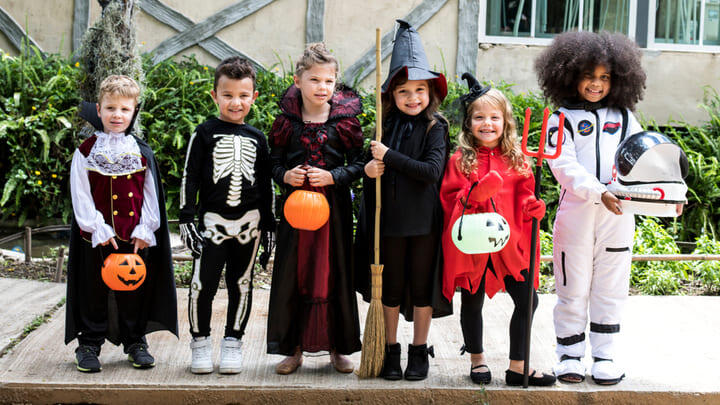 Save on attractions

in Las Vegas

 
Save on admission to Las Vegas attractions with Go City. Check out @GoCity on Instagram and Facebook for the latest top tips and attraction info.