September is a fine month to visit Las Vegas: kids are (mostly) back in school, pool season is in full glorious swing and, while still very hot, much of the sting has gone out of the tail of the brutal Mojave Desert summer. Read on to discover why you should visit Las Vegas in September.
Visiting Las Vegas in September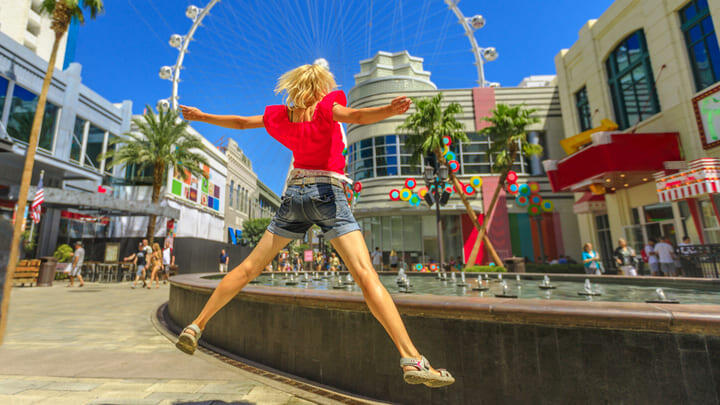 Average Temperature: 81°F • Average Rainfall: 3 days/mth • Average Sunshine: 12 hours/day
If you've ever visited a desert city in summer, you'll know it's not always much fun, with a blazing sun and blistering temperatures driving all but the most hardy (or dumb) indoors. September in Las Vegas is the best of both worlds, with pleasant mornings, hot (sometimes incredibly hot) afternoons and balmy evenings ideal for al fresco dining.
You'll likely still want to avoid the midday sun, particularly in the first half of the month, but hey, it's not as if Vegas is lacking in fantastic indoor lunching opportunities! Temperatures have been known to hover in the high 90s at this time of day and into the middle of the afternoon so, if you are going to be outdoors, stay smart by wearing loose linens, a wide-brimmed floppy hat and lashings of sunscreen. That goes for most times of day in September, but particularly between the hours of 11am and 3pm.
These variations in Vegas weather throughout the day (and across the month) mean superb conditions for hiking the canyons (morning), hitting the pools (afternoon) and exploring the Strip (evening).
Pricewise, the first half of September is where you'll find the highest hotel rates, especially around the Labor Day celebrations, with better deals to be had as the temperatures continue to ease off. As ever with Vegas, it's worth noting that the party doesn't wait for the weekend so nor necessarily should you. Room rates are always cheaper on weekdays but the city is never any less fun.
Things to do in September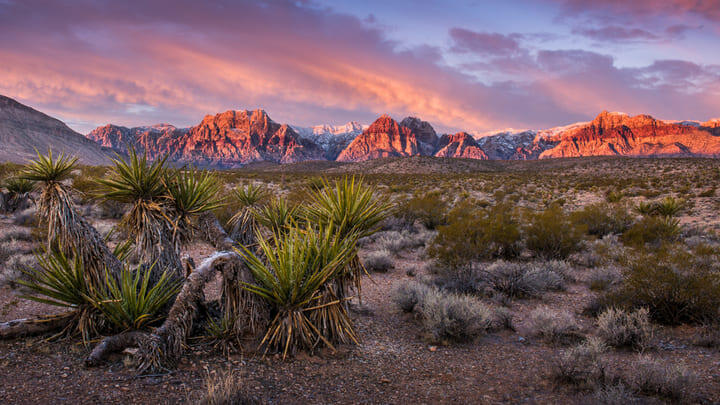 If you can rise early enough after a boozy night on the roulette and blackjack tables, September mornings are perfect for short hiking trips and tours of the nearby Red Rock Canyon, an epic natural wonder that spans more than 200,000 acres of the Mojave Desert, and happens to be conveniently located just a few miles west of Vegas. A fine alternative if you don't have time for a day trip to the Grand Canyon, this prehistoric landscape of rust-colored sandstone stacks and deep, cacti-crammed valleys is chock-full of marked trails, ranging from short jaunts for the casual rambler to strenuous ascents for dedicated climbers. You can cruise there – with the top down and Viva Las Vegas blaring out of the car stereo, natch – in a mere 25–30 minutes.
Incurable Instagrammers can take Interstate 15 south out of Vegas for the half-hour drive through movie-set Mojave to the Seven Magic Mountains. This utterly incongruous desert art installation by Swiss sculptor Ugo Rondinone consists of seven gravity-defying stacks of boulders, some as high as 35 feet! The vivid rainbow colors of these beautifully painted totems are pretty much guaranteed to look picture-perfect, whatever the weather.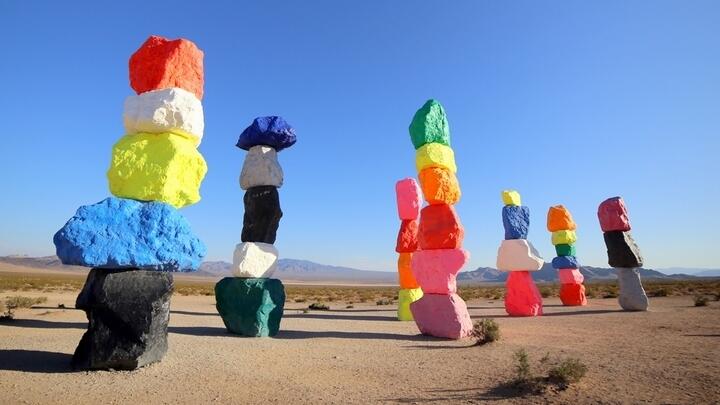 And if that's made you thirsty for more art and culture, there's plenty to keep you out of the hot midday sun in and around the Strip back in Sin City. The Bellagio Gallery of Fine Art has an ever-changing program and has hosted exhibitions of the work of Lichtenstein, Warhol, Picasso and more. The Immersive Van Gogh experience lets you step inside the Dutch master's best-loved paintings, with spectacular set designs by Tony-nominated David Korins of Hamilton and Dear Evan Hansen fame.
Vegas is also home to some pretty awesome museums. Try your luck on over 150 fully operational old-school arcade classics at the Pinball Hall of Fame and head out to the Neon Museum to explore Vegas's lurid past via hundreds of retired (but still working) signs from in and around the city. The Mob Museum charts the history of organized crime in the US and is worth a visit for the underground speakeasy alone, which serves up a range of Prohibition-themed cocktails to thirsty visitors.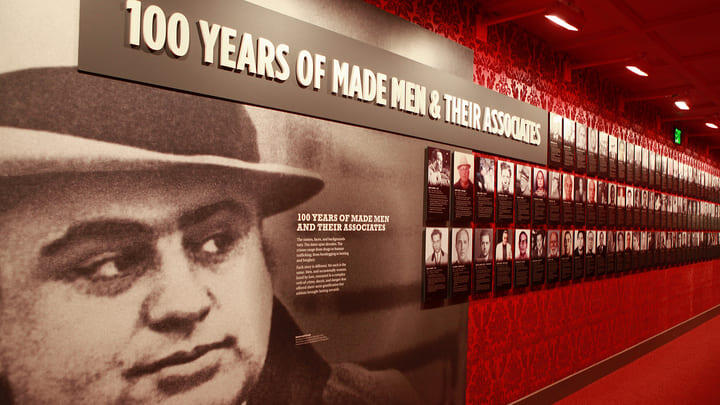 An afternoon spent sipping pina coladas and people-watching by the pool should be considered all but essential on any September Vegas vacation. Warm your toes in the sand (all 2,700 tons of it) and float gently down the lazy river at Mandalay Bay's supersize Daylight Beach Club, get the party started with live DJs at the MGM Grand's Wet Republic and discover the Bellagio's other fountains in its elegant five-pool complex. Looking for something a little more laidback? ARIA's palm-fringed pool and The Cosmopolitan's rooftop tend to be a little quieter, just in case the full-on Vegas party scene isn't your bag. Note that if you want a cabana or daybed it pays to book in advance, but be prepared to dig deep for the privilege. Like many things in Vegas, they don't come cheap.
What's on in September?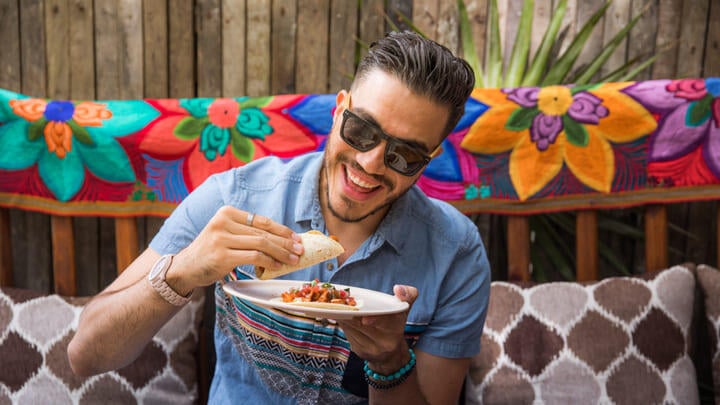 Labor Day in Las Vegas marks the unofficial end of summer and kicks off a long weekend of wild pool parties and all-night clubbing. Expect large crowds for big-name international DJs and superstars of the electronic dance music scene. For more laidback vibes and a bit of classic rock, hit the free concerts downtown on Fremont Street.
But just because summer's over, doesn't mean the partying stops when Labor Day weekend ends. Life is Beautiful is a three-day festival of music, comedy and arts held annually in downtown with – this being Vegas – more big name stars than you can count. Performers this decade have included Billie Eilish, HAIM, Arctic Monkeys and A$AP Rocky. The iHeartRadio Music Festival takes place at the T-Mobile Arena on the Strip in the same month and promises more of the same.
Gourmands will be in clover at September's Great American Foodie Fest. It's the biggest annual food festival on the west coast with dozens of food stalls serving up tacos, Thai, fried chicken, funnel cakes and everything else in between. Live pop, rock and tribute acts of course come as standard and your wristband allows you to come and go as often as you please over the three days.
Save on attractions

in Las Vegas

 
Save on admission to Las Vegas attractions with Go City. Check out @GoCity on Instagram and Facebook for the latest top tips and attraction info.