It's basically always a good time to head to Vegas. That being said, with fewer crowds and cooler temps (compared to those crazy hot summers) spring is an especially good time to visit.
So if you're looking for things to do in Las Vegas in the spring, check out our list of some of the best activities and attractions, including...
Madame Tussauds Las Vegas

Hop On Hop Off Big Bus Las Vegas

Grand Canyon Tour

Evening Helicopter Flight

Fremont Street Walking Tour

and more!
"Meet" Celebrities at Madame Tussauds Las Vegas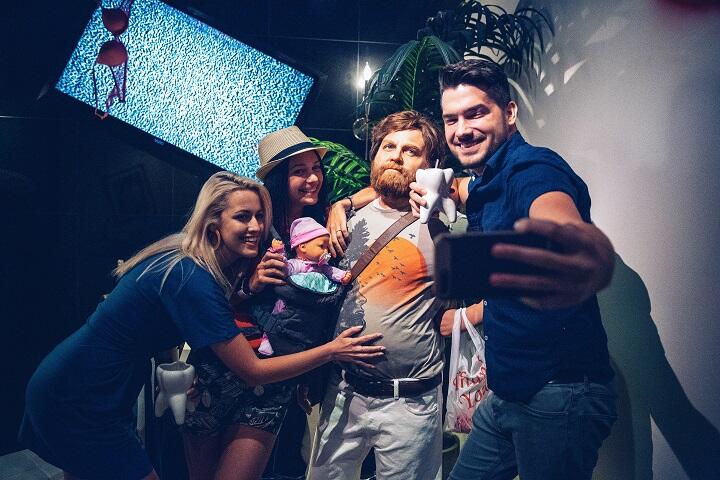 If you're a big fan of celebrity culture – especially contemporary music and acting – then Madame Tussauds Las Vegas is a must-visit attraction for you. Wander through eight themed galleries that feature everyone from Lady Gaga to Marvel Superheroes. Being open 'til early evening, it's also a good option for when the temperature cools as it tends to do during the early months of the year.
Tour the City with Big Bus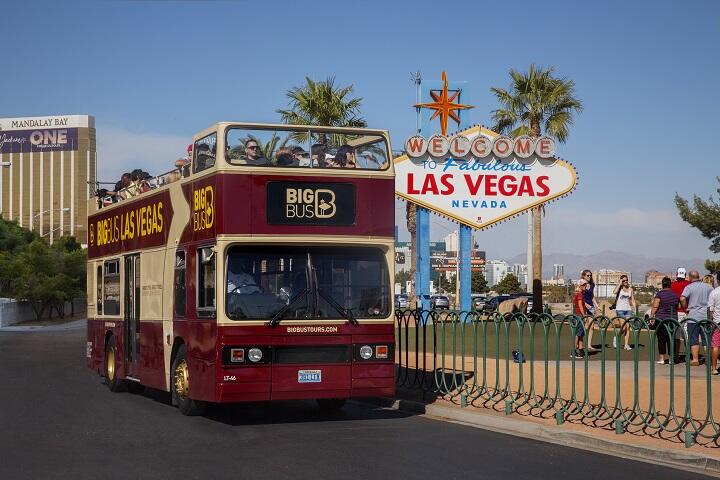 Even if this isn't your first time in Las Vegas, there's nothing wrong with a little bit of old-fashioned touristy fun. A Hop-On Hop-Off Big Bus Classic Tour is the perfect opportunity to see all the major casinos and hotels (especially the ones you won't be able to afford to go to, but love to look at!), plus museums, malls, monuments, and the Miracle Mile.
Take a tour of the city on a charming double-decker bus that gives you the flexibility to board and disembark at will for maximum trip customization. 
Explore the Desert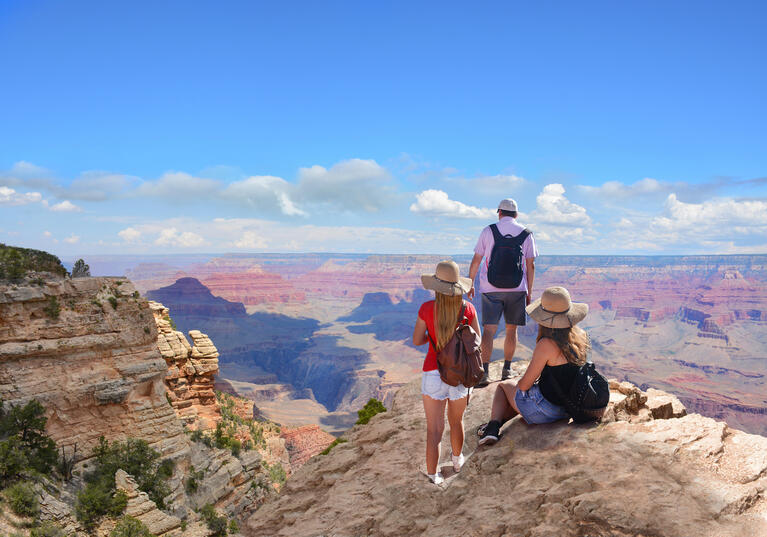 There are few things as beautiful as the landscape outside of urban Las Vegas. The Grand Canyon is one of the most striking natural wonders in the entire country, and it's not to be missed if you have the time for a little detour out of the city.
You can take a bus tour right from Vegas that will escort you to the popular South Rim, where you'll get to stop at many iconic lookout points and get that perfect canyon photo. You'll even travel over the world famous Route 66. It's a must-do for nature lovers, and early spring is a great time to spot some of the local wildlife while the temperatures are cool and the crowds are fewer. 
Soar Over the Strip at Night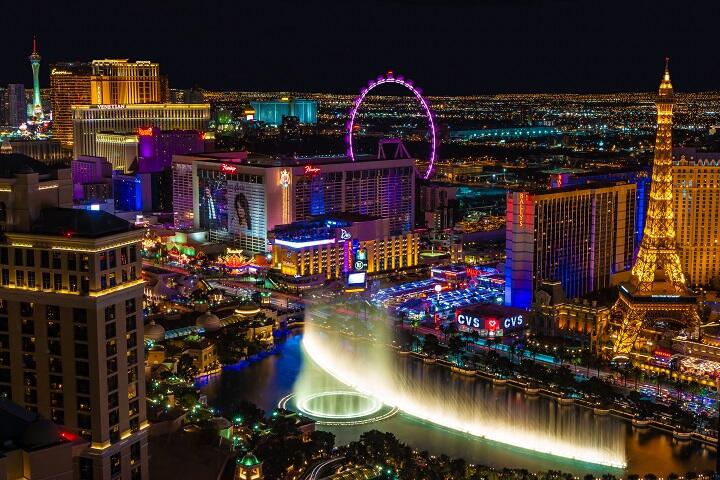 There is something truly magical about seeing the Las Vegas Strip at night. Perhaps the only thing that can make this experience even better is a helicopter flight!
Hover over the Strip and see the hottest casinos and attractions illuminated in their full glory. Keep your eyes peeled for the New York-New York skyline, the Bellagio Fountains, the Luxor Pyramid, and so much more. You'll also get a nice aerial view of Fremont Street, which you can also explore on foot (see below). 
Enjoy Aerial Views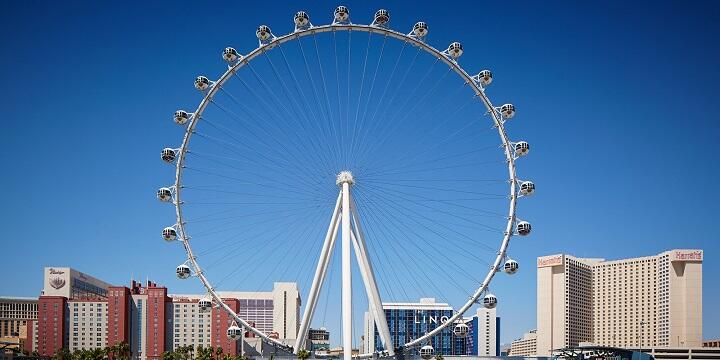 It's hard to beat an aerial view of Las Vegas. It's simply a city that has to be seen from above, boasting too much glitz and glam to possibly be appreciated from street level without being overwhelmed.
Get a full sense of the scope of the marvelous Strip from one of their two most popular observation decks – the High Roller Observation Wheel at LINQ or the Stratosphere Observation Deck.
Embark on a Walking Tour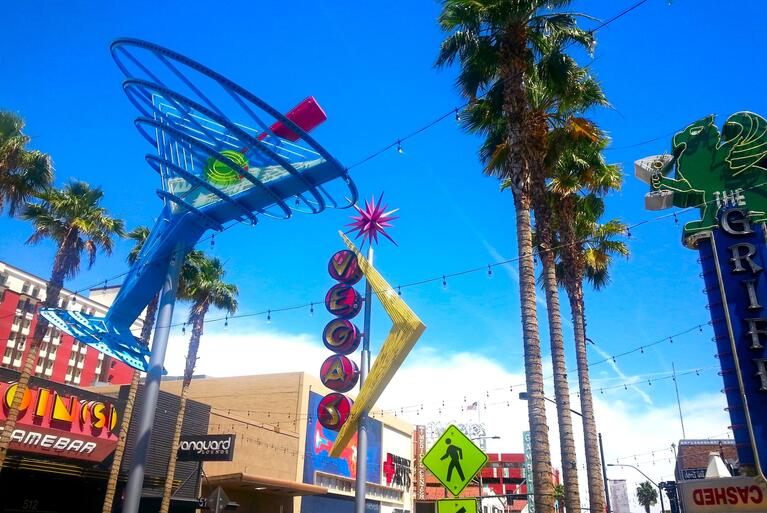 With the weather cooler than the oppressive heat of the summer months, you'll want to take advantage of your springtime visit by getting outside. One fun option is to take a walking tour of the popular Fremont Street neighborhood, which winds you through the cultural hotspots of downtown Las Vegas.
Not only will you get to see some of the city's signature casinos, but you'll also see lesser-known spots like the new and popular Downtown Container Park and some up-and-coming restaurants and shops. It's a great option for those looking to see the local's perspective on Las Vegas. 
Shop at Las Vegas Farmers Market
The Las Vegas Farmers Market is a beloved local event, serving the area for years before blossoming into the major event it is today. With over 25 booths featuring fresh seasonal produce, jewelry, crafts, cosmetics, and more, you're bound to find something new and delightful for a souvenir or keepsake here. You'll find locations at Bruce Trent Park, Downtown Summerlin, Floyd Lamb Park, Gardens Park, and Galleria at Sunset.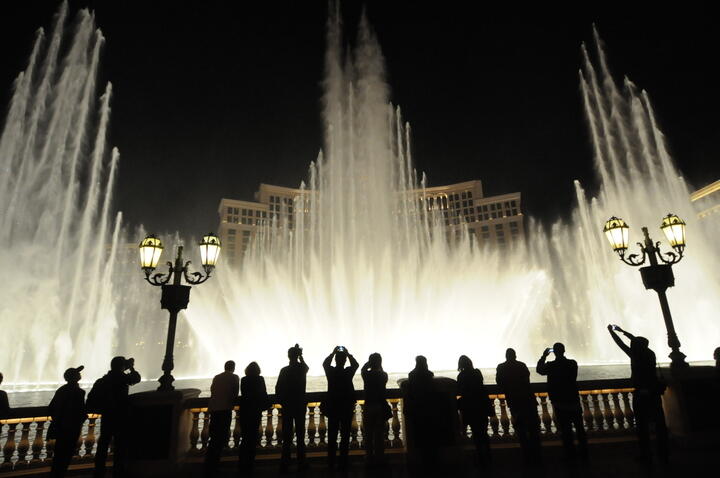 Visit the Bellagio's Conservatory & Botanical Gardens
The Conservatory & Botanical Gardens has free floral exhibits all year round, but its spring displays are something really special. Tens of thousands of flowers are used in the arrangements, all themed around the season and displayed under Bellagio's impressive Atrium. 
Try some sweet treats at the Ethel M Chocolate Factory
Visiting around Easter? Get your chocolate-fix by heading out to Henderson and taking a free tour of this chocolate emporium. You can watch candy being made and learn all about the process. They make everything from peanut brittles and caramels, to tasty small-batch chocolates. Delish. 
The factory also has a beautiful botanical cactus garden, which makes for a delightful walk during the cooler spring months. 
 
Save on Attraction Admission
Admission to a number of these Las Vegas activities is available with Go City. Choose as you go from dozens of top attractions for one affordable price – you'll make great savings vs paying at the gate.