It's nearly time to ring in the new year. It's about time too. The last 12 months have been full of ups and downs, victories and tragedies. I guess it's the same every year, right? So, if you're heading to Las Vegas for New Year's Eve, you'll need to know about all the events in the city. 
In our guide, you'll learn everything you need to know to have the time of your life. Read on, take notes, and see you next year! 
Including:
When is New Year's Eve in Las Vegas?
Where is New Year's Eve in Las Vegas?
Things to remember over New Year's Eve in Las Vegas
Things to do on New Year's Eve in Las Vegas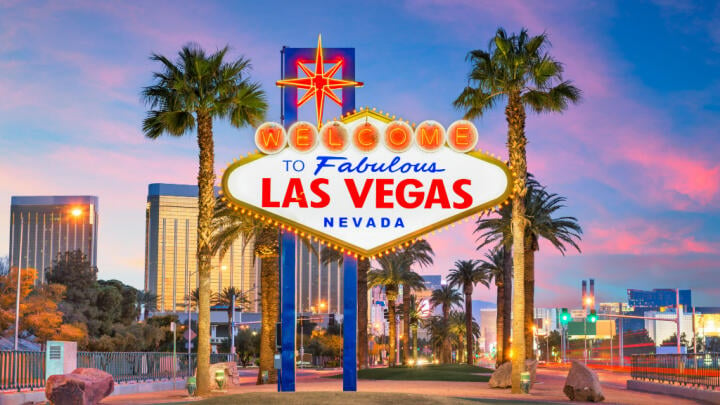 When is New Year's Eve in Las Vegas?
It may sound like a silly question, but New Year's Eve celebrations in Las Vegas tend to stretch from December 30 - December 31, so if you want to make the most of your time, you can get in on the action early. 
Where is New Year's Eve in Las Vegas?
You'll find things to do and ways to celebrate all across the city. That's just a little tease, because we need to talk about some dos and don'ts before we explore the Strip's NYE offerings.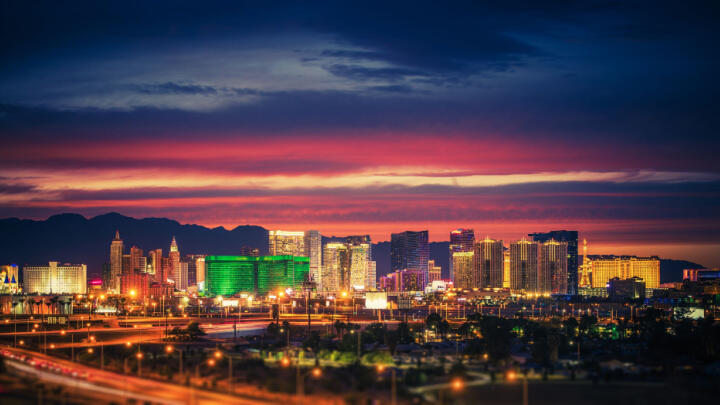 Things to remember over New Year's Eve in Las Vegas
We're all for having a good time, but if you're celebrating your first New Year's Eve in Las Vegas, there are some things worth mentioning. 
Firstly, from 6AM on December 31 to 6AM on January 1, you cannot hold glass or aluminum containers on Las Vegas Blvd. This is to ensure people stay safe, while limiting the amount of dangerous litter that can accumulate throughout the day. 
It's also worth noting that large bags and purses, coolers, luggage of any kind (briefcases, backpacks, or cinch bags), computer and camera bags, strollers, and carts are also banned on the Strip and Downtown. 
Even children under 18 are not allowed on the Strip or Downtown throughout this time. And, given the above, you can't even sneak them in with a stroller. All jokes aside, the cops take these rules very seriously, so don't give them any reason to kick you out!
Things to do on New Year's Eve in Las Vegas
Now we've got all the boring - yet necessary - stuff out of the way; let's talk about something fun! What kinds of things can you get up to on New Year's Eve in Las Vegas? Whether you're looking for thrilling sit-down performances, fireworks, clubbing, or otherwise, we've got you covered. Check out our recommendations below!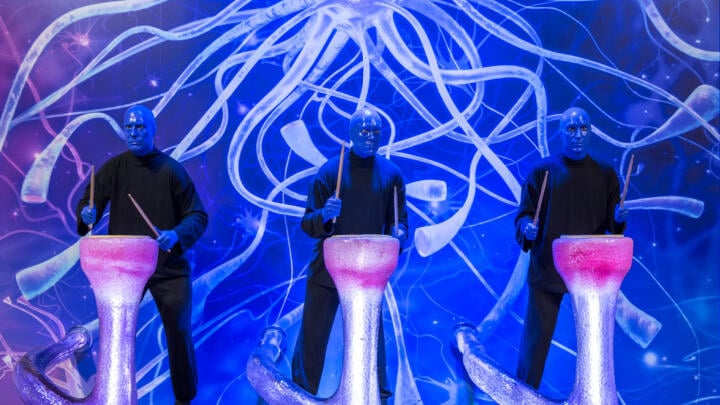 Image courtesy of mariakray/Shutterstock
This tireless trio of extraterrestrial entertainers will be at it one New Year's Eve too, bringing their liberally messy sound and color show to the Luxor Hotel & Casino at 2PM, 3PM, and 8PM. 
If you've never been to a Blue Man Group show, then you're in for a treat. Landing somewhere between a music performance and an art installation, the three blue-migos combine paint and drums to bring their performance to life. And they also have a 'drumbone', an instrument that's half-drum and half-trombone. It might not make sense now, but when you see it, you'll understand. 
It's worth noting that a combination of drums and paint is bound to make a splash. That's why we recommend that you take a waterproof and easily-washable clothes with you. There are dedicated splash zones, where punters are kitted out in stain-free gear, but you should always be wary of splash damage. The Blue Man Group takes no prisoners.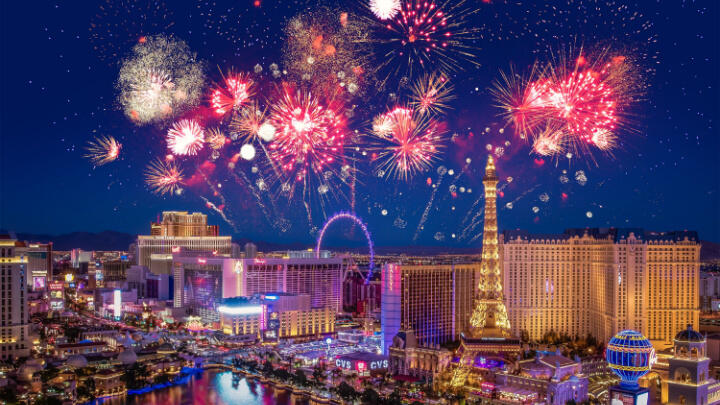 Image courtesy of Marti Bug Catcher/Shutterstock
Vegas Strip New Year's Eve Fireworks
If you want to be out and about when the clock strikes 12, then you can't do much better than the New Year's Eve Fireworks. One of the most impressive fireworks displays in the country, you'll join thousands of other explosion-seekers as they gather around the Strip to ring in the new year. 
As all eyes are drawn to the sky, a magnificent barrage of fireworks will be fired off from the top of eight casinos surrounding the Strip. Over the course of ten wonderful minutes, over 80,000 fireworks will crack the sky, lighting up the whole of Vegas. But they're not just fired off with reckless abandon. Instead, they're timed to music that will blare out across the crowd. So, if you've never seen a choreographed firework display, you won't want to miss it. 
If you get there early, don't worry. The entire Strip becomes a pedestrian-only zone when the sun goes down, turning Vegas into one massive block party. Nice.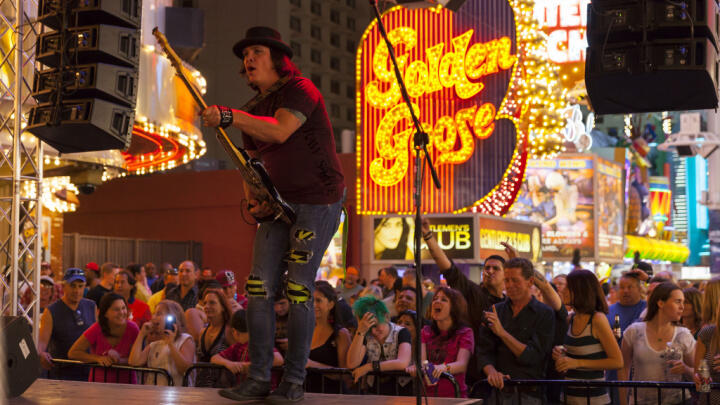 Image courtesy of Jeffrey J Coleman/Shutterstock
If you prefer pyrotechnics at eye level, then you'll find a similar block party at Fremont Street. While it may not boast the bangs of the fireworks on the Strip, it does come with some other exciting bonuses.
For one, you'll see live performances from the likes of Sugar Ray, Bush, Sugarhill Gang, and Julian Marley and The Wailers. Secondly, it being an adults-only party, you're free to revel in all the boozy goodness us adults tend to love. 
So, if you aren't bringing the little ones with you and prefer bands over bangs, then check out Fremont Street Party.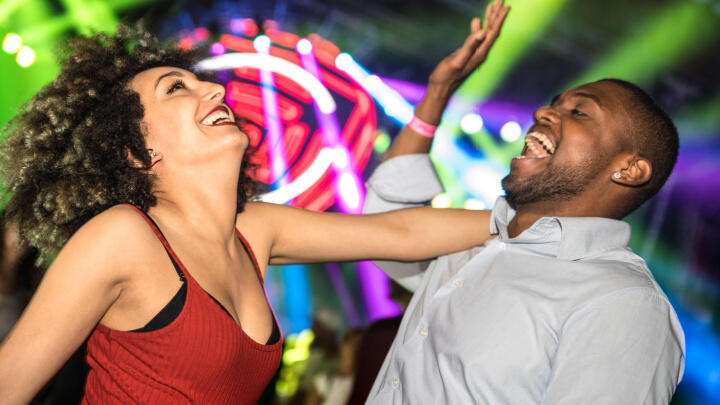 If you're an EDM junkie and want to ring in the New Year on a neon-soaked dancefloor, check out STARDUST at the Downtown Las Vegas Events Center. 
Headlined by none other than the famous disk spinner DEADMAU5, you'll have hours upon hours of boogies to woogie. Doors open at 5PM, and will stay open long into the January night. And if the mouse-headed man doesn't cut it, preceding him are equally funny-named DJs like REZZ, RL GRIME, Ghost RYDR, Marauda, Noizu, and Versa. Very cool.
And that's it! Everything you need to know about New Year's Eve in Las Vegas, all tucked up into one handy guide. Whatever you decide to do, have a happy new year! But why stop there? After the dust has settled and the hangover's dispersed, why not make the most of your trip? Vegas still has plenty to offer, and with Go City, you'll experience the very best of the city for one low price. Check out our All-Inclusive Pass and Explorer Pass to see which works for you!