One of Las Vegas' most thought-provoking and educational exhibits, REAL BODIES at Bally's Las Vegas, examines real human anatomy straight from the source. It has more than 20 real human bodies and over 200 specimens, which is nearly twice as many full body specimens as other similar exhibitions! You'll get to see carefully dissected, preserved, and strategically displayed real human bodies. You'll learn how different aspects of how the body works. Many of the exhibits include art installations by talented, local artists. The art illustrates the cultural and emotional aspects of being alive, including an Ossuary (chapel of bones), a fan wall, and a kinetic sculpture that demonstrates muscle movement.
How to get REAL BODIES at Bally's Discount Tickets?
We've got you covered – REAL BODIES at Bally's Las Vegas admission is available with the below money saving options, so you can choose the attraction pass that's right for you:
All-Inclusive Pass – All you can do. Includes admission to dozens of attractions.
Explorer Pass – Choose as you go. Includes admission of 3, 5, or 7 attractions.
Build Your Own Pass – Select the attractions you want to visit before you go.
See all available Vegas passes, attractions & prices.
What to expect from REAL BODIES at Bally's?
REAL BODIES at Bally's showcases the inner workings of the human body, system by system, and how everything is connected. You'll get to explore various stages of life; from the very beginning to the end, and everything in between. This powerfully compelling exhibition explores the literal meaning of life reaching audiences on a deeper level through 11 immersive galleries. You'll explore how body functions have deep cultural and emotional significance that reach as far back as the dawn of humanity. Check out our helpful guide for visiting REAL BODIES at Bally's for information about ways to save on admission, tips for visiting, nearby attractions, and more.
Tips for Visiting the REAL BODIES at Bally's
Consider whether or not you want to visit the section with embryos. It can be an emotional experience for some.
Plan to spend at least 45-minutes to an hour exploring the exhibits.
Get a Go Las Vegas Card Explorer Pass or Build Your Own Pass and save up to 55% off combined admission to REAL BODIES at Bally's and other attractions.
The closest stop along the monorail is "Bally's & Paris."
REAL BODIES at Bally's is open to all ages, but parents may want to consider how their children may experience the exhibitions.
REAL BODIES at Bally's is fully wheelchair accessible.
Take your camera, but be aware that professional camera equipment is not permitted.
Food and drinks are not permitted in the exhibition.
When is the best time to visit REAL BODIES at Bally's?
Plan to get to the exhibit right when it opens, at 10:00 am, to avoid the biggest crowds.
What should I bring to REAL BODIES at Bally's?
REAL BODIES at Bally's is indoors so you don't need to plan for any inclement weather. Consider bringing a camera if you want to capture some photos of the bodies, but professional camera equipment is not permitted.
Galleries
Introduction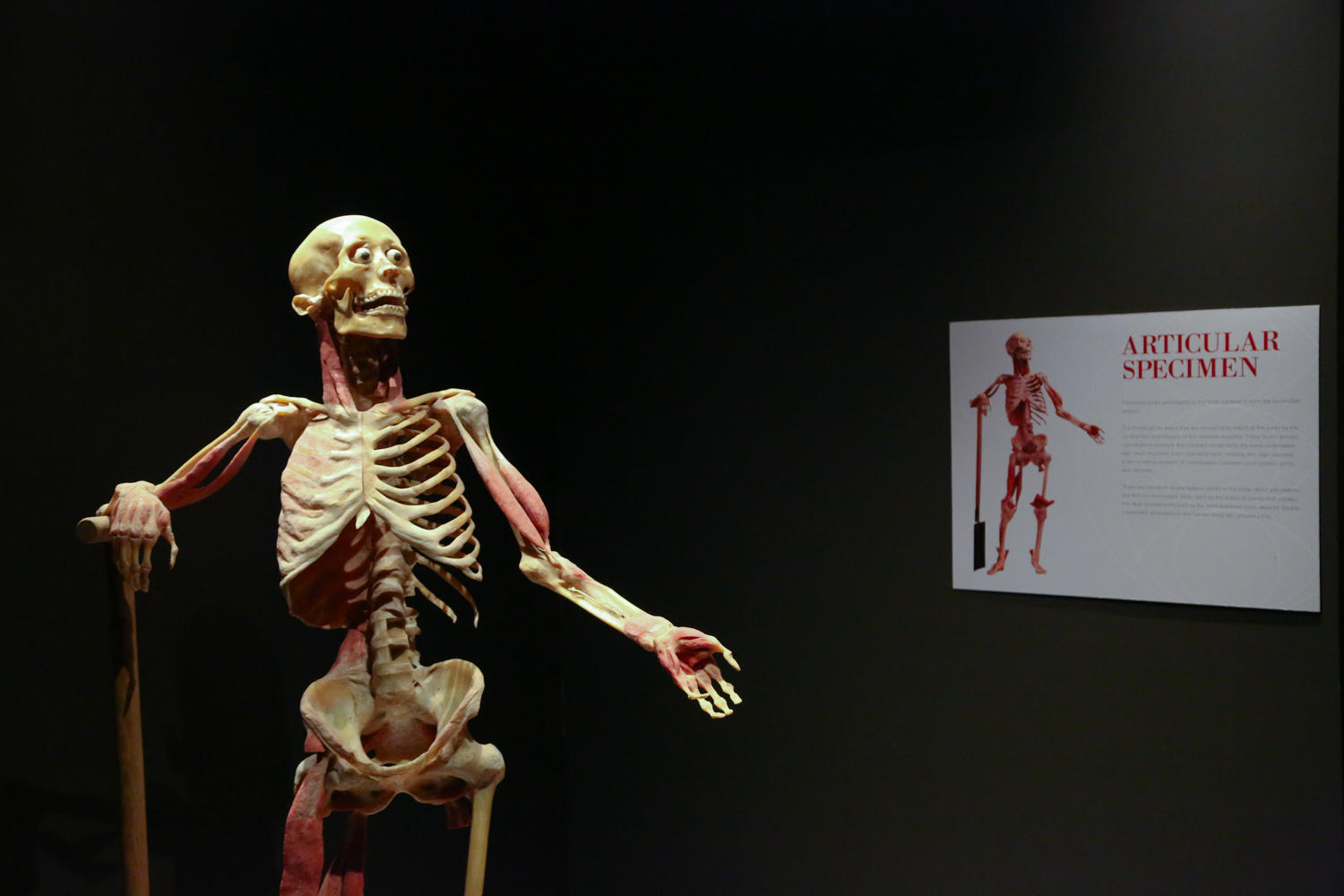 Confronted by a simple pinewood coffin and the first full body specimen, visitors are invited to explore their human anatomy like never before – discovering the important cultural and emotional significance of each body system while learning about anatomy and physiology in great detail.
Anatomist's study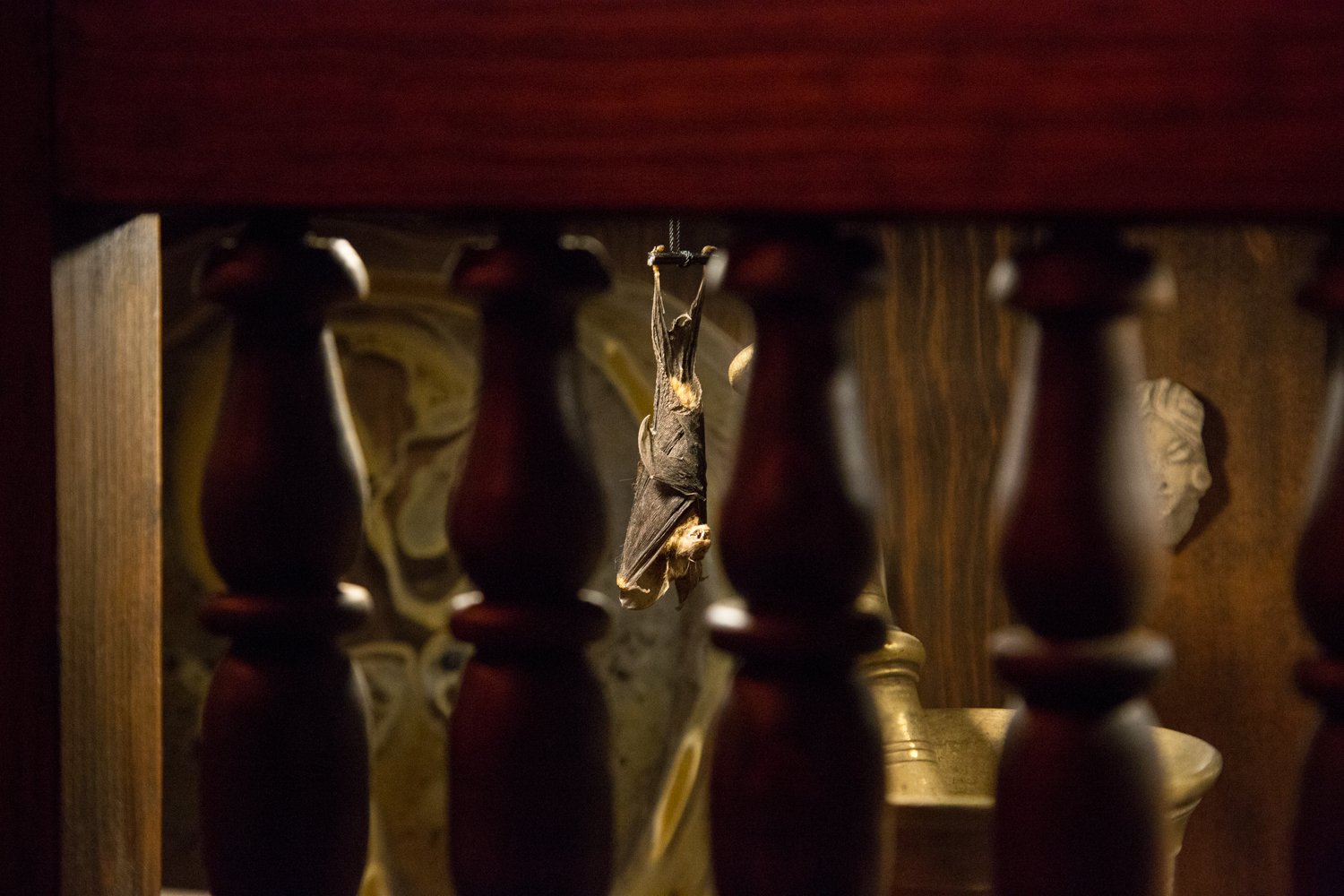 In an old-world room filled with cabinets of curiosity, visitors marvel at the strides made by anatomists and dissectors from Ancient Egypt to 19th century academics. Here, you'll learn about the most important structure in life – the skeletal system.
Breathe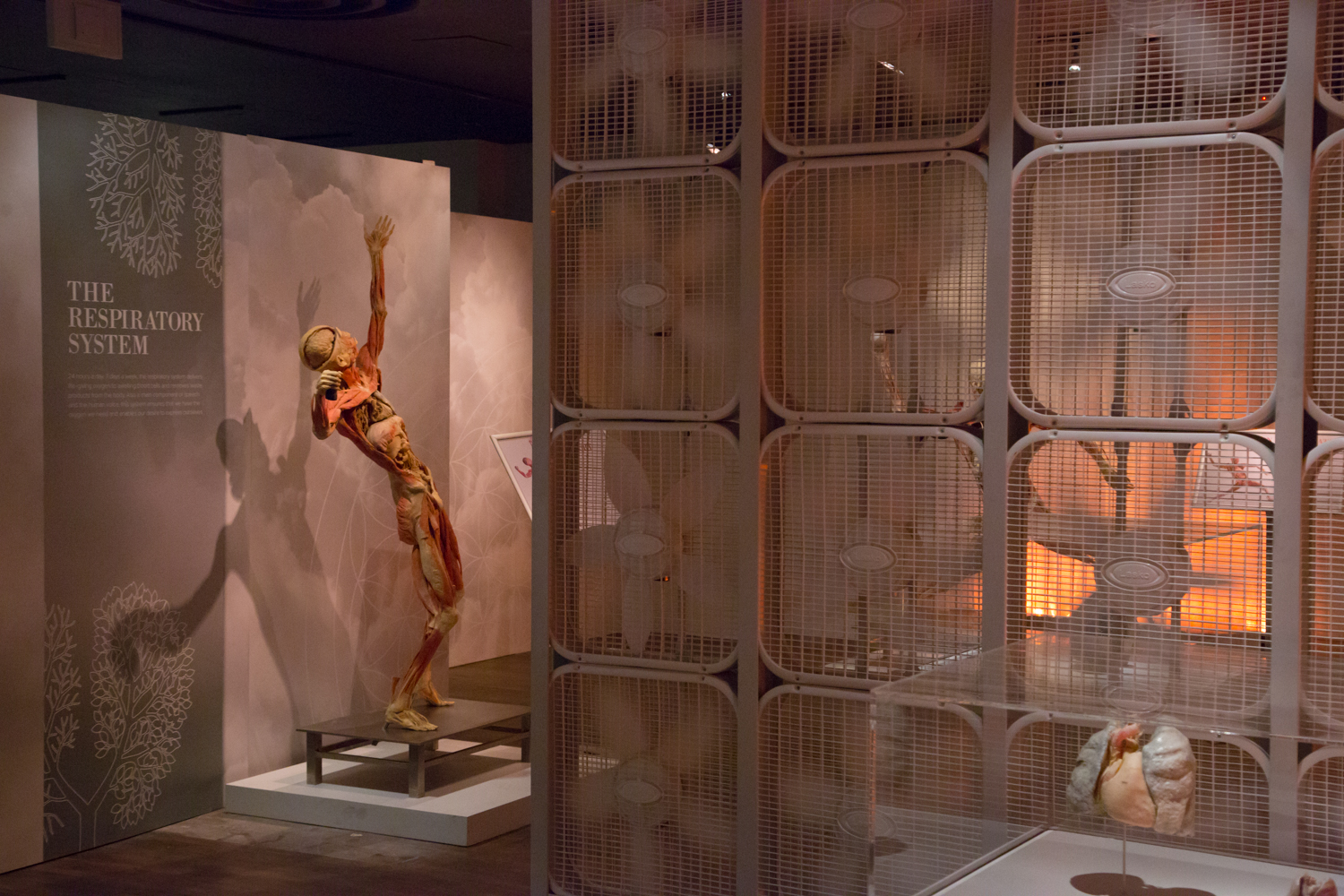 It is the first and the last thing we do while on the planet – take a breath. Here, amidst inspiring scenic installations, visitors explore the respiratory system. You'll see a striking example of smoker's lungs, and discover the significance of the breath in religions around the world.
Hunger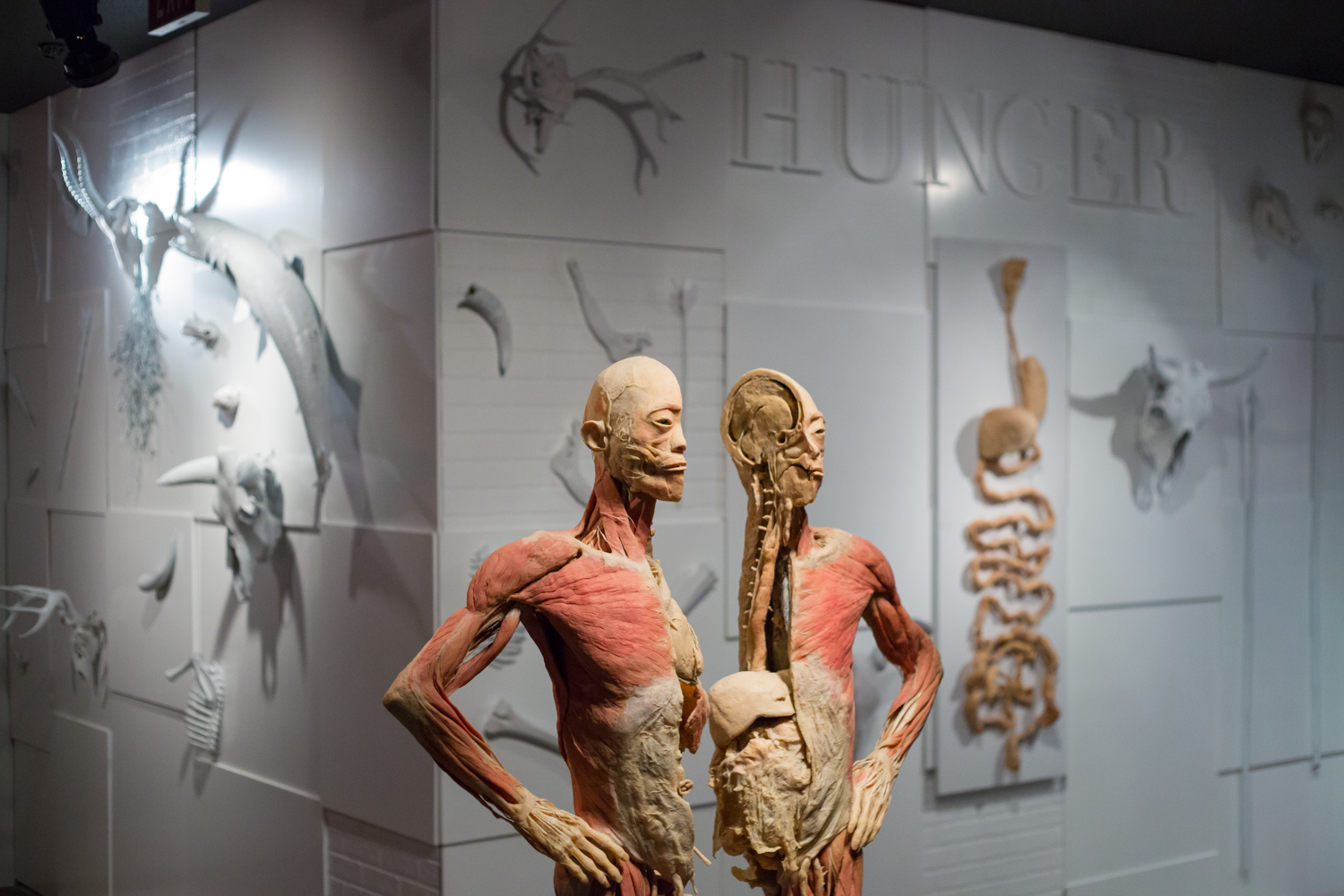 Featuring detailed descriptions of the digestive system, Hunger also features enlightening scenic installations related to our hunting-and-gathering past.
Rhythm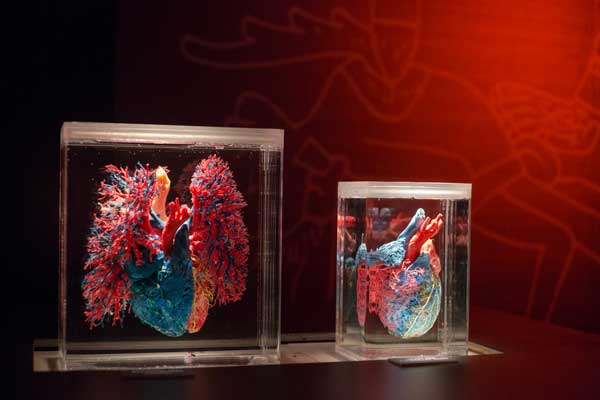 In this simply presented gallery, visitors explore the blood rich matrices within us. Delicate and complex castings of the circulatory system glow in an otherwise darkened room.
Move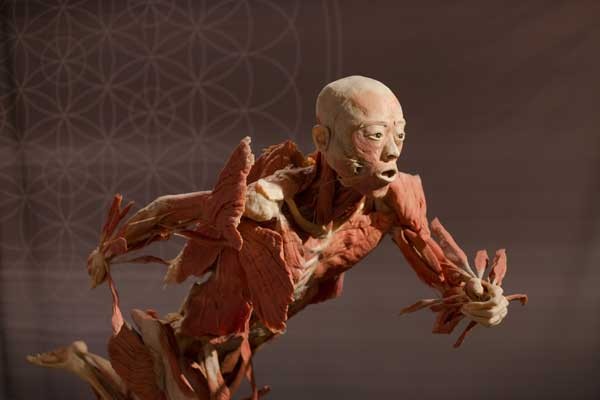 Sculptural displays of the muscular system present specimens in active poses while encouraging visitors to take action of their own. From balance to coordination, this gallery tests visitors to see if they're ready to make a move!
Think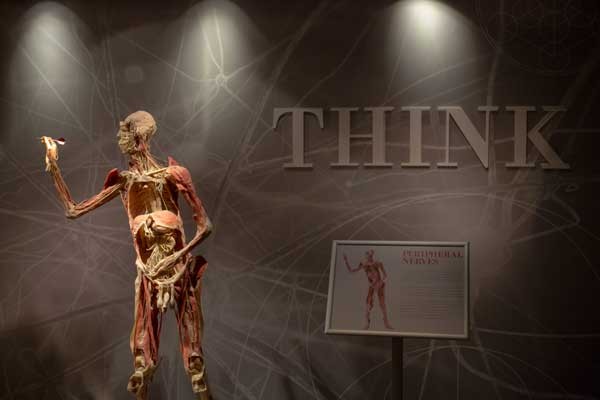 "What are you thinking?" asks this gallery, in no uncertain terms. Displays range from whole brains, opened spinal cords, and even the smallest bones in our body that allow the sense of hearing, in order to illustrate the connectedness of the nervous system.
What Becomes of Us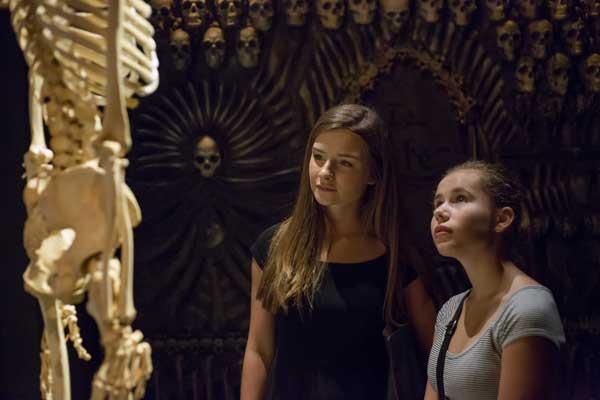 In this atmospheric transition hallway, visitors have a chance to reflect on the end of life and what it means to "shed this mortal coil." The transition area culminates in an ossuary-styled chapel replete with skulls and bones. (A perfect place for that unique Vegas wedding!)
Love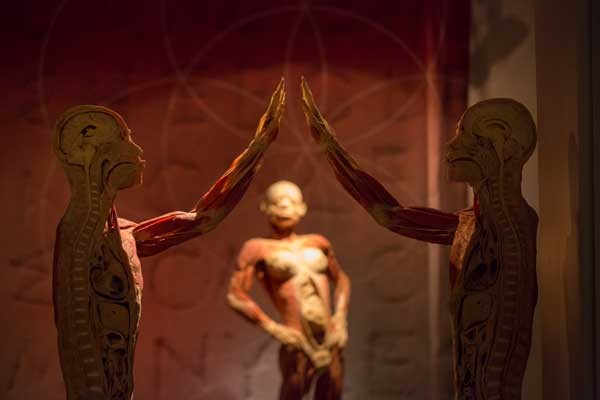 Study the reproductive system through full body and organ dissections while learning how the human species' need to procreate has transformed into commitment, relationship, and love.
Beginnings
In a quiet setting, visitors witness the first stages of life through thoughtfully displayed embryonic and fetal specimens. Visitors may want to consider whether they want to view this exhibition as it may be upsetting for some.
Repair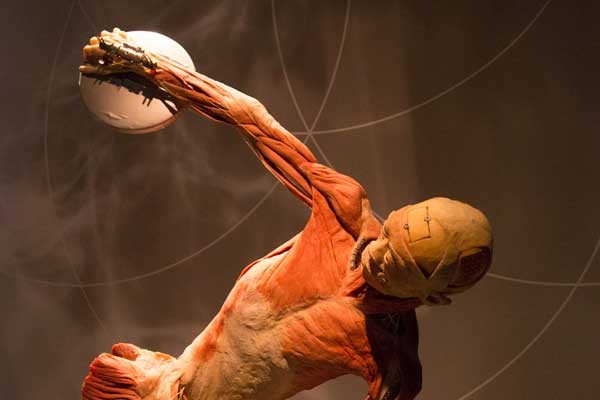 Visitors learn how the miracles of modern medicine are making our lives longer and our quality of life better in the final exhibition gallery. It appears that we're not too far from creating humans who might even live forever!
What attractions are near REAL BODIES by Bally's?
REAL BODIES at Bally's offers easy access to other attractions, casinos, shows, restaurants, the monorail, parking, and more. It's located across the street from Bellagio and is easily accessible from Flamingo and the Strip. The attractions that are closest to REAL BODIES at Bally's are:
A show at the V-Theater: 
Where is there to eat near REAL BODIES at Bally's?
Whether you're looking for a quick bite to eat on the way or a more family-friendly sit-down restaurant on the Strip, there are lots of dining options near the exhibit.
Meal at Planet Hollywood – Grab a bite of classic, American fare among movie memorabilia in a fun, family-friendly atmosphere.
Nosh – Head to Nosh, a cafe conveniently located right inside Bally's for a grab-n-go meal. Open 24-hours, options include: wraps, sandwiches, pre-made salads, and more.
SEA Thai - If you're in the mood for Thai food, SEA Thai is conveniently located in Bally's, too.
Battista's Hole in the Wall  – Craving carbs? This Italian-style joint serves up a classic menu with red-sauce offerings and a great wine selection.
BLT Steakhouse – Head to BLT Steakhouse, right in Bally's, for some classic surf n' turf options with a nice, sit-down atmosphere.
Save on Admission with a Las Vegas Explorer Pass
Remember, the Las Vegas Explorer Pass is the best choice for maximum savings and flexibility, which includes REAL BODIES at Bally's admission as an option, plus your choice of other top attractions. Save up to 55% on top museums, tours, and activities vs. paying at the gate. Visit multiple attractions for one low price.