Although still firmly within the city's shoulder period, with lower visitor numbers than at other times of year, many don't realize what an attractive proposition London in April is. Fourteen hours of daylight combine with a busy diary of events to make it one of the most underrated times of year to discover London, regardless of if it's your first or thirty-first time to the British capital.
Enjoy London's outdoor spaces in a way not possible during the long winter months, whether that's through joining the St George's Day celebrations in Trafalgar Square, or wondering at the sunsets which dazzle the city at this time of year.
April weather in London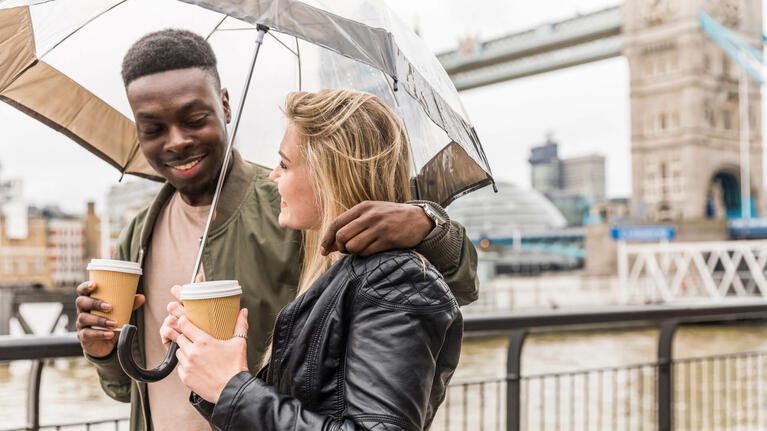 Temperatures can be sluggish to get going at the start of April, with early mornings particularly bracing. Lows of 6°C aren't uncommon overnight. However, mid to late afternoons can see temperatures of 13 – 15°C on the sunniest of days thanks to winds normally no stronger than a light breeze.
Roughly a third of April enjoys clear blue skies and bright sunshine. This averages out as 8 hours of sun per day, a full three hours more than in March. At the same time, daylight hours now extend from 6AM – 8PM.
During the remaining two thirds of the month, visitors should expect a mix of light cloud and short bouts of rain – April showers are very much a London thing. That said, April is officially the driest month of the year, with just 20 – 40 mm of rain recorded.
Packing layers is the key to remaining comfortable in London in April since weather conditions can change so quickly. Odd though it may sound, shorts, sweaters, umbrellas and sunglasses all make great additions to anyone's luggage.
Tick off April's cultural events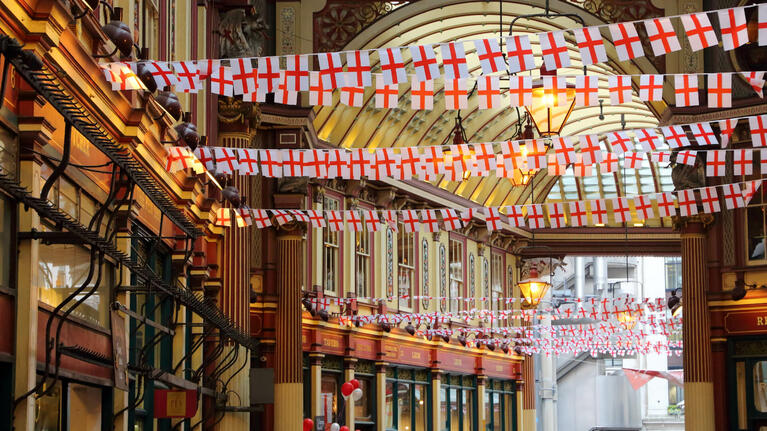 When it comes to outdoor spaces, London's include some of the most famous landmarks in the world. The River Thames is blessed by footpaths extending largely uninterrupted along both banks through London's central neighborhoods, whilst the Statue of Eros at Piccadilly Circus has been a meeting point for decades.
Festivities, meanwhile, have traditionally focused around Trafalgar Square, built to mark Britain's naval victory over Napoleon's France and also the place where crowds gathered to celebrate the end of the Second World War.
In more recent years, it has come to host a variety of events, including April's St George's Day and Vaisakhi. It's not a public holiday, but the nearest weekend to St George's Day on April 23 sees the square taken over by performers, food stalls and children's entertainment keen on celebrating the nation's patron saint.
Just a few days before, the square echoes to the drumming and traditional music of the Punjab in honor of Vaisakhi, the Sikh New Year and spring harvest festival. Around 30,000 revelers head to the square's a range of related events, making it one of the largest festivals of its kind outside of Asia.
Churches and chocolate eggs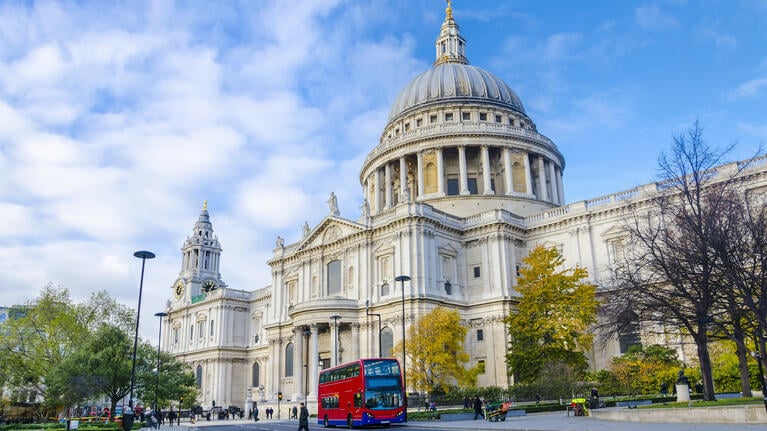 April is – usually – also the month of the movable feast that is Easter. Attending a church service at one of the capital's historic churches – Southwark Cathedral, Westminster Abbey and St Paul's Cathedral among them – shows the city and its people in a new light.
Many of London's top attractions get in the spirit with special easter eggs hunts for children, including the likes of Chiswick House and Kitchen Garden and Kensington Palace. Both children and adults can also treat themselves with seasonal delights at one of London's boutique chocolatiers.
If you 'accidentally' overindulge, there's always the London Marathon – the UK's largest mass participation sporting event. Even those without their running shoes can get involved – watch from the sidelines as around 40,000 runners battle their way to the finish line in front of Buckingham Palace after over 26 miles pounding the city's sidewalks.
Scrutinize the stalls of London's markets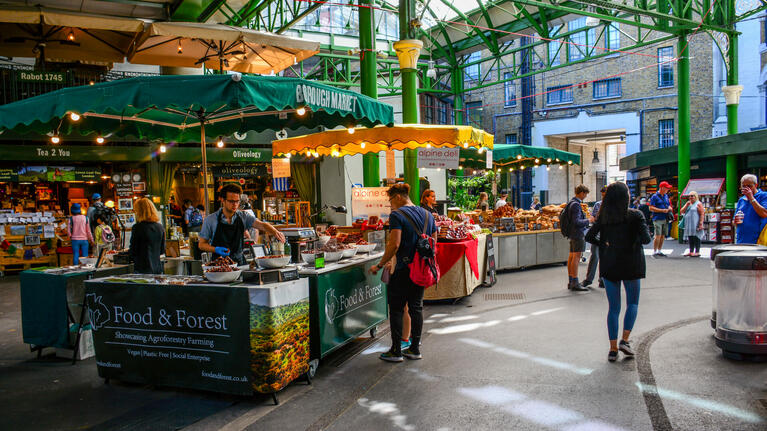 The combination of sunnier skies and longer hours of daylight brings our next suggestion of things to do in April in London right to the top of the bucket list for many. London's plethora of indoor markets largely operate throughout the year, but April's ever-improving weather makes their outdoor brethren all the more tempting.
The permanent porticoed stores of Covent Garden Market together form one of the more stylish places to shop, and has plenty of places to stop for a drink or a bite to eat in pleasant surroundings too. You certainly won't go hungry at either the Southbank Centre's weekend market of food pop-ups, nor at the dedicated stalls open daily at Borough Market just a short walk from London Bridge.
Antiques and Portobello Road have gone hand in hand since the late 1940s, with vintage and retro items joining the true antiques (items over 100 years old). Alfie's Antiques Market in Marylebone is a good alternative if April's showers take hold. It's fourth floor café is one of the more unusual places to get a glimpse of the capital from on high.
Marvel at the summer sky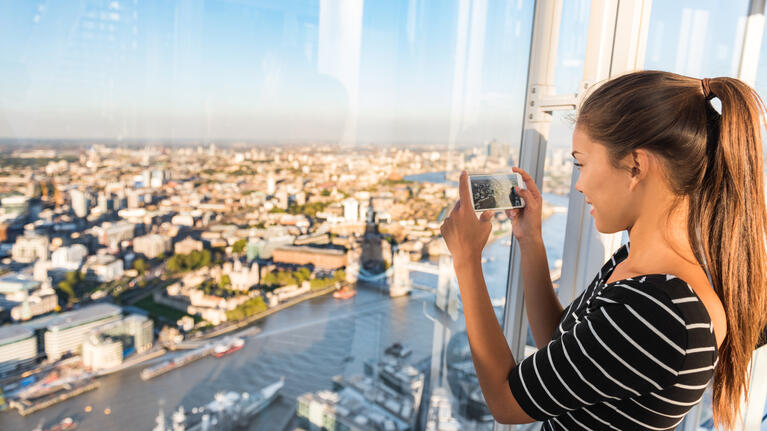 The top spot for experiencing London's spring sunsets has to be The View from The Shard, rising above the hotch-potch of London's old and new. If time allows, you should also consider a sundowner at a rooftop bar.
Pergola Paddington Central has a fantastic ambience that only builds with the end of the working day. Exuding cool alongside its fair share of eccentricity is east London's LGBT+ friendly Queen of Hoxton. Its roof space is open during summer and winter, changing its wild persona with the seasons. One month you'll be in turn-of-the-century Paris and another in the lair of a Mexican wrestling team.
Save on attraction admission in London in April
Make the most of London's April weather by exploring the city from high and low, near and far. But before you do, make sure you've downloaded the Go City app and taken advantage of the savings on attraction admission available with the Explorer Pass.
See the attractions you've always wanted to see, do away with those dreaded foreign credit card charges and save on admission. An A-list sighting aside, nothing could be more London.