Halt! Who comes there? Another intrepid explorer? Pass then, visitor, for all's well at the Tower of London, which has been standing solidly in place for almost 1,000 years. It's no wonder it's so popular with visitors – it's a piece of living history, where tourists can get up close to the crown jewels, see the famous ravens of the tower and meet a real-life Beefeater. It's extremely popular at any time of year – although some times are inevitably busier than others. To help you make a plan, this handy guide for when to visit includes:
Opening times

High and low seasons

Entrances

Best times to visit

Skipping the queue

How to get there

Where to eat
Opening hours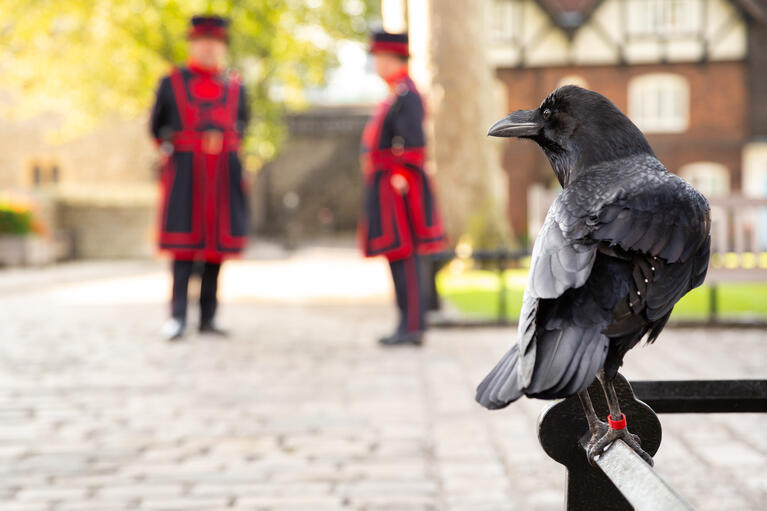 Opening hours at the Tower of London operate under two main seasons: summer and winter. The summer season runs from March 1st through October 31st, when the Tower is open from 9am to 5:30pm every day, except on Sundays and Mondays when it opens at 10. Last admission is at 4:30pm, and the last Beefeater tour starts at 3:30. From November 1st through February 28 (or 29th) the Tower moves to winter opening hours, which are from 9am to 4:30pm (10am on Sundays and Mondays), with last admission at 3:30. Note that the Tower closes on some days over Christmas and New Year's, and may open late or close early on other days due to official events, such as gun salutes or the induction of a new Constable of the Tower. The safest thing to do is to check before you go to avoid being disappointed.
High and low seasons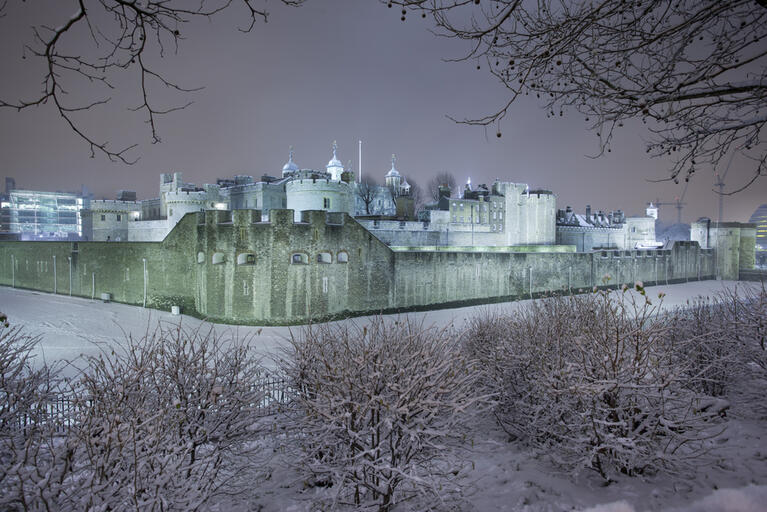 January to March is the quietest time to visit the Tower, as tourist numbers are low, the weather is cold and wet and the evenings are dark. Any school holidays are busy times, and they last for two weeks at Easter and Christmas and for one week three times a year at half term. By far the busiest time is during summer holidays, from the end of July to the beginning of September. You'll get better weather and longer days, but you'll be competing with a lot of other people. September to October is a nice time to visit, as the weather remains mild and the crowd numbers go down before picking up again in December when the Christmas lights start to appear.
Entrances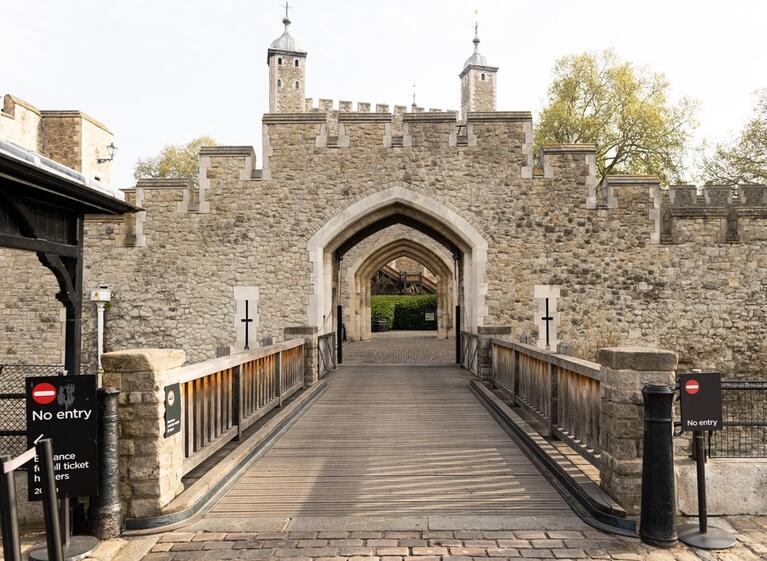 As a fortified castle, the Tower of London has long been a shelter for the monarch against invading or rebelling armies – therefore there aren't many ways in or out! The main entrance for visitors is at the West Gate, opposite the Tower Shop, where you'll go through a security check before passing under the portcullis to enter the tower. However, before you can pass through security you'll need to have purchased your ticket, which you can get from the Tower Kiosk, Welcome Center or Group Ticket Office. The group entrance is on the south side near the river at the Middle Drawbridge, just down from Traitor's Gate. Many have come through Traitor's Gate over the years – including Sir Thomas More and the future Queen Elizabeth I – but not many of them ever came out again. Best avoid that one!
Best time to visit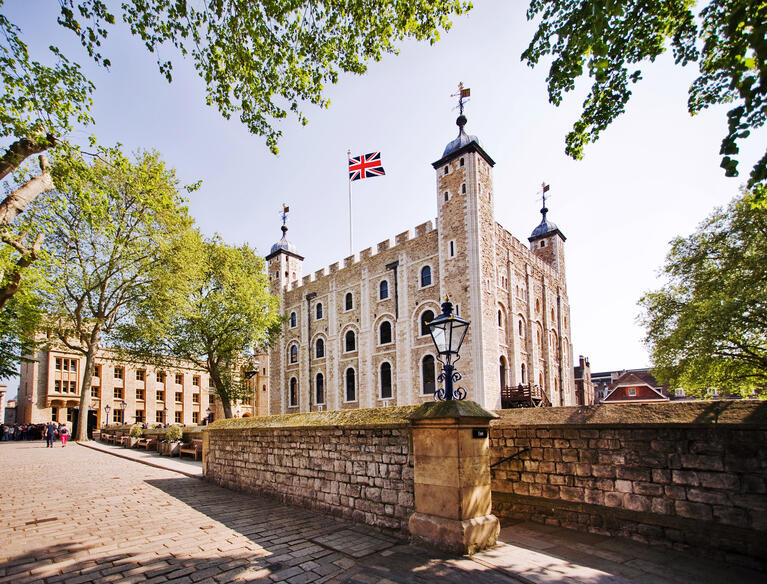 Weekends and public holidays will always be busy, though you may also encounter busy times during the week as the Tower is very popular with school groups. These tend to arrive later in the morning, so your best bet is to arrive as early as possible. This is also a good idea if you want to see the crown jewels, as you'll have to line up again for them once you're inside. Although it's impossible to say for sure, on average the quickest times are mid-week mornings, when you may only have to queue for a few minutes. In the afternoons and weekends when queuing times are medium to high, expect to be waiting for at least 30 minutes and up to an hour.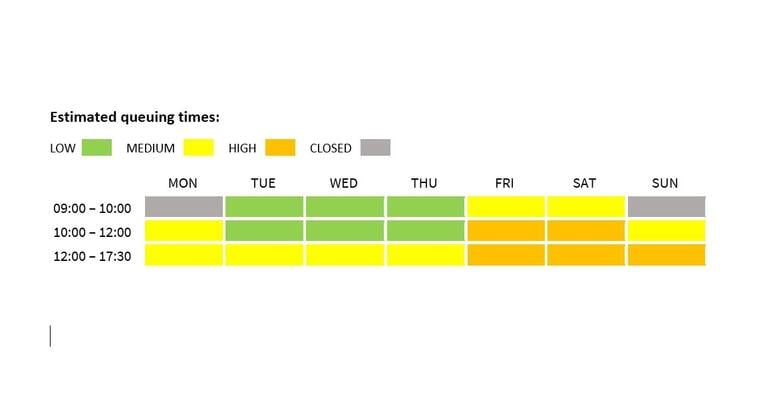 How to skip the queue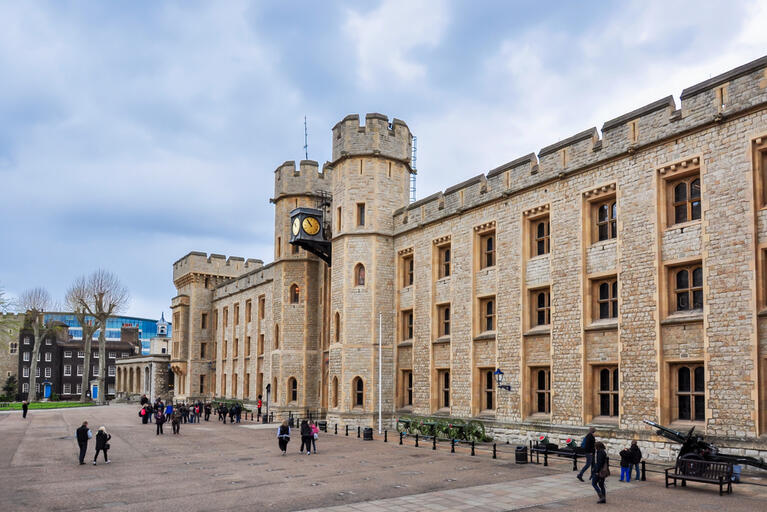 There are a number of ways to get priority access to the Tower. You can pre-purchase your tickets online to save queuing at the ticket kiosk, or use an attraction pass such as the Go City Explorer Pass to head straight to security. There are a number of combined entrance and guided tour packages available which will let you straight in – some of these also include priority access to the crown jewels exhibit. You can also skip the queue if you're a member of Historic Royal Palaces or if you attend a special access event – these include the Twilight Tour, held on some Sunday evenings, or the Ceremony of the Keys, when the tower is locked up every evening at 9:30. Both of these must be pre-booked.
Getting there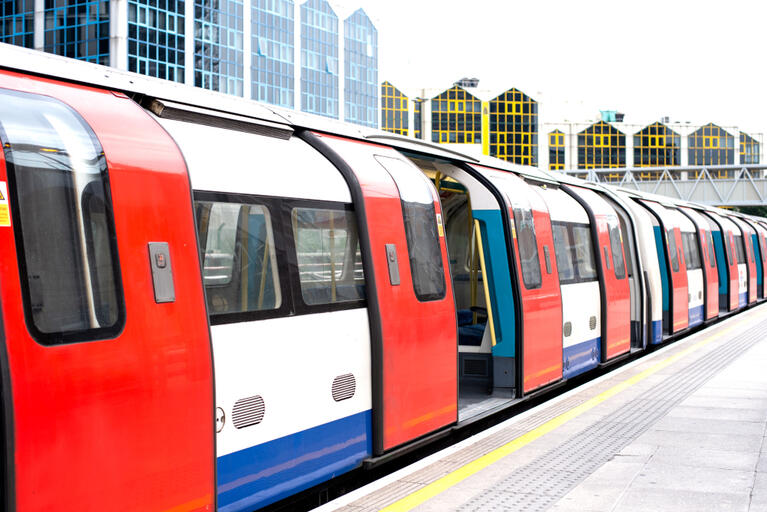 The Tower of London sits on the northern banks of the River Thames, west of the City of London next to St Katharine's Docks and adjacent to the unmistakable twin turrets of Tower Bridge. The fastest way to get there is via the London Underground to Tower Hill. If you prefer a scenic route, buses 15, 42, 78 and 343 will get you there, as will the Hop-On Hop-Off bus tour. If you're coming by boat, the closest drop-off point is Tower Pier, or take the overground rail to Fenchurch Street or London Bridge and walk for around 10 to 15 minutes. If in doubt, use your maps app to plan a route, and keep in mind that the busiest times for public transport are between 8 and 9am and then again from around 4pm. Be prepared to stand if you're traveling at those times, or if you prefer to stretch your legs it's a pleasant 40-minute walk along the river from the Southbank Centre.
Where to eat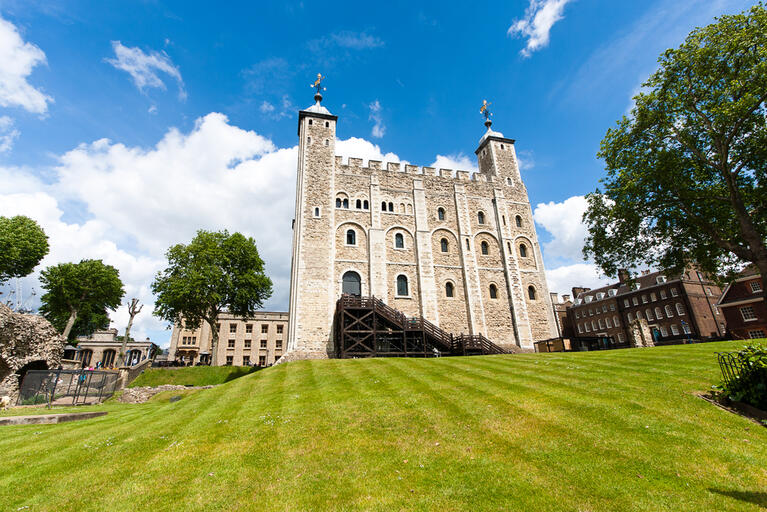 If you're heading to the Tower early there are plenty of coffee outlets around Tower Hill and London Bridge Stations where you can get your caffeine fix. Ideally you need a whole day to get the most out of your Tower visit, so plan on being here for lunch. There are two cafes and a kiosk in the tower grounds, and you're allowed to bring in food and drink which you can enjoy on certain lawn areas or benches around the grounds. If you've worked up an appetite by the evening or fancy a leisurely pint or cheeky gin while you wait for the traffic to slow down again, there's the Tower Café just outside the exit on the riverbank; there also plenty of restaurants in the surrounding areas including a Wetherspoons, a Slug and Lettuce and an All Bar One.
All's well at the Tower of London
If you're coming to London, the Tower is a must-see attraction whatever time you choose to come. Be sure to grab your Go City Explorer Pass so you don't have to miss a thing!