The sun setting over the beach, golden stars shimmering in the pavement, the iconic Hollywood sign in the hills above – there's so much about Los Angeles that's instantly recognizable. And whether you're staying for a day, a week or a year, there are some things that you simply can't miss – but how do you know where to start? That's why we've put together this 4-day itinerary that takes in all the essential sights of the City of Angels, while still giving you time to rest and have some fun. And let's face it – if a visit to Los Angeles isn't on your bucket list, it should be.
Hollywood Walk of Fame

TCL Theater

Dolby Theater

Rodeo Drive

Hollywood Sign

Theme parks

Downtown LA and El Pueblo De Los Angeles

Famous LA beaches
Day 1 – Hollywood Heights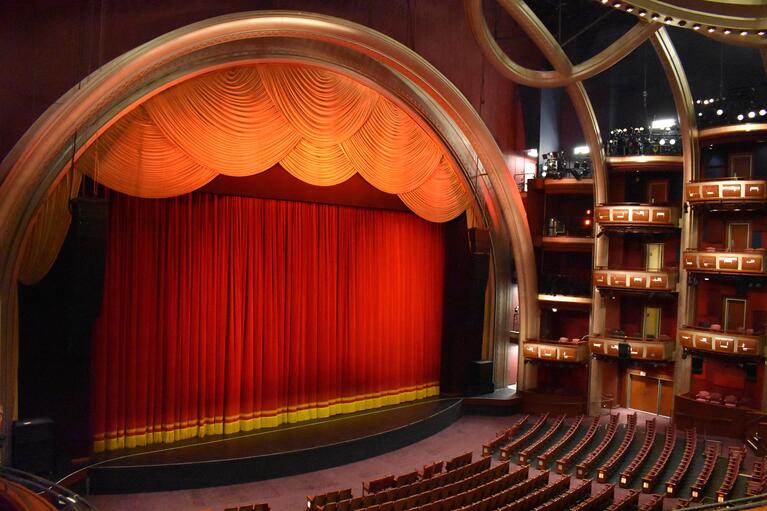 Stop #1 – Hollywood Walk of Fame
It's day one in the big city and we're starting with the big guns! Start at the Visitor Center on Hollywood Boulevard, then head outside to find the iconic walk of fame, a 1.3-mile stretch of pavement embedded with more than 2,500 stars. It's free to stroll along and take pictures, and you might even stumble on a Star Ceremony – but if you're looking for a particular star, you'll save yourself some time by looking it up here first.
Stop #2 - TCL (formerly Grauman's) Chinese Theater
An essential part of the Hollywood experience, the TCL Chinese Theater is where all the premieres happen. Compare your hands and feet to those of your idols in the Forecourt of the Stars, then use your pass to take a 30-minute walking tour of the theater, hearing all the gossip and behind-the-scenes stories of the movie industry. Or use your pass to get into the Hollywood Museum, where you'll find four floors of movie history and memorabilia – everything from Indiana Jones' whip to Rocky's boxing gloves and Marilyn Monroe's iconic dresses.
Stop #3 - Dolby (formerly Kodak) Theater
You might not recognize the outside of the Dolby Theater, but if you've ever watched the Academy Awards you'll know where you are the instant you step inside. Now it's your chance to feel like a VIP with a half-hour guided tour that takes in the elegant grandeur of the 3,400-seat auditorium, the Dolby VIP Lounge and other behind-the-scenes production areas. You'll also get up close to a real Oscar statuette!
Stop #4 – Rodeo Drive
Grab some lunch from one of the many diners or street stands around Hollywood Boulevard then jump on the Big Bus Tour to stop 6, Rodeo Drive. Soak up the vibes of Beverly Hills, go shopping – or window shopping – and maybe spot a celebrity.  When you're done jump back on the Big Bus and rest your legs for a while, stopping if you like at the Farmer's Market (stop 9) to take in a bit more shopping at the Grove.
Stop #5 – Hollywood Sign Tour
Be at the starting point at 4.15 for an early evening hike up to LA's most iconic monument, the Hollywood sign. This 90-minute tour will get you as close to the sign as you can get, with unmatchable views over the whole city. Take a few snaps, then it's downhill all the way home – the perfect way to finish your Hollywood experience.
Stop #6 – A romantic evening
After all that sightseeing, you're bound to have worked up an appetite – so how about dinner with a view at Yamashiro in the Hollywood Hills? This famous restaurant has appeared as Japan in several films including Kill Bill and Gone in 60 Seconds. Finish off the evening with a stroll along Wilshire Boulevard, past the Light Installation at the entrance of the Los Angeles County Museum of Art, or perhaps go see a movie!
Day 2: Theme park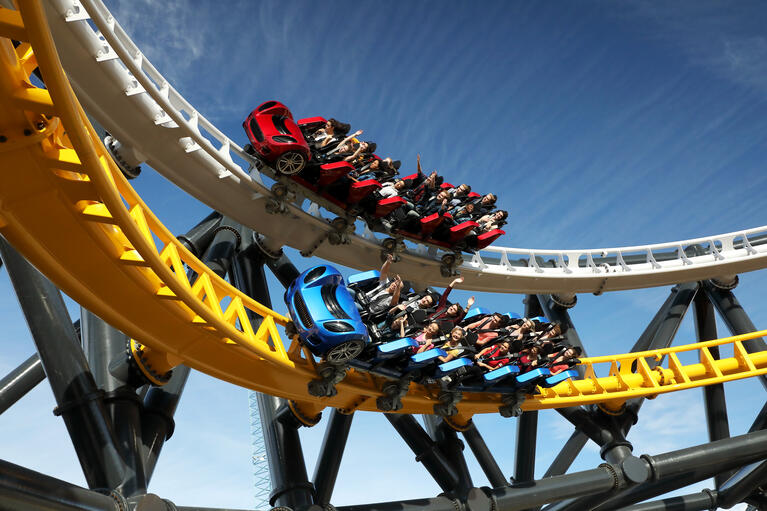 No LA visit is complete without a day at a theme park, but there are so many to choose from, it's hard to pick just one! Here are our suggestions for your first choice – for the others, you'll just have to come back another time!
Universal Studios
Univeral Studios is an essential experience for movie buffs! Tour an active studio and see where all your favorite films were made – you might even spot some celebrities on their way to work! There's also the Hollywood Special Effects show, Simpsons, Transformers and Minion Mayhem rides, and the Wizarding World of Harry Potter.
Six Flags Magic Mountain
It's all about the thrills and spills at Six Flags Magic Mountain – here you'll find over 100 rides, games and attractions, including the world's tallest and fastest roller coasters. There's plenty of family-friendly options as well, plus restaurants and water rides.
Knott's Berry Farm
Knott's Berry Farm is a good family-friendly park, with rides to suit every adrenalin level. They love a good theme month here too, as in October you'll find it transformed into the spooky Knott's Scary Farm, and in December it becomes the delightfully festive Knott's Merry Farm. There's also Knott's Soak City just up the road, which is the perfect place to cool off in the summer months!
Disneyland
The young – and young at heart – will always enjoy the magic of Disney. There are two options in LA: Disneyland Park is the original and has more recognizable rides and attractions, while Disney California Adventure is the more modern incarnation, without the iconic castles but with bars that sell alcohol.
Warner Brothers Studios
Warner Brothers Studios is another fun-filled option if you're fascinated with film-making! Take a look at back-lot sets, watch green screen technology in action and explore sets from popular television shows including Friends and The Big Bang Theory. Step onto recreated sets from the DC universe, then be sorted into your Hogwarts house at the Wizarding World and Fantastic Beasts exhibitions.
Day 3 – Downtown LA
Stop #1 – Downtown LA Walking Tour
Time to get into the nitty gritty of the city today, exploring LA's downtown precinct. Get your bearings and learn about LA's culture, arts and history on a Downtown LA Walking Tour. You're bound to recognize several spots along the way, including City Hall, The Music Center, the Museum of Contemporary Art and the dazzling exterior of the Walt Disney Concert Hall.
Stop #2 – Grand Central Market
If you're a foodie, you'll be pleased to learn that your walking tour takes in the 1920s Spring Arcade Building, which has a food market, and the Grand Central Market, where you can stay for lunch and sample some world-famous Oysters.
Stop #3 – Angel's Flight and El Pueblo
While you digest, ride the world's shortest railway up to Bunker Hill and back down again. Then take a walk to the Mexican Marketplace via Grand Park and El Pueblo de Los Angeles Historical Monument. You can also take the chance to go into any of the buildings you passed this morning.
Stop #4 – Iconic LA Eateries
Stay in El Pueblo District to visit the colorful Mexican marketplace and then choose from French, Asian, Peruvian, Italian and even British themed restaurants when you get peckish. Finish off the evening with a cocktail at Clifton's Republic, a former cafeteria that now houses four floors of trendy bars, each with a different theme.
Day 4 – West Side Story
Stop #1 – UCLA Campus
After all that sightseeing, you've earned a day at the beach! On the way there's time for a quick stop at the UCLA campus and a look at another Hollywood backdrop – the building that's played Harvard in several movies, including Legally Blonde. It's a great spot for a stroll, offering a glimpse into American student life as well as the room at Boelter Hall where the internet was born.
Stop 2# - Santa Monica Pier & Third Street Promenade
Once you're done with UCLA, head down to Santa Monica and the Pier. Here you'll find the official endpoint of the legendary Route 66, with a sign that you just have to take a photo of. Pass the rest of the morning lounging on the beach or head to the small amusement park on the pier, where you'll find rides, games and an aquarium.
Stop #3 – Venice Beach and Canals
After lunch, spend a little time wandering around the canals of the Venice district, then head down to Venice Beach to soak up a bit more sun. Go for a swim, slurp on an ice cream or even try renting a bike or roller skates for the afternoon to truly feel like a local.
Stop #4 – Sunset over the beach
For your final night in LA it's time to sit back and soak up the atmosphere. Find a cozy restaurant for a romantic dinner or keep things casual with a burger from In N'Out and a treat from Sidecar Doughnuts. Then go for a stroll along the boardwalk, or just sit and watch as the sun sets over the pacific.
See more with Go City
There's so much to see in Los Angeles, from Hollywood icons to pristine beaches, that you're bound to want to come back again and again. Ensure you don't miss a thing with the Go City All-Inclusive Pass, which will save you money on dozens of LA's most famous attractions.