If you're on your way to LA and making plans for what to do there, let us help you out. We've compiled a list of some of the top Los Angeles attractions for thrill-seekers – there's much more to Los Angeles than Disneyland and Universal Studios. (Although these are great attractions, too!)
Many of these popular attractions are perfect for the thrill-seekers and roller coaster fans in your group. However, most of these LA attractions also have family-friendly rides and activities for children. With a little planning and preparation, you and your whole family will have a fun-filled vacation.
Check out our guide to the top LA attractions for thrill-seekers, including...
Knott's Berry Farm
Pacific Park
Six Flags Magic Mountain
Knott's Soak City Waterpark
Universal Studios
Disneyland
and much more!
Knott's Berry Farm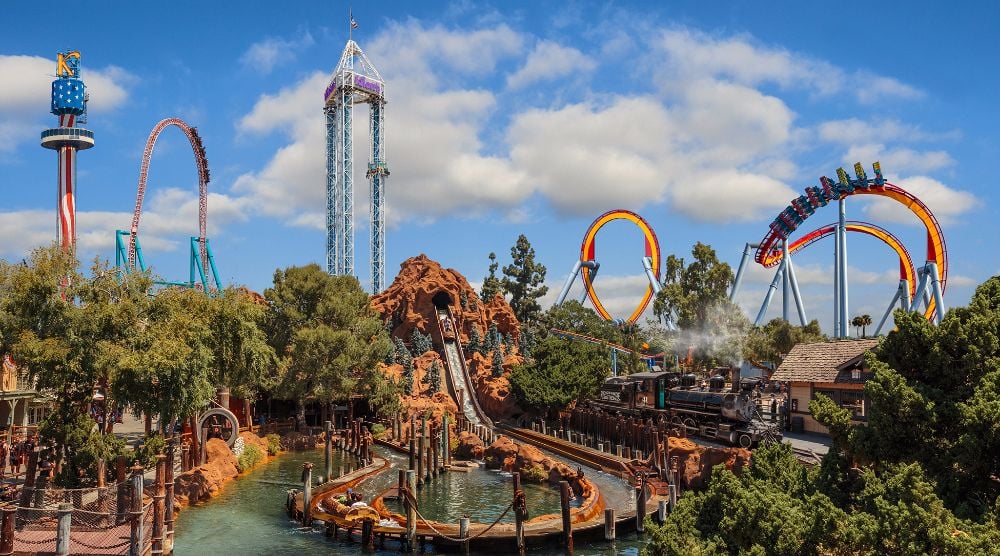 Knott's Berry Farm is a 160-acre theme park filled with heart-pounding adventures, awesome entertainment, and delicious food. Though there are plenty of family rides, there's plenty to get your blood pumping, too, such as the GhostRider, HangTime, Jaguar!, La Revolucion, Supreme Scream, and more!
Don't be surprised if you run into Snoopy, the Peanuts Gang, and some other celebrities while you are there. Be sure to check out our guide to visiting Knott's Berry Farm to make the most of your visit.
Pacific Park on the Santa Monica Pier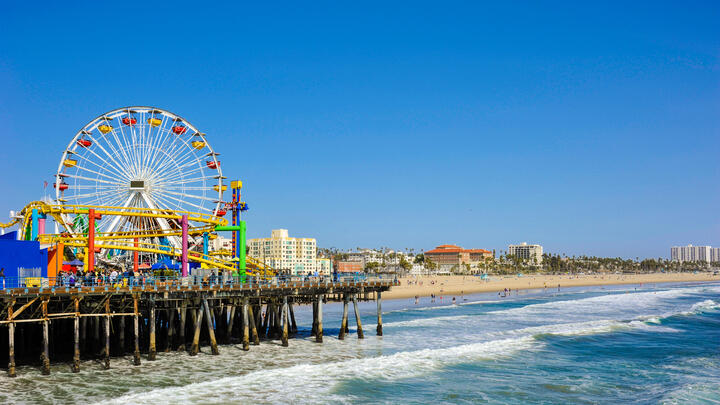 From the rides to the games to the food and the fun, Pacific Park on Santa Monica Pier is an awesome adventure. There are both adult rides and children's rides for loads of family fun. Check out the Pacific Wheel which will take you 130-feet above the pier and Pacific Plunge, which lifts you nine stories high before dropping you down again. 
Read our Pacific Park guide for more of an insight into Pacific Park's adrenaline-filled rides. Have some pizza, burgers, whac-a-mole tacos, fries, funnel cakes, cotton candy, and ice cream – probably not all at once, though. After the day is done and you have had your fun, stick around to watch the park lights brighten the night sky. It's a sight you cannot miss.
Six Flags Magic Mountain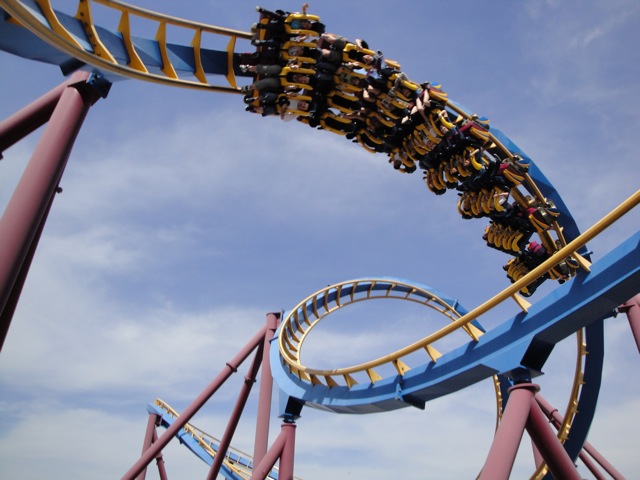 With an enormous hybrid rollercoaster known as Twisted Colossus lining the perimeter, you can bet that Six Flags Magic Mountain is full of fun and thrills. Test your courage on the Scream, the Ninja, CraZanity, and LEX LUTHOR: Drop of Doom. Enjoy some family rides and bumper cars, as well as some white water river rafting.
When your tummy starts growling, you can choose between Asian, all-American, Italian, Mexican and more. Do not forget to finish it off with some ice cream or delicious pretzels. After your food settles, work it off with the Daffy Duck Dance Off or the Full Throttle Nights interactive dance party. Meet the Justice League and the Looney Tunes, and watch some amazing acrobatics in Kwerk. Before visiting, read our helpful Six Flags Magic Mountain guide for top tips.
Knott's Soak City Waterpark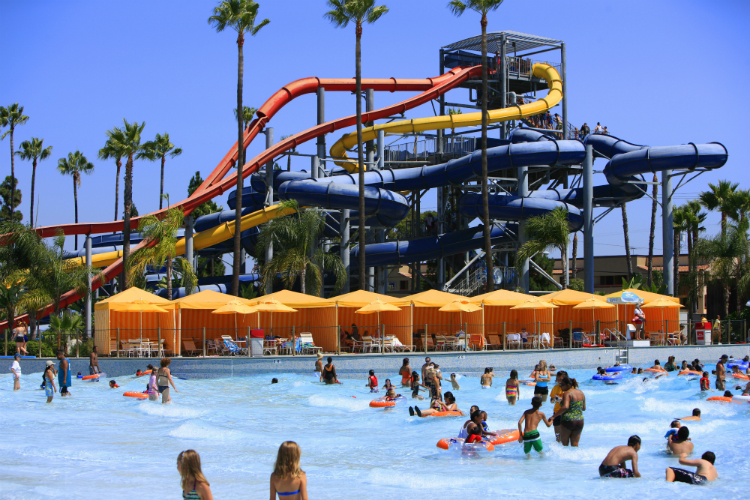 Cool down at Knott's Soak City Waterpark on one of their 23 speed, tube, and body slides –or all 23! The Shore Break slide provides a floor dropping, heart stopping good time through the entire seven story ride. There's also a 75,000-gallon wave pool, 200 water guns, and other toys available.
And when you're ready to relax, the Lazy River will be waiting for you. After you've worked up a good appetite, you have the choice between a pizza joint and a grill.
Hurricane Harbor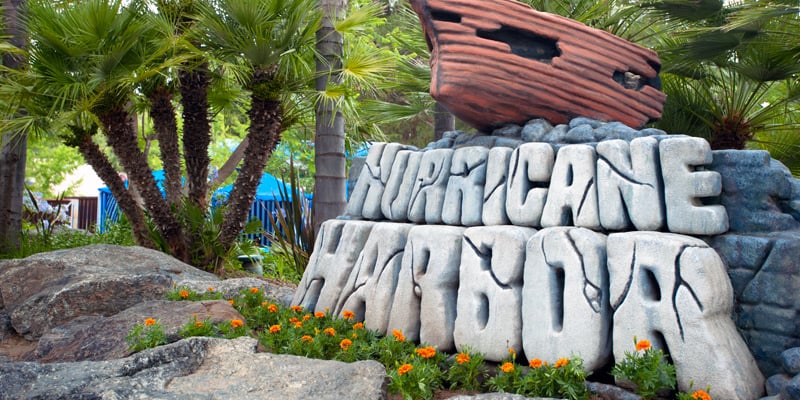 If you're looking for some more water adventures, Hurricane Harbour might just be the place for you. Travel down the Tornado's 132 foot tunnel, and ride Reptile Ridge through its twisted routes.
Then, jet through the Black Snake Summit's twists and turns, and hold your breath as the Bonzai Pipelines' trapdoor disappears from beneath your feet sending you on a six-floor drop. Try to stay afloat in the wave pool, dine on some delightful dishes, or relax in a private cabana. On Fridays, chill out at the dive-in theater.
K1 Speed Indoor Karting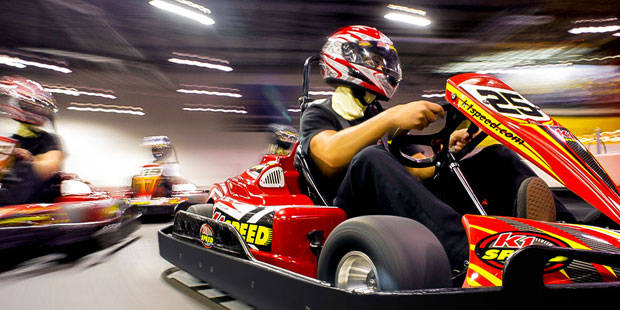 If you're ready to put some pedal to the metal, stop by K1 Speed Indoor Karting. Hop in a high-performance electric go-cart and hit the professionally designed race track.
There are both adult and children's karts so the whole family can enjoy. Race against your family, friends, and strangers and find who was the fastest on your race result sheet. You can even check your time online to see how you compare to other racers of the month. But most importantly – who in your family will be crowned the winner?
iFly Indoor Skydiving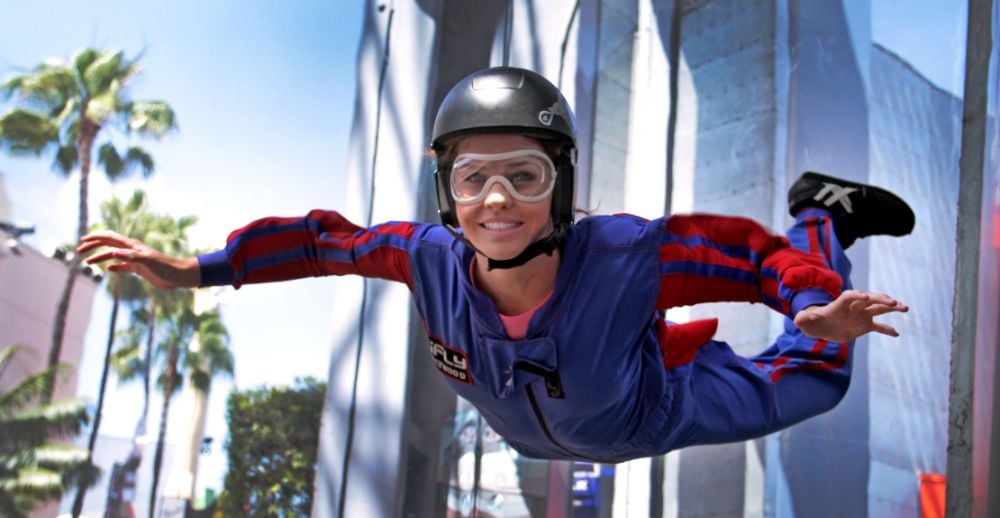 Ever dreamed of flying? How about jumping out of a plane? Let's be honest: as exciting as it might seem, it really is a bit scary. Fortunately, iFly Indoor Skydiving can provide the experience with much less risk and tons of fun.
Instead of flying toward the earth, you will fly in a safe wind tunnel, experiencing terminal velocity up to 165 miles per hour. Best of all, there are no age restrictions after the age of three.
Universal Studios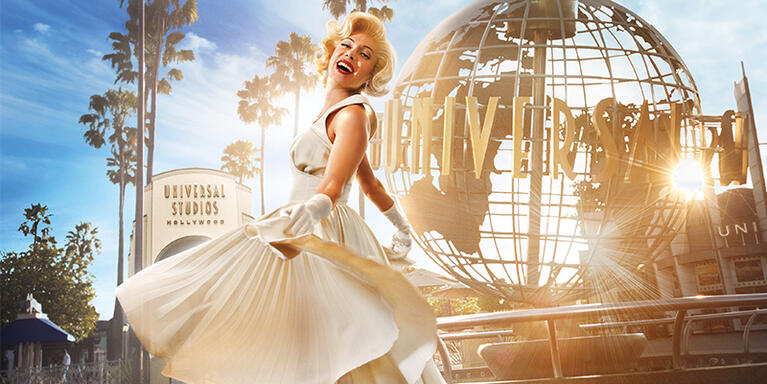 Universal Studios Hollywood has something for everyone. Film buffs will experience movies like never before. With behind-the-scenes tours, authentic stunt and special effects shows, dining at Hogsmeade and trying some Butterbeer, surviving the Walking Dead, and shopping to your heart's content, you will have an unforgettable time.
As if the room full of walkers isn't scary enough, thrill-seekers can hop on some 3D rides that will send your heart racing. You might also meet dinosaurs, Transformers, and more along the way. Don't forget that there is plenty of family fun, too, including kid-friendly rides and character encounters. You might even find Shaggy and Scooby hiding with a snack!
As there is so much to see and do at this attraction, check out our Universal Studios Hollywood guide to make the most of your visit.
Disneyland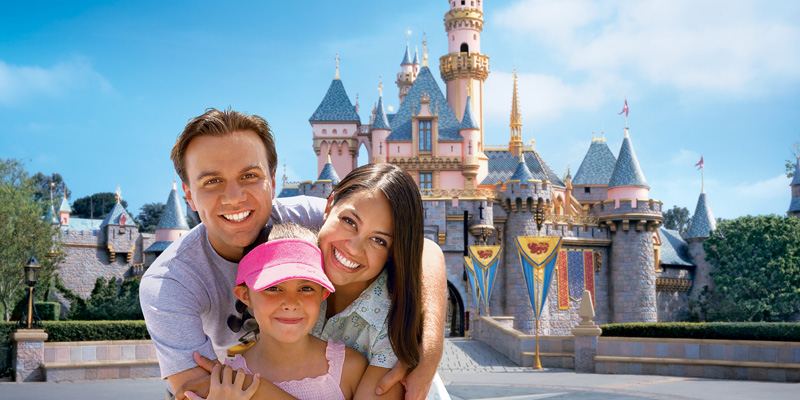 No Los Angeles trip can be considered a vacation without a visit to see Mickey! Check out the ghost-infested Haunted Mansion, meet the beauties behind the crowns, and make your child's Disney-dreams come true with a royal makeover.
Be wowed by the pyrotechnical splendor of Mickey's Fantasmic battle. Dine in the beautiful and quaint Victorian restaurant, Plaza Inn. For the space lovers out there, Tomorrowland and the fabulous Star Wars characters will make your day.
And do not forget to check out the beautiful Disneyland Forever fireworks show, or the enlightening Main Street Electrical Parade. 
 
Save on admission to LA theme parks
With so many great activities, how do you choose which ones to do? Admission to many of these attractions is included with Go City®.