Planning a vacation to Los Angeles? Our insiders put together a list of our top free things to do in Los Angeles. Check out these free attractions for fun adventures that won't break the bank. They offer the best of LA's history, entertainment, and scenery. Whether you want to explore the great outdoors or enjoy LA's diverse cultural scenes, you'll find something to love on this list. Our local experts put together a list of some of the best free things to do in Los Angeles, all great suggestions that can help round out your vacation itinerary.
A Way to Save on Ticketed Los Angeles Attractions
We know that this blog post is about listing the FREE things to do in Los Angeles, but, are you looking to visit a few of the ticketed attractions during your vacation? Consider using a Go Los Angeles Card - which includes free admission to dozens of the area's most popular attractions - all for one low price. See all available Los Angeles attractions, passes & prices – Learn more. A Go Los Angeles Card can save you up to 55% off combined admission vs paying at the gate.
Paramount Ranch
Hollywood's version of the Wild West was created at the Paramount in 1927, and the site has been used for filming ever since. Visiting this Old West town set is free, and you can take all the photographs you want at this "movie ranch." You'll also find two easy hiking trails nearby, which can make for a fun (free) daytime activity. If you're interested in touring more movie sites and sets, you can take a few studio tours for less with the Go Los Angeles® Card, including the Warner Bros
VIP Tour
and a
behind-the-scenes tour
of Universal Studios Hollywood.
Hollywood Lights: The Magic of Movies at the TCL Theatre
The TCL Theatre features a spectacular light show accompanied by sound that covers the facade of the famous TCL Chinese Theatre with iconic moving images using 3D projection mapping. The four-minute show plays every 20 minutes starting at 8:30 pm every night. You'll see big-screen moments you'll recognize from movies that have premiered or played at the theatre over the last 90 years. Just head to the front of the theatre and wait for the next show to begin. Insider tip: use a Go Los Angeles Card to save on admission tickets to the TCL Chinese Theatres VIP Tour earlier in the day!
Hollywood Walk of Fame & Forecourt of the Stars
You can't visit LA without strolling along the Hollywood Walk of Fame. Enjoy a free self-guided tour on Hollywood Boulevard while searching for the names of your favorite celebrities beneath your feet. Along the Walk of Fame, you'll stumble across world-famous TCL Chinese Theater. At the Forecourt of the Stars in front of the theatre, put your own hands in the handprints of legendary Hollywood celebrities. Both activities are free!
The Hollywood Sign
Although you can't get right up to the sign (it's fenced off from the public), you can still get a prime (free) view of the iconic Hollywood Sign from several nearby spots. The Hollywood & Highland Center offers an excellent viewing area, or drive up Beachwood Canyon for a closer look.
Point Dume State Beach
This Malibu state park is the perfect nature getaway offering a diversity of landscapes. You'll find wide beaches, coastal bluffs, sand dunes, and rocky cliffs overlooking the ocean. The wide beaches are quieter than most, so you can really relax while basking in the sun. If you have kids with you (or if you're a kid at heart), explore the shallow tide pools to discover some small sea creatures. The best part? It's all free. If you'd prefer a more comprehensive overview of Malibu, or perhaps, a celebrity-focused tour, try out a
themed Malibu Tour
. Stairways built into the bluffs make for safe access to breathtaking ocean views, so snap a few photos while you're there.
The Getty Center & Getty Villa
The J. Paul Getty Museum is one of the top-rated attractions in Los Angeles. And guess what—admission is absolutely free. Although parking (in a garage) costs $15, it's truly an unbeatable price for what the Getty Center offers. It houses one of the biggest and most beautiful art collections in the world. But another popular reason to visit is for the stunning architecture and some of the best views of LA. Designed by Richard Meier, this structure was built with concrete and steel to overlook all of Los Angeles. You can easily spend quite a few hours roaming the building to take in all the famous works of art, like Vincent Van Gogh's "Irises." Just north of Santa Monica, the Getty Center is a very popular attraction that is a cultural high note of Los Angeles. You can also check out the Getty Villa in Malibu to see the Getty's collection of Greek and Roman art. Although admission is free, you'll have to reserve timed tickets in advance for the Villa.
Venice Beach Boardwalk
The Venice Beach Boardwalk practically epitomizes LA with street performers, hard-bodied beach-goers, and a whole slew of interesting characters wandering around. In fact, Venice Beach Boardwalk is the most visited destination in Los Angeles. In addition to the unparalleled people-watching, you'll enjoy unique shops, cafes, street vendors, and the chance to observe beach sports on Muscle Beach. While the boardwalk itself is free, parking can be up to $15 depending on the lot and time of year While you're in the area, don't forget to stop by
Pacific Park
- you can get discounted admission with your Go Los Angeles® Card, so you don't need to worry about straining your budget!
Downtown Art Walk
If you're in town on the second Thursday of the month, be sure not to miss this exciting local thing to do. Each month has a different theme and features different galleries and art installations, even including performance art and graffiti. This free self-guided tour is a great way to explore the LA arts scene with friends.
Griffith Park
Griffith Park is the largest municipal urban wilderness area in the United States, where you'll find both landscaped "parkland" and natural terrain. What's really special about Griffith Park is that it is home to lots of bargain attractions that attract both locals and visitors alike year-round. For no cost, you can take your kids on the Griffith Park Merry-Go-Round, stargaze through the super Zeiss telescope at the Griffith Park Observatory, or discover old empty train cars at the historical Travel Town Museum. You could also
rent a bike
and pedal around the park's beautiful expanse, or hike up to the Hollywood Sign. Tip: If you want to catch a glimpse of the stars from the Observatory, get in line before dark!
Tip:
this is one of the ways you can hike up to the Hollywood sign. If you're traveling with kids, take them to the Griffith Park Merry-Go-Round, a historic hand-carved carousel that has attracted visitors since 1937.
Runyon Canyon Park
Enjoy the natural paradise in the Santa Monica Mountains that is Runyon Canyon Park. Expect to be blown away by scenic views of all of LA and the gorgeous West Coast sunset. As it's well known for it's liberal off-leash pet policy, this place is perfect for the dog-lover. Whether you're bringing your pets or not, pack a picnic and bring a kite for some outdoor fun at Runyon Canyon…all free, free, free!
California Science Center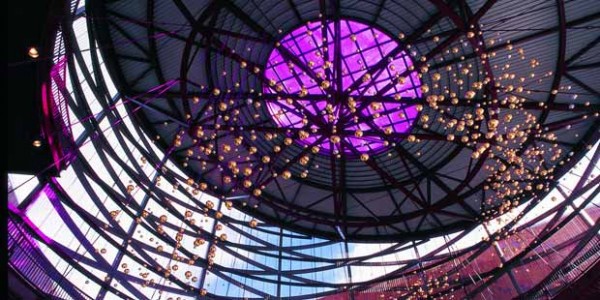 The California Science Center's interactive exhibits appeal to visitors of all ages. The permanent exhibits, featuring human and wildlife environments as well as air and space displays, are all free to the public. There is a fee for parking, but at only $10 per car, you won't hurt your wallet. The Science Center also has a 7-story IMAX theatre which is not included in the free admission, but you will get into the IMAX for free with your Go Los Angeles Card!
Page Museum & La Brea Tar Pits
The La Brea Tar Pits in Hancock Park is the largest source of prehistoric fossils ever excavated. The largest collection of these fossils is housed in the park at the Page Museum. It's free to wander around the park and look at the tar pits and outdoor exhibits, but if you want to explore more of the prehistoric, admission to this unique Museum is only $7.
Graystone Mansion
This historic home is located in the charming, more remote part of Beverly Hills, away from the hustle and bustle of Rodeo Drive and the like. Explore this beautiful historic structure and its stunning gardens during regular business hours. You can always roam the gardens for free, although tours inside the mansion are offered for a modest fee (advance reservations required for interior tours).
Levitt Pavilion
This outdoor amphitheater in Old Town Pasadena offers free performances throughout the summer months, from musical genres as diverse as jazz/blues, fusion folk, and even interactive musical performances just for kids. With over 50 free shows to choose from in June, July, and August of each year, you can find something to appeal to practically every taste. Be sure to bring a blanket (or chairs) and a picnic dinner to enjoy as you soak up the music.
Gagosian Gallery
The outpost of the Gagosian Gallery in Beverly Hills is a popular place to visit. This is one of 16 contemporary galleries around the world owned by Larry Gagosian. It's free to the public and boasts works of modern art by up and coming artists. If you can catch an opening reception each time the collection changes, you might even score some free wine and nibbles. Check out their website for a list of upcoming exhibitions.
Travel Town Museum
Hop on board to the Travel Town Museum and enjoy the many stationary train exhibits. Young children love to climb through the old empty trains at this Griffith Park historical site. A miniature train ride also runs around the perimeter of the facilities, providing a magical experience for kids. This low-key attraction with a gift shop on location is great for a laid back afternoon.
Metro Art Tours
Want to learn more about the fascinating artwork of the LA Metro system? Then be sure to join up with one of these free, docent-guided tours, offered through the Metro's official art site. The various paintings, sculptures, mosaics, and murals scattered throughout the Metro system represent several decades of commissioned artwork and a wide variety of artistic styles and creative voices. A must-do for artsy folk.
The Korean Friendship Bell
Another famous and free landmark in LA is the Korean Friendship Bell. This was donated by the People's Republic of Korea to celebrate the United States Bicentennial in 1976. It's located in San Pedro, with gorgeous views of the Los Angeles harbor. This is a great spot to bring a picnic lunch and spend a couple of hours strolling the lush scenery here.
Let's Recap on How to Visit Los Angeles for Cheap
So there are some fun ideas for free things to do in in Los Angeles. Remember, if you want to add some attractions to your itinerary that normally cost money, consider purchasing a Go Los Angeles Card. With the Go Los Angeles Card you get free admission to dozens of attractions all for the one low price of the pass. You can save up to 55% off combined admission costs vs paying at the gate. Enjoy!