Knott's Berry Farm, America's first theme park, is an excellent place for you and your family to spend a day during your time in Southern California. Knott's is ideal for a day-long adventure, with its stellar a lineup of ride and attractions. There are even attractions geared towards all ages and styles, so there's something for everyone at this delightful attraction. Check out our helpful guide for visiting the Knott's Berry Farm. It's packed full of tips for visiting, ways to save on admission, other nearby attractions, and much more.
Looking for Knott's Berry Farm Discount Tickets?
We've got you covered – Knott's Berry Farm admission is available with the below money saving options, so you can choose the attraction pass that's right for you: 1. All-Inclusive Pass – All you can do. Includes admission to dozens of attractions. 2. Build Your Own Pass – Select the attractions you want to visit prior to visiting. See all available passes, attractions & prices.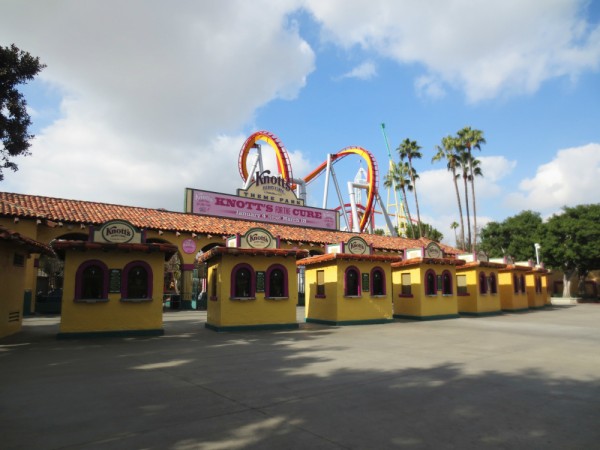 Tips for Visiting Knott's Berry Farm
Present your Go City Card at the Guest Services Window for your general admission ticket. You'll see several ticket booths at the front of the park. But if you already have a Go City Card, head just beyond that area to the Guest Services building to get your tickets.
Take your time and enjoy the park. There are some amazing craftsmen at work in Ghost Town. You won't want to miss the fine attention to detail given to the park's features. Knott's Berry Farm is a lovely park, and it's worth a leisurely stroll to enjoy the scenery.
Try some boysenberries. Although they're sold throughout the country, buying a jar of boysenberries at the actual park is part of the Knott's experience.
Cool off in the Voyage to the Iron Reef. One of the newest features at Knott's is a video game-like ride. You will wear 3D glasses and battle evil sea creatures. You'll want to ride it in the middle of the day when the sun is at its warmest point. Much of the line is in the shade and the ride is inside and air conditioned. The Sky Cabin ride is also air conditioned and offers an amazing view of the park from a height of 180 feet.
Paying for the dryer is well worth the money. After you ride Bigfoot Rapids, use the dryer machine that sits on the right, outside the entrance to the ride. It costs a few dollars, but it's well worth it, particularly when your whole family can stand inside.
When is the best time to visit Knott's Berry Farm?
Any time is a good time to visit Knott's Berry Farm! With the seasonal celebrations and year-round schedule, Knott's offers fun and excitement every month of the year. You'll want to devote at least half a day to Knott's Berry Farm, so arriving near the opening hour will allow you to experience as much as possible at this fun park.
What should I bring to Knott's Berry Farm?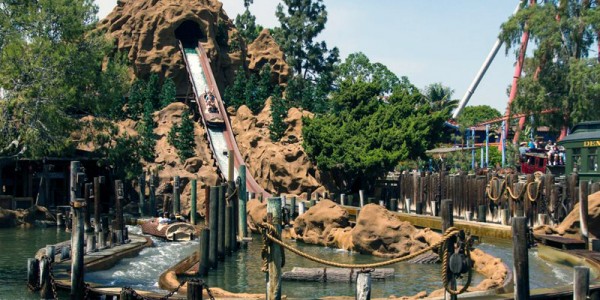 If you have any experience visiting theme parks, you know that it's important to stay hydrated when it's hot (and it's often hot in Orange County), so items like hats and sunglasses are an important part of your visit. Here are a few extra items you may want to bring along...
Knott's features two water rides including the Timber Mountain Log Ride and Bigfoot Rapids, and you may want to bring water shoes for these rides. Even though you can use the dryer after you ride, sneakers definitely take a while to dry. Don't forget to bring a few sealable plastic bags to store your water shoes after you use them!
Bring a canvas bag to store your goodies if you plan to do some shopping. There are several opportunities around the park to pick up handmade crafts and fun items like old fashioned photographs. You can store your bag and goodies in the park's lockers in Ghost Town. Shopping is so popular at Knott's that the park offers 45-minute entry passes just for shopping.
Make sure your sunglasses have a strap or be prepared to take them off on most thrill rides and roller coasters. The attendants will ask you to remove your sunglasses for many of the fastest rides, so it's helpful to have a handy pocket for your shades.
You may opt to bring your own water into the park. Make sure it's in an insulated cooler that's no larger than a foot.
What is there to do at Knott's Berry Farm?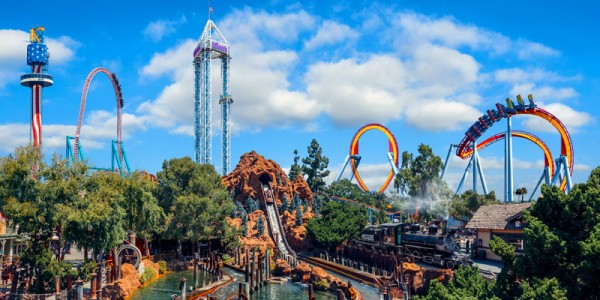 Your experience at Knott's Berry Farm will likely be shaped by the age of your children and what you're all interested in as travelers. You'll probably get familiar with the roller coasters if your children are somewhere above 48" or 52" tall and love "twists, turns, and towering plunges." If the kids don't yet reach the minimum height requirement for the biggest rides, the park also offers a slew of family rides and children's adventures, so everyone will get to enjoy a few rides at any age.
What roller coasters are there at Knott's Berry Farm?
Here are a few of the roller coasters you might want to try out during your Knott's visit: Coast Rider: This unique ride takes you high in the air for an initial dive. Then, the track turns into a series of horizontal twists and turns. It feels like you're barreling down the Pacific Coast Highway in your classic car. GhostRider: A huge wooden roller coaster, GhostRider is visible from well outside the park. It reaches a top speed of 56 mph! It's the biggest ride in the park, and one of the longest wooden roller coasters anywhere on the planet. Montezooma's Revenge: This roller coaster travels in two directions and reaches its top speed of 55 mph in just three seconds. You'll feel some serious g-forces as the ride hurtles through its seven-story loops. Silver Bullet: Your feet dangle in the air on this inverted roller coaster that takes you high into the air for an initial plunge. Then, it will send you through a series of corkscrew turns. You'll spend a lot of time upside down on Silver Bullet. Supreme Scream: This ride sends you up a vertical tower that reaches 252 feet into the air. Then it drops you for a weightless plunge at 50 mph. Supreme Scream is an ideal ride if you want to feel a huge drop like you might experience on a roller coaster, but you don't want the jarring experience of racing along a track. Xcelerator: Knott's shares that this ride hurls you out of the starting gate from 0 to 82 miles an hour in just 2.3 seconds. If you love fast rides, head for Xcelerator first and then ride it again before you leave! It's definitely worth more than one trip through the line.
What family rides are there at Knott's Berry Farm?
If you're visiting Knott's with a few pint size adventure-seekers, you won't be short of rides. Knott's offers several "low thrill" rides for the kiddos, as well as some rides that offer fun without crazy speeds, twists, and spins. Here are a few: Calico Railroad: You'll ride an authentic locomotive train from the nineteenth century. Plus, you'll hear a few cool tidbits about the park's history along the way. Guests have been riding the railroad since the early 1950s at Knott's, and the park shares that the railroad has "the highest crime rate in all of Orange County." What does this mean for you? Take a ride on the railroad to find out! Timber Mountain Log Ride: A classic "log flume" ride, Timber Mountain Log Ride travels through an elaborate recreation of a 19th-century mining town. The ride was updated in 2013 with new effects and features. Voyage to the Iron Reef: This new ride is interactive and is as fun for adults as it is for children. You'll get a pair of 3D glasses and a "ray gun" that you'll use to shoot invading attackers from the bottom of the ocean. It's an awesome experience with the entire family.
What rides are there for kids at Knott's Berry Farm?
Knott's also provides the youngest thrill-seekers with quite a few mini adventures including the Balloon Race hot air balloon ride and the Huff and Puff mini mining car ride. You'll also see the Rocky Mountain Trucking Company ride where kids travel along a little highway in their miniature 18-wheeler.
Seasons of Fun
Be sure to check out the seasonal celebrations at Knott's if you're visiting Southern California in the fall or winter. Knott's Scary Farm is the terrifyingly fun Halloween festival, and it runs during the month of October. If your family includes toddlers or small children, you'll want to try Knott's Spooky Farm. It's the tame version of the Halloween celebration. Knott's Merry Farm comes along during the holiday season. The entire park is decorated, and you'll see a nightly tree lighting ceremony. If your vacation is scheduled for the spring, you might get to see the Knott's Boysenberry Festival. It features live entertainment and "farm fresh fun."
What attractions are near Knott's Berry Farm?
While Knott's Berry Farm itself is located in Buena Park, quite a way away from downtown Los Angeles and the Hollywood attractions, there's still fun to be had elsewhere in the neighborhood! If you're visiting in the summer, Knott's Soak City is almost next door to Knott's Berry Farm and features water rides and wave pools. It's their sister waterpark and has recently undergone a renovation to upgrade rides and add to the overall park experience. There's also a Medieval Times location right nearby, which is tons of fun for those who love historical flair in their dining experiences. Visitors may also enjoy Pirate's Dinner Adventure, a similar attraction. Buena Park Downtown is a nearby shopping center slash entertainment complex that can also provide plenty of entertainment. Get some mall time in, take in a movie, and more.
Where to eat near Knott's Berry Farm?
Knott's will allow you to exit the park for a meal and return, as long as you have a hand stamp. But you have many options for eating inside the park, too. Each themed section of the park offers a particular type of food. For example, you'll find cheeseburgers and fries at The Boardwalk and Mexican food in Fiesta Village. If you have a hankering for fries, visit Papa Loca in Fiesta Village. It sells six different kinds of loaded fries. You'll find some gluten-free and vegan options at the Cantina. The best place to sit down inside to eat is at Camp Snoopy's Grizzly Creek Lodge. If you'd like to take a stroll right outside the park for dining, you'll find several options along Grand Ave., which runs along the eastern side of Knott's. If you're in the mood for fried chicken, visit Mrs. Knott's Chicken Dinner Restaurant. You'll find a TGI Friday's right across the street from the entrance, as well as a Claim Jumper immediately north of the park.
Save on Tickets with a Go Los Angeles Card
Remember, the Go Los Angeles® Card is the best choice for maximum savings and flexibility, which includes Knotts Berry Farm tickets, plus admission to your choice of other top attractions. Save up to 55% on top museums, tours, and activities vs. paying at the gate. Visit multiple L.A. attractions for one low price.