Los Angeles, or LA, is one of the most well-known cities in the world. But why is Los Angeles so famous? Hollywood stars, the TV & movie industries, and gorgeous beaches all make LA a famous city and a popular vacation spot.
Check out our guide below on what makes Los Angeles famous. It's full of tips on how to make the most of your LA vacation and has suggestions for LA tourist attractions and destinations including… 
Hollywood attractions

The best beaches in LA

Theme parks

TV, Movie & Music Industries

LA-inspired pop culture
Top Los Angeles Facts
Los Angeles was founded on September 4, 1781.

The city's original name was El Pueblo de la Reina de Los Angeles (The Town of the Queen of Angels).

In 2018, 50 million people visited Los Angeles.

LA has various nicknames like La La Land and Tinseltown.

Los Angeles is the second-most populous city in the USA, after New York.

LA is the largest city on the West Coast.
Hollywood
One of the most famous areas in Los Angeles is Hollywood. It's the neighborhood synonymous with the glamorous movie industry and where many celebrities call home. More importantly, there are so many things to do in Hollywood, so visiting this area should be at the top of your Los Angeles itinerary.
The Hollywood Sign
An advertising company built the Hollywood sign in 1923 to read "Hollywoodland". Initially, the sign advertised a new housing development but was so popular that it became permanent. However, they dropped the "land" in 1946.
Today, you can hike the Hollywood Hills to see the sign up close or find a spot nearby to pose with the sign. Join on to the Hollywood Sign Tour for a guided hike through the Hollywood Hills area to learn all about this famous location. You'll be rewarded at the top with the best views over all of Los Angeles, all the way to the ocean!
Walk of Fame
The Walk of Fame was initially completed in 1961 and contained 1,558 stars. But that number steadily grew (an average of two stars is added each month) and now the Walk of Fame has more than 2,600 stars!
While exploring the Walk of Fame you will get to see other famous landmarks like the TCL Chinese Theatre and the Dolby Theatre, too.
Hollywood Museum
Explore Hollywood's history with a massive 3,500 square foot collection of costumes and props at the Hollywood Museum. You will get to see famous Hollywood artifacts like Marilyn Monroe's dress and Cary Grant's Rolls Royce, not to mention fun exhibits like the Dungeon of Doom and Holy Hollywood History. This is a must-see attraction for movie buffs.
Hollywood Movie Stars homes
Many movie stars call Hollywood home, and you can see their glamorous houses on the Hollywood Movie Stars Homes Tour. The two-hour tour will take you around celebrity homes and hangouts in Hollywood, Beverly Hills, and other fashionable districts.
Not only will your guide tell you everything you've ever wanted to know about living in Hollywood, but they will reveal celebrity secrets.
Los Angeles Beaches
The gorgeous beaches located on a 75-mile coastline, with stunning spots from Malibu to Long Beach, are one of the many reasons people visit LA. Here are our suggestions for the best Los Angeles beaches to visit...
Santa Monica
Santa Monica beach is lovely in its own right. But more importantly, the pier is worth a visit. The Pacific Park Santa Monica Pier is full of restaurants, shops, and of course, the Pacific Park amusement park.
With your pass, you can enjoy admission and unlimited access to Pacific Park's twelve rides. You especially have to ride on Pacific Wheel, Pacific Park's Ferris wheel, for amazing views of the beach and ocean.
Malibu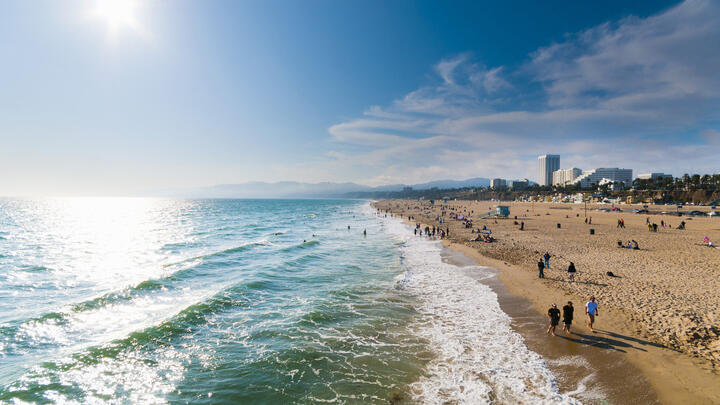 Malibu is famous for its beaches, and the beautiful celebrity homes located along the coast. Take a tour of Malibu's Celebrity Homes and learn all about which stars call the area home. See homes belonging to Leonardo DiCaprio, Cher, and Bruce Willis, among others. You'll also get the chance to explore the Malibu beach and pier.
Venice Beach
Its artistic and boho vibe makes Venice Beach worth a visit. Therefore, why not explore the area by bike or rollerskate with a full day rental by Perry's Beach Café? Pick up some cycles or skates and set off down the famous boardwalk to take in the quirky Venice Beach sights.
Plus, keep an eye out for celebrities – you never know who you might see.
Long Beach
Long Beach is a little further down along the coast. Aside from having a stunning beach, there are also plenty of attractions to enjoy in Long Beach. While you're visiting this area of LA, be sure to check out the Aquarium of the Pacific and the Queen Mary ship.
Theme parks
Los Angeles is also known for its theme parks, so LA is the perfect city for thrill-seekers. Whether you're traveling with kids or in a group of adults, LA's theme parks have something for everyone. Can't decide between Disneyland vs Universal Studios? See both!
Universal Studios Hollywood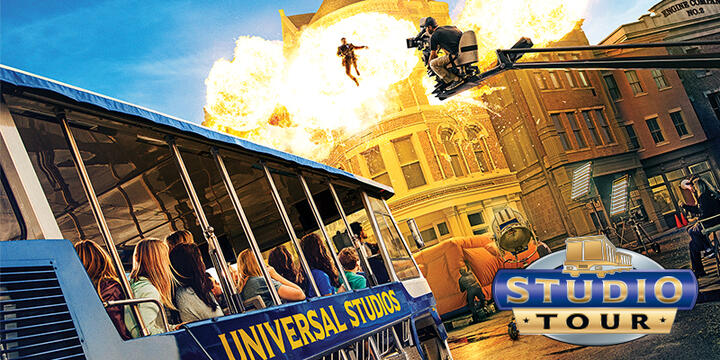 Universal Studios Hollywood is a theme park and a working film studio lot in one. As a result, not only does it have tons of movie-themed rides and rollercoasters, it has an interactive, theatrical Universal Studios Tour, which is partly a guided-tour and partly a ride in its own right.
If you do anything at USH, it has to be the Studios tour. Be sure to check out our Universal Studios Hollywood guide before you go to make the most of your visit.
Knott's Berry Farm
Knott's Berry Farm was originally a family-run amusement park, that originated sometime in the 1920s. It is now one of the most visited theme parks in the USA. Additionally, its seasonal events, like Knott's Scary Farm and Knott's Merry Farm, are famous.
Whichever time of year you visit LA, be sure to visit Knott's Berry Farm, and read our guide to Knott's Berry Farm before you go.
Six Flags Magic Mountain
Thrill-seekers have to visit Six Flags Magic Mountain. The high-thrill rides including the tallest, fastest and longest flying coaster, Tatsu, and the world's tallest looping coaster, Full Throttle, make this park famous.
Moreover, Six Flags Magic Mountain also has kid-friendly rides, like a carousel and more in a Looney Tunes-themed area. To make the most of your visit, read our Six Flags Magic Mountain guide.
LEGOLAND California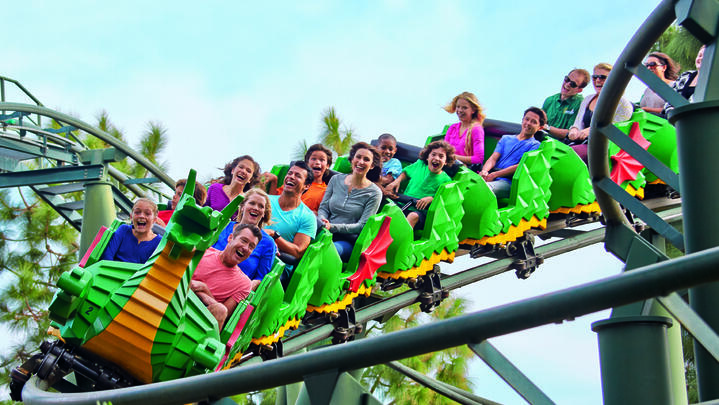 LEGOLAND California is guaranteed to be a hit with the kids. There's no kid-area in this park – instead, little ones can enjoy access to more than 60 rides. Furthermore, to celebrate their 20th anniversary, there will be special events happening throughout the park all year round.
TV, Movie & Music Industries
One of the things Los Angeles is most famous for is its TV, Movie and Music Industries. LA is the ideal destination for movie fans, as there are so many movie studio tours to take. Plus music lovers will love exploring the music-themed attractions located around the city. Here are some of our favorite TV, movie, and music-themed attractions.
Sony Pictures Studio Tour
Take a behind-the-scenes tour of Sony Pictures and see the sets of famous movies like The Wizard of Oz and Spider-Man. Your guide will tell you everything you need to know about the studios as they take you around real, working sets. With this in mind, keep an eye out for actors!
Madame Tussauds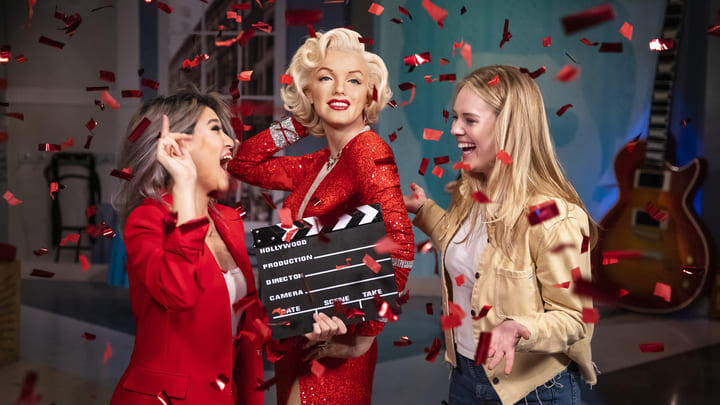 Madame Tussauds is your chance to get up close to the stars that make LA famous. Take a selfie with Marilyn Monroe, and mingle with movie stars like Robin Williams and Nicole Kidman. Pop fans will love 'meeting' Beyonce, Madonna, and Lady Gaga. Plus, see stars of the small screen like Jane Lynch and Selena Gomez.
Dolby Theatre Tour
Movie fans have to visit the Dolby Theatre Tour, where the Academy Awards are hosted. On this 30-minute guided tour, you will see an Oscar statue, the Dolby lounge, and exclusive photos from past ceremonies.
The Hollywood Movie Experience
This 90-minute walking tour will take you to famous movie locations, as seen in films like La La Land and Ghostbusters. Firstly, your guide will tell you everything you want to know about the film industry and your favorite Hollywood A-listers. Secondly, you'll get to ride on the Angels Flight Railway and see famous LA landmarks along the way.
GRAMMY Museum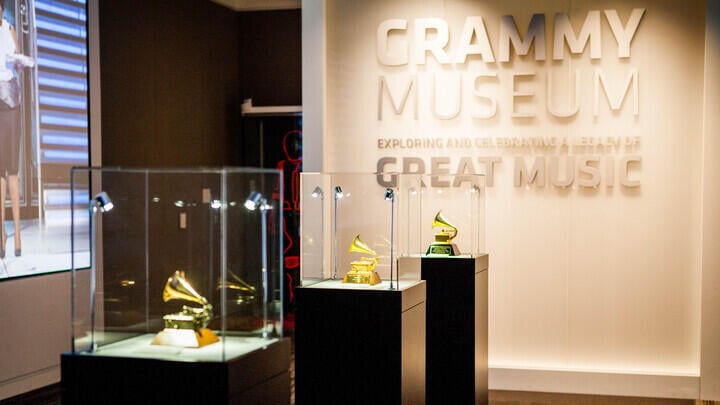 This is a must-visit attraction for music fans. First of all, The GRAMMY Museum's exhibits take place over four floors and teach you everything about the LA music industry. Secondly, you can see the Clive Davis Theater, where stars like Ringo Starr and Taylor Swift have performed.
Additionally, the GRAMMY museum often hosts events and concerts, so check their schedule before your visit to see what's on.
Pop Culture
As LA is such a famous city, it is no surprise that lots of movies and TV shows have been set there. Additionally, there are hundreds of songs about Los Angeles. Check out some of the most popular TV shows, movies, and songs that have been inspired by LA:
Movies: Loads of movies are set in LA. Why not watch some of them before your trip?: 
La La Land 

Clueless

Once Upon a Time in Hollywood

The Artist

Blade Runner

Pulp Fiction

Pretty Woman
Songs: There are tons of songs about LA. Here are some you might consider adding to your LA playlist: 
West Coast by Lana Del Rey

Free Fallin' by Tom Petty

California Girls by the Beach Boys 

California Dreamin' by the Mamas & The Papas 

I Love LA by Randy Newman 

Malibu by Miley Cyrus

Hollywood by Madonna

Tiny Dancer by Elton John
TV Shows: Lots of popular TV shows are set in LA – here are a few to watch before your vacation:
Modern Family

NCIS: Los Angeles

New Girl

The Fresh Prince of Bel-Air

Baywatch

Beverly Hills, 90210

The Big Bang Theory

In summary
So there's a guide to why Los Angeles is famous, complete with suggestions of tourist attractions to help you make the most of your trip. Admission to many of these popular Los Angeles tourist attractions is included with a pass for Los Angeles by Go City®. You can make huge savings on admission vs gate price.
Getting around LA can be a bit tough without a car, but if you are determined, public transportation in LA can work.
Share your trip with us
Follow us on Facebook and Instagram, and share your adventure with us. Tag us at @GoCity on your travel photos to keep us up to date with your vacation!