There's a lot to do in Los Angeles, especially in the fall. Though the West Coast may be lacking in scenic seasonal foliage, the area more than makes up for it with an exciting array of activities and events of all kinds. Explore the city on sightseeing tours, soak up culture at museums and galleries, or choose from the many free things to do. Trust us when we say that you'll never be bored here - rather, you might struggle to fit it all in! Whether you're a culture vulture, an artsy type, or a foodie, you're sure to find something to pique your interest. Still daunted by the prospect of exploring a new city? Don't worry, this L.A. bucket list is a good place to start, with a great mix of attractions and activities to keep you busy! Which classic fall L.A. activities will you try?
See the Sites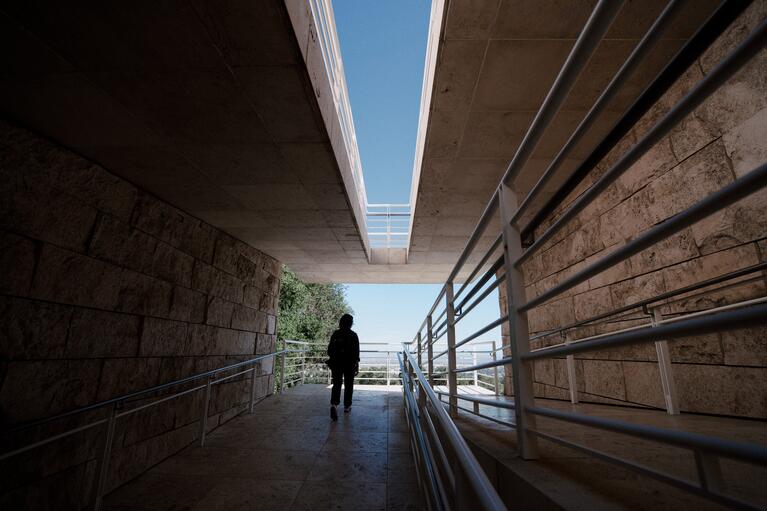 When exploring a new city, it's always a good idea to check out the local galleries. Thankfully, Los Angeles is chock-a-block with fantastic cultural institutions, ranging from the big hitters to fun speciality museums. Still, one of our favorites has got to be the Getty Center for its impressive and broad repository. Combining art, architecture and nature all into one, this popular visitor attraction really is a total must-see. Perched atop a hill in the Brentwood neighborhood of Los Angeles, the establishment offers spectacular 360-views of the city. Upon entrance, visitors can enjoy one of the finest collections of artwork in the world - no really, we mean it! The Getty's collection includes everything from historic manuscripts and Renaissance paintings to Baroque sculptures and 20th-century American photography. Highlights include Vincent van Gogh's masterpiece Irises, Rembrandt van Rijn's joyful self-portrait Rembrandt Laughing, and the Center for Photographs. In addition, the Central Garden is a total sight to behold. A thoroughly unforgettable cultural experience, the Getty Center is perfect for those who are looking to incorporate a little education into their travel experience.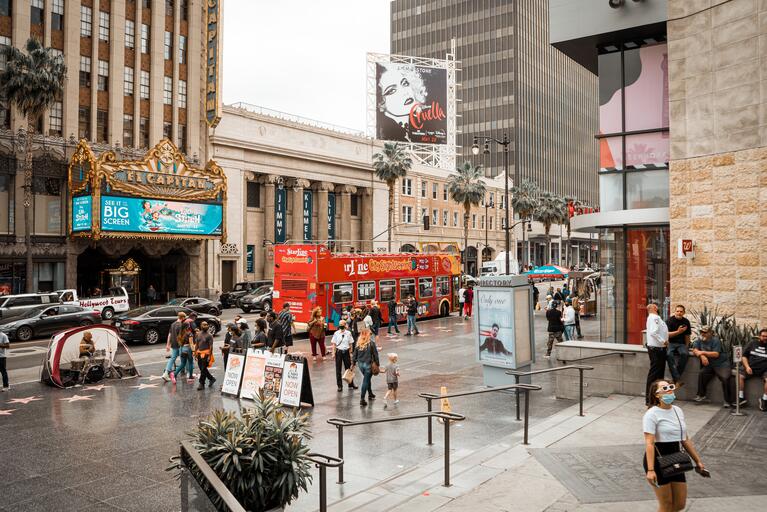 As the bustling epicenter of the American entertainment industry, L.A. has long been a significant draw for pop culture lovers and creative types alike. Those who are looking to dive into all of the glitz and glam will have countless attractions to choose from, though few are quite as iconic as the Hollywood Walk of Fame. Stretching for 1.3 miles down Hollywood Boulevard, this unique attraction draws in over 10 million visitors each year  - and it's easy to see why! Standing as one of Tinseltown's most emblematic attractions, the Hollywood Walk of Fame has been representative of strong ambition, accomplishment and creative thought ever since its establishment way back in 1960. If you're looking for the particular star of one of your favorite celebrities, we recommend using the Walk of Fame's Star Search tool on their website to assist. As one of L.A.'s most beloved tourist hotspots, the Walk of Fame should rank high up on any first-timer's itinerary.
Explore the City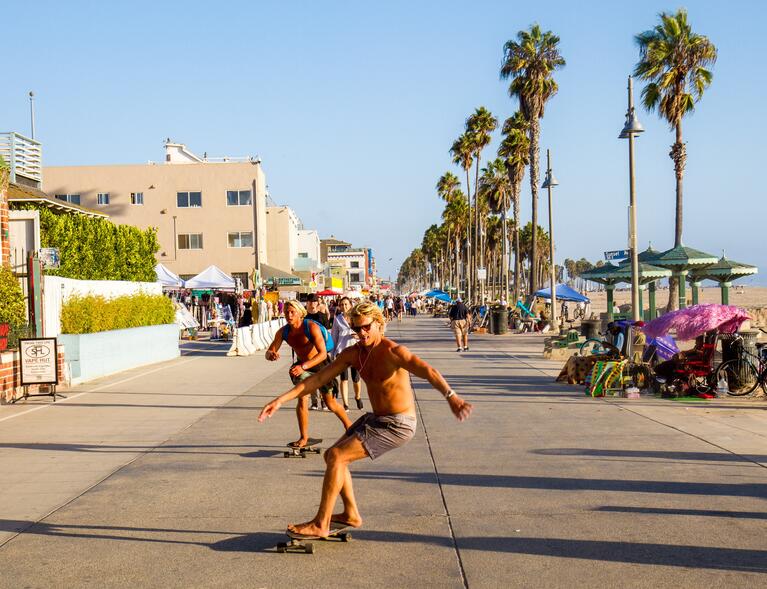 Los Angeles is a wonderful city comprised of countless different neighborhoods. Though L.A. has districts for almost every area of interest, we especially love Venice for its artistic nature and laid-back personality. Of course, one of the top visitor attractions of Venice has got to be its world-famous beach. September is a great time to grab a lounge chair and soak up the sun, since the weather will still be warm, whilst the crowds should have just died down - just remember to bring plenty of sunscreen and water! And whilst the area is known for its fantastic beach, that's not all that there is to do here. Another popular tourist activity in the area is walking the Venice Canals. Nestled between the Venice Boardwalk and the Abbot Kinney, this quiet spot provides a scenic tour of some of the neighborhood's most charming beach houses. In addition, Venice is home to some of the city's quirkiest attractions, including The Mosaic House and Muscle Beach. With so much to see and do here, this place is a total crowd-pleaser.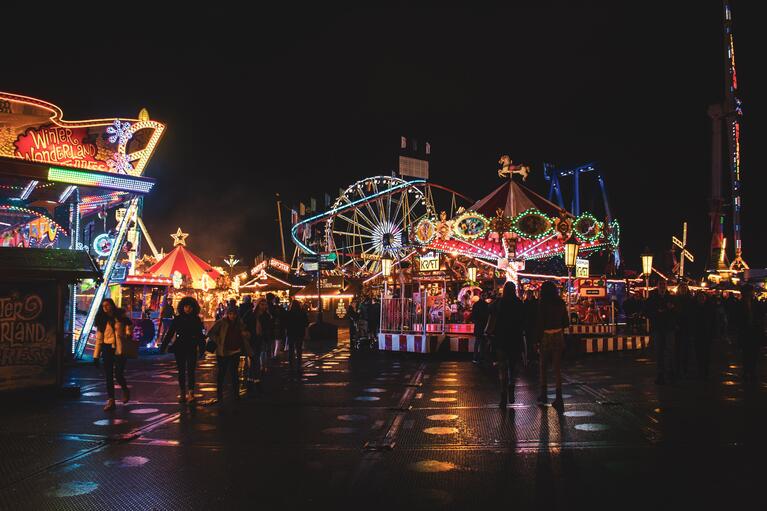 Another one of our favorite places to visit in Los Angeles in September is the Santa Monica Pier. A quintessential West Coast attraction, the Santa Monica Pier has been drawing in visitors from near and far since its establishment way back in 1909. This spot is great for those travelling in groups, since there is a lot of choice for exciting activities to choose from. One of the pier's most popular attractions has got to be Pacific Park, an admission-free amusement park with lots of exciting rides, restaurants, stores and more. Another great stop is of course, the Santa Monica Pier Aquarium, which features over 100+ local marine life and animal species. Or, if you're looking to just kick back and relax, we highly suggest checking out the Santa Monica Pier Farmers' Market. Celebrating California's rich agricultural heritage, this spot is widely known for purveying fresh fruit and veggies as well as some seriously delicious eats. Grab a bite and enjoy your food whilst watching the sun set over the Pacific - what could be better than that?
Try Something Unique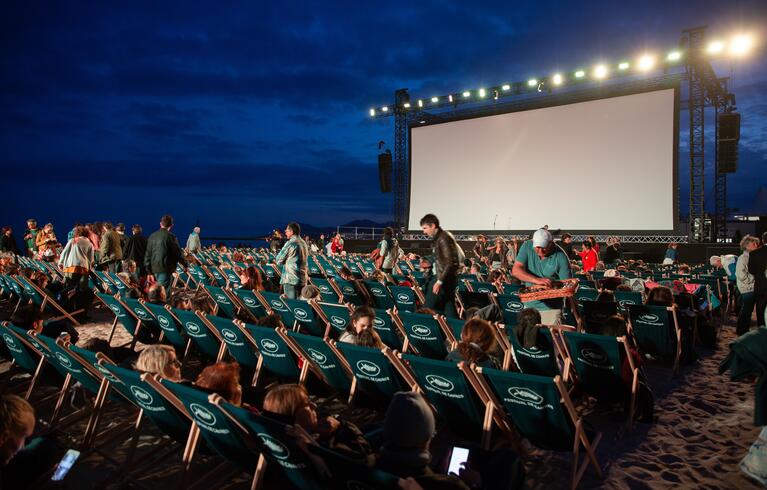 As the entertainment capital of the world and home to the stars, Los Angeles presents countless places to catch a movie - and in many forms! Still, what better way to see a movie than set against California's wonderful natural backdrop? With Street Food Cinema, spend time with your loved ones and watch the stars under the stars. This service is known for its impressive programming, with everything from new blockbusters and old classics to quirky indie movies to choose from. Don't fill up before you head out because this place has lot of great food trucks serving up freshly-made dishes put together by local artisans. There are lounge chairs laid out to sit on, though we recommend bringing blankets to keep yourself warm if you're going for a late-night show. With its laidback atmosphere and fun vibe, this is the perfect way to relax after a long day of exploring!


Fall in Los Angeles can be a wonderful time of the year. Explore the area to its full potential with GoCity's All-Inclusive Pass or Explorer Pass. If you'd like to know more, connect with us on Instagram and Facebook. With Go City, you can see more, for less.