Los Angeles is the jewel of the West Coast. Home of Hollywood and the stars, and host to an array of entertainment destinations, there's so much to see and do in this sunny city. However, there are plenty of Los Angeles attractions that simply aren't worth the time and money. To help you plan a more enjoyable and authentic LA experience, we've put together a list of the major LA tourist traps and some better alternatives.
Rodeo Drive
Yes, it's a famous shopping mecca whose name is synonymous with wealth and privilege. The likelihood of you actually buying something on Rodeo Drive? Pretty low. It's not even very walkable, so you're going to spend half the time looking for parking at various points along the road. If you really want to see the neighborhood, take a quick drive and snap some photos from inside your car. A better place to shop is along La Brea Avenue, one of the artsier areas of the city. You'll find some big name institutions along with a great selection of clothing boutiques, furniture stores, and tasty gourmet food shops. Another good shopping destination is Melrose Avenue, for some more affordable options.
The Hollywood Sign
This is a big name attraction for a lot of people, because in many ways it represents celebrity culture in Los Angeles. But believe it or not, tons of tourists try to drive up to the iconic Hollywood sign perched on the nearby hills. Not only does it cost you a ton in time and gas, but you can't even get that close by car. A good alternative? Try hiking the hills from Griffith Park. You'll have the benefit of some good advice from the park rangers and a more enjoyable hike ahead of you. Plus, it's much more family-friendly to be enjoying the great outdoors than to be stuck in a car for hours wrangling traffic.
The Hollywood Walk of Fame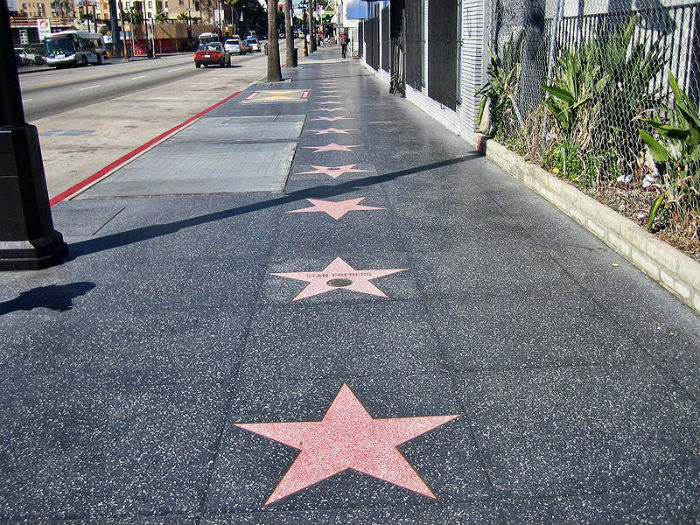 By BenSherman (Own work) [Public domain], via Wikimedia Commons This may be a hard one to pass up. It's the location of the famous "stars" of Hollywood, featuring iconic names in music, film, and television from the last several decades. Tt's also like honey to bees when it comes to attracting foot traffic and it's almost impossible to find the opportunity the pause and take a picture. You'll end up pushing and shoving just to get close to a particular star, and it won't be a pleasant experience. If you're interested in exploring celebrity culture, why not opt for a visit to one of the local museums, like the Hollywood Museum? You'll find plenty of cinema history and authentic movie props at this popular museum, plus you'll be able to browse without the impossible press of the crowd. Or, if you want a more personable experience, stop by Madame Tussauds to "meet" some of your favorite celebrities!
Sporting Events
People don't always think of Los Angeles as a big sports city, but these days they have some of the biggest names in professional sports playing right in their backyard. While we know it can be hard to overcome your devoted fandom, it's definitely worth taking in a NHL or NBA game while you're in town. But if you're attending a game just for the sake of it, be sure to pick up Clippers tickets, as Lakers tickets will cost you a pretty penny (and they're not even very good this year!)
Some General Advice
One of our favorite things to do in LA is to take in a show or two, to enjoy the crazy beautiful artistic culture that really makes the city thrive. If you're interested in seeing any theatrical performances, be sure to purchase your tickets either through the theatre directly or through a reputable third-party site like Stub Hub. You do not want to be buying anything from people hawking tickets on the street – they will absolutely rip you off. If it's a movie you're interested in, choose a theatre away from the more crowded areas (avoid the Grove or Hollywood Boulevard, as prices in these locations will be artificially inflated). Happy Exploring!