Heading to Southern California for vacation? You've got to add a trip to Six Flags Magic Mountain to your itinerary. With a record 19 roller coasters, there isn't an amusement park in the world that offers more loops, twists, turns, or stomach flips than Six Flags Magic Mountain. Located in Valencia, this attraction is an excellent way to put some heart-pounding excitement into your vacation. Whether the kids are tots, teens, or well into adulthood, everyone is sure to enjoy. Check out our helpful guide for visiting Six Flags Magic Mountain. It's packed full of ways to save on admission, the best deals, tips for visiting, other nearby attractions, and much more.
How to get Six Flags Magic Mountain discount tickets?
We've got you covered – Six Flags Magic Mountain admission is available with the below money saving options, so you can choose the attraction pass that's right for you: 1. All-Inclusive Pass – All you can do. Includes admission to dozens of attractions. 2. Build Your Own Pass – Select the attractions you want to visit prior to visiting. See all available passes, attractions & prices – Learn more.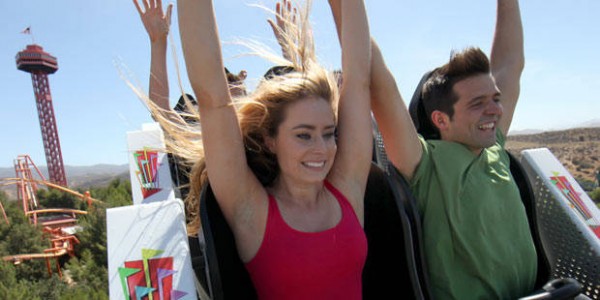 Tips for Visiting Six Flags Magic Mountain
Don't wait for tickets in the first lines you see. With a Go Los Angeles Card you can get a discount on tickets and skip the Six Flags Magic Mountain Ticket Line and proceed past the ticket booths directly to Ticket Will Call.
Pick up a map at the entrance. Six Flags Magic Mountain is enormous, so you should plan your route so that you can experience as much  as possible. It requires some strategy to ride many rollercoasters, and a map is a huge asset.
Wear your best sneakers. You'll do a lot of walking at Magic Mountain. Whether you're ushering the kids around Bugs Bunny World, or hunting down the craziest thrill rides and roller coasters.
Visit SUPERMAN: Escape from Krypton early… very early. This ride has just one or two cars operating simultaneously, and can have long line. If you want to drop from a 415-foot tower at 100 mph, put this ride first on your list for the day.
If it's hot, wait for the bus. The parking lot features a bus that carries visitors to the entrance. It's a good idea to avoid that early walk into the park by riding the bus to the entrance, especially if your parking spot is at the back.
Buy a bottle in the park, and drink water often. The park won't let you bring in outside food and drink. But you can buy a plastic bottle inside and refill it at drinking fountains around the park. Valencia gets over 100 degrees quite often in the summer, and hydration is essential.
Keep your head against the headrests. You'll see signs posted around most roller coasters in the park that advise you to keep your head still against the back of your headrest.
What is there to do at Six Flags Magic Mountain?
Six Flags Magic Mountain is well-known for its roller coaster thrill rides, but the park also features family rides, rides for children, shopping, and special performances. The park often hosts concerts, so you might want to check out the entertainment schedule before your visit.
What are the best thrill rides at Six Flags Magic Mountain?
JUSTICE LEAGUE: Battle for Metropolis
Don't miss out on this brand new attraction that debuted in July of 2017. This epic experience pulls you into a battle between good and evil, as you join forces with the DC Super Heroes to defeat the Super-Villains. Enjoy amazing 4-D effects, high-tech gaming graphics, intense battle scenes, and much more. Prepare to be immersed in the world of DC Super Heroes.
Apocalypse
Unlike many of the other rides in the park, Apocalypse is a wooden roller coaster, and it's definitely one of the roughest and loudest coasters at the park. This sci-fi inspired ride sends you right into battle, ripping right through the ominous desert. The first hill will send you 100 feet into the air, with four more kamikaze drops to go at 52 MPH.
BATMAN The Ride
Your feet will dangle through on this roller coaster that features several loops and twists. You'll feel a jolt with a 360-degree loop right at the start of the ride. You'll get a taste of what it's like to be BATMAN flying through the air at the first sign of the BAT Signal.
Full Throttle
Described as the "tallest and fastest looping roller coaster," Full Throttle is really, really fast and exciting. Loop through the air at 160 feet up at speeds of up to 70 MPH. You'll do this three times! There's also a surprise in the middle of the ride, which makes this towering coaster an adventure you might want to try twice. Full Throttle is the fastest ride at Six Flags Magic Mountain.
Gold Rusher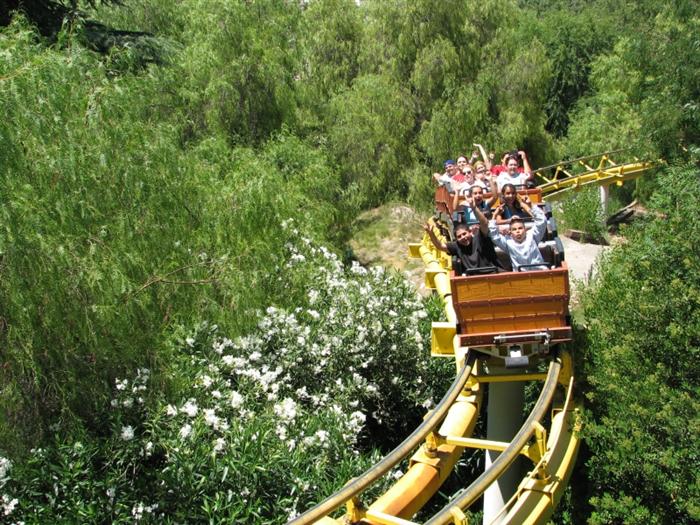 Travel back to the time of the California Gold Rush and hop aboard this coaster that'll take you through the mountains looking for golden nuggets. The first lift cranks you 70 feet into the air, then plummeting you down through the greenery and past unexplored territory.
Goliath
This coaster is a must-do for anyone who wants to ride what the park calls a "hypercoaster." From your seat, you'll get incredible views of Valencia if you're not otherwise screaming in terror from the 255 drop at the start.
Scream
Scream reaches speeds of 65 mph and carries you 15 stories into the air. This ride drops you at such a steep angle that you feel like you're weightless and falling without a parachute. You'll be completely upside down seven times. Combine that with the incredible amount of airtime you'll feel on the many steep crests and you'll really start to get the hang of this flying thing.
SUPERMAN: Escape from Krypton
You can see this giant thrill ride from anywhere in the park. It's a huge L-shaped track where your carriage bolts out of the starting gate and reaches 100 mph in just seven seconds
X2
The park describes this thrill ride as a "5D coaster" because it flips the cars in lightning-fast backward and forward-facing drops. It's one of the most popular coasters at the park, and it'll probably be one of your most memorable experiences at Magic Mountain. In addition to the coasters listed above, you'll also see Dive Devil, GREEN LANTERN: First Flight, LEX LUTHOR: Drop of Doom, Ninja, SlingShot, THE RIDDLER'S Revenge, Tatsu, and Twisted Colossus... and that's just the thrill rides at the park!
What are the best family rides at Six Flags Magic Mountain?
Here are a few of the family friendly rides that are perfect if you're traveling with adventurous little ones.
Buccaneer
Climb aboard this giant pirate ship and get ready for a high-flying voyage. Starting slowly, the boat will start to rock back and forth, getting faster and higher into the air as you go. The bravest of the brave will sit in the last rows to experience the most air-time.
Jammin' Bumpers
Get revved up for a classic game of bumper cars. Step on to the shiny racetrack and pick a bright-colored car to race and bump into your friends. Swiftly avoid collisions and attacks, all while bouncing off the rubber bumpers surrounding the track.
Jet Stream
Make a splash on this flume ride that offers breathtaking views and heart-pumping thrills. You'll start off gliding peacefully down the river and then suddenly you'll be plunging face-first into the water below.
THE FLASH Speed Force
See the world through The Flash's eyes. Take a seat in the red and gold cars and start moving as fast as the fastest man in the world. You'll be nothing but a blur as you fly by passerby.
Canyon Blaster
This is for the thrill-seekers that come in the smallest of sizes. This junior roller coaster will let the little ones race against Wile E. Coyote in an Acme mining car.
Elmer's Weather Balloons
Whirl through the air in a hot air balloon-esque car. As the kids float up and down, they can see all of Looney Toon Village. 
Magic Flyer
Another tank-engine inspired roller coaster for the little ones will take them careening through the wilderness. They'll see all of Whistletop Park from above.
What attractions are near Six Flags Magic Mountain?
Six Flags Magic Mountain is in Valencia, at the far northern edge of the Los Angeles Metropolitan Area. If you have extra time after being hurled through the air by a 70 mph roller coaster, you might want to check out a few of these nearby spots.
Relax for an afternoon at Castaic Lake
You'll find Castaic Lake about 10 miles north of Magic Mountain, and it's a great place for a relaxing picnic or some water sports.
Walk the trails at Placerita Canyon Nature Center
Visit a new visitor center with its nature activities, and stroll around the canyon's peaceful trails.
Tour the Rancho Camulos Museum
California has an incredibly rich history of ranching, and Rancho Camulos is a wonderfully preserved example of an old Spanish settlement.
Where to eat near Six Flags Magic Mountain?
When you're ready to eat, get your official park map out. The park provides excellent notes on where you can eat, even if you or one of your companions has food allergies. Park prices for food are higher than what you might see outside the park, but there are at least two dozen separate dining establishments around Magic Mountain, as well as a large number of small food carts. You'll find everything from nachos and hot dogs to salad and ice cream. Several restaurants also sit right outside Magic Mountain, and if you want to eat outside the park, the parking attendants will allow you to exit and enter once during the day on the same ticket. Most of the fare you'll see will look familiar with restaurants like Marie Callender's, Red Lobster, and Wendy's nearby. If you want to try something the locals love, you might want to visit In-N-Out Burger for some animal-style fries and a double-double.
When is the best time to visit Six Flags Magic Mountain?
The daily hours vary quite a bit depending on the season. There's so much to see and do here that you'll want to aim to arrive right at or before the park opens, so you can see and experience as much as possible. Weather-wise, your best bet is to visit in the winter when temperatures vary in the 60s and 70s during the day. However, there are enough water rides at Magic Mountain that a summer visit in the blistering heat is definitely doable, as long as you remember to keep a bottle of water at your side at all times.
What should I bring to Six Flags Magic Mountain?
Visiting Six Flags Magic Mountain is something of an endurance test, because of its massive size and the hills that populate the park. A modest level of preparation goes a long way. Especially if you're visiting in the summer and you're not used to the scorching Southern California weather.
An extra pair of socks and/or shoes is a good idea if you plan on getting on any of the water rides (there are a few in the park). Keeping your feet dry is essential when you're walking several miles during the day.
Wear a something with zippered pockets (if the weather will allow it) that can hold your smartphone, keys, and money. It's less of a hassle to board several rides if you don't need to use the temporary lockers for your bags on every roller coaster. Otherwise, a fanny pack is a secure alternative.
Bring some sturdy sunglasses that fit securely to your head, or secure them with a strap that attaches to the arms and holds them to your head. The same applies to your hat, which is a great accessory to bring to keep the sun off your face and keep you cool during the heat of the day.
Selfie sticks are not allowed at Six Flags Magic Mountain.
Can I take my own food to Six Flags Magic Mountain?
Taking your own food and drinks is not permitted at Six Flags Magic Mountain. However, there are plenty of restaurants and food carts scattered throughout the park.
How to get to Six Flags Magic Mountain?
Hours
Operating days and hours vary seasonally.
Please call in advance or visit website.
Closings: Christmas Day. All holiday hours are subject to change without notice.
Directions & Address
26101 Magic Mountain Parkway Valencia, CA 91355 Driving: From Anaheim: Take the Interstate 5 Freeway north. Exit Magic Mountain Parkway. Turn left at the traffic signal at the bottom of the exit ramp going under the Freeway overpass. Proceed along Magic Mountain Parkway to the parking toll booths and the Park entrances. From Hollywood/Universal City: Take the 101 Freeway north to the 170 Freeway north. Take the 170 Freeway north to the Interstate 5 Freeway north (the 170 Freeway automatically ends at the I-5 North). Take the Interstate 5 north to Magic Mountain Parkway. Exit Magic Mountain Parkway. Turn left at the traffic signal at the bottom of the exit ramp going under the freeway overpass. Proceed along Magic Mountain Parkway to the parking toll booths and the entrance to park.
Save on Magic Mountain Tickets with a Go Los Angeles Card
Remember, the Go Los Angeles® Card is the best choice for maximum savings and flexibility, which includes Six Flags Magic Mountain tickets, plus cheaper admission to your choice of top attractions. Save up to 55% on museums, tours, and activities vs. paying at the gate. Visit multiple L.A. attractions for one low price.