Thinking of visiting an LA theme park but just can't decide which to choose? Fair enough: the City of Angels has more fab amusement parks than even the most dedicated thrill seeker could hope to experience in a single visit. There's Universal Studios Hollywood for starters. Also Disneyland and its sibling, the Disney California Adventure Park so, y'know, we're talking some pretty big beasts of the amusement park scene here. Holding their own among these titans are Knott's Berry Farm (aka America's first theme park) and Six Flags Magic Mountain (current holder of the record for most rollercoasters in an amusement park). Read on to discover the relative merits of these two fine LA parks…
Knott's Berry Farm Vs Six Flags Magic Mountain: A Short History
Opened in 1971, Six Flags Magic Mountain is a mere baby to Knott's Berry Farm's century-old theme park. But blimey, it's one heck of a great big bouncing baby, weighing in at 209 acres and 35 rides, of which a record-smashing 20 (yes, twenty) are rollercoasters. Located in Valencia, 35 miles north of downtown LA, this is a park that has always pushed the boundaries in terms of number of loops, heights and angles of drops and, well, just sheer terror levels as your (thankfully strapped in) body hurtles towards terra firma at frankly unnatural speeds. In other words, Six Flags Magic Mountain will appeal primarily to adrenalin junkies, as well as fans of the DC universe: the park has rides themed around Superman, Wonder Woman, Lex Luthor and the Justice League. Quirky fact: Michael Jackson visited the park in 1985, riding attractions including Colossus (now the New Colossus) and the Roaring Rapids. Whether Bubbles accompanied him on the rides or not is, we're sorry to say, lost to history.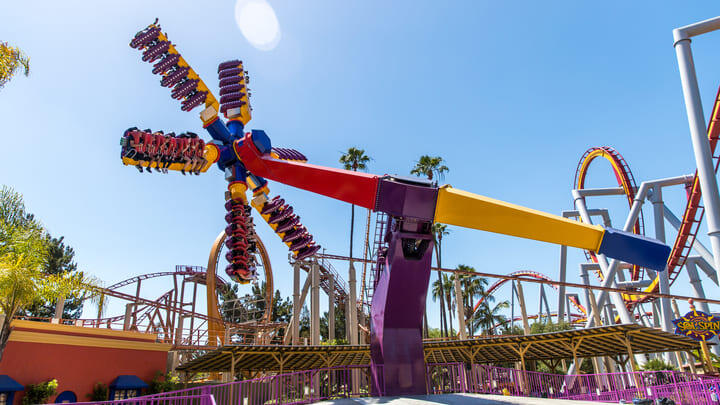 Sure, at a relatively diminutive 57 acres, Knott's Berry Farm isn't on quite the same scale as Magic Mountain. But what this Buena Park stalwart does have is great boysenberry pie, pedigree in spades and a smart use of space that equates to nearly 50 rides across its five zones. It's no slouch when it comes to thrill rides either. From humble beginnings as a berry farm and roadside stand a century ago, Knott's has been through many iterations, launching a ghost town in the 1940s and adding a log ride in the 70s. But it was the sale of the park to Cedar Fair in the 1990s that really upped the thrill factor with the addition of several high-octane rides. However, at the Knott's family's wishes, the park has retained much of the personality of its founders Walter and Cordelia Knott, meaning that, among other things, the (huge) fried chicken dinners and sweet berry pies that many consider synonymous with the park can still be sampled in its cafes and restaurants. Quirky fact: all boysenberries today are genetically traceable to Knott's Berry Farm, where Walter first cultivated the raspberry-blackberry-loganberry-dewberry hybrid in the 1920s.
Knott's Berry Farm Vs Six Flags Magic Mountain: Thrill Rides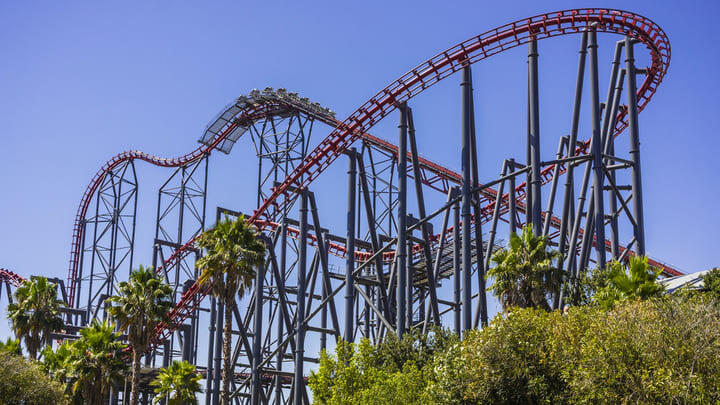 Thrill rides is really where both of these parks excel, and hopeless adrenalin fiends should definitely make a beeline for both when spending time in LA. But, by sheer dint of numbers, Magic Mountain has the edge here. And, with a world-beating 20 rollercoasters, how could it not? Start queuing early for Superman: Escape from Krypton, one of the park's most popular rides. Once the tallest coaster in the world, this thrill-a-second adventure reaches 100mph in just seven seconds before flipping its victims riders through backward and forward-facing drops at lightning speeds. DC fans will also thrill to the 4D effects and immersive battle scenes on the Justice League; Battle for Metropolis ride. Full Throttle does exactly what it says on the tin, rattling around the tallest vertical loop in North America at terrifying speeds, while Goliath and Scream's names are also helpfully descriptive in terms of what to expect. In short, if it's thrills, spills and squeals you're after, Six Flags Magic Mountain is the LA theme park for you.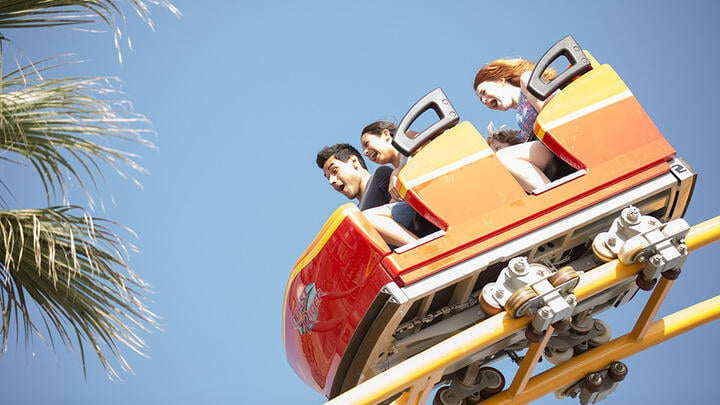 This is an impossible category for any theme park to win when pitted against Magic Mountain, but Knott's Berry Farm holds its own admirably, with a fine selection of rip-roaring hair-raisers. Rides like the Xcelerator, which catapults passengers sky high, reaching 82mph in a (literally) breathtaking 2.3 seconds. HangTime is definitely one to try before you've eaten lunch, given that its hook is the stomach-dropping sensation that you're floating (hence the name) as you take the utterly terrifying 96-degree drop. Ghost Rider is the longest, tallest and fastest wooden rollercoaster in the West, ideal if you like your thrill rides to create the illusion of being rickety and unsafe (which it isn't, of course), while Silver Bullet is a foot-dangling inverted coaster with a whopping six loops.
Knott's Berry Farm Vs Six Flags Magic Mountain: Family Rides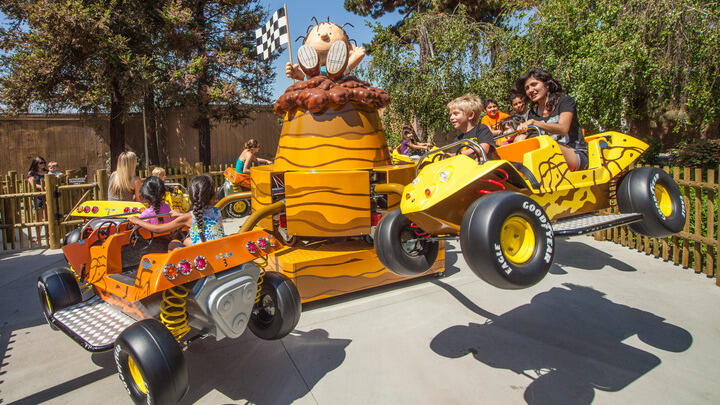 There's no denying that there are better theme park options for kids around LA – *cough* Disneyland *cough* – but Knott's and Magic Mountain do also offer a few gentler rides for the kiddiwinks to enjoy. Each puts their own spin (geddit?) on the traditional teacup ride, with a Mad Hatter theme at Knott's and cute Pepe Le Pew cups at Magic Mountain. Meanwhile, Magic Mountain's Bugs Bunny World – chock full of Looney Tunes themed rides – is the answer to Knott's Berry Farm's Camp Snoopy, where you'll find the Peanuts gang in residence. Expect carousels, bumper cars, miniature trains and character meet and greets at both locations, as well as a strong selection of rides for the whole family to enjoy together, from log flumes to swinging pirate ships and mine rides.
Knott's Berry Farm Vs Six Flags Magic Mountain: Water Rides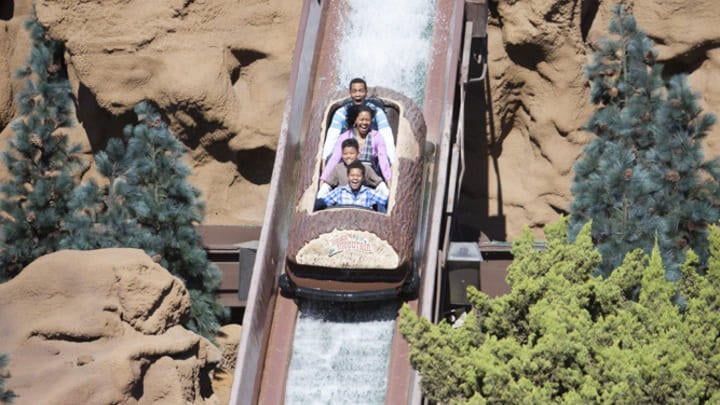 Getting a drenching is an essential ingredient of any successful amusement park excursion so you'll be delighted to hear that both parks really deliver on this front. The Calico River Rapids in Knott's Ghost Town zone takes riders splashing and spinning downriver in big round family-friendly dinghies. But if you really want to guarantee that soaking, hit up the Timber Mountain Log Ride (pictured) for an early bath at the end of its 42-foot free fall finale.
Over at Magic Mountain, the Jet Stream log flume is a family favorite that has the drop'n'drench maneuver down to a fine art. The 11-seater Roaring Rapids ride is a little more lively than its Knott's rival, tossing hapless riders through unpredictable currents, white water waves and treacherous whirlpools, meaning that coveted drenching is all but guaranteed.
NB: Both Knott's and Magic Mountain also have separately ticketed water parks that are open from May to September.
Fast facts: Knott's Berry Farm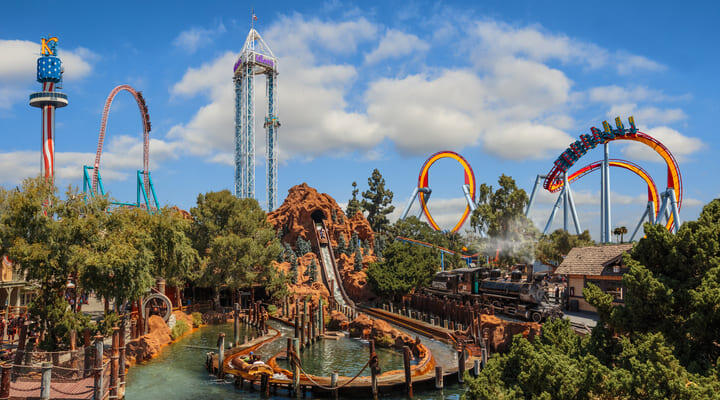 Tickets
Go City's All-Inclusive attraction pass includes general admission and saves you money when visiting multiple attractions in LA. Buy a 1, 2, 3 or 5-day pass to access as many attractions as you like in that time period, including Universal Studios and Six Flags Magic Mountain. You can also book tickets direct via the Knott's Berry Farm website.
Opening Hours
The park generally opens daily at 10AM. Closing times vary by season. Check the calendar on the Knott's Berry Farm website for the most up-to-date information.
Getting There
Knott's Berry Farm is at 8039 Beach Blvd, Buena Park, CA 9062. There's paid parking on site, or you can take a train to nearby Buena Park Metrolink station. More info on transport options here.
Fast facts: Six Flags Magic Mountain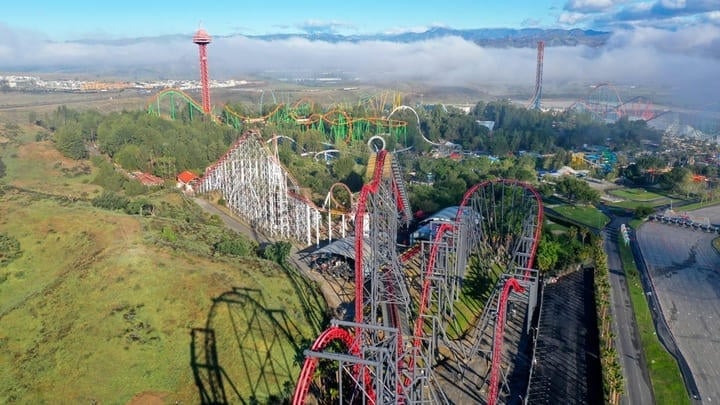 Tickets
An All-Inclusive attraction pass from Go City includes general admission and saves you money when visiting multiple attractions in LA. Buy a 1, 2, 3 or 5-day pass to access as many attractions as you like in that time period, including La Brea Tar Pits and Knott's Berry Farm. You can also book tickets direct via the Six Flags Magic Mountain website.
Opening Hours
Hours vary throughout the year but Magic Mountain usually opens between at 10:30AM and stays open until anywhere between 6PM and 10PM depending on the season. View the calendar here. 
Getting There
Six Flags Magic Mountain is at 26101 Magic Mountain Parkway, Valencia, CA 91355, just north of Los Angeles, at the Magic Mountain Parkway exit off Interstate 5. Some public transport is seasonal and you'll find the best and most up-to-date options here.
Save on attractions

in Los Angeles

 
Save on admission to Los Angeles attractions with Go City. Check out @GoCity on Instagram for the latest top tips and attraction info.