Want to get under the skin of some of LA's oldest and greatest institutions? Sharing over 200 years of history between them, Universal Studios Hollywood and Knott's Berry Farm have become bucket-list attractions for visitors drawn in by their irresistible back stories and seriously scary 21st-century thrill rides. We took a peep behind the scenes at both attractions to find out what makes them so special and why their popularity continues to endure after all these years.
Knott's Berry Farm Vs Universal Studios: the Lowdown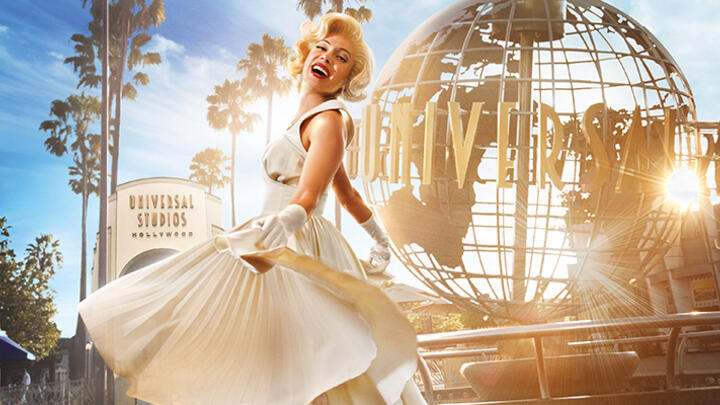 Universal requires no introduction. One of the biggest, oldest and most successful film studios on the planet, its Hollywood HQ is responsible for such big-screen classics as Psycho, Jurassic Park, Back to the Future, Die Hard 2 and King Kong (sets from some of which are included in the current studio tour). The lot opened in the San Fernando Valley way back in 1915, adding a modest theme park in the 1960s which formed the basis for the entertainment behemoth that guests can visit today. And, with attractions and rides themed around household favorites like Harry Potter, Minions and Transformers, it's little wonder that Universal Studios Hollywood has become known as 'the entertainment capital of LA'. 
Knott's Berry Farm is no slouch in the entertainment stakes either. Sure, it may lack an international movie-making pedigree, but it does have one heck of a cute origin story. It starts back in 1923, when entrepreneurial Buena Park farmer Walter Knott developed, cultivated and introduced the boysenberry to the world by way of a modest roadside stall selling preserves and pies. As the stall's reputation and popularity grew Walter, along with wife Cordelia, opened a fried chicken restaurant to help keep up with with demand. The addition of a ghost town and summer fairs in the 40s and 50s paved the way for the theme park that was to follow in the 1970s and the rest, as they say, is history. Today, Knott's Berry Farm is a fully fledged amusement park, with around 50 attractions including thrill rides, log flumes, children's activities and more. Best of all, you can still tuck into a traditional fried chicken dinner followed by a hefty slice of sweet boysenberry pie. Yum.
What to See and Do at Universal Studios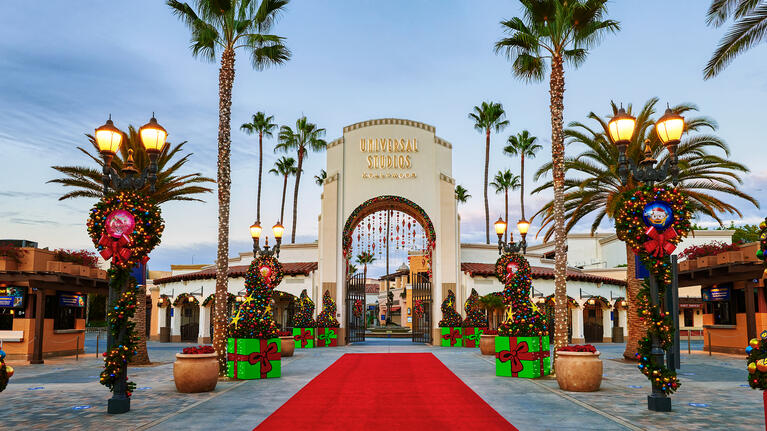 Studio Tour
The studio tour is really what sets Universal apart from other theme parks in the area. Expect live stunt demonstrations and other staged events as you weave your way through familiar scenes and sets from future classics like Jordan Peele's 2022 horror epic Nope to the instantly recognizable Courthouse Square from 80s fave Back to the Future. A tram ride narrated by Jimmy Fallon brings the whole experience to life as you come face to face with movie monsters including King Kong and the great white shark from Jaws. Hold onto your hat for the Fast & Furious finale which brings the tour to a high-octane close.
Transformers: The Ride 3D
This immersive ride sees brave humans (that's you) fight alongside the mighty Optimus Prime in a bid to defeat the Decepticons – they're only about four stories tall and have names like Bonecrusher, Starscream and Devastator, so no pressure. It's not a ride for the faint-hearted, with fast-paced action, loud explosions and smoke effects at nearly every turn. Oh, you may also get a little wet. Afterwards, survivors are ejected into the relative safety of the Supply Vault shop, where the only danger is how much damage your bank account will sustain when the kids start begging for Transformers merch, including figures, apparel and green-screen photo shoots.
The Wizarding World of Harry Potter
There's plenty for aspiring Gryffindors to enjoy in the Wizarding World of Harry Potter. Wizards young and old will be wowed by Hogwarts Castle and can even invest in their own wands, capes and souvenir train tickets for services departing Platform 9¾. There are some top rides to potter around too. Harry Potter and the Forbidden Journey takes you on a magical journey through the halls and corridors of Hogwarts School of Witchcraft and Wizardry. Meanwhile Hagrid, the most affable giant in fiction since the BFG, ushers riders on board the Flight of the Hippogriff. It's wizard!
Best of the Rest
There are plenty more movie-themed rides and zones to explore at Universal Studios, including Mario Kart: Bowser's Challenge, a fun 3D motion ride that replicates your favorite locations from the classic video game, a rollercoaster ride through Springfield with America's favorite cartoon family (that's The Simpsons, not the Kardashians), the immersive frightfest that is Jurassic World and a much gentler (and hilarious!) Minions ride that ends, as you'd expect, with a cute interactive dance party.
What to See and Do at Knott's Berry Farm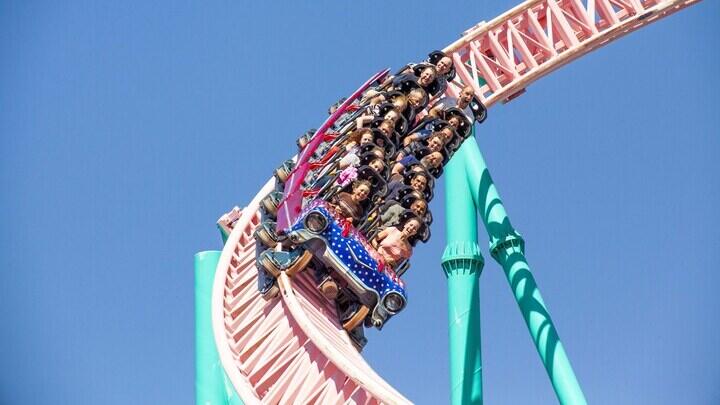 Thrill Rides
Adrenalin junkies can get a satisfying fix at Knott's, which has really ramped up the thrill factor since its sale to Cedar Fair in the late 90s. We're talking rides like HangTime, which promises an eerie floating sensation as it crests its highest point ahead of a gut-churning 96-degree drop. Then there's the Xcelerator, which catapults passengers sky high, reaching 82mph in a body-shocking 2.3 seconds. Silver Bullet is an inverted coaster that hurtles you around 3,125 feet of snaking track, taking in cobra rolls, corkscrews and a terrifying 105 feet vertical loop. And try not to get spooked on the Ghost Rider, only the longest and tallest wooden rollercoaster in the West.
Family Rides
In terms of kid-friendly attractions, it does feel a little unfair to pit Knott's against the Universal juggernaut with its army of Minions, Harry Potters, Marios and Transformers. But there's a certain sweet charm to the kiddie rides at Knott's, with miniature trains, carousels, bumper cars, mini rollercoasters and a Mad Hatter-themed spinning teacups ride. The Camp Snoopy zone also features live shows with the titular beagle and the rest of the Peanuts gang. Snoopy on ice, anyone? The park also has a few rides with no height restrictions, including the Calico Mine Ride, Dragon Wing pirate ship and Knott's Bear-y Tales, all great family fun.
Water Rides
No theme park visit would be complete without that essential souvenir shot of your log flume hitting the water, everyone's face a picture of delight, surprise or, in the case of the person who takes the biggest drenching, total and utter horror. Here's where Knott's Berry Farm really gets one up on Universal with not one but two water rides to enjoy. The first, Calico River Rapids, is a spinny splashy adventure that sees passengers race through white water rapids aboard circular six-seater dinghies. But the Timber Mountain Log Ride is the main event here, culminating as it does in a 42-foot freefall that all but guarantees that coveted theme park soaking. Knott's also boasts a separately ticketed water park (Knott's Soak City) that's open between May and September.
Fast facts: Universal Studios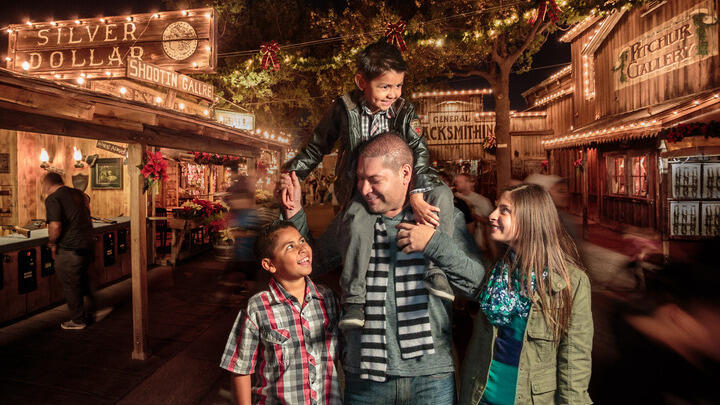 Tickets
Buy tickets and VIP experiences direct from the official website, or get one-day access with an attraction pass from Go City and save when visiting multiple attractions, including Universal Studios, the Hollywood sign tour and more.
Opening Hours
Park hours vary, but it generally opens early in the morning and closes late in the evening. You'll find up-to-date opening hours here.
Getting There
Universal Studios is at 100 Universal City Plaza, Universal City, CA 91608. There are multiple ways to get there, including by bus and metro, and a range of parking options are also available. You'll find all the latest information here.
Fast facts: Knott's Berry Farm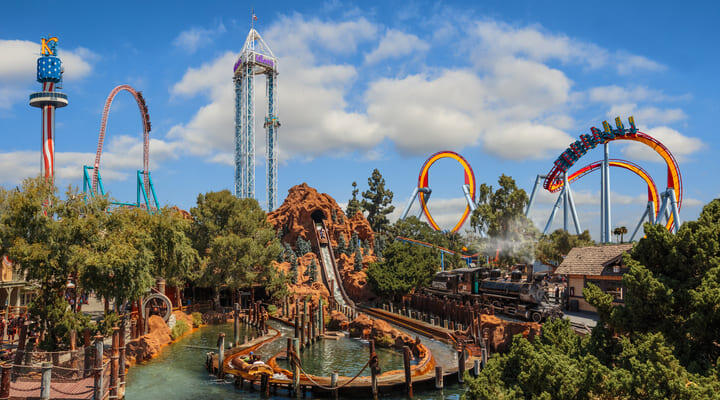 Tickets
An All-Inclusive attraction pass from Go City includes general admission and saves you money when visiting multiple attractions in LA. Buy a 1, 2, 3 or 5-day pass to access as many attractions as you like in that time period, including the Warner Bros. Studio Tour and LA Zoo. You can also book tickets direct at the Knott's Berry Farm website.
Opening Hours
The park generally opens daily at 10AM. Closing times vary so check the calendar on the Knott's Berry Farm website for the latest information.
Getting There
Knott's Berry Farm is at 8039 Beach Blvd, Buena Park, CA 9062. There's paid parking on site, or you can take a train to nearby Buena Park Metrolink station. More info on transport options here.
Save on attractions

in Los Angeles

 
Save on admission to Los Angeles attractions with Go City. Check out @GoCity on Instagram for the latest top tips and attraction info.