You're never far from a thrill ride in California, where adrenalin junkies, rollercoaster riders and log flume aficionados are spoiled for choice thanks to the abundance of great theme parks. Knott's Berry Farm and Disneyland are two of the oldest in the state. Indeed, Knott's dates all the way back to the 1920s when a solitary stand hawking berry pies, jams and preserves planted the seed for the multi-million-dollar amusement park that stands on the exact same spot today. We took a deep dive into these two magical worlds in our comparison of Knott's Berry Farm and Disneyland in LA.
Knott's Berry Farm Vs Disneyland: A Short History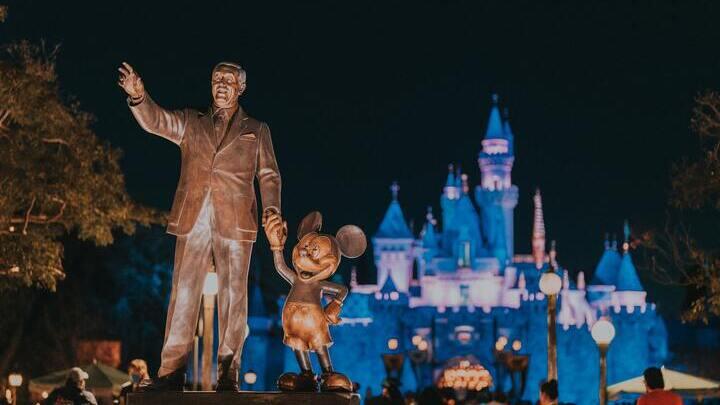 California's Disneyland needs no introduction. The original and (many would say) still the best, it's the only Disney park to have been designed and constructed under the watchful eye of Walt himself. Since opening in 1955, this Anaheim stalwart has been the dream ticket for wide-eyed kids around the world, so it's little wonder that even after all these years it remains one of the planet's most-visited theme parks, regularly topping 18m visitors in the pre-Covid era and outgunned only by its younger Disney sibling, Florida's Magic Kingdom, in the world rankings. The souped-up 21st Century Disneyland contains no less than nine themed zones across 100+ acres, with over 50 attractions to explore, and a whole host of characters to meet: Mickey, Minnie, Goofy and Donald, to name just a few. The charming old Disney Railroad ferries enchanted visitors around the park, covering around 1.2 miles and saving you a small fortune in shoe leather. Quirky fact: Walt Disney secretly kept a private apartment inside Disneyworld, and it's still there today. Look out for a light in the window above the fire department on main street to see if the maestro's spirit is in residence.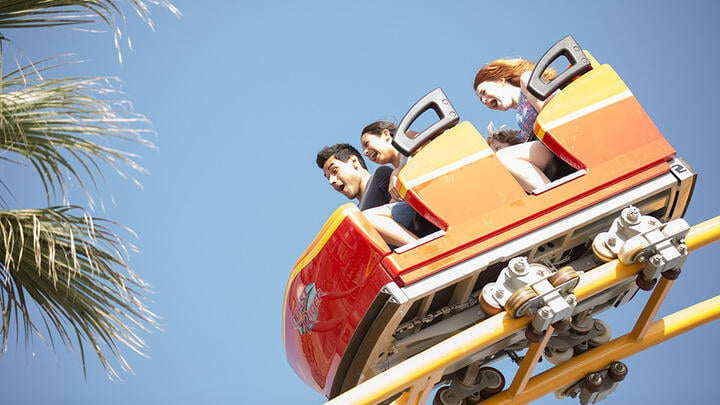 Knott's Berry Farm operates on a slightly smaller scale, but still packs a punch with nearly 50 rides across its 57 acres. And, oh boy, that boysenberry pie. From its humble beginnings as a roadside berry stand a century ago, Knott's has expanded organically over the years, adding Mrs. Knott's Chicken Dinner Restaurant as well as several shops and other attractions by the 1940s, including a ghost town, which is still there (though somewhat modernized) today. By the 70s, Knott's Berry Farm boasted a log ride, bumper cars and a steeplechase rollercoaster. And the rest, as they say, is history. Today, it's a fully fledged theme park, chock full of thrill rides and other fun attractions. And yes, you can still tuck into a classic fried chicken dinner or sweet, sweet slice of boysenberry pie – though perhaps not immediately prior to boarding the frankly terrifying HangTime rollercoaster. Quirky fact: when the Knott family sought to sell the park in the late 1990s, they ruled Disney out as a potential buyer because of concerns the park would become unrecognizable from their parents' original vision. 
Knott's Berry Farm Vs Disneyland Comparison: Thrill Rides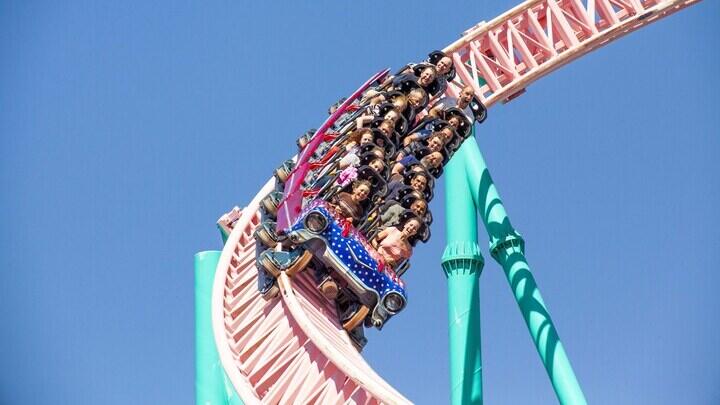 The cash injection that followed the sale of Knott's Berry Farm to Cedar Fair in 1997 saw a rapid increase in the number of thrill rides in the park. And, nearly three decades later, there are stacks of great options for the adrenalin fiends among you. Chief among these is the Xcelerator (pictured above), the name of which alone will have most shrinking violets running for the bumper cars and spinning teacups. If you've ever wondered what it feels like to be catapulted 20 stories high, reaching speeds up up to 82mph in a little over two seconds, now's your chance. Definitely not for the faint of heart, it's joined by the likes of the HangTime coaster with its stomach-churning 96-degree drop, and the epic GhostRider: the tallest and longest wooden rollercoaster in the West.
Disneyland's slightly more child-friendly focus means fewer adrenalin-fueled rides, but there are still a good few here that will get your pulse racing. Case in point: golden oldie Space Mountain has really stood the test of time. Debuted way back in 1977, this pimped-up sci-fi coaster tears through dark tunnels with flashing lights and a booming soundtrack that will make your hair stand on end. The Indiana Jones Adventure is another hair-raising dark ride that allows you to step into the shoes of the famous hat-wearing octogenarian archaeologist before hurtling through terrifying tunnels at a velocity no OAP should ever have to endure.
Knott's Berry Farm Vs Disneyland Comparison: Water Rides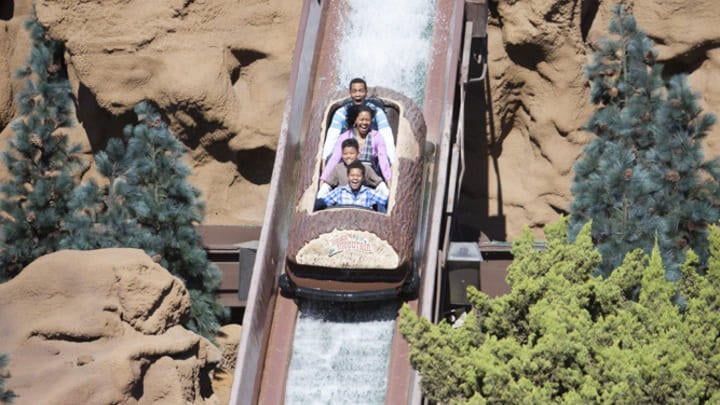 If you don't come away from your theme park adventure with a drenched shirt and the souvenir photo to prove it, can you really say you've been to a theme park? Calico River Rapids forms part of the Ghost Town zone at Knott's Berry Farm and sees riders spin and splash down the river in family-friendly six-seater dinghies. The Timber Mountain Log Ride is an altogether wetter affair, and the park's most popular attraction. Ride through a 330-foot long mountain before enjoying (or should that be enduring?) a 42-foot free fall and early bath. Knott's also has a separately ticketed water park (Knott's Soak City) that's open between May and September.
Disneyland has a number of sedate boat rides, including the Jungle Cruise and cute Storybook Land Canal Boats, but it's Splash Mountain you came for, right? Don't be fooled by the relatively gentle start, with its kid-friendly Br'er Rabbit, Br'er Fox and Br'er Bear storyline: there's an inevitable drop towards the end that comes with a near-cast-iron guarantee of a soaking. Exit to the sounds of animatronic characters gleefully singing 'Zip-a-Dee-Doo-Dah' at you as you wring out your shirt.
Knott's Berry Farm Vs Disneyland Comparison: Family Rides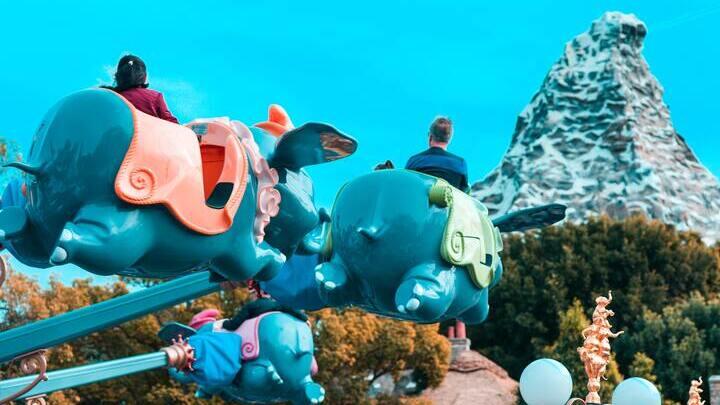 Both of these titans of the theme park world are ostensibly geared towards kids, though Disneyland definitely has the upper hand here, both in terms of pester-power, instantly recognizable characters and child-friendly attractions. In fact, the vast majority of rides and attractions here have no height restrictions, and many are even suitable for babies and toddlers. You'll find these in every single zone, but particularly Fantasyland, which you'll recognize straight away from the iconic Sleeping Beauty Castle at its entrance. Inside, expect more nostalgic adventures based around your childhood favorites, including a cute flying Dumbo carousel, the Mad Hatter's spinning teacups, and a meet and greet with Tinker Bell and her fairy friends in Pixie Hollow.
Camp Snoopy is Knott's Berry Farm's main children's zone, with kid-friendly coasters, miniature trains and carousels, primarily designed for children 36" and over. There's also a chance to meet Snoopy and the rest of the Peanuts gang. Some other attractions around the park, including the Calico Mine Ride, the Merry-Go-Round and Knott's Bear-y Tales have no height restrictions and are great for families.
Fast facts: Knott's Berry Farm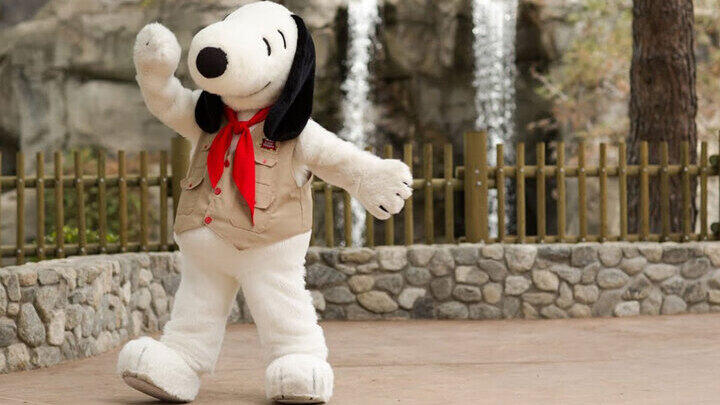 Tickets
An All-Inclusive attraction pass from Go City includes general admission and saves you money when visiting multiple attractions in LA. Buy a 1, 2, 3 or 5-day pass to access as many attractions as you like in that time period, including the Warner Bros. Studio Tour, LA Zoo and Natural History Museum. You can also book tickets direct via the Knott's Berry Farm website.
Opening Hours
The park generally opens daily at 10AM. Closing times vary by season. Check the calendar on the Knott's Berry Farm website for the most up-to-date information.
Getting There
Knott's Berry Farm is at 8039 Beach Blvd, Buena Park, CA 9062. There's paid parking on site, or you can take a train to nearby Buena Park Metrolink station. More info on transport options here.
Fast facts: Disneyland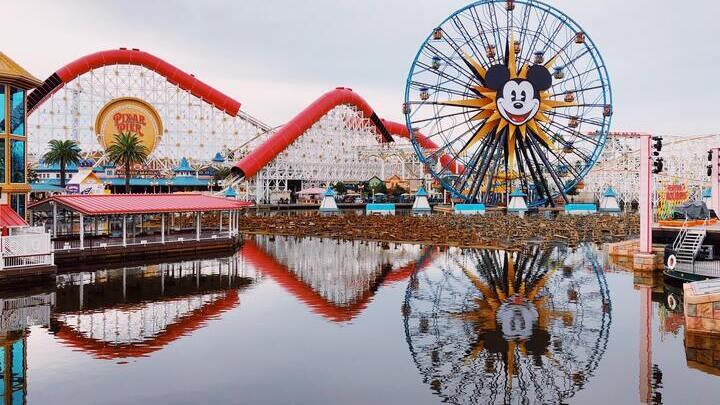 Tickets
Browse ticket options and book direct on the Disneyland website.
Opening Hours
Hours vary throughout the year but Disneyland usually opens between 8AM and 10AM and closes between 10PM and midnight. View the calendar here. 
Getting There
Disneyland is at 1400 South DuSable Lake Shore Drive. Get info on Disney-themed paid parking here. The park is also served by the Metro Express Line 460 bus from downtown LA and elsewhere, and there's a Greyhound station about half a mile from the park, which connects to thousands of bus stations across the US.
Save on attractions

in Los Angeles

 
Save on admission to Chicago attractions with Go City. Check out @GoCity on Instagram for the latest top tips and attraction info.