There's no shortage of attractions and activities to keep you entertained in Madrid, the thriving capital – and beating heart – of Spain. Think elegant boulevards crammed with eye-candy architecture, exquisitely manicured parks and gardens, museums filled with some of the planet's finest art, and (whisper it) delectably decadent churros con chocolate. Three days is a decent amount of time in which to take in a handful of the major landmarks, soak up the city's sophisticated vibe and, of course, to stuff your face with as much Spanish tapas as you humanly can. 
First-time visitors to Madrid often fall foul of the old 'kid in a candy store' approach, frenziedly attempting to see as many of the city's big-ticket attractions as possible. But, like the sugar-stuffed child's inevitable crash, whirlwind sightseeing is all but guaranteed to leave you feeling unsatisfied and burned out. Our guide to spending three days in Madrid takes a more leisurely approach, ticking off several of the must-sees but, more importantly, allowing plenty of time to relax and watch the world go by, too. Read on to find out how to make the most of Madrid.
Day 1: Breakfast… and a Few Big-Hitters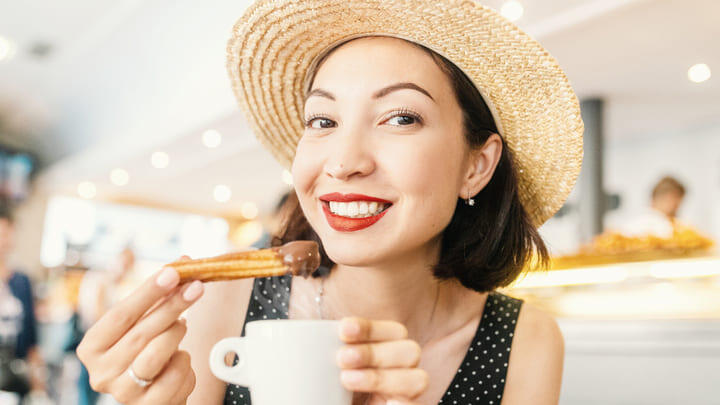 Make like the Madrileños: this is a city that wakes late and parties late, so breakfast before around 9AM and you'll likely be doing so alone. Instead, enjoy a long lie-in then mosey on down to one of Plaza Mayor's traditional Spanish breakfast joints, where a fiesta of flavors awaits the intrepid gourmand. Tuck into classic tostado con tomate y jamón (that's toast with ham and tomato to you) or hearty Spanish tortilla, washed down with café con leche, the discerning locals' coffee drink of choice. In fact, locals often opt for sweet over savory at breakfast, which is where such sugary delights as churros con chocolate, lemony magdalena cupcakes and honey-drenched torrijas (Spanish-style French toast) come in.
Beautifully elegant and ornate, Plaza Mayor is as good a place to start your day's sightseeing as any. After an essential spot of people-watching over breakfast, check out the medieval-style murals that decorate the huge baroque facade of Casa de la Panadería, then trot over for a selfie by the bronze statue of King Philip III astride his royal stallion. From here it's a short stroll down Calle Mayor to your next stop: Almudena Cathedral (try not to be distracted by the foodie mecca that is the Mercado de San Miguel along the way – you've just had breakfast, you animal!). A fine photo opportunity awaits at the bottom of the road, where the cathedral's baroque dome and bell towers loom over the city's 9th-century Moorish walls.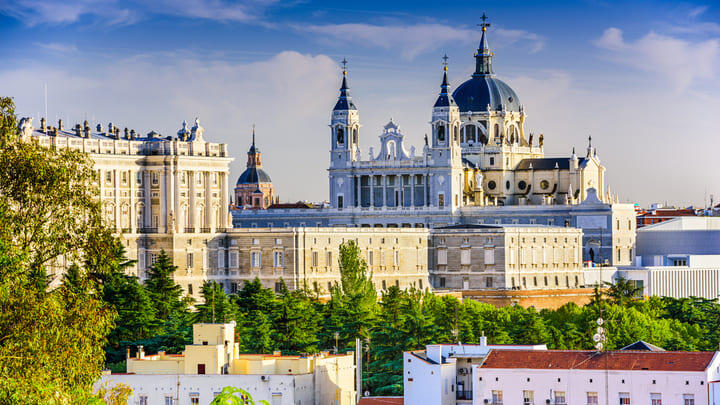 Pay your respects to the many royals interred inside before hopping next door to the palace. A guided tour is a great way to get a flavor of this stately confection's highlights, among them a fairytale central staircase, an awesome Giaquinto ceiling fresco (plus loads more priceless art from the likes of Velázquez, Goya and Caravaggio), a royal armory, and an opulent throne room. Afterwards, stick around to relax in the ornate, statue-filled gardens. Take in the English-style Campo del Moro with its monumental neoclassical fountains, stroll maze-like avenues flanked by box hedges, magnolia trees and lofty cypresses, and enjoy panoramic palace views from the Sabatini Gardens. And take your time! After all, you've got all day: dinner isn't eaten until 9 or 10PM in Madrid!
Day 2: The Art of Relaxation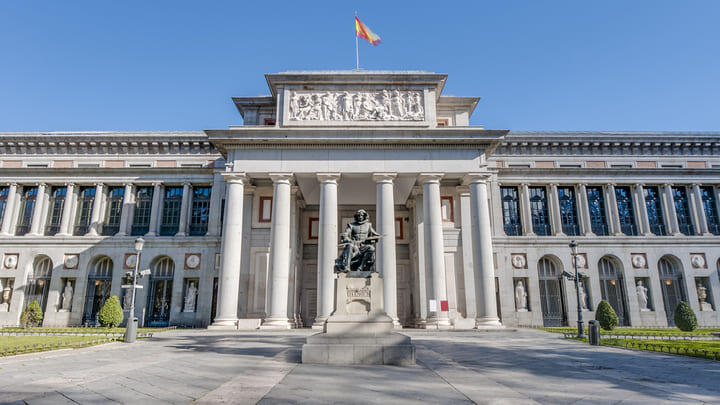 You could easily fill a three-day trip to Madrid with world-class art alone. But if you have to pick only one museum, let it be the Prado. It is, after all, indisputably one of the best in the world. Here's where you can ogle legendary masterpieces by the likes of Goya, Titian, Bosch, Rubens, Velázquez, Van Dyck, Rembrandt and more. Whatever you do, don't miss Hieronymus Bosch's hallucinatory triptych altarpiece The Garden of Earthly Delights or Goya's The Third of May 1808, a brutal meditation on the horrors of war. You can enjoy a leisurely look around under your own steam, or take a guided tour of the collection's highlights.
Feeling suitably cultured, amble over to Retiro Park for 350 acres of lush greenery, meticulously manicured gardens, majestic fountains, opulent palaces, and more monuments, statues and sculptures than you could shake a very big stick at. Again, the key here is to be selective – there's no way you're going to see it all, so don't wear yourself out trying. Instead, find a shady spot in one of the many gorgeous groves and plan your sightseeing over an antipasti picnic of Spanish salamis, breads and cheeses. However, if you simply must 'see it all', the best way to do so is on a segway or bicycle tour, which all but guarantee sightings of most of the park's essential attractions, among them the boating lake, the beautiful iron-and-glass cupola of the Crystal Palace, the neoclassical confection that is the Velázquez Palace, and the Paradise Lost-inspired Fountain of the Fallen Angel.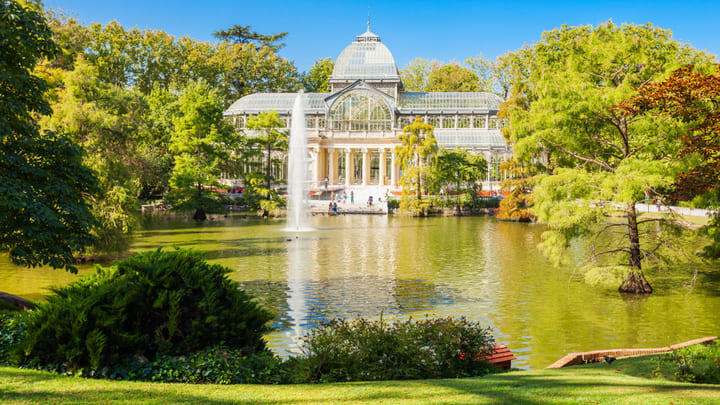 You'll have worked up an appetite by now for sure. Prime time, in other words, to hit up some of the city's best tapas joints for a feast of cured meats, spicy patatas bravas, moreish meatballs, stuffed peppers and garlicky grilled prawns. You'll find authentic restaurants just about everywhere in Madrid, but the selection along Calle de la Cava Baja in the atmospheric La Latina neighborhood is particularly celebrated. 
DAY 3: La Latina, Gran Via, and the Temple of Debod
Last night's tapas is sure to have whetted your appetite for more of La Latina, an Instagram addict's paradise of cobbled lanes, hidden alleyways and brightly painted window shutters. This lively and picturesque neighborhood is just made for aimless wandering, pausing to snap hidden squares and medieval churches and, of course, to refuel regularly with churros con chocolate along the way. Take time out to chill on the lush terraces of Vistillas Gardens and soak up views of the Casa de Campo and shimmering Manzanares river. Here on the weekend? Don't miss the sensory Sunday saturnalia that is El Rastro, the largest open-air flea market in Spain, and the kind of place you can have hours of fun browsing. Don't forget to bring cash and your best haggling game if you want to secure that coveted Julio Iglesias vinyl box set!
Speaking of shopping, you'll want to pick up a few souvenirs of your trip, and where better to do so than along Gran Via, Madrid's legendary (and massive) shopping boulevard. Or – if you have particularly deep pockets – in the boutiques of Calle Serrano, home of Gucci, Chanel, Miu Miu, Manolo Blahnik and dozens more wallet-sapping designer emporia.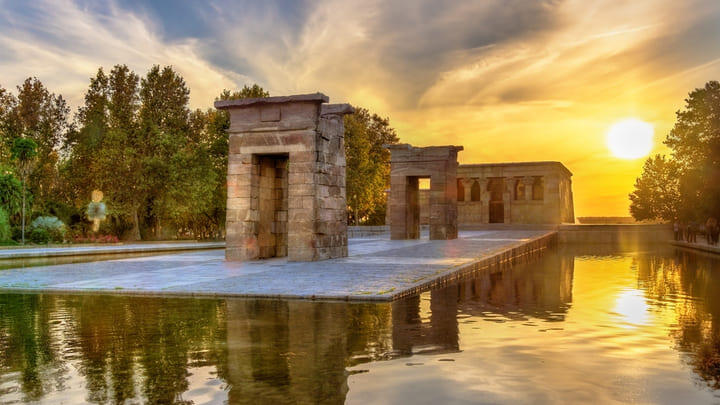 Having scratched that itch (and given your bank manager a coronary), head up to Oeste Park, where the Temple of Debod is one of the best sunset spots in town. Somewhat incongruous in the modern city, this ancient Egyptian shrine was donated to Spain by the Egyptian state in the 1960s and has become something of a favorite with locals, thanks to its graceful stone arches and tranquil pools. Dinner back down the hill on the elegant Plaza de España is the perfect climax to your three-day Madrid adventure.
Save on

things to do in Madrid
Save on admission to Madrid attractions with Go City. Check out @GoCity on Instagram for the latest top tips and attraction info.