You've booked a 5-day trip to Madrid? No, we're not jealous at all! Five days of tapas, sangria, sunshine and, well, generally living la buena vida? Nah, totally not our bag. Seriously though, if you really want to get under the skin of the Spanish capital (and its surroundings), five days of laidback sightseeing beats a whirlwind weekend getaway hands down, allowing you stacks of time to take in all the main attractions – and then some. Crucially, it also means plenty of downtime, best spent (in our humble opinion) people-watching from plaza cafés through facefuls of churros con chocolate, or cruising the gelateries in search of that perfect nougat ice cream. Dive in below for our guide to how to spend a relaxing 5 days in Madrid…
Day 1: Prado Museum and Retiro Park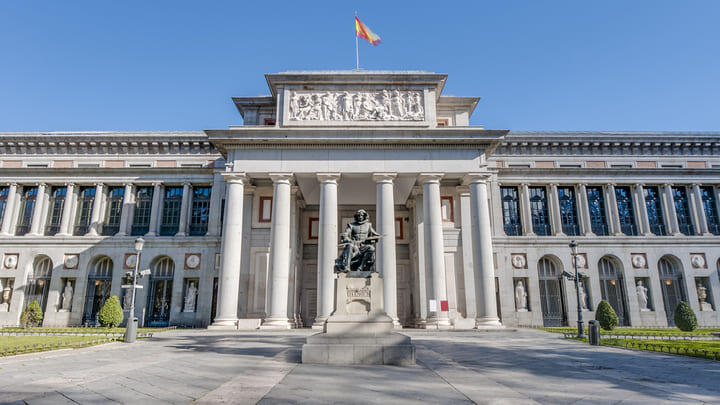 There are a few great art museums in Madrid (more of which later), but aficionados of the Spanish masters should make a beeline to the legendary Prado, where a great bronze statue of local hero Diego Velázquez dominates the entrance. It's a fine way to spend your first morning in town, and an opportunity to immerse in all that is great about European art from the 12th to the 20th centuries. We're talking Titian, Rubens, Goya, Velázquez, van Dyck, Raphael, E Greco, and dozens more. There are hundreds of sculptures and paintings to explore, including Raphael's La Perla, Bosch's mind-boggling Garden of Earthly Delights and Velázquez's illusory Las Meninas. Book a guided tour to catch the main highlights and avoid getting lost in the museum's cavernous corridors.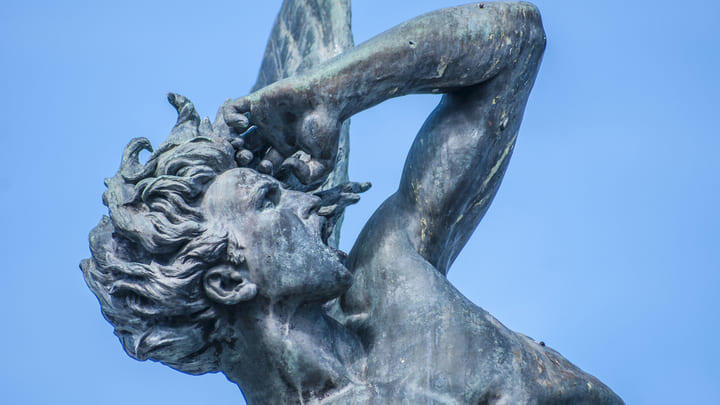 Feeling suitably cultured, grab a picnic of antipasti from the market and find a picturesque spot in the huge Retiro Park to tuck into your feast of cured meats, Spanish cheeses and still-warm bread. Across the lake from the stunning Crystal Palace, for example. By the kitschy Fisherman's House. Or, frankly, on just about any patch of grass you can find – the views are pretty great wherever you pick for your picnic. Walk off your lavish lunch with a stroll (or bike tour) that takes in the rose gardens, the epic Monument to Alfonso XII and the Fountain of the Fallen Angel, said to be the only public monument that's dedicated to the devil.
Day 2: Puerta del Sol, Plaza Mayor and the Palace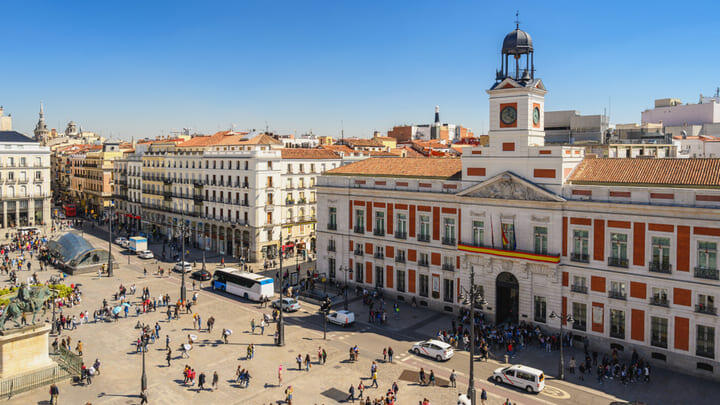 Puerta del Sol is considered the heart of Madrid and is as good a place as any to kick off a walking tour of the city's best bucket-list attractions. Soak up the atmosphere of this vast, bustling square before taking a stroll through the barrio de los Austrias to Plaza Mayor, where elegant arches conceal cute cafés – perfect for people-watching over churros and café con leche. Canter over to the monumental statue of King Philip III on his horse, and grab a selfie in front of the mythological murals that adorn the Casa de la Panadería's baroque facade.
There's eye candy galore for keen photographers here, with narrow streets that teem with elegant European architecture from the 15th, 16th and 17th centuries. Take your time to meander towards the somewhat more modern (but no less striking) Almudena Cathedral. This baroque confection of soaring bell towers and dreamy domes dates from the late 19th Century and contains the mortal remains of several Spanish royals and other dignitaries. Head just next door to Madrid's Royal Palace, where exquisite interiors promise an opulent throne room, epic staircases and paintings by the likes of Giaquinto, Velázquez and Caravaggio. Take the guided tour before heading out to the tranquil Sabatini Gardens for a spot of quiet contemplation, accompanied by sterling palace views.
Day 3: Toledo and Tapas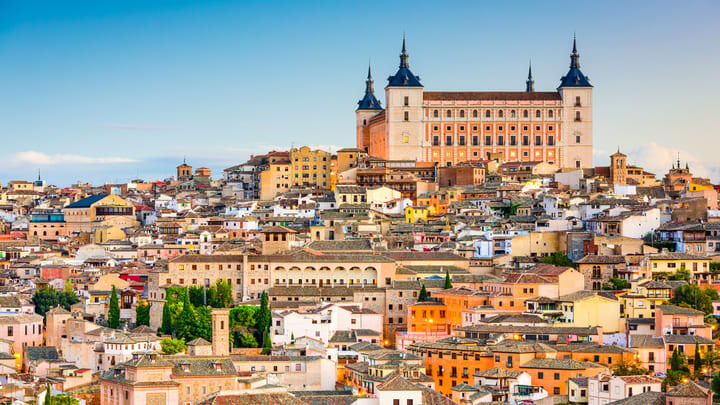 If fairytale cobbled streets and swoonsome stone bridges aren't enough to tempt you to Toledo then, trust us, you should go for the marzipan. The city's signature sweet comes in all shapes and sizes and makes for the perfect energy snack before tackling the notoriously hilly medieval streets. But what rewards await within! Think centuries-old churches and synagogues, Roman baths, ancient crypts, a 13th-century gothic cathedral and, at the very top of the town, a formidable fortress. And all this just 35 minutes from Madrid!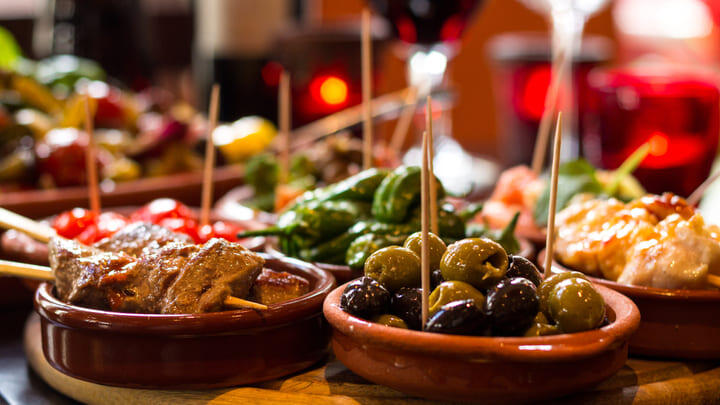 Snaffle some more bagfuls of those delectable marzipan shapes for the return journey to Madrid, where a stroll through La Latina will set you up nicely for late-night tapas. La Latina's lively maze of photogenic streets and colorful plazas are great for getting lost in, especially at sundown when locals head out for their evening perambulations and the restaurants are abuzz until long after dark. Be sure to find your way back to Calle de la Cava Baja's tapas joints for what is generally considered Madrid's best small plates, all cured meats, moreish meatballs, garlicky grilled prawns and spicy patatas bravas. Delicioso!
Day 4: Retail Therapy and More Art!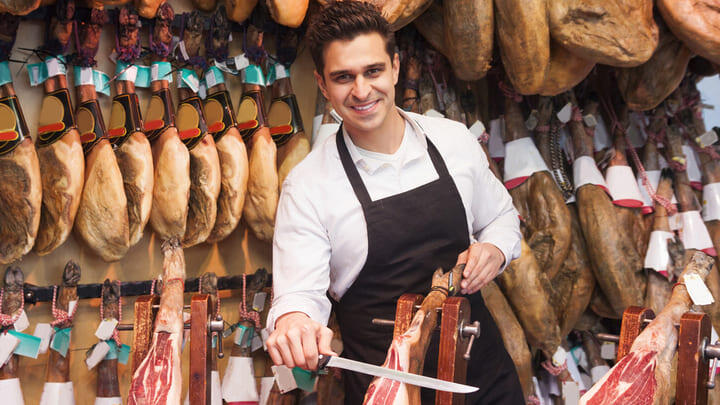 So you've been to the Prado and taken in the frescoes inside the Royal Palace. Why not tick off the Reina Sofia while you're at it? No slouch even when compared to the mighty Prado, this excellent museum showcases the very best of modern Spanish and international art. We're talking Dalí, Miró, Bacon, Beuys, Magritte, Moore, Rothko, Sherman and more. The museum's crowning glory – its very own Mona Lisa, if you will (and worth the entry price alone) – is Picasso's 1937 masterpiece Guernica, perhaps the most celebrated anti-war statement ever committed to canvas. It's also the star of the museum shop, where Guernica-adorned notebooks, mugs, coasters, magnets, prints and more make for superior alternatives to the ubiquitous flamenco figures and tacky toreador souvenirs in the tourist-trap stores.
You'll also find interesting and unique gifts for your loved ones (and for yourself) in Madrid's vibrant markets, where the purchase of great lumps of cured meat and liters of velvety olive oils to take home is virtually a rite of passage. Hit up Mercado de San Miguel and Mercado de la Cebada near Plaza Mayor for some of the best local produce in town.
Day 5: Casa de Campo and the Temple of Debod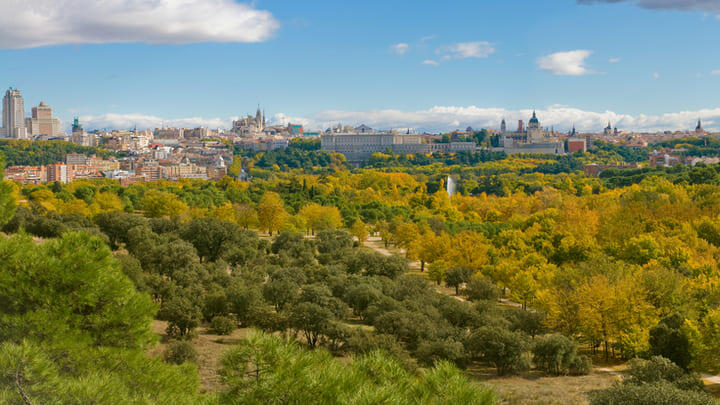 And now for something a little less hectic… Casa de Campo is Madrid's largest green space, a humongous tract of parkland that's around five times the size of Central Park. Big enough, in other words to while away a few relaxing hours exploring its dense oak forests, picnicking beneath the pines and spotting deer along the well-marked hiking trails. Within these former royal hunting grounds is where you'll also find Madrid Zoo and a huge amusement park with dozens of rides, just in case you fancy upping the octane-rating on a high-speed rollercoaster, or having your pants scared off the frankly terrifying zombie apocalypse that is The Walking Dead Experience, based on the popular TV series.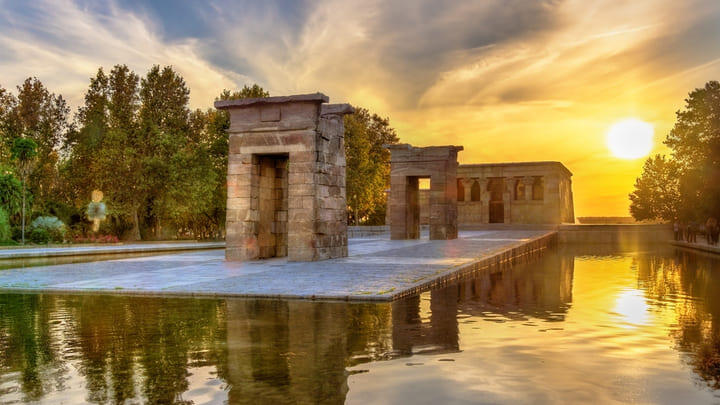 Shake off the heebie-jeebies with a wander up to Oeste Park to experience the dreamlike wonder of the Temple of Debod at sundown. This ancient Egyptian shrine is a calming collection of splendid stone arches set over reflective pools, gifted to Spain and installed somewhat incongruously in Madrid several decades ago. Soul and spirit soothed and restored, head back down the hill and into town to catch a classic Spanish flamenco show. One of the country's most thrilling traditions, it's bound to leave a lasting memory of your 5 days in Madrid.
Save on

things to do in Madrid
Save on admission to Madrid attractions with Go City. Check out @GoCity on Instagram for the latest top tips and attraction info.