You'll find some of Spain's best markets in Madrid. Called 'Mercados de Abastos' (literally meaning 'warehouse markets'), these markets are usually located near train stations, bus terminals, or other public transportation hubs.
With markets scattered across the city, some small and quirky, others huge and touristy, it's more than a shopping experience. Exploring these markets is a window into Madrileños and Spanish culture.
They sell fresh produce, meat, cheese, bread, flowers, clothing, souvenirs, household items, and much more. 
Regardless of size and produce, each offer something unique and interesting.
El Rastro
Mercado de la Paz
San Miguel
San Anton
San Ildefonso
Platea Madrid
Mercado de Motores
San Fernando
Vallehermoso
Maravillas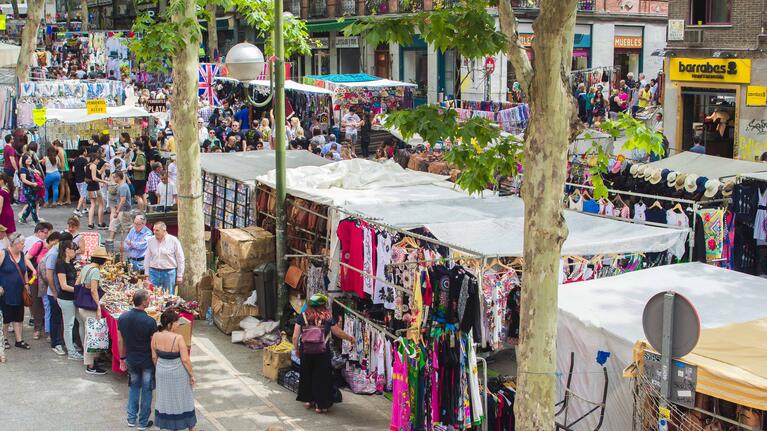 El Rastro
El Rastro is the largest, oldest, and most popular street market in Madrid. Located along Plaza de Cascorro, this outdoor market opens every Sunday and on public holidays, selling everything from clothes and food to artisanal goods, collectibles, and souvenirs.
It's worth spending a full morning exploring not just the main street, but the side streets too. With over 1000 sellers, you're bound to find something of interest.
Opening times:
Sundays and Public Holidays - 9:00AM to 3:00PM
Nearest transport:
Line 5 - La Latina or Puerta de Toledo stations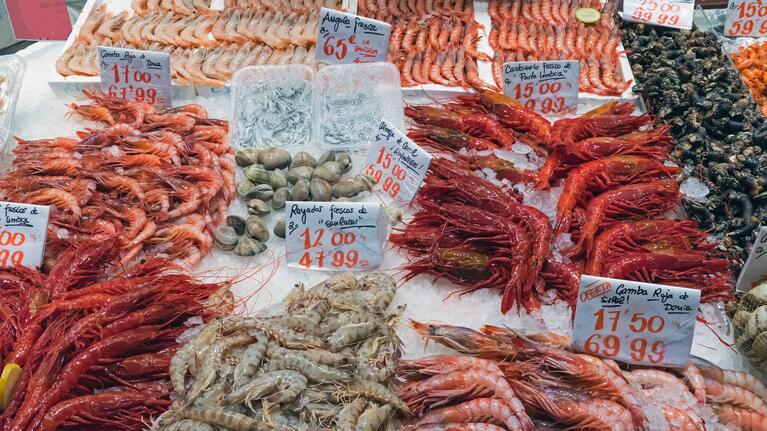 Mercado de la Paz
Situated close to Plaza Mayor, Mercado de la Paz is known for its fresh produce. They sell fruits and vegetables straight off the truck.
Locals come from all over the city to stock up on the fresh produce from Mercado de la Paz. All good travelers know that if the locals go, it must be good, so don't miss out.
Combining a modern design with a traditional iron structure, it bridges the old and new. You'll find free Wi-Fi throughout and can even shop for the goods online if you don't fancy carrying it all home.
Opening times: 
Monday - Friday 9:00AM - 8:00PM
Saturday 9:00AM - 2:30PM
Nearest Metro:
Line 4 - Serrano
Mercado de San Anton
This market is right in the city center. It's smaller than the others, but it offers a wide variety of things to buy.
Located in the neighborhood of Chueca, Mercado de San Anton is similar to Mercado San Miguel, but with fewer visitors.
While this may seem like a negative, it's not! It has all the benefits - fine dining, fresh local produce, and a rich cultural experience, all without having to fight your way through the endless crowds of tourists.
Featuring 3 floors, the ground floor covers the general market, the middle houses fast food and tapas, while the top floor is where you'll find the 11 Nudos Terraza Nordés restaurant.
Opening times:
Monday - Saturday 10:00AM - 10:00PM
Nearest Metro:
Line 5 - Chueca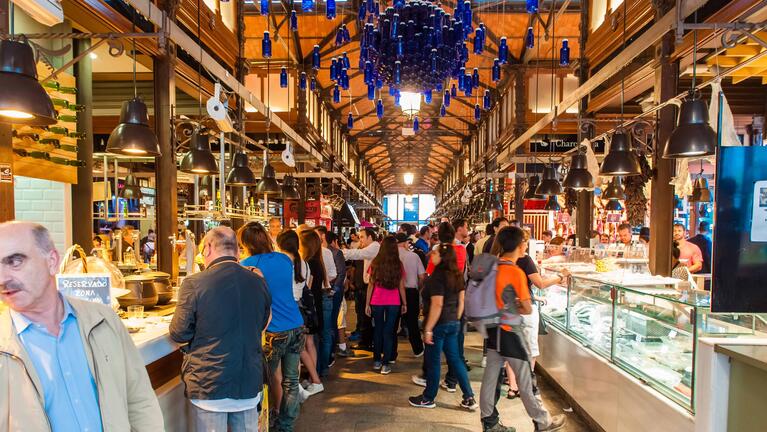 Mercado de San Miguel
Located just behind the Royal Palace, Mercado de San Miguel is one of the world's main gastronomic markets.
Originally opened in 1916, it relaunched in 2018, backed by several internationally renowned chefs. Welcoming over 10 million visitors a year, you can sample the finest products from all over the country.
With stalls run by Michelin-star and award-winning chefs, you can feast on some of the most delicious foods in all the land.
Opening times:
Sunday - Thursday: 10AM - Midnight
Friday, Saturday: 10AM - 1AM
Nearest Metro:
Line 2, 5, R - Opera
Line 1, 2, 3 - Sol
Mercado de San Ildefonso
You can find this market at Calle de Fuencarral. It's not really a traditional Spanish market, but it's interesting and worth exploring.
Less a traditional food market and more a place to meet up, socialize, and share a meal with friends, Mercado Ildefonso houses 20 unique gourmet food stalls. 
It's also home to exhibitions, fashion shows, and commercial launches. It has history, being the first covered food market in Madrid, but nowadays it's a more modern, internationally inspired culinary scene.
Opening times:
Monday, Wednesday - Friday: 6PM - 10PM
Saturday - Sunday: 1PM - 11PM
Nearest Metro:
Line 1, 5 - Gran Vía
Platea Madrid
If you're looking for a unique dining experience, Platea Madrid is for you. Spanning 5800 square meters, this food hall is located inside a former theater, complete with royal boxes, orchestra pit, and stage.
Divided into multiple distinct areas, you can enjoy gourmet tapas, relax at one of the cocktail bars, catch a show, or dance the night away in the night in the nightclub. 
Platea Madrid is far from a traditional market, yet should definitely be on your itinerary when visiting the Spanish capital.
Opening times:
Friday - Saturday: Noon - 2:30AM
Sundays: Noon - 1AM
Nearest Metro:
Line 4 - Colón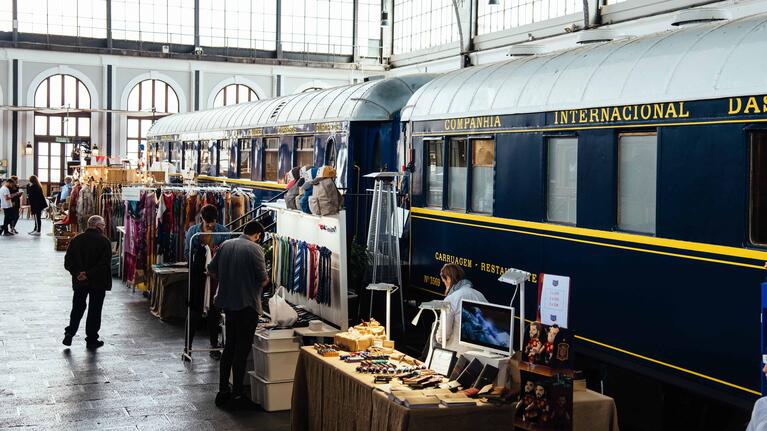 Mercado de Motores
Mercado de Motores provides another unique shopping experience, this time within a railway museum, surrounded by locomotives and electric trains.
It's not just a quirky backdrop. Boasting gourmet food stalls, fashion, unique collectibles, and local crafts, you can find some truly unique holiday gifts here, and all for a reasonable price.
With live music, refreshing drinks, and a wide selection of food trucks, this beautiful market is a true hidden gem.
Opening times:
The second weekend of every month - 11AM - 9PM
Nearest Metro:
Line 3 - Delicias
Mercado de San Fernando
San Fernando Market is in the heart of Madrid, in the Centro district. 
A more traditional space, this municipal market is home to a variety of food stalls - tapas, empanadas, tacos, organic produce, etc.
The real magic, however, comes from the grapes. Home to Madrid's premier natural wine bar, you can sample some of the best Spanish wines around. 
Fashion stores, a unique pay-by-the-pound bookstall, and a vast selection of gift and craft stalls round it out to make this a must-visit tourist attraction.
Opening times:
Monday: 9AM - 2:30PM / 5:30PM - 9PM
Tuesday - Saturday: 9AM - 10PM
Sunday: 11AM - 6PM
Nearest Metro:
Line 3, 5 - Embajadores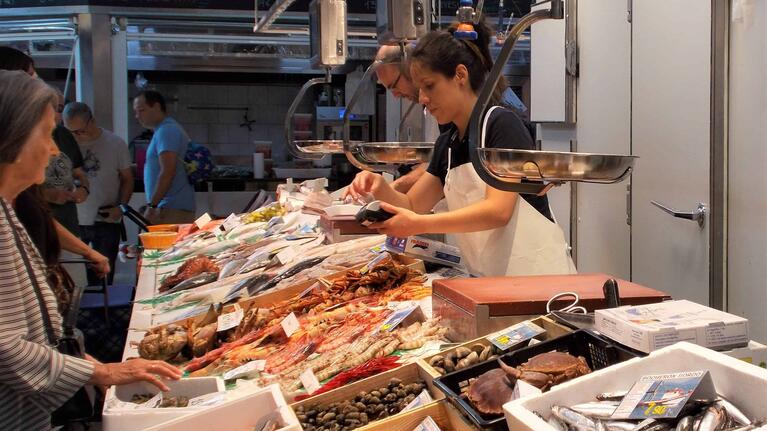 Mercado de Vallehermoso
The thing that makes Mercado de Vallehermoso truly unique is that it's home to Spain's only permanent farmer's market. If you're looking to do some grocery shopping, look no further!
Organic food at affordable prices, the ground floor of Vallehermoso is one of the most popular food markets for chefs from many of the city's fanciest restaurants. Smoked foods, chocolates, snails, liqueurs, and pastries are just some delicacies on offer.
After you're done food shopping, explore the many craft-beer shops, wine bars, or international food stalls and restaurants. 
Opening times:
Monday - Thursday: 9AM - 8:30PM
Friday - Saturday: 9AM - 12AM
Sunday: 9AM - 6PM
Nearest Metro:
Line 2 - Quevedo
Mercado de Maravillas
Saving the biggest for last, we have Mercado de Maravillas - The Market of Wonders!
Spanning 9,000 square meters and over 200 stalls, Mercado de Maravillas is the largest municipal market in Europe. It's so big it has its own visitor information booth.
Located three miles north of the city center in the Tetuán neighborhood, the distance ensures it's not a tourist trap. People travel there for the delicious fresh products, the tapas bars, international cuisines, and for the pure joy of exploring the endless corridors.
Opening times:
Monday - Friday: 9AM - 2PM / 5:30AM - 8:30PM
Saturday: 9AM - 2PM
Nearest Metro:
Line 1 - Alvarado
This is just a selection of the many markets scattered around the Spanish capital. From flea markets to gourmet food halls, there's such. a wide range of attractions that there's truly something for everyone, regardless of taste or budget.
Save on Admission to Top Madrid Attractions
Explore the best things to do with a pass for Madrid by Go City®. Select from top attractions with our All-Inclusive and Explorer passes, where you'll enjoy access to galleries, museums, tours much more.
Share Your Adventure with Us
Tag @GoCity in your vacation photos and we'll feature you on our page. Follow the Go City Instagram and Facebook channels for exclusive competitions, special offers and events to help you make the most of your travels.