Madrid is the largest city in Spain, spanning an area of around 600 km2. The city center of Madrid was declared a UNESCO World Heritage Site in 1985 due to its rich architectural heritage. Despite that, the city offers a modern transportation system including Metro, bus, and cable car, plus a few greener methods.
Is it easy to find your way around Madrid?
Absolutely. The public transportation system spans the entire city, from the city center out to the suburbs. As far as European cities go, Madrid is very well connected.
It's also well signposted, meaning you can ditch the transport network and stretch your legs if the rush hour traffic is messing with your plans.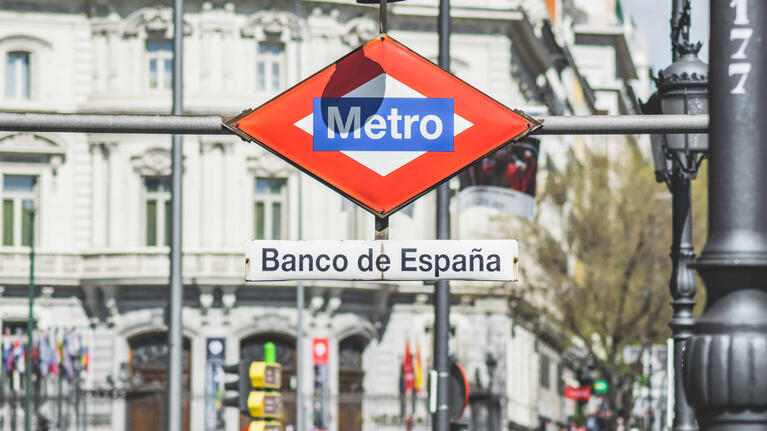 Getting around Madrid by Metro
The Madrid Metro is the city's main transport system. It consists of 15 lines servicing 300 stations, connecting the city with the suburbs and towns.
The metro runs Monday to Friday from 6 am to 1.30 am, with trains departing every 2 minutes in the morning rush hour and every 15 minutes in the later hours (after midnight). 
At the weekends they run a little slower, but it's still an incredibly reliable form of public transport.
You can download Madrid metro maps here, with the Touristmic Map displaying the main attractions. This helps give a greater perspective of the capital and the relationship between the iconic landmarks. 
There is a single ticket, the Tourist Ticket, which allows unlimited transport around the city center on trains and buses. You can check all the up-to-date ticket prices and information here.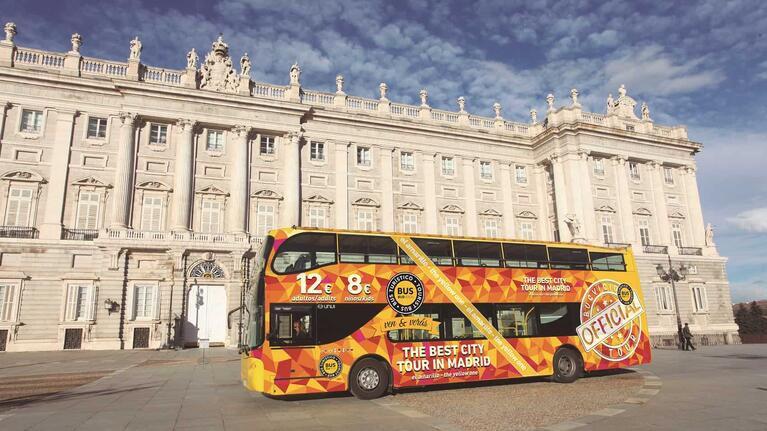 Travel around Madrid by Bus
The Madrid Bus System serves most of Madrid's suburbs and towns, running over 200 bus lines. The bus network is divided into four zones which are color-coded and indicated by signs on the bus stops.
The buses use a contactless smartcard system, which can be purchased from:
All Metro and Metro Ligero stations
Ticket machines that have a red sticker saying "Tarjeta Multi Disponible Aqui".
Newspaper stands
Tobacconists
You can also buy single-trip tickets on the bus, but only with coins or small notes. The drivers don't carry lots of change, and you may be denied passage if you only have big notes.
Madrid has 26-night bus lines that operate from 11:55 pm until 5:50 am every night. They cover most of Madrid, meaning you don't have to miss any of the amazing nightlife the Spanish capital is famed for. The fares are also the same as daytime tickets, keeping things nice and simple.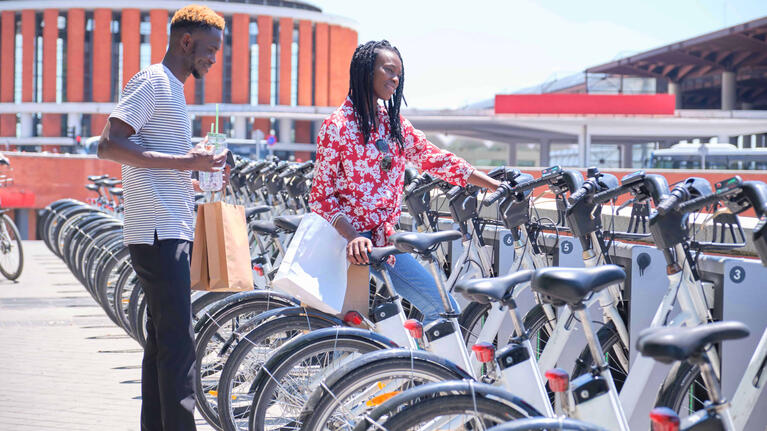 Getting around Madrid by Bicycle
Madrid is a very cycle-friendly city, with 43 kilometers of cycle lanes, including some physically separated from motor vehicle traffic and others only marked with paint.
The main bicycle rental service is called BiciMAD and consists of 3000 bikes at over 250 rental stations throughout the city.
Sign up at the docking station machines where you'll be offered two ticket options - either an annual subscription or 'Occasional User' pass. You'll then have the option of a 1, 3, or 5-day pass, perfect for short trips and weekend adventures.
Madrid's a safe city, but you'll still need to exercise common sense precautions:
Chain your bike up when not in use
Don't ride against the traffic or on sidewalks
Follow all traffic signs and signals
If you want a more structured ride, consider taking an organized Madrid city tour like the Madrid Electric Bike Tour or, if you're feeling a little more adventurous, the Madrid Sightseeing Segway Tour.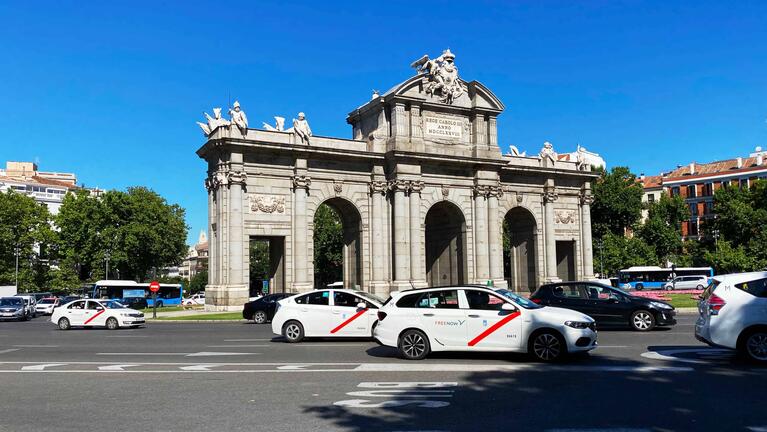 Getting around Madrid by taxi
Official taxis in Madrid are white, with a diagonal red stripe on the door. You can flag them down on the street and they're plentiful. You can also pay by card or cash. 
Explore Madrid by cable car
The Madrid Cable Car offers a unique view of the city, drifting for 11 minutes between Parque Oeste and Casa de Campo, and taking in some of the city's iconic landmarks.
The cable car runs year-round, but doesn't run during bad weather conditions.
Accessible transportation in Madrid
Madrid City Council created an Accessible Travel Guide, a comprehensive guide featuring information related to accessible public transport, wheelchair-friendly routes around the city center, and much more.
Additional tips for getting around Madrid
As with all major cities, traffic jams can be an issue. Rush hour is usually the worst between 7:30 a.m. and 9:30 a.m., and between 6:00 pm and 8:00 pm. Plan accordingly.
Depending on your route, you can negate the traffic by cycling in the dedicated cycle lanes. It's good exercise, eco-friendly and you'll see a different side to the city.
Check the balance of your public transport cards by using the Metro de Madrid's official app. You can also use it to check for your nearest train station, current wait times, disruptions in service, and lots more. It's definitely worth downloading to give peace of mind while traveling.
Save on Admission to Top Madrid Attractions
Explore the best things to do with a pass for Madrid by Go City®. Select from top attractions with our All-Inclusive and Explorer passes, where you'll enjoy access to galleries, museums, tours much more.
Share Your Adventure with Us
Tag @GoCity in your vacation photos and we'll feature you on our page. Follow the Go City Instagram and Facebook channels for exclusive competitions, special offers and events to help you make the most of your travels.