There's something truly special about spending New Year's Eve abroad. It's a great opportunity to get to know the end-of-year quirks and customs of other cultures. Like, sure, linking arms and singing Auld Lang Syne is fun and all, but have you ever attempted to eat twelve grapes in twelve seconds as the clock strikes midnight? There are oodles of fun things to do on New Year's Eve in Madrid as you count down to the big moment (and beyond), and we've put together a guide to the must-dos that will make your Madrid New Year celebrations go with a bang. Read on for grapes, gambas, chocolate, chestnuts and more…
A Spot of Sightseeing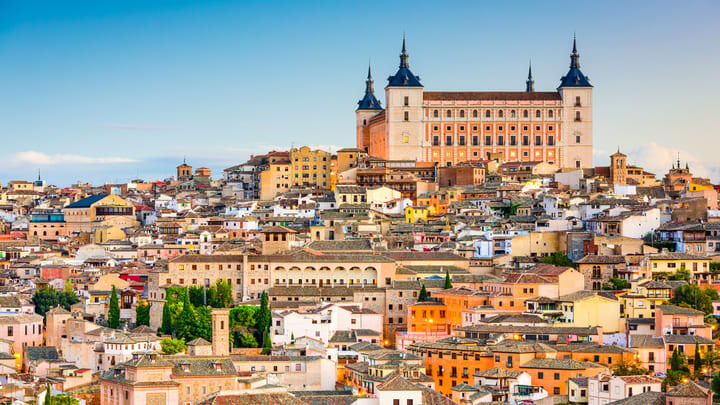 First things first: you're in for the long-haul. Madrid's New Year celebrations don't really start until midnight, so it's critical you take it a little easy on New Year's Eve if you want to avoid wearing yourself out. So: spend some time in quiet contemplation at the stunning Temple of Debod, an ancient Egyptian shrine transplanted to the heart of Madrid. Or get your culture fix at the Prado, Reina-Sofia or any number of world-class museums. See the city sights at your own pace on a hop-on hop-off bus tour. Cruise the sights of the stunning Retiro Park by Segway, or via a gentle bike tour that takes in must-see landmarks including the Crystal Palace, Fountain of the Fallen Angel and rose gardens. But above all: don't overdo it. The last thing you want is to end up zonked by 9PM just because you couldn't resist that (admittedly marvelous) day trip to Toledo (pictured).
Take a Nap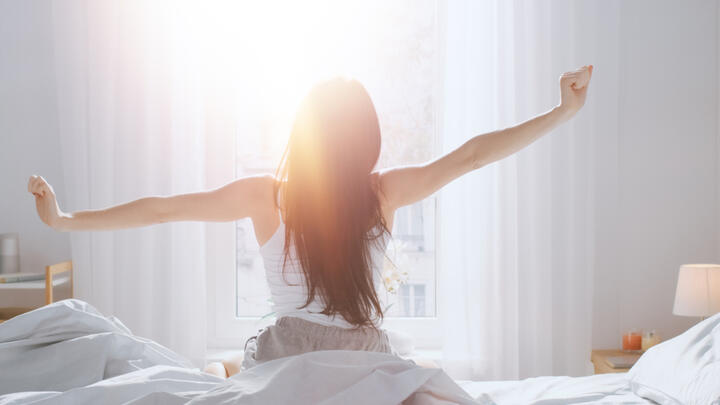 One surefire way of preserving energy is to make like the Madrileños and have a siesta in the afternoon. Ok, ok, so not many Madrileños actually do this – most run errands, take long leisurely lunches or go to the gym instead. But no-one is going to sneer at you for taking this deep-seated Spanish tradition at face value and getting a spot of pre-emptive shut-eye in the afternoon, when you'll find a number of shops, bars and restaurants have already closed down for the impending New Year party anyway. So go on: draw the blinds, put the phone on silent and crawl under the duvet for a revitalizing afternoon snooze. Zzzzz.
Churros con Chocolate on the Square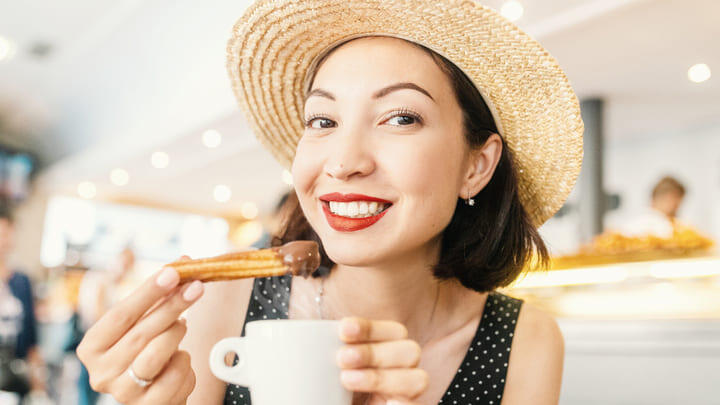 If you're in the market for some easy-going sightseeing in Madrid on New Year's Eve (and you should be), then look no further than the rather splendid Plaza Mayor, with its elegant arches, soaring statues and stately Baroque architecture. The central square's strategically positioned cafés and benches provide ample opportunity for casual people-watching over a café con leche or three, while munching classic churros con chocolate here is practically a rite of passage. Hit up the legendary Chocolatería San Ginés for some of the finest in town. This old-school haunt has been serving up its delectable dough sticks since 1894, so you can be confident they're the real deal. One mouthful of these crispy sugar-coated treats dipped in their accompanying dark chocolate sauce will confirm it.
Chestnuts in the Park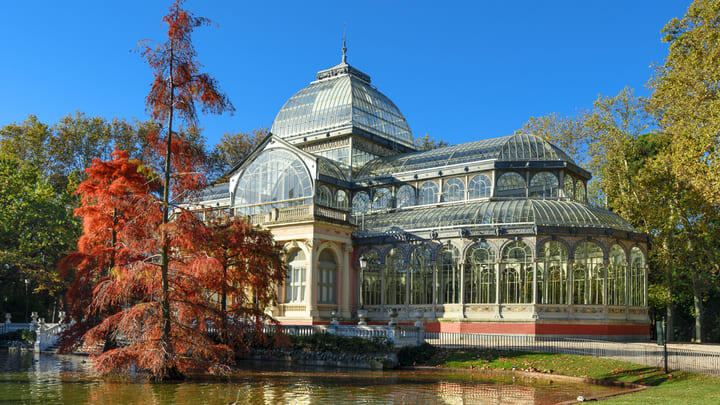 Prefer your snacks a little more savory? Winter is chestnut season in Madrid, and what could be more festive than strolling streets and squares still bright with Christmas lights, or finding a quiet spot in one of Madrid's many beautiful parks, hands warmed by a bag of these freshly roasted beauties? You'll find street vendors scattered throughout the city, with bags of chestnuts available from as little as €2. Still hungry? Some stalls will also offer roasted corn and sweet potatoes, and sticky autumnal toffee apples. Yum.
Have a Nice Dinner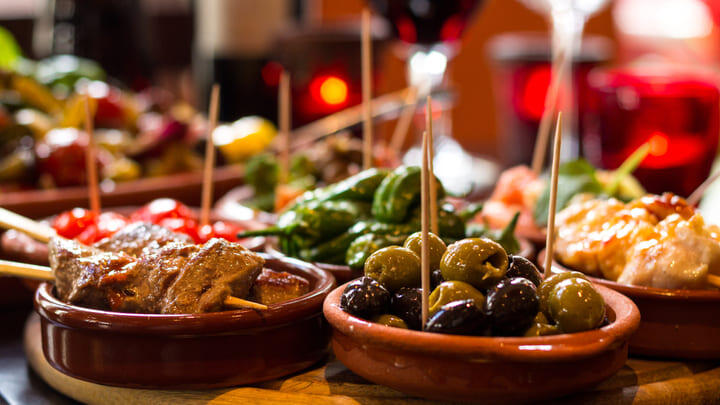 At the risk of coming across as a little… food obsessed, we'd recommend booking well in advance if you're hoping for a slap-up New Year's Eve meal. The vast majority of Madrid eateries are closed by early evening on December 31st, leaving (mostly) only hotel restaurants open for business. This is because New Year's Eve dinner in Spain tends to be a family affair, with lavish feasts served at home to kick off the festivities. So, you basically have three options: book a restaurant in advance (note that the popular ones fill up fast), make friends with a Madrid family and bag yourself an invite or – and this is perhaps your safest bet – stock up on market-fresh produce from somewhere like Mercado de San Miguel. After all, even the most inept of chefs can surely unwrap some cured meat and salty manchego and fry up some garlicky gambas and chili padron peppers for a super-speedy tapas banquet in the comfort of your own holiday apartment.
Take in a Flamenco Show
When it comes to flamenco, Madrid is the next best thing to Andalusia, which is where this intense, colorful dance originated. There are all sorts of shows available around the city, from free sidewalk performances to lavish dinners accompanied by some of the country's finest flamenco dancers and musicians. This show at the Torres Bermejas – with interiors designed to resemble the Alhambra in Granada – is one of the very best. Highly rated alternative options include ​​Corral de la Morería (the oldest flamenco tablao in town), and the lively Casa Patas.
Have a Grape Time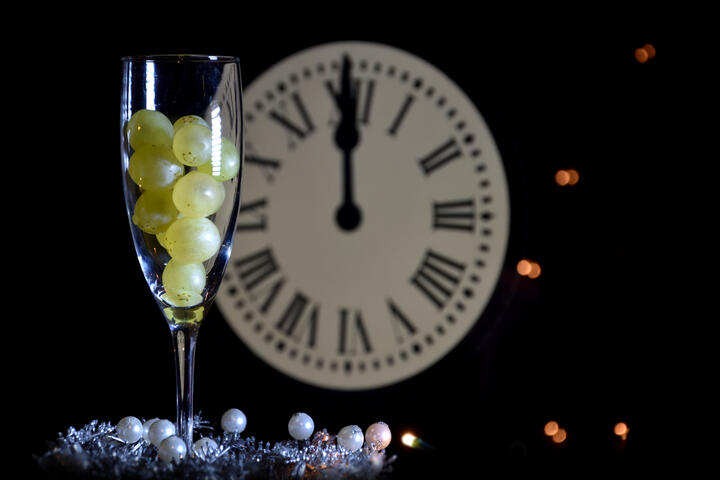 Grapes are to Spanish New Year as turkeys are to Thanksgiving in the US: your celebration simply wouldn't be complete without them. A long-held tradition sees thousands of revelers descend on Madrid's Puerta del Sol before midnight, then guzzling 12 grapes in rapid succession as the Real Casa de Correos clock strikes the hour – at a rate of one grape per strike. This is more difficult than it sounds, so we recommend getting your hands on a smaller seedless variety if you don't want to end up looking like a hamster-cheeked loon. Don't forget to secure your bunch early in the day (you'll need 12 grapes per person), before stores start shutting down for the celebrations. Your midnight snack is traditionally followed by a kiss for your significant other, and a glass of cava raised to new friends on the square, who should be greeted with a jolly 'Feliz Ano Nuevo!' Clubs keep the New Year party going until dawn and beyond, but the appeal of heading exhausted to bed at this point should also not be understated.
Save on

things to do in Madrid
Save on admission to Madrid attractions with Go City. Check out @GoCity on Instagram for the latest top tips and attraction info.