Located in Southern Florida, the Everglades National Park is the largest subtropical piece of wilderness in the United States and is a popular camping destination. Camping in the Everglades gives visitors a chance to see all of the flora and fauna of the region up close and personal – and the park has a lot to offer--there's something for everyone at the Everglades National Park!
What You'll See
The Everglades are teeming with lots of interesting wildlife you don't see outside of Florida, this includes seeing the American crocodile, manatee, and even the Florida panther. You'll get a chance to see lots of interesting plant life too unique to the Everglades, including mangroves, the woods, and incredible landscapes that you won't see anywhere else. Some points of interest you'll see across the 1.5 million acres include:
Visitor centers
Ten Thousand Islands
Education centers
Marinas
Amphitheatre
Canoe trails
When you and the family decide to go camping, you can choose from dozens of different camping sites around the property. This gives you a chance to be as close or as far away to the various points of interest as you desire.
Planning a Everglades National Park Camping Trip?
Save time when you
buy your Everglades tickets online
. Available passes include 
Vehicle
,
Pedestrian
,
Motorcycle
, and
Annual Passes
. Passes are delivered instantly to your mobile phone, and give you immediate access to the park at any entrance. Make sure you are familiar with the
Leave No Trace
principles and prepare before you go.
Everglades Camp Sites
Camping is open year-round in the Everglades. However, if you choose to go during the wet season, which spans from June through November, you may have to deal with some less-than-perfect weather conditions and need to pack more gear to make up for it. You can choose to do either frontcountry or backcountry camping (or stay longer and try both!). Both options offer varying accommodations, so choose your campsite according to your needs (water hook-up, electricity, restrooms with running water, RV parking, etc.).
Frontcountry Camping
Within the country camping, there are only 
two drive-in campgrounds:
Flamingo Campground
and
Long Pine Key Campground
, both are accessible from the Homestead entrance. Flamingo campground and Long Pine Key campground will accommodate RVs as well as tents. These are the only campsite available throughout the Everglades National Park – everything else is considered backcountry. Reservations are highly recommended for Flamingo, particularly during the busy winter months, such as around the holidays. Camping with a group? There is a limited number of group sites that accommodate up to 15 people available. There's only one at Long Pine Key, and they are all available as a first-come first-served basis.
Backcountry Camping
If you want to set up camp in the wilderness, you'll need a backcountry permit – these are issued either the day before or the day of your trip at one of the visitor centers or out of the station at the main park entrance in Homestead. Various sites are available for backcountry everglades camping. Some of these include what is known as "chickees" and these are elevated camping platforms. There are also sites on the beach. Quite a few can be reached by hikers alone, and some are accessible via motorboat, kayak, and canoe. If you are looking to experience the vast wilderness, backcountry is definitely the best option for you. The majority of the campsites are found in the Ten Thousand Islands, but some are located elsewhere. It's important to know that backcountry sites are not available by car. This means that the only way to get to them include:
Hiking
Canoe
Kayak
Motorboat
Winter months are the best time to visit because summers tend to be ridden with mosquitoes and the temperature is hot and muggy. No camping equipment is available for rent or purchase from the National Park. This means that
you will need to provide all of your own camping equipment
.
Insider tip:
 Use the 
Wilderness Trip Planner
 to help plan your camping trip.
What You Need to Know About Choosing a Campsite
Once you decide that you want to take a family camping trip to the Everglades National Park, you will want to explore the different campsites. You can find information about each site online, such as the type of site, the number of people that the site will hold, the maximum number of nights that you can stay during peak season, and what amenities are available. The different types of sites you can choose from include:
Ground
Beach
Chickee (elevated platform located on the water-freestanding tent required)
Keep in mind that if you are camping with a large group, your campsite options may be limited. If you choose to do some backcountry camping, you can rent boats to take out to your campsite. Boat rentals and other services are available at two locations: the Gulf Coast Visitor Center in Everglades City and the Flamingo Marina at the southern end of the park. You may be able to then park and take the canoe or kayak to your camp site.
Supplies You Will Need
If you are going to camp with the family, make sure you're following all camping regulations. This includes having the proper supplies:
Tent with netting
Safety equipment and first aid kit
Trowel for burying human waste
Biodegradable soap
Portable gas stove or grill
Fresh water (recommended: 1 gallon/day/person)
Nautical chart
Compass
Anchor
Sunscreen
Sunglasses
Rain gear
Bug spray
Trash bags to carry out all waste
Food
It's also important to look at the details of your site for any additional items or equipment you'll need. For example, if you decide to stay at a chickee, you will need a freestanding tent because you are not permitted to drive stakes or nails into the wooden platforms.
Activities for the Whole Family
The Everglades National Park has a wide variety of different activities that are available so it's easy to find fun the whole family can enjoy together.
Ranger Programs
Take advantage of various ranger-led programs to enhance your experience at the national park. More programs are offered during high season, December through March, so it may be the best time for you to visit. There are different programs available from each station, including: Flamingo, Gulf Coast, Royal Palm, and Shark Valley. Some tours offered are ranger walks, tram tours, crocodile talks, creature features, survival stories, morning bike rides, and nature walks that highlight various plants and animals unique to the Everglades.
Wilderness Waterway
The 99 mile waterway connects Flamingo and Everglades City. If you are an experienced paddler, you can choose to take this route, but it will take at least eight days to complete. You can also use powerboats, as long as drafts are not 2 feet or wider.
Biking
Explore some of the Pineland Trail by bike, one of the best ways to experience the Everglades National Park. Shark Valley and Flamingo Area Trails are some of the most popular biking trails.
Bird Watching
Bird watchers from all over the globe visit the Everglades to see the hundreds of species of birds. Some of the most popular include roseate spoonbills, anhingas, and blue herons.
Fishing
You can fish throughout your time in the Park, though it is important to check in at one of the visitor centers to find out about any closed areas and regulations. Both saltwater and freshwater fishing are available in the park but require separate licences, and you can even charter a boat as fishing from the shore is very limited.
Geocaching
This is the chance to be a true treasure hunter. There may be all sorts of hidden containers located all over the Everglades. As long as you have a GPS-enabled device, you can find the various caches. More information can be found at
Geocaching
.
Hiking
All sorts of different trails are found throughout Everglades National Park. Some are more challenging than others. No matter what, be sure you have the needed supplies, including good shoes as well as plenty of water.
Slogging
For those who don't mind getting their feet wet (literally), you can choose to go off trail and do what is known as slogging. It can get you closer to all of the Everglades and the species that don't always come out onto the regular trails.
Tours
Many types of tours are available throughout the park. This includes those that are led by Rangers as well as various naturalists who will talk to you about the history of the area, the animals, and more. Many of these tours are by boat, though you can also find various canoe and hiking tours as well.
Air Boating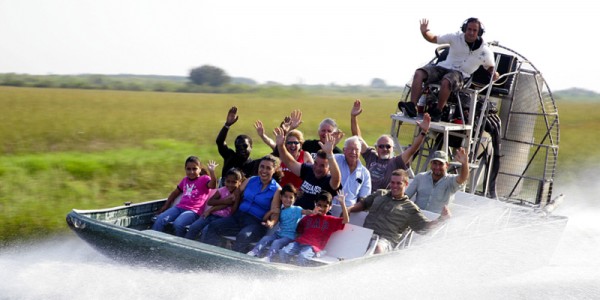 Air boats are one of the most popular ways to explore the Everglades. It isn't every day that you get to drive in this kind of boat, and you can choose to rent these or
take a tour
in them for an opportunity to get up close and personal to alligators, crocodiles, and other wildlife.
Take Time to Plan Before Your Trip
Planning a family Everglades National Park camping trip takes time. You'll need to figure out when you want to visit, your length of stay, and where you are going to camp to start planning and making a checklist of all the items you'll need.
Buy Everglades National Park Passes
Remember, you can get immediate access to the Everglades National Park when you buy your 
Everglades tickets online
. Available passes include 
Vehicle
,
Pedestrian
,
Motorcycle
, and
Annual Passes
. Passes are delivered instantly to your mobile phone, and give you immediate access to the park at any entrance.