There are all sorts of different Everglades tours available throughout the Florida Everglades National Park. Some are more adventurous than others, so it's best to explore what your options are and then start planning. Particularly during high season (December through March), you will want to book as much in advance as possible so that your space on the tour is secure. Some of the most popular types of Florida Everglades Tours are:
Ranger guided tours
Boat tours
Airboat tours
Hiking tours
Planning to Visit the Everglades?
Save time when you
buy your Everglades tickets online
 before visiting. Available passes include 
Vehicle
,
Pedestrian
,
Motorcycle
, and
Annual Passes
. Passes are delivered instantly to your mobile phone, and give you immediate access to the park at any entrance.
Ranger Guided Everglades Tours
The ranger guided programs give you a chance to learn about the national park from the pros while experiencing the natural surroundings. There are four main areas where you can find ranger guided tours. Each area may have different options available.
Please note:
Ranger Programs change seasonally.
Flamingo
This location is approximately 30 miles south after the main entrance near Homestead. Some of the most popular tours include early bird walks, big day birding adventures, manatee talks, croc talks, tropical tree walks, discover walks, and car caravans. You can even go on a canoeing tour. These vary in times, and many of them will have you driving in your own vehicle. For example, the car caravan is a 2 ½ hour drive with multiple stops along the road, though you will be in your own vehicle and meet at the visitor center.
Gulf Coast
This location is approximately 4.75 miles south of US 41 on state Route 29 inside of Everglades City. Here you will have an array of different tours to choose from. This includes a Walk in Nature, a paddle into the Ten Thousand Islands, Land-ho! Canoe Trip, and Tamiami Trail Triathlon. The triathlon allows you to explore the Everglades in three different ways, including  3 miles of trails, a bike ride featuring a 15 mile loop around Shark Valley, as well as paddling around the Ten Thousand Islands. You can bring your own bicycle and Canoe/kayak, or you will have the opportunity to rent them. The different tours give you a chance to see both water and land.
Royal Palm
This location is approximately 4 miles past the main entrance station near Homestead. Slough Slog allows you to wade through the river, Starlight Walk allows you to see almost everything at night, and there is also a Bike Hike, which provides bikes and helmets. Choose the program based on your desired level of effort and how much time you want to spend. Here, some of the tours last for as long as 2 ½ hours.
Shark Valley
This location is on US 41, 30 miles west of the SW 8th Street exit of the Florida Turnpike. There are a few ranger led programs, some of the most popular are a nature walk, a wild walk in the wilderness, biking tours in the morning and at sunset, and tram tours, which run every hour on the hour, giving you the opportunity to see everything from an open-air tram. Tips for ranger guided for hiking tours in the Florida Everglades:
Some tours last for as long as 6 hours
Pack mosquito spray
Check with the visitors center for the current schedule
Some tours require reservations due to a limited number of people able to participate
You have the ability to search for the different
ranger programs
by date and by keyword to find out what is available during the time you will be at the national park.
Everglades Boat Tours
All sorts of boat tours are available in the Florida Everglades National Park. You will want to look at your options in terms of whether you want to get on a boat and have someone else captain it or if you are in it for the recreation and want to do your own paddling. Boat charters are available, where you will be able to get onto a boat and see some of the gorgeous nature that is around the area. There is always a naturalist on board and they will give you some information about the history, the flora, and the fauna. You can also opt to take a tour by kayak or canoe. Many of these will involve being in a group and there will be a leader who is going to guide everyone down the river or through the Ten Thousand Islands. You can choose to bring along your own canoe or kayak or rent one at one of the marinas. The Flamingo Marina is one of the most popular marinas and provides you with the opportunity to rent just about anything you would want to paddle on the water. Some tours are also self-guided. These can provide you with multilingual materials to take on the boat with you so that you know what you are looking at. It's like having your own tour guide right inside of your kayak or canoe. Tips for boat tours in the Florida Everglades:
Explore your options and decide which option is best for your group
Make reservations for boat rentals
Have maps if you are going to do a self-guided tour
When in doubt about your boat tour options, stop into one of the visitor centers and talk it over with a ranger.
Everglades Airboat Tours
Guided airboat tours are one of the most popular ways to explore the Florida Everglades and the ride itself provides a fun experience for visitors. Airboats are shallow draft boats powered using an aircraft engine and designed to be able to travel across the grassy swamps. The propeller is external and inside a cage making traveling across the mangroves a breeze. The boats can travel up to 35 mph, giving you an exhilarating feeling of the warm Florida wind in your face. Day tours and night tours offer different experiences in the Everglades. Both can be a lot of fun; during the day you're more likely to see the most flora and fauna, at night, you're more likely to hear more activity from all of the animals. Most of the tours last about 1-hour. In addition to taking the public tours, you can also choose to schedule a private tour with many of the local companies. Depending upon the company you choose for the airboat tour may provide you with add-ons so that you can experience more of the Everglades. This includes such things as tours of the mangroves, live gator shows, visiting an animal sanctuary, and being taught about the different reptiles that live throughout Florida.
Popular airboat tours in the Everglades: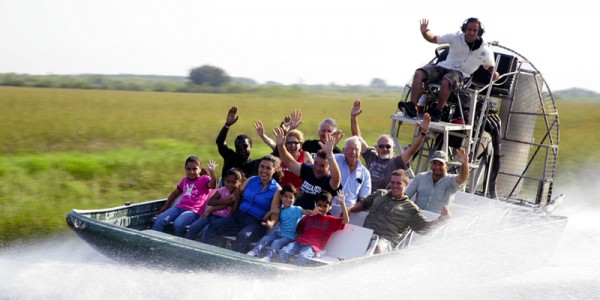 Sawgrass Recreation Park Everglades Airboat Adventures
Not far from Ft. Lauderdale, this tour takes visitors around the grassy Everglades at up to 40-mph and includes a visit to the Exotic Wildlife Exhibit where you can see a rotating variety of animals, which often include panthers, tigers, and birds of prey. Be sure to bring a camera to document yourself on the Hold a Baby Alligator experience!
Everglades Alligator Farm & Airboat
Located south of Miami, this exhilerating airboat tour glides through the cattails and tall grasses of the Everglades and takes off from South Florida's oldest alligator farm, home to over 2,000 alligators. Visitors will see alligators, a variety of crocodiles, and native and exotic snakes and can attend hourly wildlife shows.
Everglades Tour from Miami
An ideal tour for people staying in Miami, this half day tour provides round trip transportation to and from the Everglades from Miami. Visitors can go on a guided airboat tour through the swamps where you can see alligators, birds, and more. After the airboat ride, visitors can watch a Wildlife Show, where professional handlers get within striking distance of crocodiles, alligators, and other exotic animals, and explore Jungle Walkway at the Everglades Safari Park.
Tips for airboat tours in the Florida Everglades:
Pack sunglasses
Sunscreen and bugspray
Wear shoes you that don't mind getting wet
Bring a camera to be able to take photos
Everglades Hiking Tours
Most of the hiking tours are available through the ranger-led programs. The average tour is around 1.5 hours, though some last for four hours or more.
Tips for hiking tours in the Florida Everglades:
Wear comfortable hiking boots or shoes with good tread
Bring lots of water
Bring a compass and map
Wear long sleeves and pants to avoid scrapes from rough terrain and help prevent bug bites
Tell someone the complete path you are taking and when you anticipate being back
Some hiking tours are with guides and some are without, so be sure you know what you are signing up for.
Planning Your Trip
With so many types of tours to choose from, you may want to plan to go on multiple tours. Bird watching, paddling through the lakes, and airboating across the swamp each provide very different ways to experience the the Florida Everglades. No matter which type of tour you end up doing, just be sure to plan in advance to reserve your place on a tour and so that you know what equipment to pack.
Buy Everglades National Park Passes
Remember, you can get immediate access to the Everglades National Park with
these digital Everglades tickets
. Available passes include 
Vehicle
,
Pedestrian
,
Motorcycle
, and
Annual Passes
. Passes are delivered instantly to your mobile phone, and give you immediate access to the park at any entrance.